A Comprehensive Guide To Choosing the Best CMS for SEO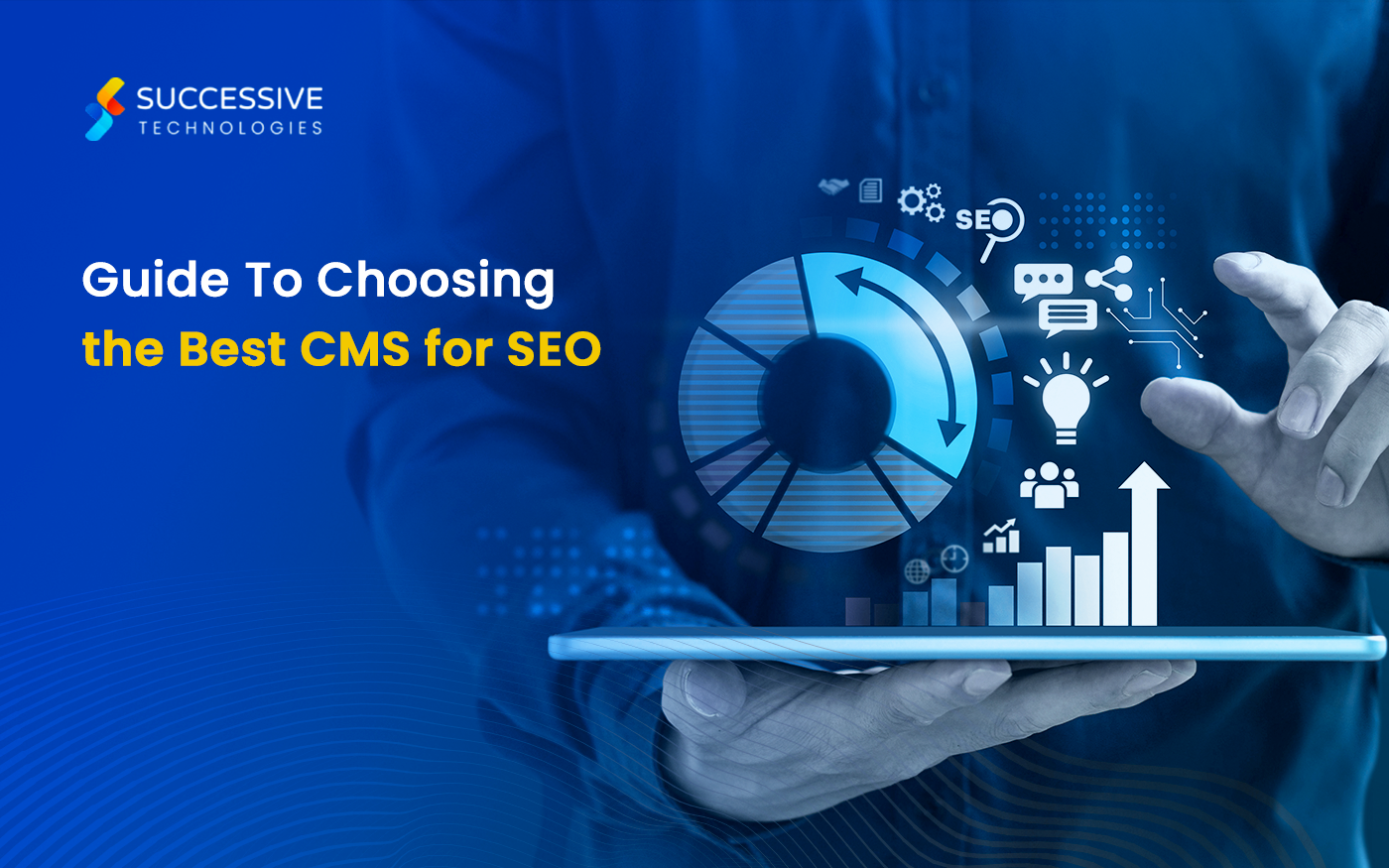 Search Engine Optimization (SEO) is one of the most critical processes for enterprises to organically increase the visibility of their websites. More visibility drives greater website traffic, which translates to more opportunities to convert prospects into customers. SEO also helps increase brand awareness and can position brands as authoritative and trustworthy in their fields.
SEO is a multilayered, long-term process that earlier required some coding knowledge for the implementation of best practices. Today, content management systems (CMSs) have evolved to offer SEO features and capabilities that reduce the need for marketers to have coding knowledge. The only thing one needs to do is find the best CMS for SEO.
When choosing an enterprise CMS, it's important for companies to evaluate how the platform aligns with the marketing team's SEO strategy. Let's take a look at the most critical CMS features that matter for SEO, as well as the optimization features that leading content management platforms offer.
Which vital CMS features matter for SEO?
When it comes to SEO, there are two primary ways of improving website ranking. Let's explore what these methods are and which enterprise CMS features enable SEO best practices. Let's look at the first and probably most important SEO factor for choosing a CMS.
On-page SEO
These are all site optimization efforts that align page-specific elements with keywords. These 'frontend' efforts include modification and management of elements such as links, meta descriptions, image alt text tags, and others. Other on-page SEO components include content categorization frameworks and site search and navigation tools.
The best CMS for SEO will offer features that enable on-page optimization through automated internal linking, content taxonomy, customizable page elements, navigation and search tools, as well as an analytics dashboard to track SEO performance. More standard features include the ability to create blog posts.
Technical SEO
These are all behind the scenes optimization efforts not visible to visitors, such as removal of duplicate content, XML sitemaps, 301 redirects, and other components.
The best CMS for SEO will offer technical SEO capabilities such as URL management, responsive web design to create device-agnostic web experiences, security certifications, and an automatically generated map of your website, amongst others.
Other standard technical SEO features an enterprise CMS must have include the crawlability and indexability of your content, robots.txt files, canonical URLs, and noindex and nofollow settings, amongst others.
Must Read: The Key Ingredients of an Ideal Content Management System
Best CMS for SEO: Key Features to Check!
Let's have a look at the SEO features of the best enterprise content management systems in the market, including WordPress, Umbraco and Adobe Experience Manager.
WordPress
One of the key reasons why over 40 percent of websites on the internet have chosen WordPress as their CMS of choice is because of the SEO features that the platform offers.
While WordPress has standard on-page and technical SEO features such as content authoring, responsive themes, and customizable page elements, many of the platform's SEO capabilities come from plugins. 
Here's a look at the SEO pros and cons of WordPress. 
While simply having WordPress as a CMS is not a guarantee of ranking high on search engine results pages, the platform's plugin-led SEO capabilities can make it easy for enterprises to increase site visibility. This can be seen in action, as today, WordPress powers over 36 percent of the top one million websites by traffic.
However, enterprises must also consider the pitfalls of the platform's plugin-led SEO capabilities, including reduced site performance due to the installation of too many plugins.
Read Next: Umbraco vs WordPress – Which CMS Comes Out On Top?
Umbraco
From an SEO standpoint, another popular and valuable content management platform for enterprises is the open-source Umbraco CMS. Umbraco is known as a developer-first platform that is also parallelly creator-friendly.
The Umbraco CMS offers nearly all the standard features that a content management platform must have, including a host of on-page and technical SEO features. Unlike WordPress, most of Umbraco's SEO features are in-built, though the platform does rely on 'packages' to offer critical capabilities such as the creation of XML sitemaps, robots.txt files, and others.
Here's a look at the SEO pros and cons of Umbraco CMS Development.  
Umbraco's SEO features – both in-built and package-led – can come in very handy for marketers. The CMS offers interesting SEO capabilities such as the ability to direct users to content in their preferred language, responsive web design for all templates, and a range of SEO packages including an SEO Starter Kit, a 301 URL Tracker, and a comprehensive 'SEO Checker' auditing tool. 
However, the platform does lack some standard in-built features and accelerated mobile pages (AMP) support, which means that mobile versions of Umbraco-powered webpages may suffer from speed issues, unless an AMP package is used.
Also Read: 3 Top Websites Built with Umbraco CMS
Examples of Best CMS for SEO: Adobe Experience Manager Sites 
Adobe Experience Manager (AEM) is a top-rated, award-winning content management solution that is preferred by leading global brands to build, manage and grow their websites. 
The AEM CMS, also known as AEM Sites, offers extensive SEO capabilities that can help achieve higher search engine rankings. The CMS not only has standard on-page and technical SEO features but also has advanced features such as the automatic assignment of tags and metadata and image presets with set compression rates. If you are still confused about AEM CMS, You can avail of AEM development services
Most of AEM's SEO features such as vanity URLs, XML sitemaps, breadcrumbs and others are built-in, unlike with other CMSs that would require plugins or extensions to perform the same tasks. The platform's interface is intuitive for SEO marketers, and the drag-and-drop editor allows creators to create keyword-optimized content and web pages with little to no developer intervention.
While the AEM CMS is great for SEO, the platform has some drawbacks such as a long onboarding time, which can be undesirable for enterprises that want to roll out an optimized site as quickly as possible. Further, while the AEM interface is simple to use, implementation of many SEO best practices presents a steep learning curve for marketers with little to no coding expertise.
Read Next: 4 CMS Features of Adobe Experience Manager That Make It Ideal For Enterprises
The Best CMS for SEO Will Align With Your Goals
The bottom line is that a solid SEO strategy is key to drawing in potential customers to your company's website, and a CMS holds the potential to be a critical component of this strategy.
No two content management systems are the same, and different platforms have different SEO offerings that can be built-in or extensible through plugins. It's important for brands to determine their digital marketing requirements to arrive at the best CMS for SEO.
Looking for a CMS that aligns with your business needs but don't know where to start? Here's a comprehensive list of critical factors to consider while choosing an enterprise CMS.
Ready to get started? Fill the form now!
Ready to get started? Fill the form now!