3 Top Websites Built with Umbraco CMS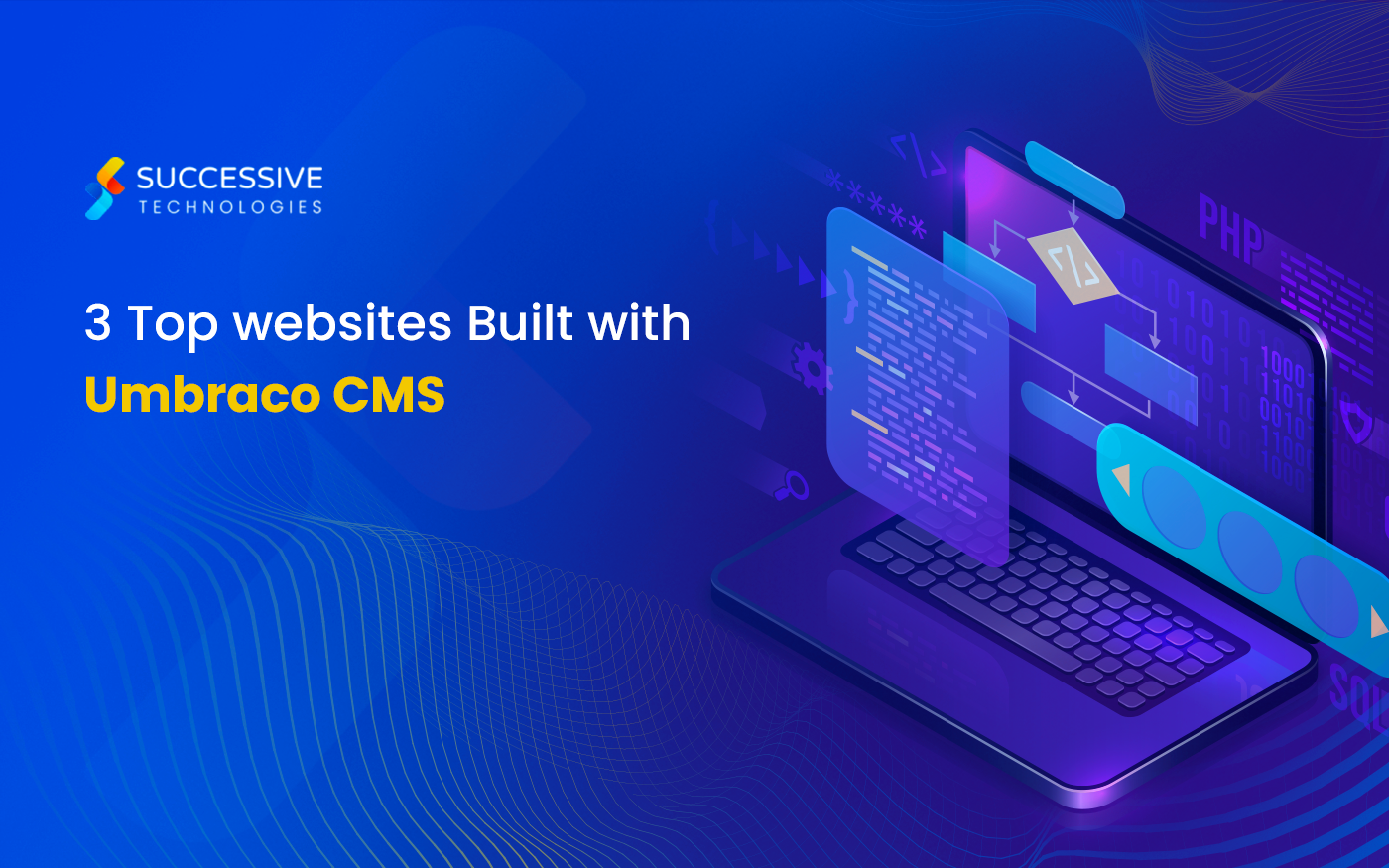 Content management systems (CMSs) are excellent tools for creating, publishing and analyzing content even without any technical knowledge.
A good enterprise CMS is user-friendly and offers tools and features that allow businesses to place relevant content at various customer touchpoints. CMSs allow for increased marketing efficiency, improved uniformity in design and brand compliance, an additional layer of security, and the ability to accomplish more marketing tasks while also connecting various marketing tactics like SEO, analytics, email marketing, amongst others.
A popular CMS that has seen a good rate of adoption amongst enterprises of all sizes and across industries is Umbraco. 
What is Umbraco?
Umbraco is an open-source CMS that is known for its flexibility, intuitive and uninterrupted workflows, and great editing experience. The platform also extends its capabilities through integration with third-party tools and offers cloud-hosting services as well.
Umbraco has numerous benefits that allow business owners and ecommerce platforms anything from simple websites to complex enterprise solutions. You can also hire a Umbraco development company for your complex website solutions. The Umbraco CMS offers the following benefits.
Read Next: The Key Ingredients of an Ideal Content Management System
How Umbraco Helped Three Prominent Organizations Deliver Superior Website Experiences
Umbraco's holistic set of features enables site owners, marketers, designers, and developers to build and maintain modern websites. Umbraco, give you personalized web experiences through Umbraco CMS. Today, over 750,000 websites are powered by Umbraco's open-source CMS, and it is one of the most deployed CMS systems on the Microsoft stack.
Let's take a look at three of the best websites built on Umbraco, and how brands leveraged the popular CMS to formulate impactful industry-specific solutions. 
The Council of the European Union
An area where Umbrac4o's expertise lies is in the public sector, where institutions leverage the CMS's seamless integrations, government-approved security features, and accessibility compliance to deliver smooth experiences for users and editors while getting the job done on time.
One such public sector institution was the Council of the European Union (EU), which needed a replacement for their existing website for technical and contractual reasons.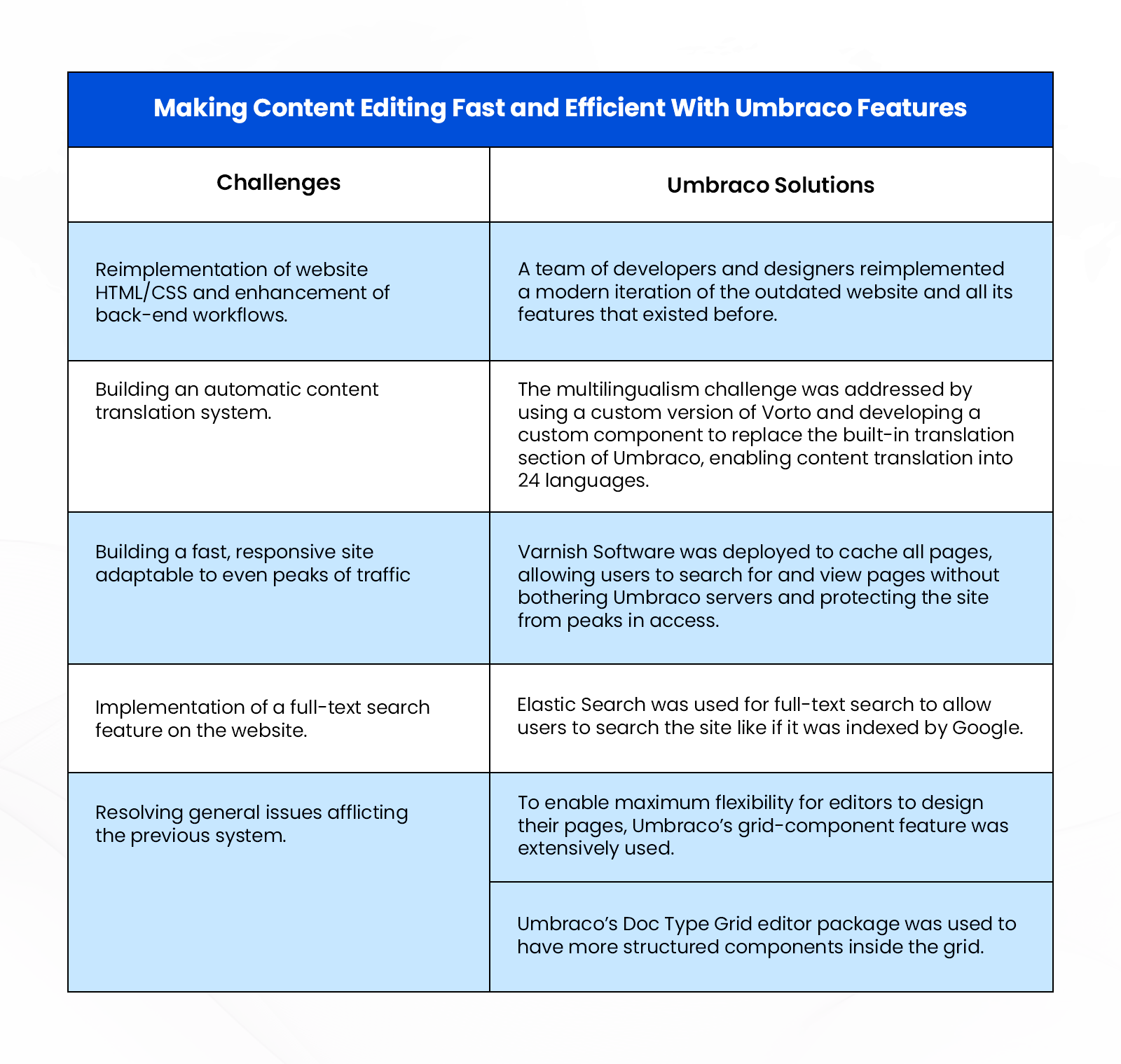 Umbraco's durable solutions for the reimplemented website meant that content could be created and published faster and in a timely manner, editors could focus more on the quality of content instead of technicalities, translators could translate content quicker, and the website could be accessible even during a heavy load of traffic.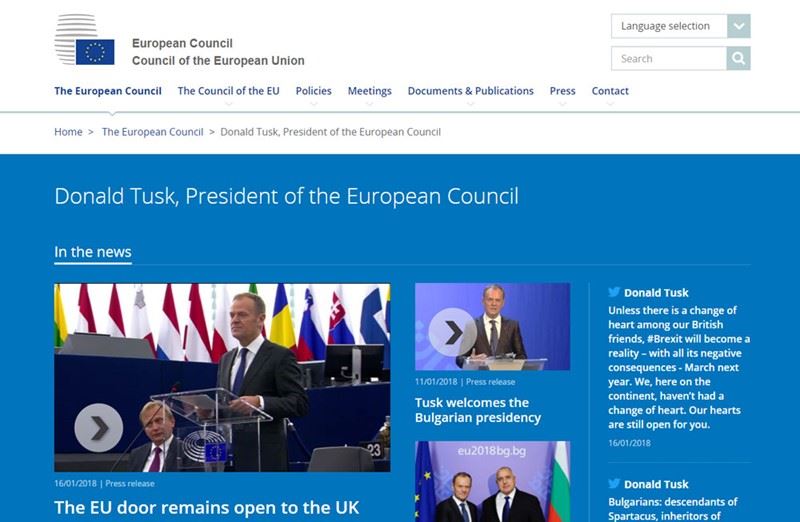 A snapshot of The Council of the European Union website. Source: Umbraco

The refreshed website built with Umbraco CMS enabled visitors to experience better-managed content, communicated in the visitor's preferred language!
Asda Money
Another excellent Umbraco CMS example site is Asda Money – Asda's financial services brand, trusted for its wide range of value-for-money offerings. The brand offers credit cards, insurance, travel money, personal loans, savings cards, and more. 
Asda Money needed a new, fresh, high-performance website that delivered a frictionless customer experience. The brand also required a flexible CMS that facilitated easy content creation and management.
Market research was combined with insight from the Asda Money team to understand audience mindset and motivations. This insight helped shape Umbraco's UX and design strategy and align Asda Money's messaging with audiences, providing the right information to users at key points in their decision making journey.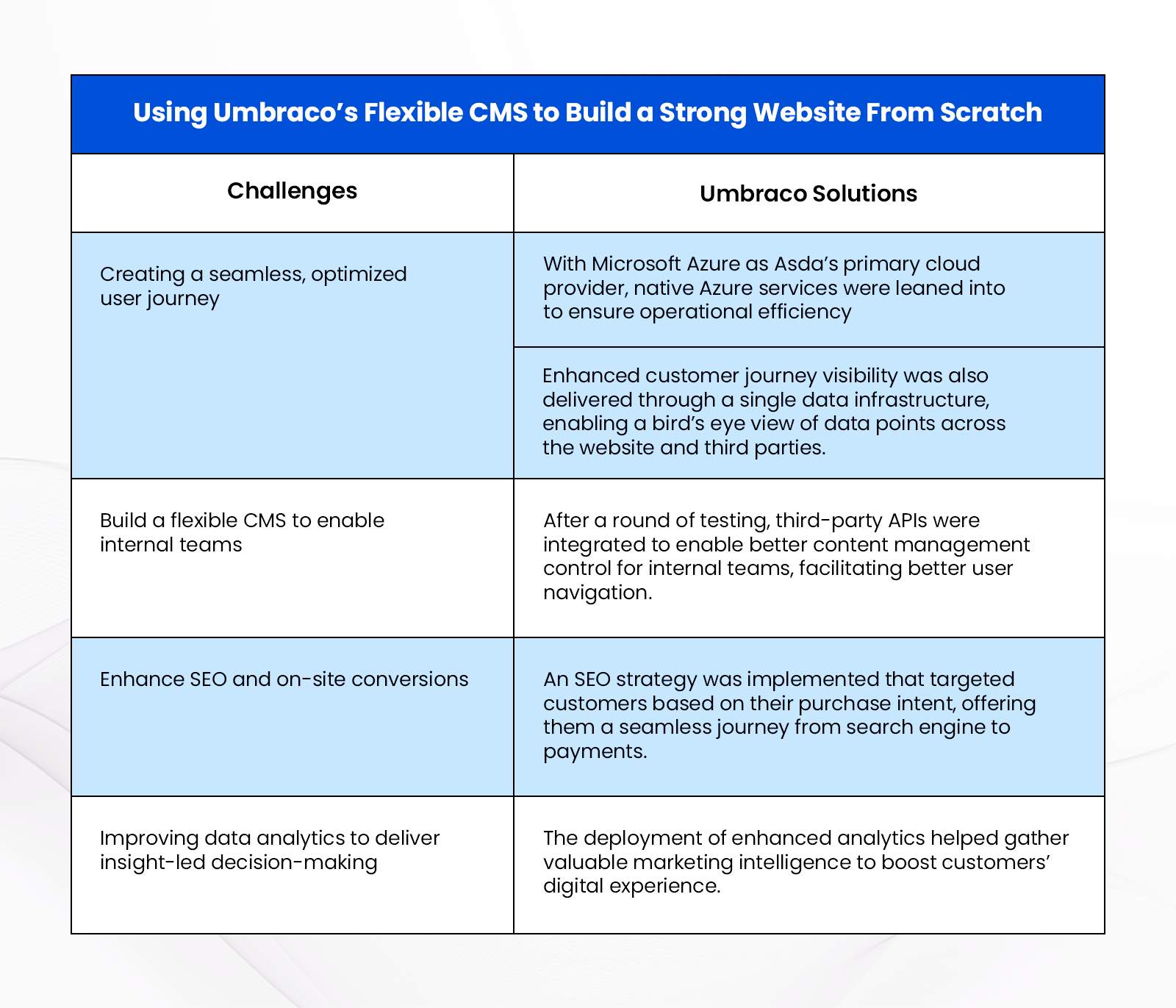 The new optimized website, packed with useful Umbraco integrations, delivered excellent numbers to Asda Money.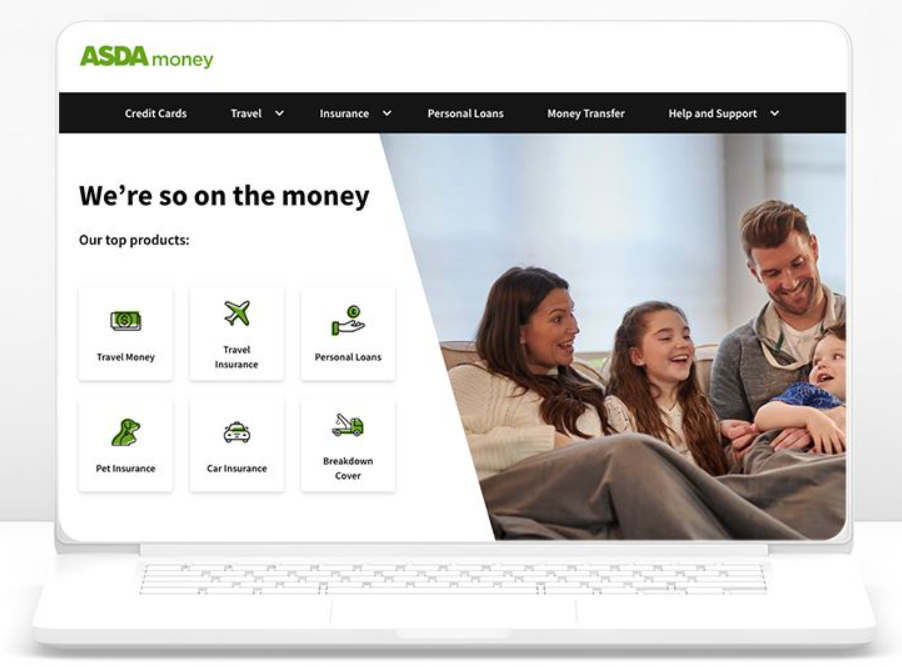 A snapshot of the Asda Money website. Source: Umbraco
The company reported a 109 percent increase in non-brand organic visitor sessions and also saw a significant improvement in the website bounce rate across key product pages, all directly linked to using the Umbraco CMS for revamping their website.
Also Related: 11 Ways You Can Improve Web Design Accessibility
Westminster Abbey
Another great example of a website built on Umbraco is Westminster Abbey – a UNESCO World Heritage Site and a huge tourist attraction in the UK. The Abbey required a new, faster, better-organized website that delivered an engaging experience to visitors. Their current website was confusing for visitors and editors and the site navigation was convoluted, especially for mobile users who were frustrated with the site's layout.
Umbraco designed and built a more intuitive website that showcased Westminster Abbey's role in British history and contemporary life. It also had components that were flexible and free-standing, easily reusable across the entire website.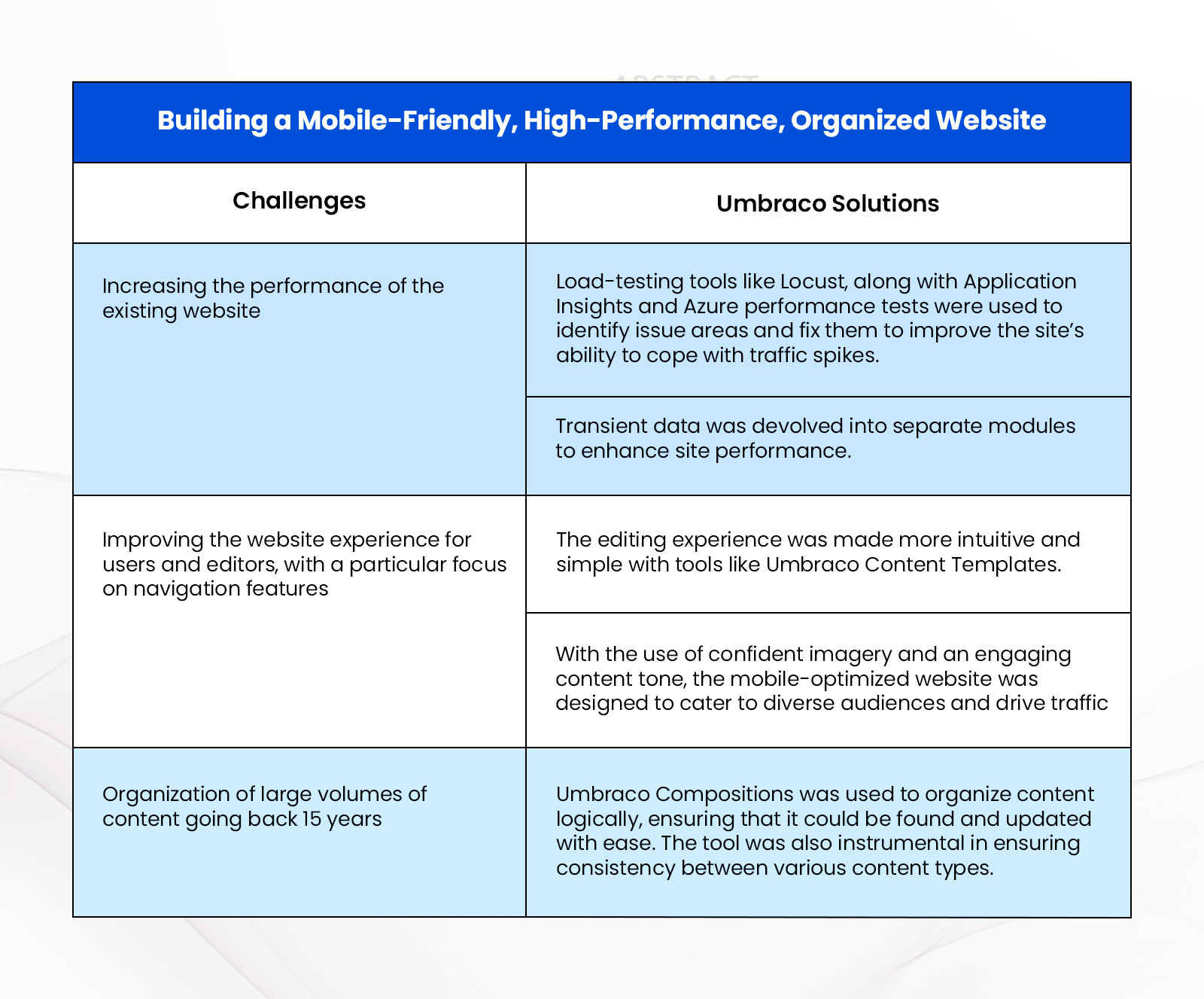 By using the various integrations and features of Umbraco, Westminster Abbey increased site engagement and access from mobile devices. 
The website's bounce rate was reduced by 45 percent, and the exit rate reduced by 10 percent. Online ticket sales shot up by an impressive 60 percent, and views of service time listing increased by 59 percent.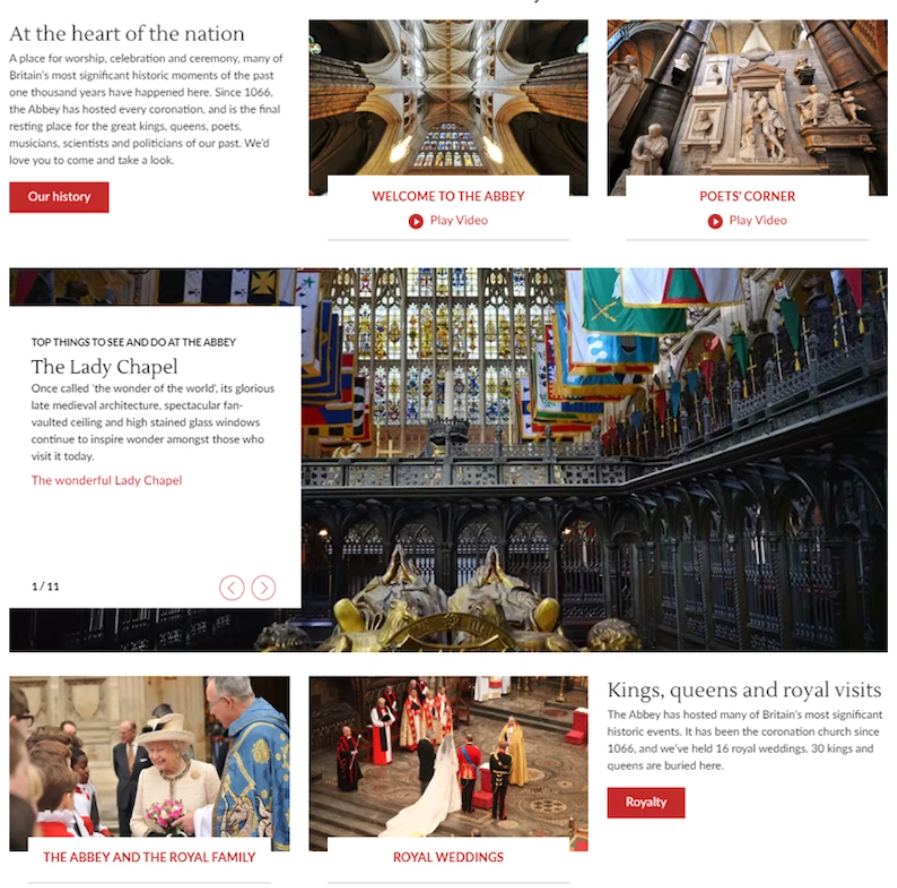 A snapshot of the Westminster Abbey website. Source: Umbraco
Umbraco's website solutions were so impactful that the new Westminster Abbey site won the 2018 Digital Communication Awards and a Gold Stevie for Non-Profit Website at the International Business Awards 2018!
Umbraco Is the Foundation for Leading Global Websites
Umbraco has proven itself time and again as an effective and efficient way to create and manage content for enterprises. The open-source platform's simplistic design and advanced features have made Umbraco the CMS of choice for a plethora of brands including Domino's Pizza, Thomas Cook, Carlsberg, Reebok, Heineken, Hyundai, and many others.
With its wide range of product offerings (including a low-code/no-code product), cloud hosting services, and a variety of impactful tools and features, the Umbraco CMS can serve as the perfect solution for small and big businesses alike.
Read Next: 7 Critical Factors to Consider When Evaluating a CMS
Ready to get started? Fill the form now!
Ready to get started? Fill the form now!