Together we build, grow, lead!
At Successive, the word 'talent' is crucial: it's always the people who make a difference and deliver exceptional results beyond their roles and responsibilities. We honor you!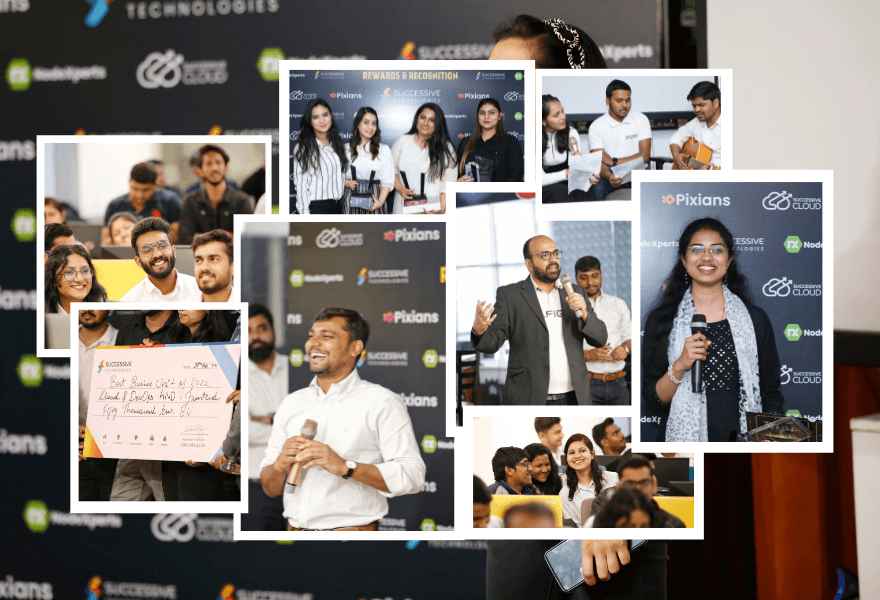 What is 'The Founder's Club'?
The Founder's Club comprises of individuals who have managed to astound us with their work ethic, commitment, integrity, and accountability.
The purpose of such an initiative is to recognize employees' contribution toward company growth and inculcate enthusiasm for working at the highest caliber and creating a sense of achievement for the crème de la crème of our team. It is a platform to acknowledge remarkable efforts and encourage more such initiatives.
Members of this club will enjoy attractive perks like adjustability on working days, team members can work on client projects and also explore new innovations, self-learning, trainings - that assist in the growth of individuals and the business, also flexibility to Work from any location, onsite relocation to our US and other overseas offices, company-sponsored international trips, interest-free loans, medical health insurance for family, bi-annual performance bonuses, vouchers, discount coupons, and much more.
Founder's Club Benefits
Professional development and career progression benefits that encourages entrepreneurial spirit
Workplace Flexibility
Members can work from any location & freely create a work schedule that suits them the best.
Flexibility in Timesheets and Leaves
No leaves & attendance tracking for the club members.
On-site Opportunities
Avail Onsite and relocation opportunities to our US/CANADA/UK and DUBAI offices along with company-sponsored trips every year.
Health Insurance & Loan Facilities
Keep yourself and your family worry-free with Health Insurance Coverage by Successive. Moreover, avail a privilege of zero percent interest loans(housing, car & personal loans).
Bi-Annual Performance Bonus & Vouchers
Get additional performance-based bonuses every 6 months on top of the CTC along with restaurant coupons & lifestyle vouchers.
Multiple Reimbursement Facilities
Complete reimbursement for medical consultation, gym or other fitness/sports membership, internet & phone bills, and certifications/training.