Umbraco vs WordPress – Which CMS Comes Out On Top?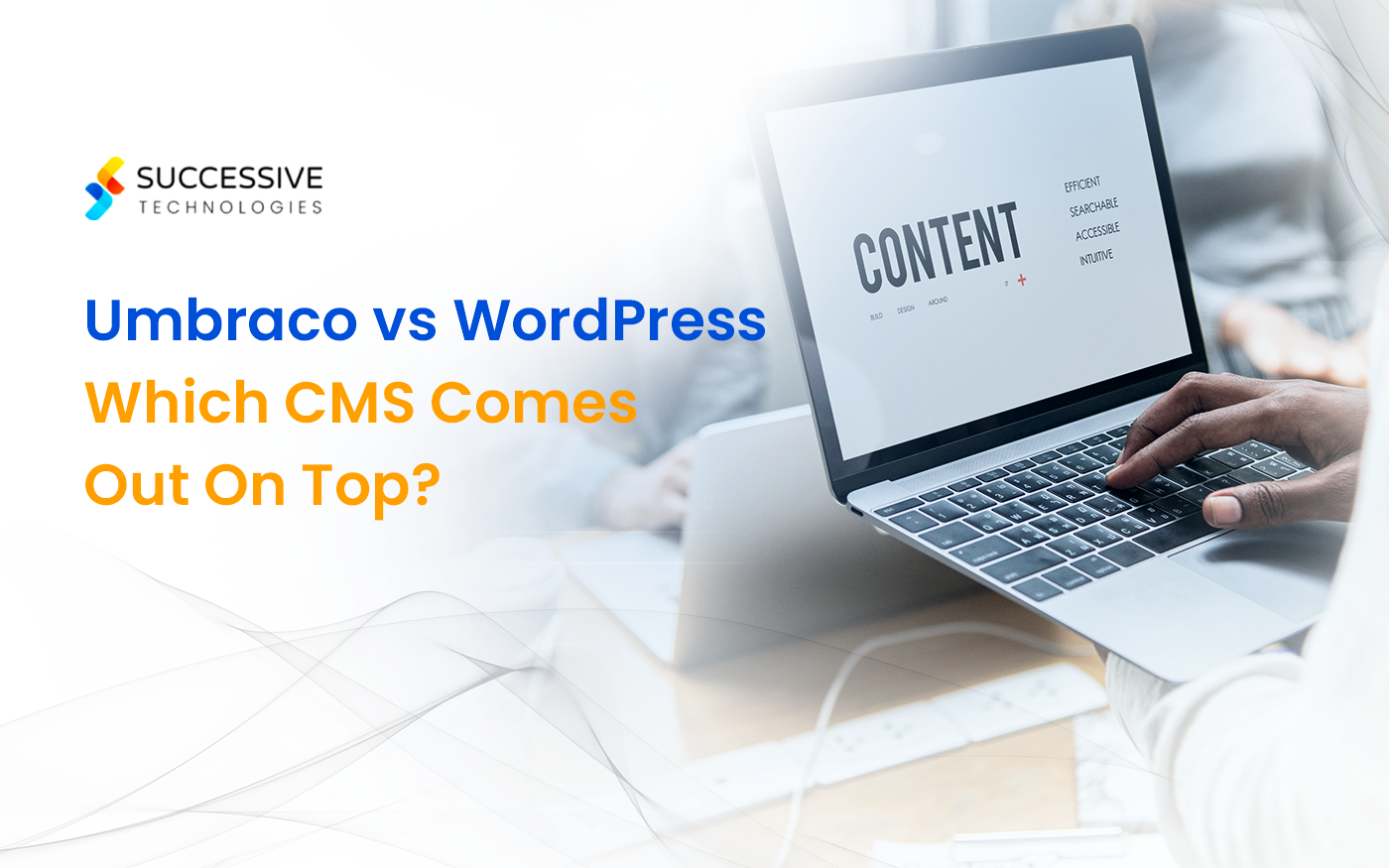 Umbraco and WordPress are two of the most popular content management systems (CMSs) in the market that make it easy to build websites and enable a smooth content creation process – sometimes even without relying on developers. 
Through Content Management Systems like Umbraco and WordPress, enterprises can work more efficiently, streamline workflows, and create a uniform brand look. 
So, how do these two CMS giants fare against each other? Which of these platforms will be more suited to your business objectives? Here is an in-depth Umbraco vs WordPress comparison to help you find answers.
What Is the Difference Between Umbraco and WordPress?
While choosing an enterprise CMS to build or reinvent a website, seven important CMS considerations are:
Ease of use

– how easy is it to create workflows and publish content on time

Security

– how vulnerable is the CMS to hackers and cyber thieves

Hosting

– which hosting solutions are available for the CMS

Staging and testing support

– what kind of staging and testing support does the CMS offer 

Customizability

– what degree of customization does the CMS offer

Support

– what support systems are in place to help and guide site owners

Pricing

– how much the CMS costs
Let's compare Umbraco and WordPress keeping each of these seven key criteria in mind.
1. Ease of Use
A critical component of a content management systems is its ease of use and the editing experience it provides – your CMS should enable you to create, edit, schedule and publish content through a WYSIWYG (what-you-see-is-what-you-get) mode as well as an HTML mode for easy tweaking of layouts.
While choosing a CMS for your enterprise, some key questions to be answered include:
Are you able to provide developer assistance in the content creation process?

What degree of developer assistance can you provide to content creators?

How much flexibility do you need to expand and grow your website?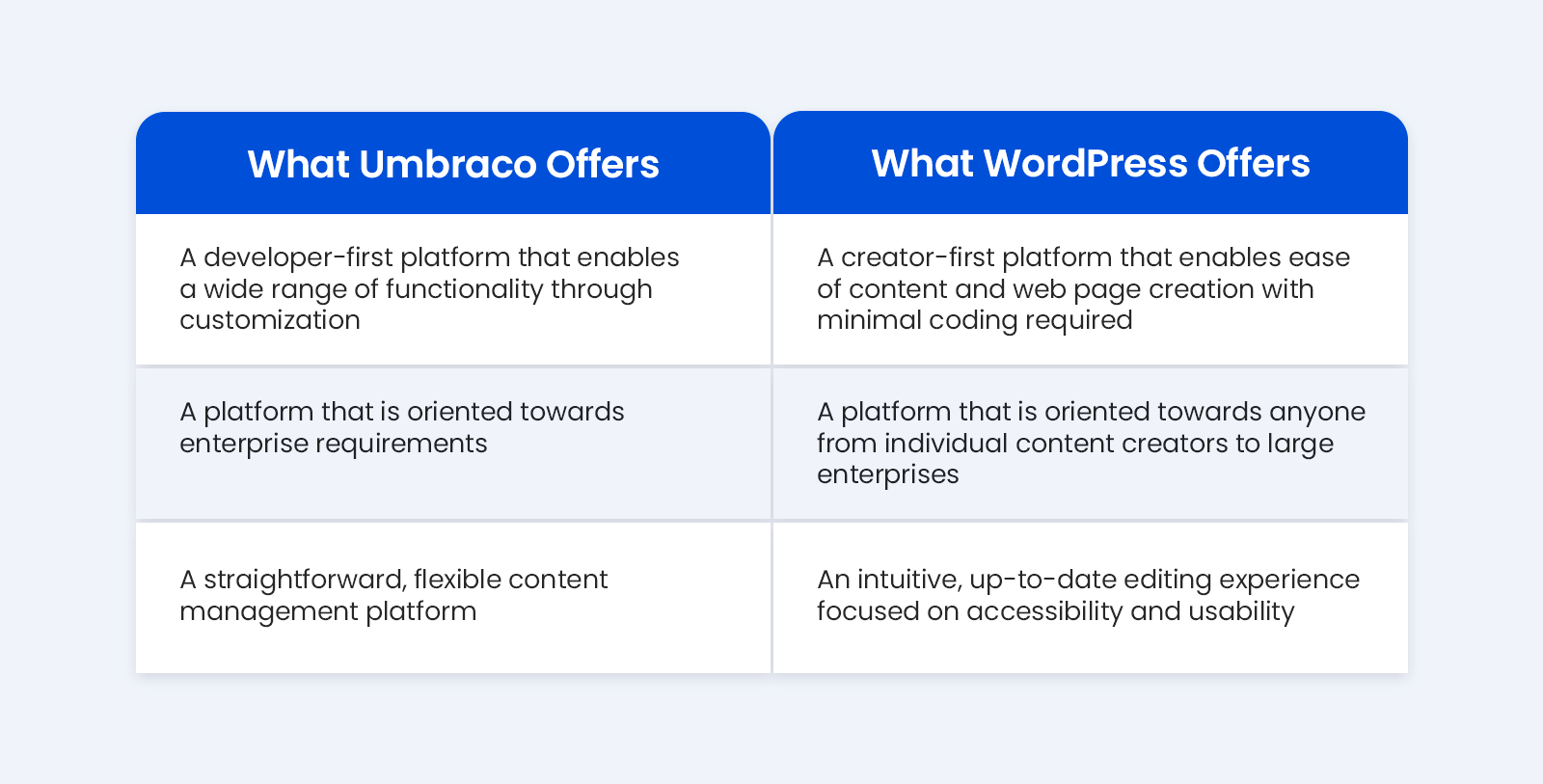 Both Umbraco and WordPress are fairly easy to use. Umbraco is more suited for developer-led content creation but offers flexibility to non-technical users as well. Some of the best websites built with Umbraco are ASDA money and Westminster Abbey.
WordPress, in contrast, offers a more user-friendly interface that enables content creators without technical knowledge to create content and web pages – all with no code.
Also Read: 7 Critical Factors to Consider When Evaluating a CMS
2. Security
Web security is critical in preventing hackers and cybercriminals from accessing private and sensitive information. 
An ideal CMS must offer protection against cyber attacks in the form of firewalls, hack-proof authentication mechanisms, activity logs, vulnerability scans, and regular software security updates. 
So, if we do a comparison between Umbraco and WordPress, how do they fare in terms of security?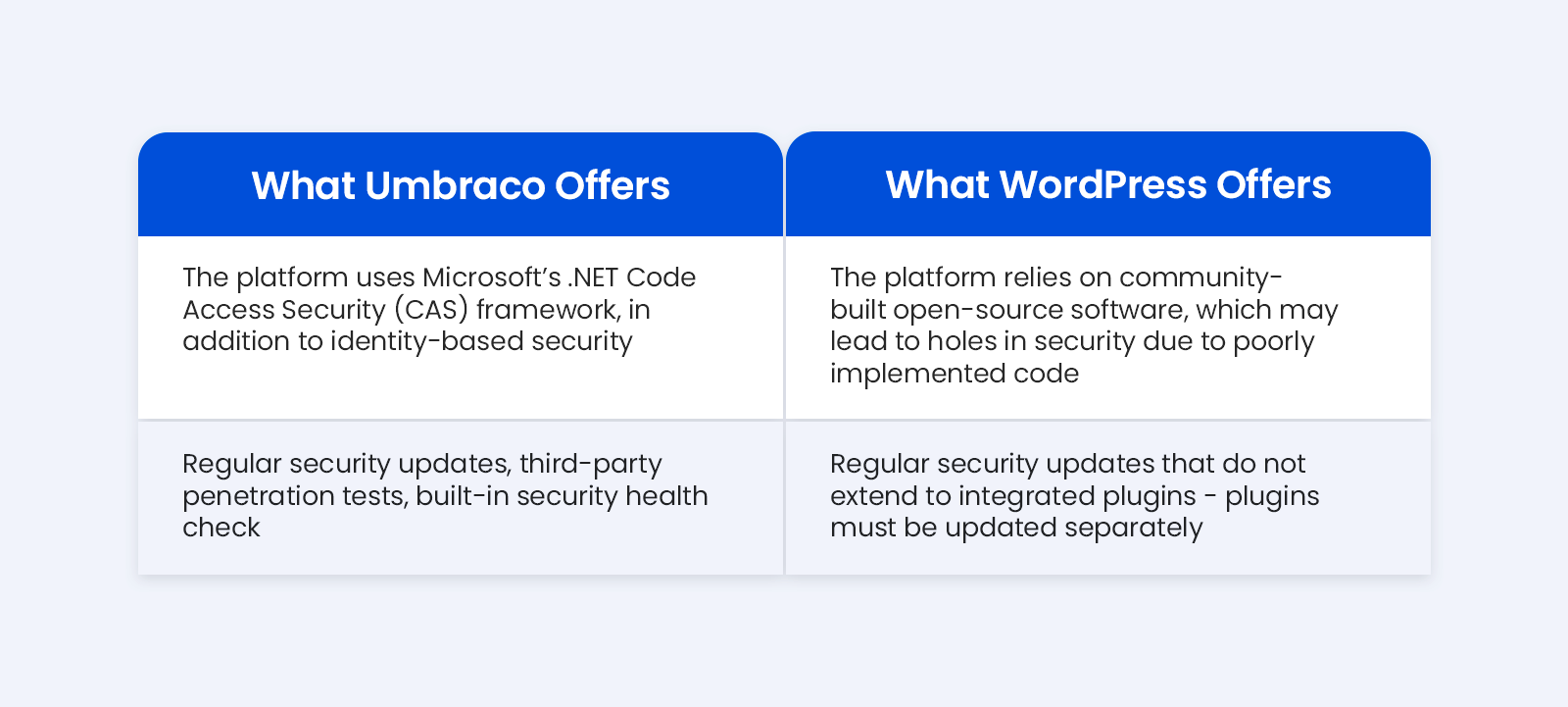 When it comes to WordPress, the biggest threat to the security of the platform is its range of thousands of plugins and extensions – one report suggests that 98 percent of the platform's security vulnerabilities are due to plugins. 
Further, given that over 40 percent of websites are built on WordPress, susceptibility to hacking is tremendous, with one out of every six WordPress powered websites being susceptible to hacking.
Umbraco, which also has some security vulnerabilities such as remote code execution, arbitrary file deletion, SQL injection, cross-site request forgery, is considered to be safer than WordPress which faces criticism because of the platform's self-admitted plugin vulnerabilities. 
3. Hosting
Your website's speed, performance, and accessibility is greatly influenced by where it is hosted. Web hosting allows for a safe, stable server environment, data storage, and faster website operations. A good web host has:
High reliability and uptime

Good bandwidth and storage capacity

Top-notch customer support

Domain management tools (for multiple domains)

The ability to scale as per business needs
Here are the hosting options that Umbraco and WordPress offer.

Both Umbraco and WordPress offer great hosting options. The Umbraco Cloud hosting solution is great for managing teams, working with external collaborators, giving review access to clients, and testing websites, but is on the pricier side when compared to other hosting providers.
4. Staging and Testing Support
Staging and testing environments allow developers to test new features and changes before publishing. Developers can test content on various devices, optimize loading speed, improve site navigation – all without risking your website's uptime and hindering your search engine ranking.
Here are some of the ways in which Umbraco and WordPress offer staging and testing support.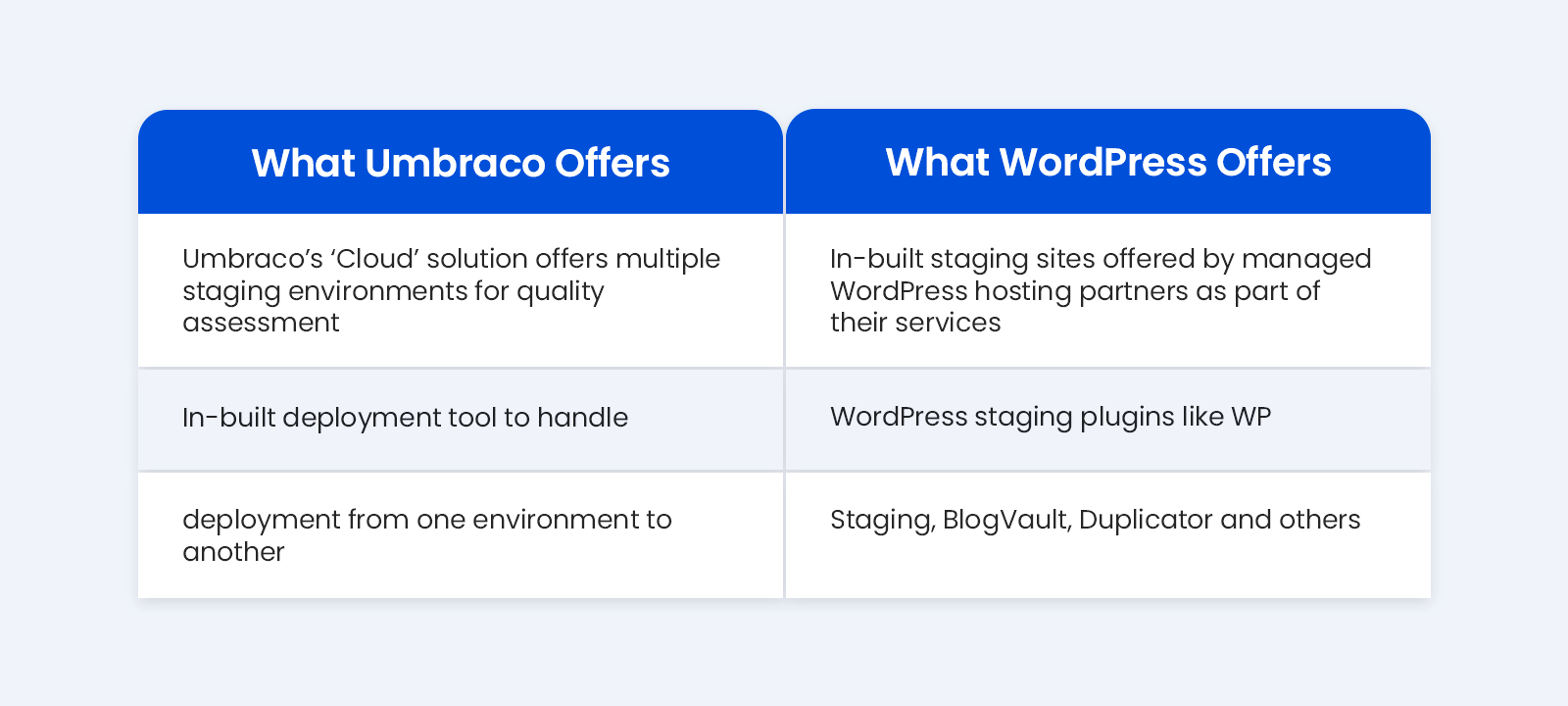 In one way or another, both Umbraco and WordPress support staging sites that can enable website testing and alterations. 
Umbraco staging websites can be created by subscribing to the Umbraco Cloud product, while WordPress staging sites can be created through hosting partners or even via plugins. 
Umbraco also enables site staging through version control tools like Git that require developer intervention.
5. Customizability
An important factor to consider when choosing a CMS is the degree of customization it offers to cater to different business needs. Both Umbraco and WordPress are open-source platforms and offer a great deal of customization.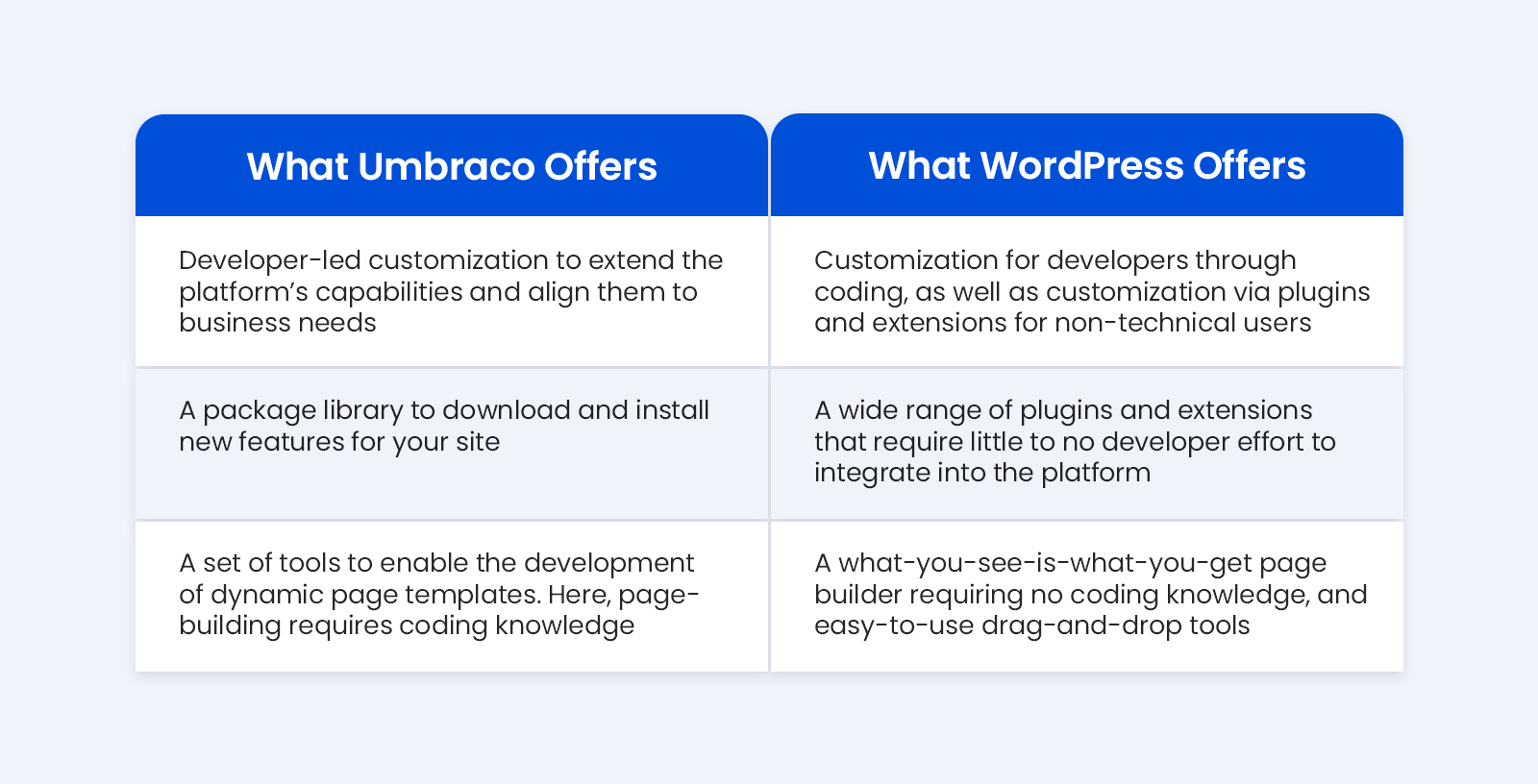 Both Umbraco and WordPress offer a great degree of customizability through feature packages, plugins, and extensions. 
Where the difference between the two platforms lies is that while Umbraco is more suited for enterprises with developer resources or availing of Umbraco development services to add new features and customize existing ones, WordPress offers greater support for non-technical users as well. 
Furthermore, WordPress allows even non-technical users to build and design web pages, while Umbraco requires some degree of coding knowledge to build a web page and is not restricted by templates. 
Also Related: Headless vs. Traditional vs. Hybrid CMS: A Comparison
6. Support
Platform support is very important to consider while choosing a CMS. A robust support system is important to get quick fixes and learn critical information about your website. Most major CMSs like Umbraco and WordPress offer dedicated, specialized support to subscribed users, and offer basic support features to free users.
Here are the support features that Umbraco and WordPress offer their users.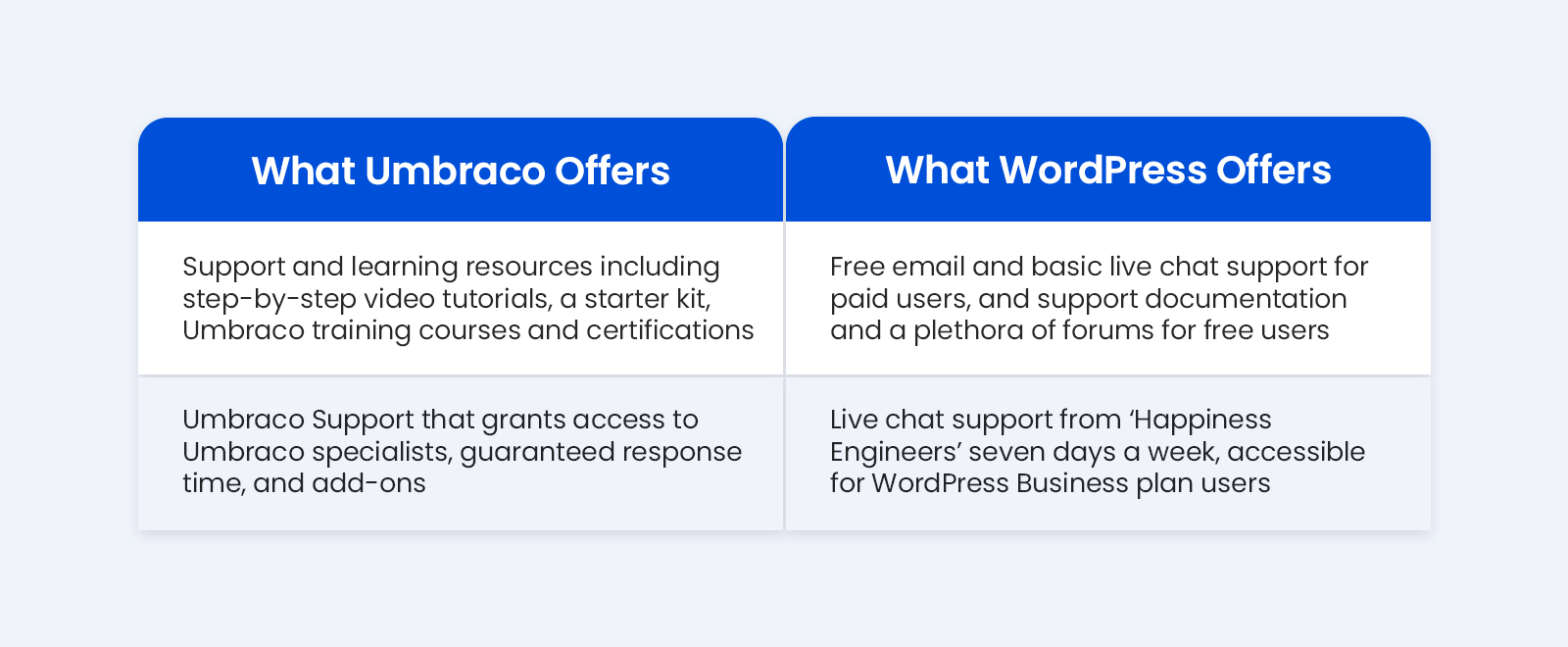 In addition to the support features of both CMSs, both platforms also have massive and thriving communities that can help site owners discover opportunities to learn new information and grow and improve their websites.
7. Price
If you're an enterprise looking to build a website with a trusted CMS, Umbraco and WordPress are likely amongst your preferred choice of platforms. These top-rated CMSs offer products keeping in mind the needs of small, medium and large businesses alike. 
While both Umbraco and WordPress are free and open-source CMS platforms, both offer service and support options to enterprise users. 
WordPress offers two plans for business users – the Business plan that has an annual fee of INR 7700 or just over USD 100, and an Ecommerce plan that has an annual fee of approximately INR 14,000 or nearly USD 183. There's also WordPress VIP (which starts at USD 2000 per month) and Built by WordPress – services to help enterprise users quickly build and launch complex websites. 
Umbraco offers two enterprise plans for its CMS – the Umbraco Professional plan that costs an annual fee of USD 7,500 or INR 5.74 lakhs, and Umbraco Enterprise that has flexible pricing depending on the needs of the business. This excludes the cost of other Umbraco products such as Cloud, Uno, and Heartcore that enterprises may strongly consider to expand the capabilities of their website.
The Verdict
When it comes to choosing between Umbraco and WordPress, there's no clear winner. Both are powerful content management systems that offer a plethora of capabilities valuable to enterprises.  
Umbraco offers flexibility and boundless design possibilities for enterpFwerises that have available developer resources to expand the capabilities of the website to meet specific business goals. This makes it ideal for medium to large enterprises with the budget to make their website pixel-perfect. 
WordPress offers ease of use and immense customization possibilities through plugins and extensions, making it ideal for smaller enterprises with little to no development experience or developer reliance.
Read Next: 10-Step Checklist for Migrating to a Headless CMS
Ready to get started? Fill the form now!
Ready to get started? Fill the form now!