Why Adobe Experience Manager (AEM) is Ideal CMS For Enterprises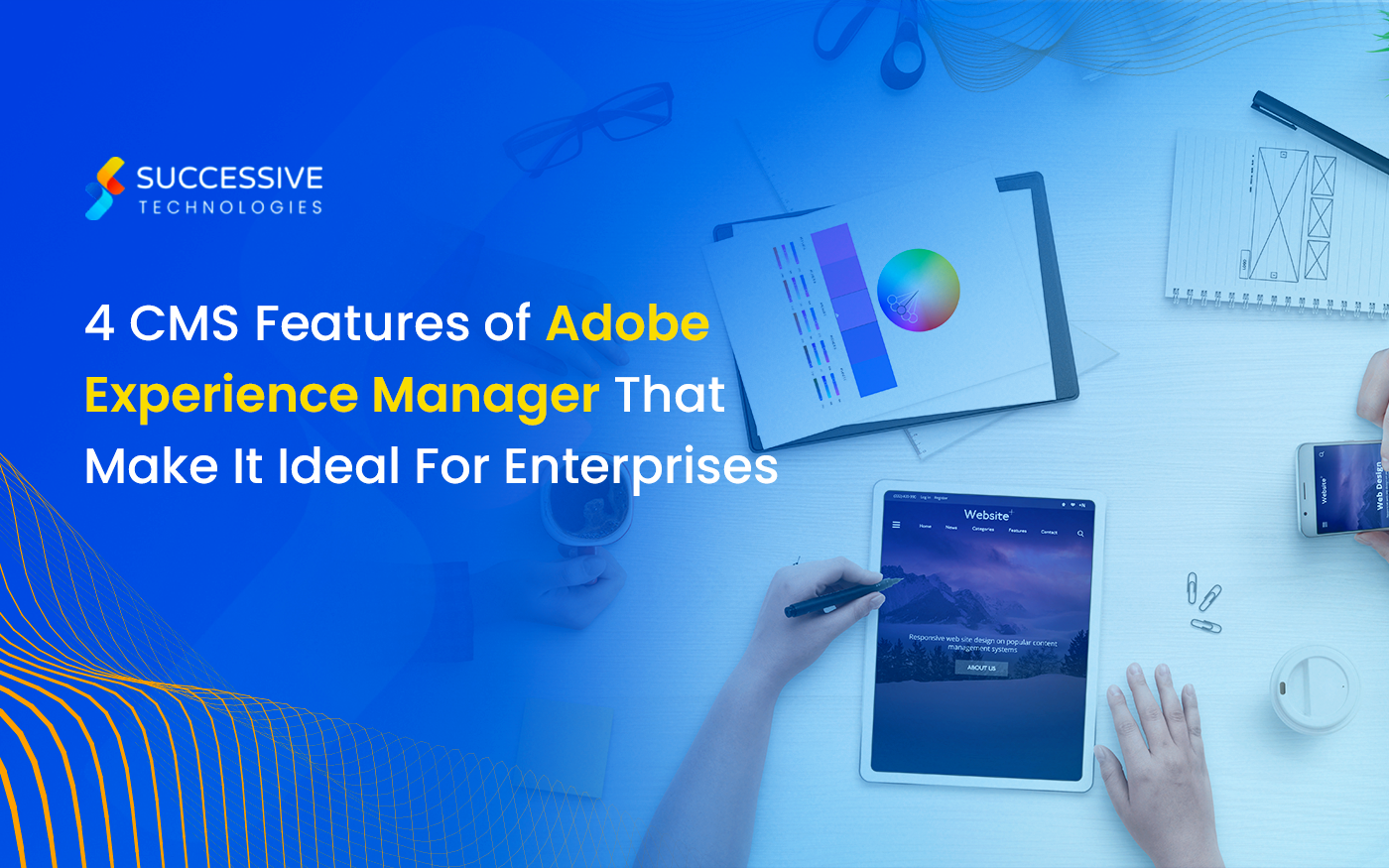 When choosing an enterprise content management system (CMS), it would be remiss of brands to not consider Adobe Experience Manager (AEM) – an award-winning, scalable, highly agile and cloud-native platform trusted by marquee global companies across industries.

So, what features and capabilities does AEM offer that makes it the go-to CMS for leading brands like Lenovo, HDFC Bank, Nissan, Philips and Hyatt? How does AEM deliver an exceptional digital experience for enterprises? Let's find out!
What Does Adobe Experience Manager Let You Do?
A key reason why leading brands have sought out Adobe Experience Manager for CMS solutions is that the platform offers a host of marketer and developer-friendly features and tools such as:
Easy, flexible, in-context, and headless content authoring

Components that both creators and developers can use

Best-in-class toolkit including artificial intelligence (AI) and machine learning (ML) features to address fundamental as well as advanced needs

A regularly updated cloud-native service facilitating optimal site performance with little to no downtime

Access to the latest configurable CMS components that reduce costs of implementation and upgrades
Let's take a closer look at the four major offerings of the Adobe Experience Manager CMS – easy content authoring, seamless site and workflow management, delivery of personalized experiences, and insights to optimize the customer experience.
Best Adobe Experience Manager Features
1. Easily Author Content
The primary use-case of a CMS is for content authoring. Through AEM, creators can develop content at a rapid pace through the platform's intuitive and out-of-the-box features, such as the following.
Text Summaries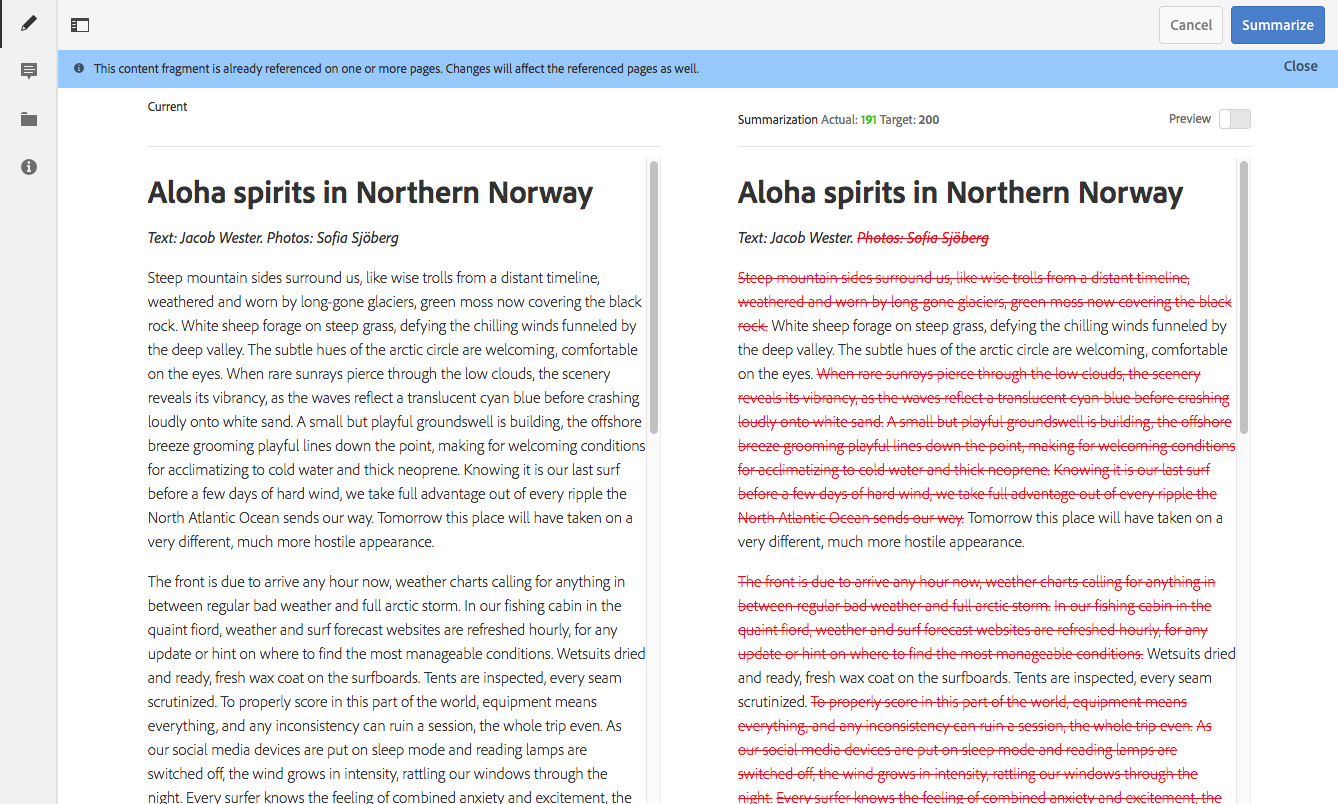 Source: Adobe Experience League
A truly unique feature of AEM as a CMS is its AI-powered capability of automatically summarizing text for smaller screens, enabling re-usability of content across multiple channels and devices without losing its essence and meaning.
This feature, enabled by Adobe's natural language processing technology, can save authors the time and effort of creating and editing multiple versions of the same content. It also helps deliver a better user experience.
Easy Content Reuse Through Content Fragments
AEM offers a valuable feature in the form of content fragments, which rely on page-independent structured content models. This means that creators are no longer restricted by layouts or templates, but can instead create modular content fragments once and easily drag-and-drop them onto a new page at any time.
With the feature, content creators can maximize the re-usability of content, saving time and effort and reducing errors associated with copy-pasting and rewriting content.
Simple, In-Context Editing
AEM offers a clutter-free, what-you-see-is-what-you-get (WYSIWYG) interface that enables creators to simply move around content assets through drag and drop capabilities and create any number of experiences like blogs, forms, comments, carousels, and more. 
Through this feature, creators can also edit various content blocks in a live copy environment, enabling them to swiftly visualize the final published webpage. This straightforward and neat feature offers easy maneuverability on the backend.
Out-of-the-box Components
AEM offers interesting and useful features that enable the development of responsive web pages that require minimal developer effort. Web page creators can make use of a collection of components like bread crumbs, navigation, search, forms and more to deliver specific functionalities.
By allowing non-technical folks to build entire web pages by simply selecting relevant building blocks, AEM helps save developers' time and increases overall productivity. 
Code-Free Design
AEM offers a host of code-free design capabilities. Authors can seamlessly edit and customize page and email templates and configure them for multi-author use, create device-agnostic web designs that deliver consistent user experiences, choose from a plethora of predefined styles for web design and apply these styles through a single click, and more – all without the need of a developer.
Single-Page App Editing
Single-page applications (SPAs) are designed to solve the problem of a slow page load time by taking advantage of static components of the site and dynamically rewriting the current page instead of loading new pages every time information is requested.
AEM authors can easily create, edit, preview and manage SPAs through the platform, while ensuring faster load-time for web pages, resulting in an improved experience for an impatient, easily distracted user.
Read Next: 7 Critical Factors to Consider When Evaluating a CMS
2. Seamlessly Manage Sites and Workflows
With the Adobe Experience Manager CMS, content creators and site owners can easily control and manage content assets, project workflows, site versions, and more! Here are the Adobe Experience Manager features that enable enterprises to get this done:
Cloud Management
Enterprises are constantly pushing out new features and experiences to meet evolving customer needs, and this can be an arduous, resource-consuming process. This is where AEM's customizable managed cloud offering can step in.
Through AEM's cloud management features, enterprises can fully host sites on trusted platforms like Microsoft Azure and AWS, automate testing and deployment of new features without compromising on security or performance, leverage targeting and analytics capabilities, monitor and optimize performance through advanced tools, and connect with Adobe's team of cloud experts for support.
Customizable Metadata and Page Properties
AEM allows for easy defining and customization of page properties such as titles, subheadings, tags, thumbnails, and language. Users of the AEM CMS can even bulk-edit page properties to save time and effort. The platform also enables quick alteration of metadata to suit the use of archived content fragments.
Multi-Site Management
Multi-site management is a key requirement for many enterprises, especially those with a wide global web presence. Managing a host of mobile and web properties can be challenging, which is where AEM's multi-site management feature can be instrumental.
AEM allows enterprises to control all digital properties through a single, user-friendly platform while maintaining a uniform brand identity across all communication. Further, any changes to campaigns or messaging can be quickly applied to all sites without losing consistency, delivering targeted user experiences. 
Further, by utilizing translation management tools like the AI-powered Adobe Exchange, enterprises can streamline and speed-up content translation to serve global audiences.
Shared Environments and Workflows
AEM makes it very easy to create a shared environment where team information, shared assets, grouped resources, and workflows can be easily managed and tracked.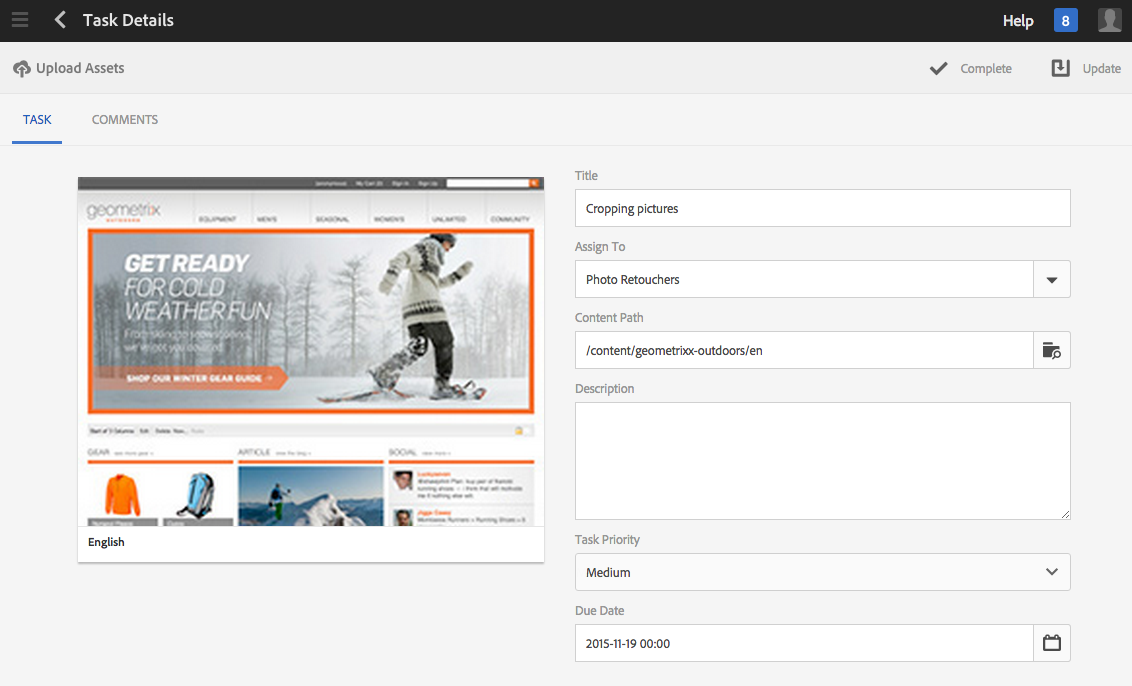 Source: Adobe Experience League
CMS users can make use of common project templates, inbox integration, and tools like Approval Workflow, Email Request, Landing Page Request, and Task tiles to get a granular sense of the project status and identify areas that need attention.
Versioning
Getting a grasp on the update history of a website is a key step in upgrading a website and its features. This is where versioning can be helpful in eliminating the painstaking task of re-working or manually archiving versions of a website.
Through AEM's versioning features, users can save or restore any number of page versions and compare previously published versions to clearly highlight any changes you've made. AEM's Timewarp tool can also be used to simulate versions of web pages from the past.
Also Read:  Why Your Business Needs a Digital Experience Platform
3. Deliver Personalized Experiences Across Devices and Geographies
While delivering personalized, engaging content across devices and geographies can seem challenging, AEM puts this aspiration well within the reach of enterprises through the following features and tools. 
Ecommerce API Framework
Keeping in mind the evolving needs and demands of today's customers, a lack of omnichannel capabilities can spell disaster for ecommerce enterprises. With AEM's extensive ecommerce API integration, brands can deliver hyper-personalized and powerful cross-channel experiences that can increase customer favorability and build/improve positive brand perception.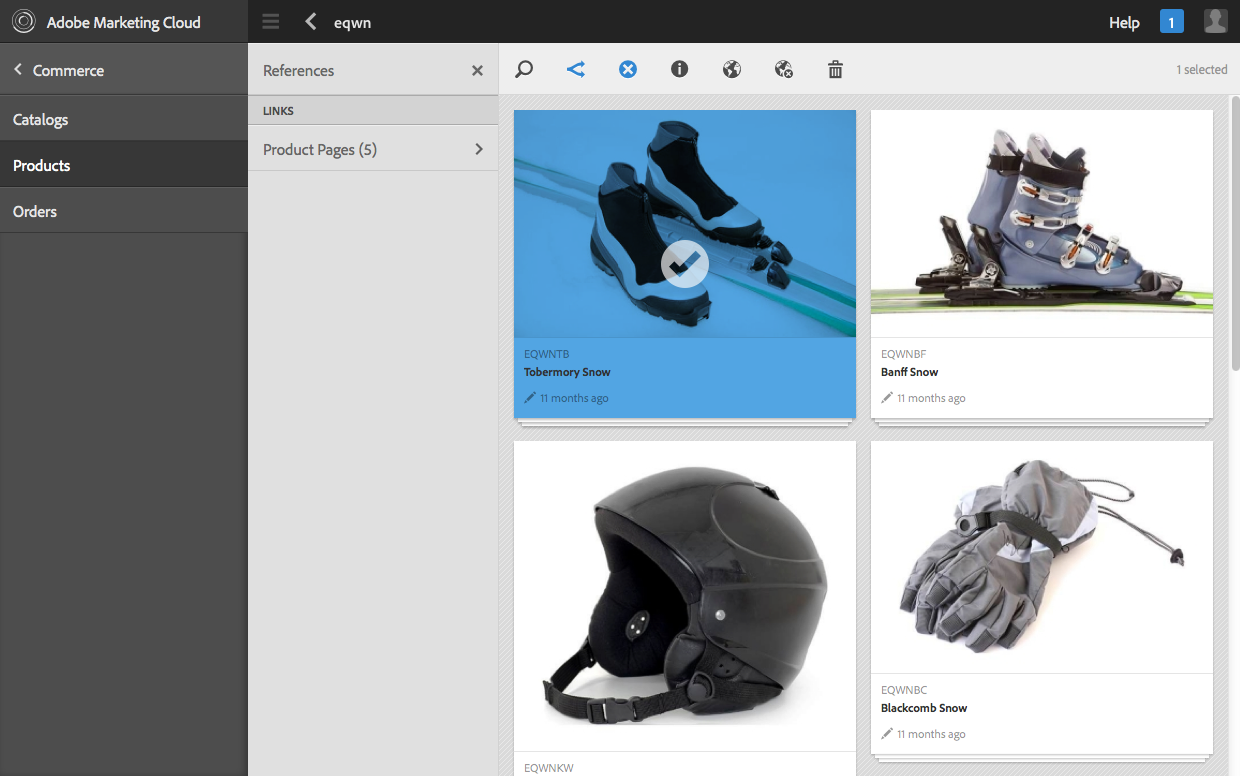 Source: Adobe Experience League
Through the easy and intuitive ecommerce API framework, brands can design shopping experiences for every channel and device, tailor web pages to audiences, and cut down on production times.
Digital Display Management
AEM's offerings are not limited to just websites but extend to all digital displays of an enterprise – all of which can be designed and customized using a single platform. 
Through AEM, enterprises can create a cohesive, consistent and unified brand presence at scale across an ample mix of customer touchpoints. Brands can use AEM Screens to quickly build digital signage and create fresh content for in-venue screens, thereby boosting engagement and conversions.
Headless CMS
AEM uses a GraphQL API for headless or hybrid headless content delivery. On Adobe headless CMS, modular content fragments can be easily reused across channels and devices and localized using Adobe Exchange's translation capabilities. Site builders can also quickly create React and Angular single-page applications (SPAs) using AEM's SPA editor. 
Also Related: Your 10-step Checklist for Migrating to a Headless CMS
4. Optimize Customer Experience Through Valuable Insights
Customer experience (CX) is constantly evolving, and enterprises must evolve with ever-shifting customer needs by tracking and improving their CX strategies and efforts. Through AEM's analytics, SEO, and targeting features, enterprises can always deliver fresh, relevant content without overloading development teams. Let's look at these features more closely.
Performance Insights
Tracking the performance of your painstakingly-created web pages is key to improving them. AEM offers a host of tools that deliver content insights and SEO recommendations that can help you make data-driven decisions.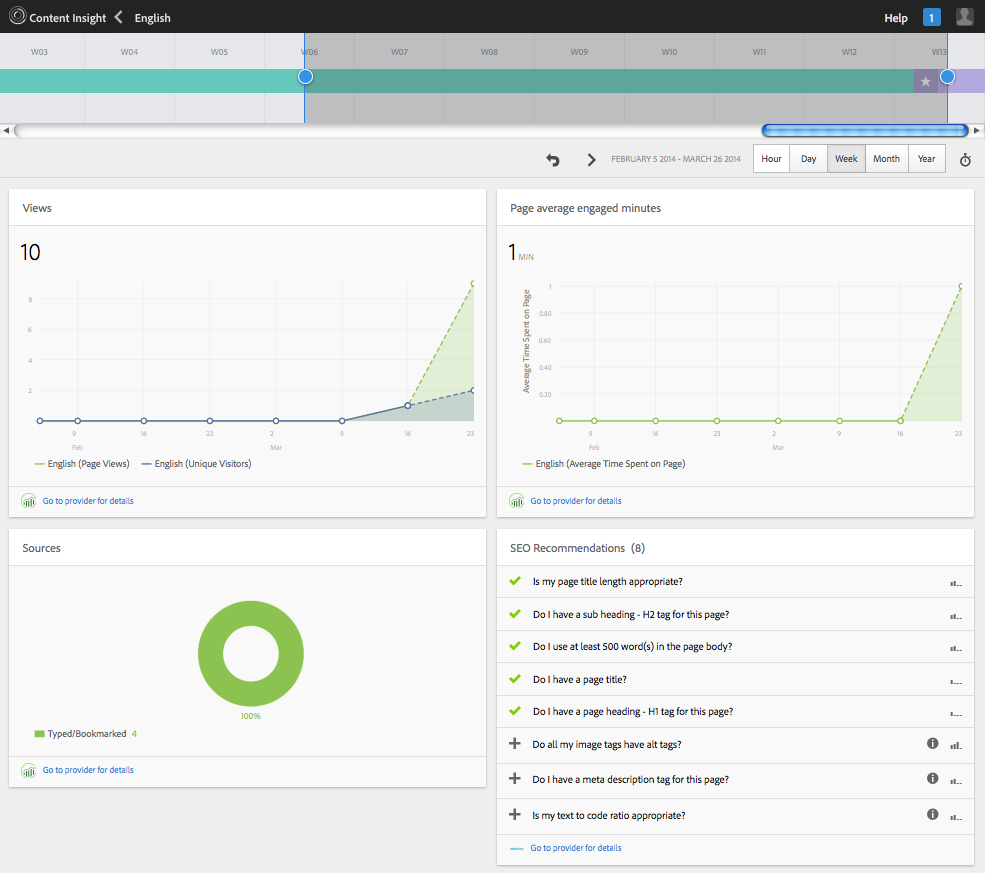 Source: Adobe Experience League
Through AEM, enterprises can gain page-level insights on commonly tracked metrics, view insights about campaign performance, and apply best-fit SEO practices to stay on top of search engine rankings – all through multiple reports available at specified time periods.
Precise Targeting
Through AEM implementation, enterprises can target audiences at a granular level, making use of real-time data, geo-targeting, visitor behavior data, and more. Enterprises can also create more accurately targeted and varied campaigns by uploading customer profile data from Adobe Target, Adobe Analytics, Adobe Campaign, and even enterprise-specific CRMs.
Brands can also leverage filterable reports featuring key success metrics such as conversion rate, average order value, revenue per visitor, audience engagement, and more to make well-informed decisions.
Adobe Experience Manager Can Be a Gamechanger for Your Enterprise
The Adobe Experience Manager CMS is one of the few content management systems designed specifically for the needs of fast-growing enterprises.

The platform's tremendously wide array of features can help enterprises effectively manage cross-channel web content, deliver personalized and modern experiences for web, mobile and other channels using the power of AI and ML.
Under a single platform, AEM brings together content, commerce and marketing capabilities, empowering brands to effortlessly create memorable user experiences and scale!
Read Next: The Key Ingredients of an Ideal Content Management System
Ready to get started? Fill the form now!
Ready to get started? Fill the form now!