Why Choose BigCommerce For eCommerce Website Development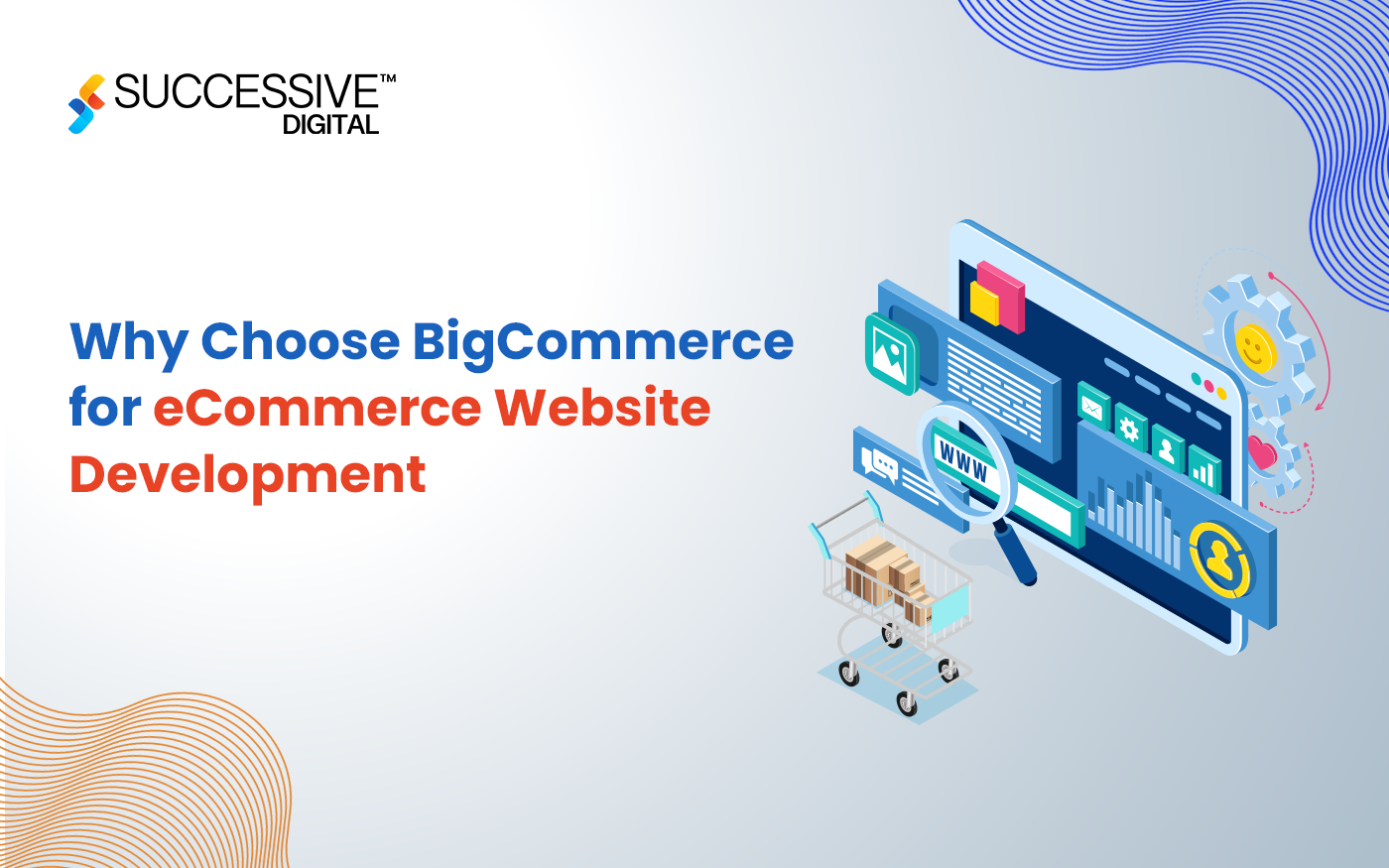 In the competitive world of eCommerce, BigCommerce stands out as a powerful platform that can help businesses create dynamic, user-centric websites.
With more than 45k live websites built with BigCommerce, it powers eCommerce websites for several industry-leading brands, including Ted Baker, Skullcandy, Casio, and Sony with its B2B and B2C commerce solutions.
Additionally, it is a top choice for businesses worldwide, thanks to its rich array of intuitive themes, powerful functionalities, robust security, and unparalleled support for multiple currencies and languages.
Let's quickly understand how this platform works and how it can be an ideal platform for your eCommerce business.
BigCommerce: A Comprehensive Overview
BigCommerce is an open SaaS eCommerce platform that simplifies the process of setting up and managing an eCommerce business. It handles the backend, hosting, and security of your website, giving businesses the freedom to design the storefront as per their requirements. BigCommerce offers various APIs, themes, templates, UIKits, and integrations with content management systems and frontend frameworks to help businesses design and customize their storefronts.
Accelerate Your Website Performance With Key BigCommerce Solutions
BigCommerce provides various solutions to enhance the eCommerce website's functionality and performance. The BigCommerce Development Company leverages these solutions to create robust websites for their clients. Here we will briefly discuss each of them: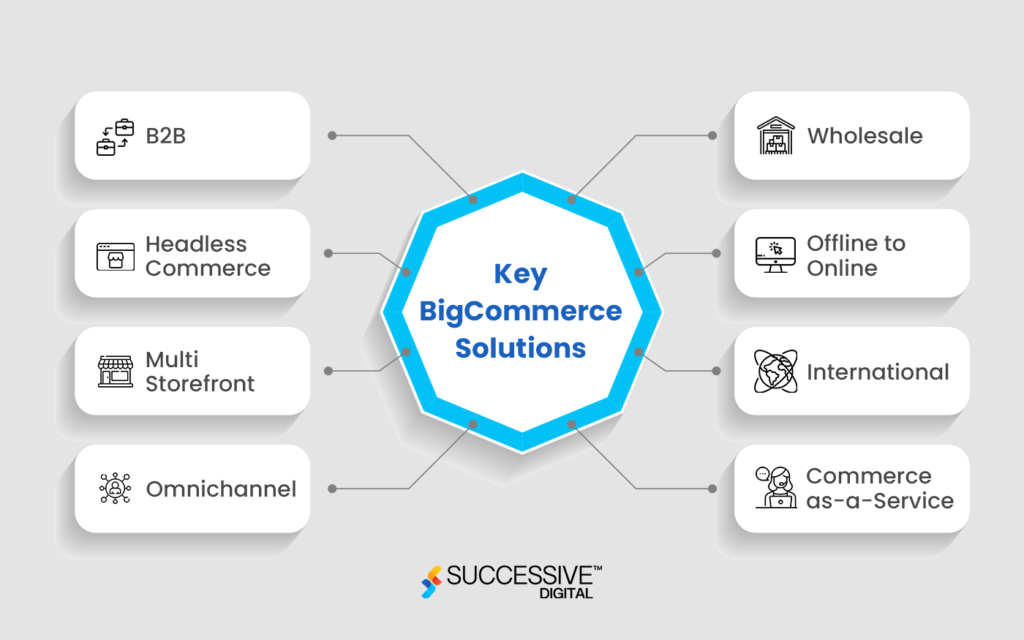 1. B2B
B2B businesses can seamlessly setup and manage their eCommerce website and have the freedom to design a custom store for their customers, customize their shipping rates, and have the flexibility to sync data with their preferred systems, including ERP, PIM, OMS, and CRM. This way they can deliver a modernized and personalized purchasing experience specifically catered for B2B suppliers, manufacturers, distributors, and wholesalers. BigCommerce Enterprise Solutions powers B2B commerce allowing businesses to offer improved buyer experience and manage their operations including manufacturing and wholesale.
2. Headless Commerce
With a headless commerce architecture, businesses can create an unparalleled shopping experience for their customers. BigCommerce offers backend support and hosting while allowing businesses the flexibility to create a customized headless storefront that aligns with their brand. It also offers multiple headless solutions such as frontend frameworks (Next.js), content management systems (WordPress and Contentful), and Digital Experience Platforms (Bloomreach and Amplience) to ensure faster website launch and easy synchronization with multiple storefronts.
3. Multi-Storefront
The multi-storefront functionality allows businesses to broaden their online selling spectrum across new regions and customer segments, and enables new product launches managed from a single BigCommerce dashboard. This way, they can seamlessly create unique storefronts for each facet of their business and increase efficiency while reducing operational costs and complexities — helping them build an unbeatable experience tailored for any audience, region or segment.
4. Omnichannel
The omnichannel commerce is a rising concept that allows businesses to sell where their customers shop and boost sales. The platform offers the flexibility to create unified selling experiences, automating and optimizing product catalogs across channels, including marketplaces, social platforms, and search engines. This way, businesses can reach the right shoppers, at the right place, and at the right time to unlock digital growth.
Also read- BigCommerce Key Features to Enhance your Online Store
5. Wholesale
Wholesale businesses are usually more complex than retail and demand specific buying experiences. Such businesses can seamlessly manage their wholesale channel from a single frontend and backend. It also allows them to assign wholesale customers to unique customer groups to automatically customize their site experience, including unique pricing, products, re-ordering, and approval processes. BigCommerce provides wholesale-specific payment solutions and site experiences to streamline bulk order pricing.
6. Offline to Online
With more customers preferring online shopping, many retail merchants are moving from traditional selling to digital space. BigCommerce streamlines the migration process and allows them to sell where their customers shop. With BigCommerce, one can launch their storefront faster and start selling promptly. It also allows businesses to seamlessly sync their brick-and-mortar sales and inventory with their online store by easily connecting any POS system. Businesses can blend their online and offline shopping experiences by building "buy online, pick up in store" functionality with BigCommerce.
7. International
International selling enables eCommerce merchants to tap international markets and grow their market presence across global regions. It allows them to offer localized eCommerce experiences to their customers with local currency, language, and site content optimized according to the region they are shopping from. The platform also enables them to create customized product catalogs, pricing and promotions for targeted regions, to enhance brand loyalty, boost sales, and acquire higher market share.
8. Commerce-as-a-Service
Businesses get complete flexibility to build and customize their ecommerce websites for their specific target audience and offer remarkable shopping experiences. This helps in unifying technology, marketing, data, and operations from a single BigCommerce dashboard, making selling easier across different channels. They can also integrate the website with multiple tools and APIs to customize their storefront without compromising backend functionality such as inventory management, security, and payment processing.
Conclusion
Ready to stand out in the eCommerce landscape? Choose BigCommerce for your eCommerce website development and partner with a trusted BigCommerce development agency to create a custom, high-performing website that can accelerate your online selling journey.
Ready to get started? Fill the form now!
Ready to get started? Fill the form now!