Enhance Your Online Store Management with BigCommerce: Key Features for Success
According to a report by eMarketer, global eCommerce sales are projected to surpass $7 trillion by 2025. With the increasing demand for online shopping, businesses are opting for eCommerce platforms to build and operate their online stores in a hassle-free manner. eCommerce platforms, also known as eCommerce engines, are software applications that enable businesses to manage their websites, sales, marketing, and operations. These platforms provide an all-in-one solution, from hosting to payment processing to website design and more. One of the powerful eCommerce platforms is BigCommerce, which provides advanced eCommerce features and integration with other technologies and tools while empowering businesses to centralize their operations and run the business. BigCommerce is also packed with a variety of personalized models that helps businesses easily set up their online store, drive sales, and improve their brand visibility.
With advanced functionality and streamlined selling capabilities, BigCommerce has transformed retail & eCommerce business. The below infographic explains how the retail industry is estimated to rapidly grow and bring new opportunities for businesses to boost their online sales.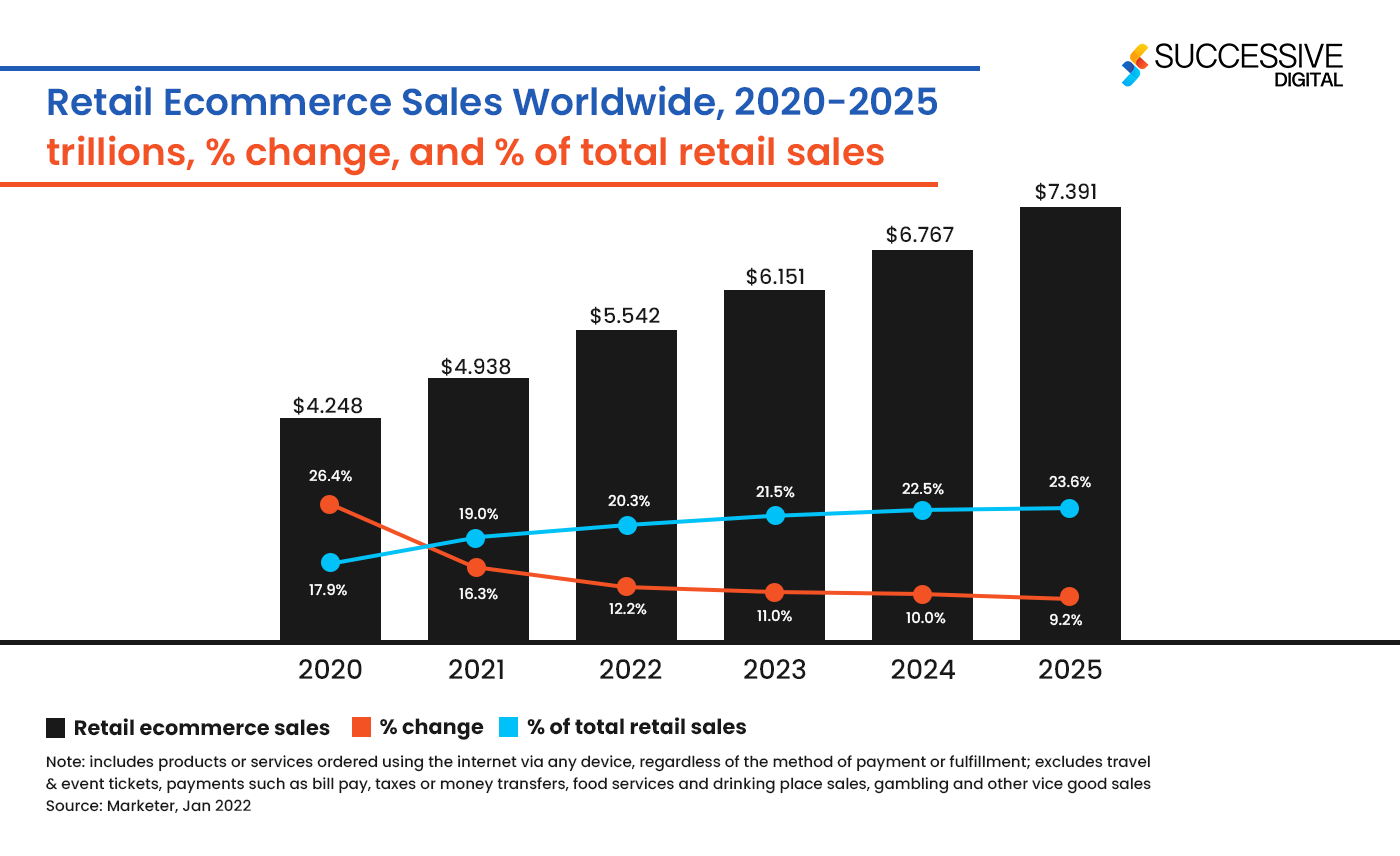 Top Features Of BigCommerce For Efficient Online Store Management
As a popular eCommerce engine, BigCommerce serves as a vital tool for businesses looking to sell their products online. The platform offers a range of features and benefits that enable merchants to manage their online stores efficiently. Some of its most common features include: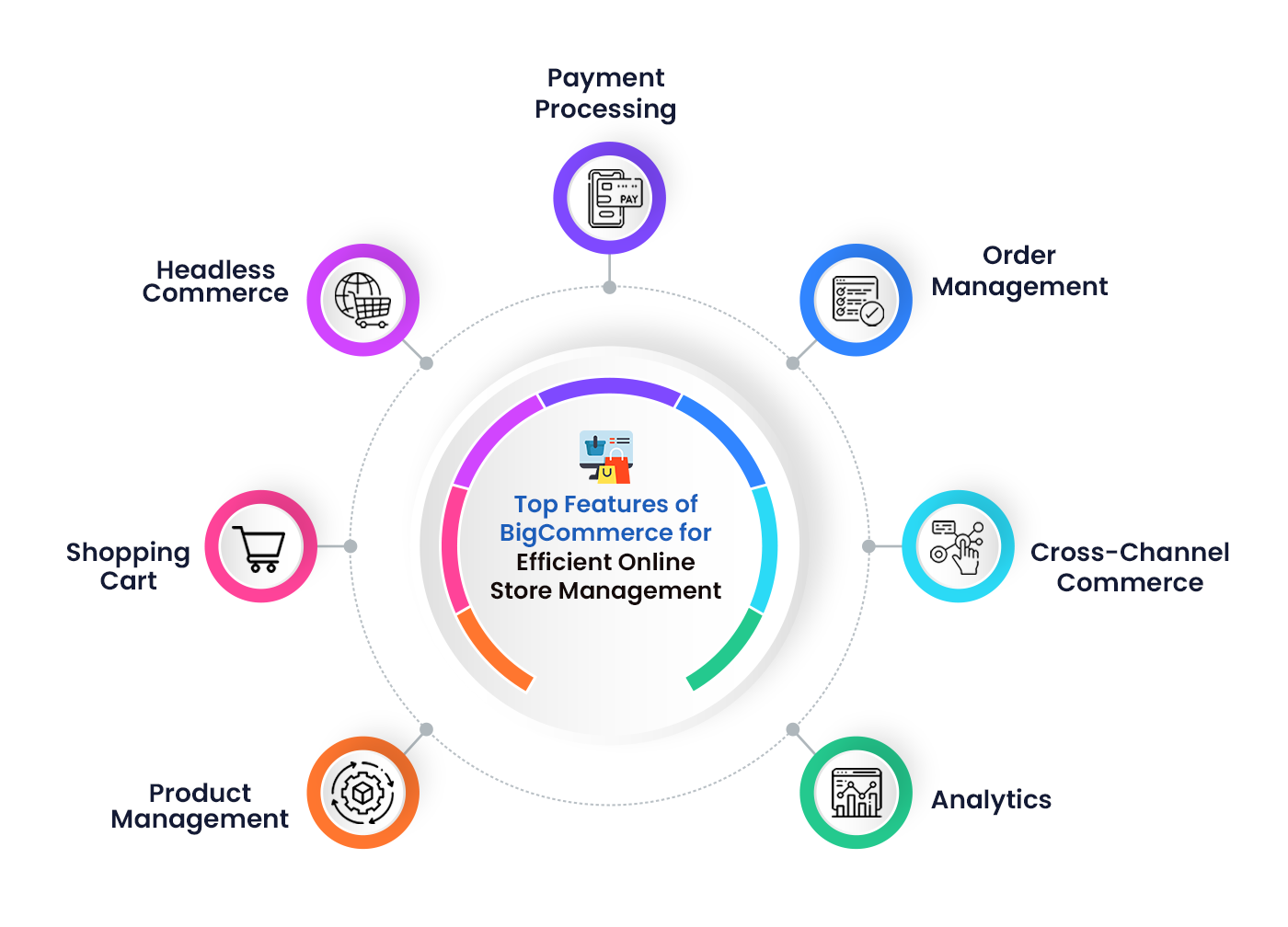 1. Product Management:
Using BigCommerce features like product management, merchants can easily upload, manage, and organize their products. This feature includes product descriptions, prices, images, and other essential details that help customers make informed purchasing decisions. Some of the other features include product reviews and ratings, product recommendations, and inventory management.
2. Shopping Cart:
The shopping cart functionality of BigCommerce allows customers to add products to their cart and make purchases. This feature makes the checkout process seamless and convenient for customers. The platform also offers features like abandoned cart recovery, which helps businesses recover lost sales.
3. Headless Commerce:
The headless commerce feature of BigCommerce allows businesses to connect any frontend network, letting them build their headless storefront for unique cases. APIs are used to connect the backend (BigCommerce) with multiple frontends (various channels like website or mobile). This feature helps in increasing site speed, improving conversion rate, and creating customized shopping experience for customers.
Recommended Reading – Complete Guide on eCommerce Store Development Cost
4. Payment Processing:
The payment processing feature of BigCommerce enables merchants to process payments securely through various payment gateways. This feature ensures that customer transactions are processed quickly and safely. This platform also offers automatic tax calculation, multi-currency support, and fraud detection to streamline payments.
5. Order Management:
BigCommerce provides order management tools, including order tracking, shipping, and returns. This feature helps businesses streamline their order fulfillment process and improve customer satisfaction. Some of the other features include order notifications, order history, and order editing.
6. Cross-Channel Commerce:
BigCommerce enables cross-channel commerce and allows businesses to sell their products over various channels, including marketplaces, social media, brick and mortar, as well as multi-storefront. This feature helps businesses reach a wider audience, enhance brand visibility, and boost sales.
7. Analytics:
BigCommerce comes with an analytics dashboard that provides businesses with vital metrics to monitor store's performance such as sales, operations and traffic. It also offers real-time data to track user activity and shopping cart analysis. With these metrics, businesses can focus on promoting their most viewed products and captivate users to complete the purchase.
6 Reasons To Choose BigCommerce To Accelerate your eCommerce Business
Before committing to an eCommerce platform, merchants need to research and carefully evaluate their options. Platforms such as BigCommerce are generally easier to set up and allow merchants to manage their online store with ease. Here are some factors one must consider before choosing BigCommerce: Enterprise eCommerce Services for accelerating their eCommerce business:
1. Budget:
When choosing an eCommerce platform, it's vital to consider their budget and essential features to be integrated in their online store. An all-in-one eCommerce platform such as BigCommerce can provide a premium package that fits every budget and includes all the necessary features. It offers subscription-based plans which are inclusive of important features such as hosting, SSL certification, abandoned cart support, and many other functionalities. The intensity of these functionalities increases with the type of plan chosen by the business.
2. Web Design:
To create an impactful shopping experience, the online store's web design should reflect the merchant's brand and captivate customers from the landing page to checkout. BigCommerce offers a range of customizable themes, and some may come at an additional cost that depends on various factors. Businesses can choose a custom theme with BigCommerce that aligns best with their specific goals.
3. Programming And Functionality:
Backend programming, custom functionality, and coding are important to create a well-operating and competitive eCommerce website. However, they can also be the most expensive aspects of building one. BigCommerce is built majorly on PHP, but it also includes a number of other languages, including Ruby on Rails, HTML, CSS, and JavaScript. This flexibility means that BigCommerce can be adapted to fit the needs of any business, whether a startup or an established business.
Hidden Gems to Uncover – Business Potential With BigCommerce Digital Marketplaces
4. Security:
The security of customers' data should always be the top priority of merchants to empower their eCommerce business. BigCommerce provides a secure environment for payment processing and data management, as failing to do so can result in the loss of loyal customers and damage to the company's reputation. BigCommerce is ISO/IEC 27001:2013 & PCI DSS 3.2, Level 1 certified and also supports 65+ online payment gateways, including popular options like PayPal and Stripe, and accommodates 140 currencies. With these security measures, you can focus on growing your business with peace of mind.
5. Monthly Hosting:
Hosting an eCommerce website can be a challenging task, but with cloud-based platforms like BigCommerce, hosting is included in the monthly subscription, eliminating the need for third-party hosting. This saves additional costs as various features and capabilities are already included in the plan and helps businesses to easily manage their online store.
6. Maintenance:
Maintaining an eCommerce website involves ongoing costs to keep the website running smoothly. This includes annual expenses like domain name registration, SSL certificate, and regular hosting fees. The subscription plan offered by BigCommerce covers all such maintenance functionalities to ensure the merchant's online store stays operational and secure.
Conclusion
In the evolving digital space, choosing a robust eCommerce engine is important for businesses that want to boost their sales. With a plethora of features and benefits, BigCommerce allows merchants to streamline and manage their online stores with ease. However, to leverage its full potential, businesses need to seek a trusted Bigcommerce Development Agency that can assist them in transforming their eCommerce business.
Ready to get started? Fill the form now!
Ready to get started? Fill the form now!