Magento Website vs. Magento Mobile App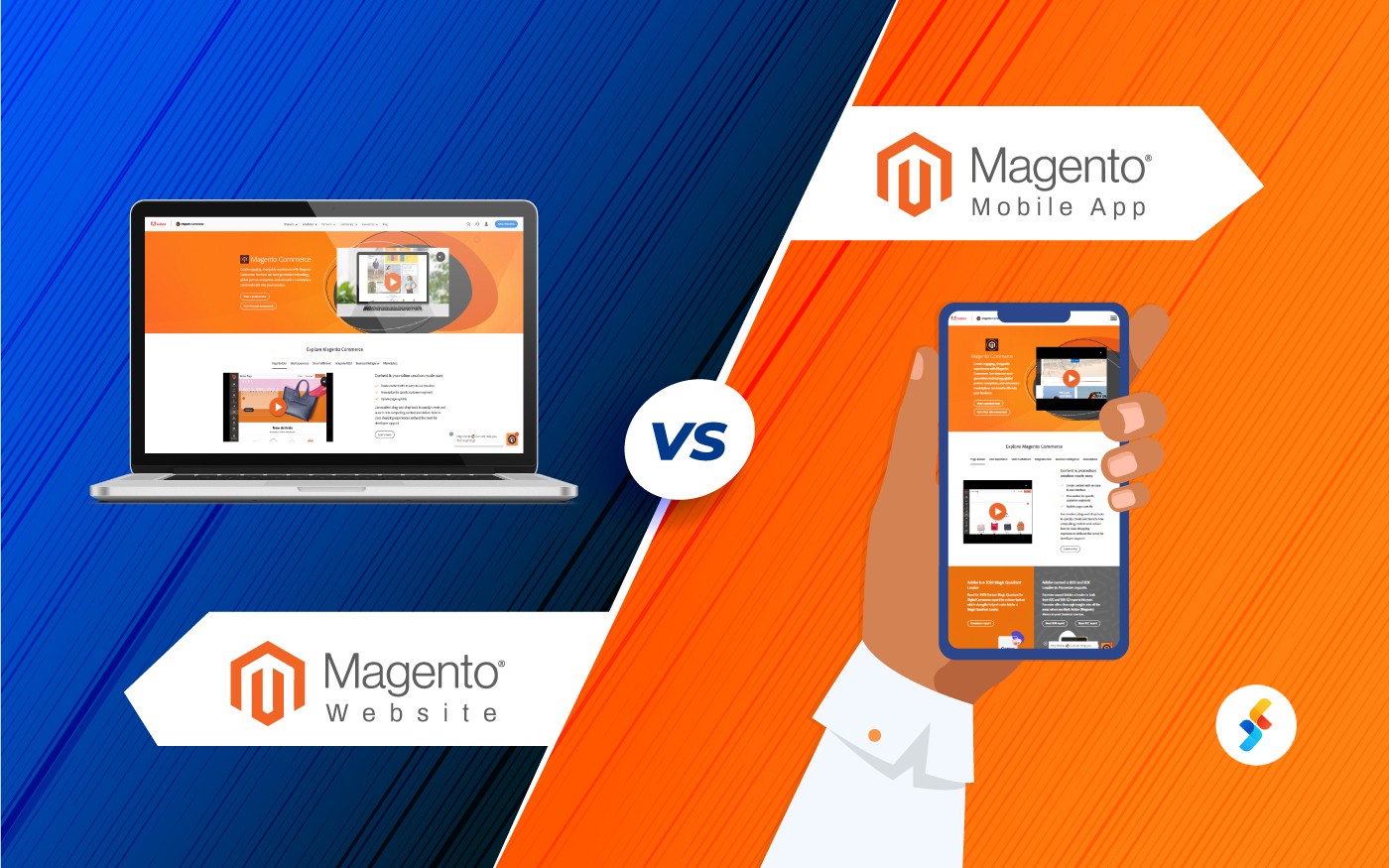 Summary: Are you thinking of starting an eCommerce business? Then, you cannot overlook a widely used eCommerce open-source platform: Magento. But before that, it is essential to figure out which is an effective solution for your online store: Magento website or app? Read to know.
Magento is the most used open-source platform for e-commerce businesses globally. It includes over 28% of the total mobile apps and more than 260,000 merchant sites. If you also want to use this excellent platform for your online store, it is crucial to choose the right Magento development approach: mobile app vs. website. The blog here covers the difference between the Magento website and Magento mobile app to make a choice easier.
Magento Mobile Application vs. Website: Which One to Choose?
Websites built on Magento are highly responsive and work well both on desktops and devices like notebooks and tablets. However, with mobile commerce's advent and popularity, businesses can enhance user experience through mobile apps.
Here are some of the vital m-commerce statistics-
About 49% of consumers shop through smartphones all over the world.
In 2019, over 1B mobile users used coupons for shopping purposes worldwide.
By the end of 2019, the total $2.3 trillion m-Commerce transactions got recorded.
By the end of 2021, the m-Commerce revenue will reach $3.56 trillion.
Both Magento mobile apps and websites are the bridge to eCommerce success. So, it will be very unfair to compare two of the most important sources of online purchase. While both have their precedence and masteries, here is why you should choose Magento based responsive websites and mobile apps.
Top Reasons to Choose Magento For Your E-Commerce Website
Easy to install and add additional plug-ins & layouts
Open-source technology with flexible, scalable eCommerce solutions
Effective and cost sensitive program
Allows for discounts and promotions at check-out
Provides more than 50 payment gateways
Third-party integration
SEO-friendly
The above benefits make e-commerce website developers relaxed and delighted. Despite this, Magento mobile app is more successful in an online business's end goal, i.e., increased sales and revenue.
Why Are Magento Mobile Apps Preferred Over Magento Websites?
If a website is not mobile-friendly, you will miss a considerable number of audiences for sure. A web portal is functional but restricted to dynamic and user-friendly functionalities in Magento. On the other hand, a mobile application is more suitable to access and convert a user into a customer.
Let us explore some features of Magento Apps in detail, making it a top choice for your e-commerce store-
Better personalization
Ease of sending push notifications
Quick responsiveness
Freedom in designing
Analytics and reporting
Complete support
Intuitive interaction
Offline work mode
Easy native functionality
Security and payment options
Better Personalization
Personalization using Magento apps is the most beneficial feature you will get ever. You can offer customers a high level of personalized shopping experience that too in real-time. Regular users can get related suggestions frequently.
Ease of Sending Push notifications
Magento application presents two significant types of notifications, i.e., push notifications and in-app notifications. The purpose is to make sure that customers get the deals directly on their phones without accessing their email.
Quick Responsiveness
Customers quickly leave from the websites which are slow to respond or fail to load within 3 seconds. Magento's eCommerce applications broaden their advantage in speeding up the loading time.
Freedom in Designing
With Magento, developers have the freedom to design the application and make the UX simple and eye-catchy. Magento's online application gives a chance to explore the new ways of gesture and surface computing like swipe, tap, select, deselect, drag, etc.
Analytics and Reporting
Magento offers business intelligence abilities for smooth reporting, checks with critical sales function, products left in inventory, items in the cart, detailed statistics of customer's purchase and shopping behavior, abandonment of carts, and more reports on similar lines.
Complete Support
Since Magento is open source, it has enormous community support dedicated to expert developers, bloggers, CEOs, project managers, and programmers. They are available to share tips, discuss updates, and help one another solve technical support issues through forums and events.
Intuitive Interaction
A website is not able to hit a natural interaction with your target users. However, an e-commerce application's layout, theme, and navigations are far better at providing intuitive interaction.
Offline Work Mode
A mobile app built using Magento often comes in offline mode and can grant access to the customer to perform specific tasks. This freedom is not available in a responsive website as it relies on an internet connection.
Easy-Native Functionality
With an application, developers can use some of the native features, such as camera, mic, etc. It, as a result, improves the functionality and provides a smooth user experience.
Security and Payment Options
Implementing SSL security and a dedicated IP is quickly done through Magento, ensuring your customers feel safe when buying online. The platform also allows you to add multiple payment options to the app.
The Final Inference
As we can now see, Magento has a proven reputation among eCommerce platforms for its easy usability and features. In some cases, having both a mobile app and a website is ideal for an eCommerce business. However, if you are expecting huge sales and revenue, a mobile app is the right choice. The Magento website also requires max. time to set up, but the platform itself brings many advantages to get things moving online. Therefore, a Magento App is a lucrative option.
Are you looking forward to making a user-friendly eCommerce mobile app? If yes, connect with us, and we will convert your app idea into reality.
Ready to get started? Fill the form now!