High-Profit, High-Growth E-Commerce: 5 Ways to Increase the Profitability of Your E-commerce Business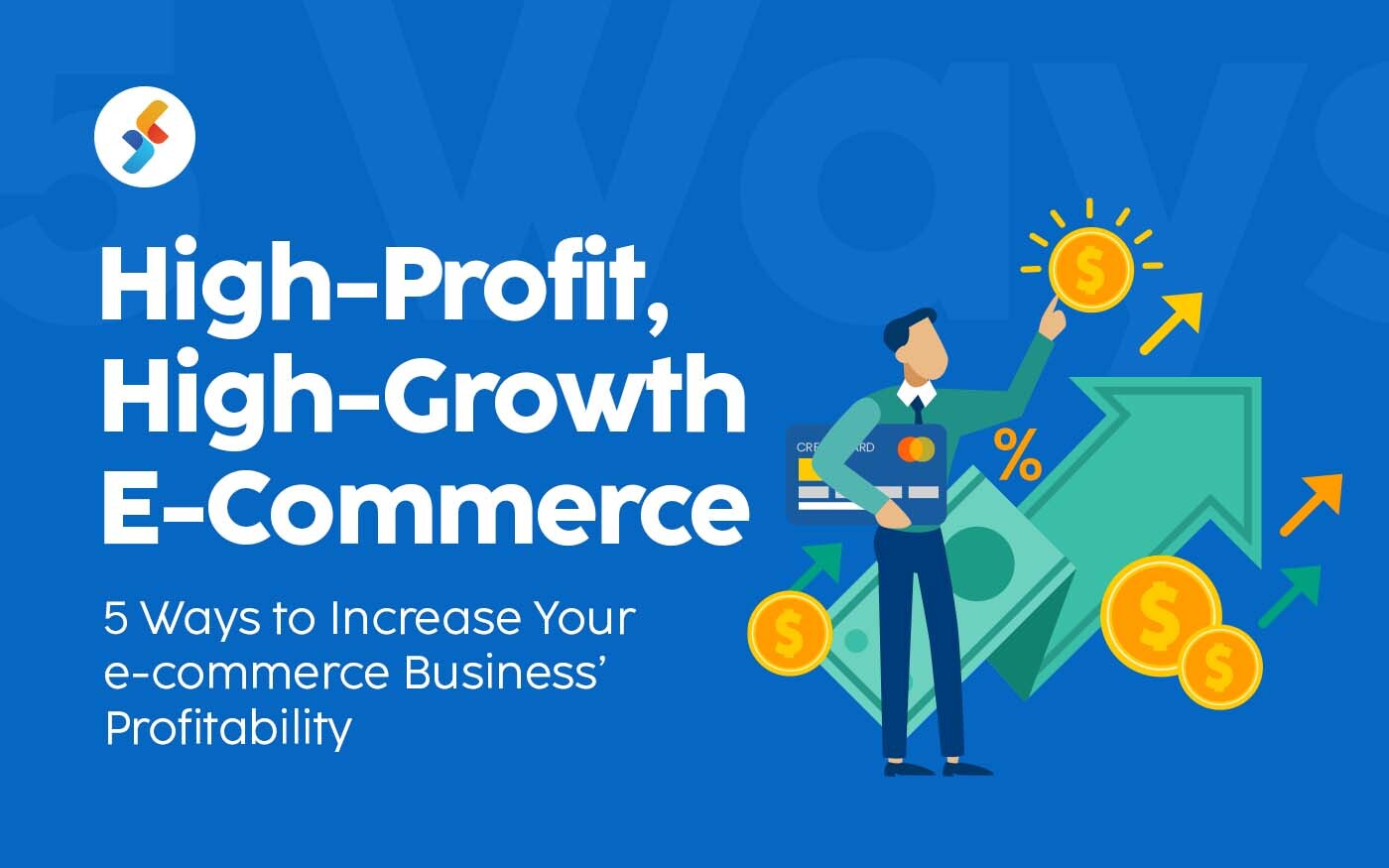 In a challenging space like ecommerce where the margins are extremely thin, business owners have to rely on economies of scale to ensure their ecommerce business is profitable. But as the pandemic has forced retail business owners to go online without a structured plan, many have experienced higher volumes of sales through digital platforms but lower profits. 
With so much complexity to work through, retailers cannot achieve ecommerce profitability by selectively focusing on any one area. Their efforts must be distributed equally across optimizing business processes and overhauling technology use. 
The metrics or key performance indicators (KPIs) used to measure ecommerce profitability can vary across organizations. Different factors may be more significant depending on industry context and the organization's business objectives. But these are some key areas retailers should look at as part of their holistic strategy:
1. Strategically curating the right product mix
Retailers should consider the profitability of each product. More expensive items will be more profitable to deliver via ecommerce channels, while less expensive products are often inefficient to ship. 
Retailers may want to limit the order quantity for products that don't offer significant margins but are large and difficult to ship, such as grocery items. Another approach could be to accept only bulk orders of such items to optimize delivery costs. Doing this can help increase average order value while lowering delivery costs. 
Identifying the right mix of products for your ecommerce business can help boost revenue and profits. Particularly for pure-play retail brands, it may also be a good idea to consider costs associated with other aspects (like the shape or weight of packaging) which can have a sizeable impact on the margins as well.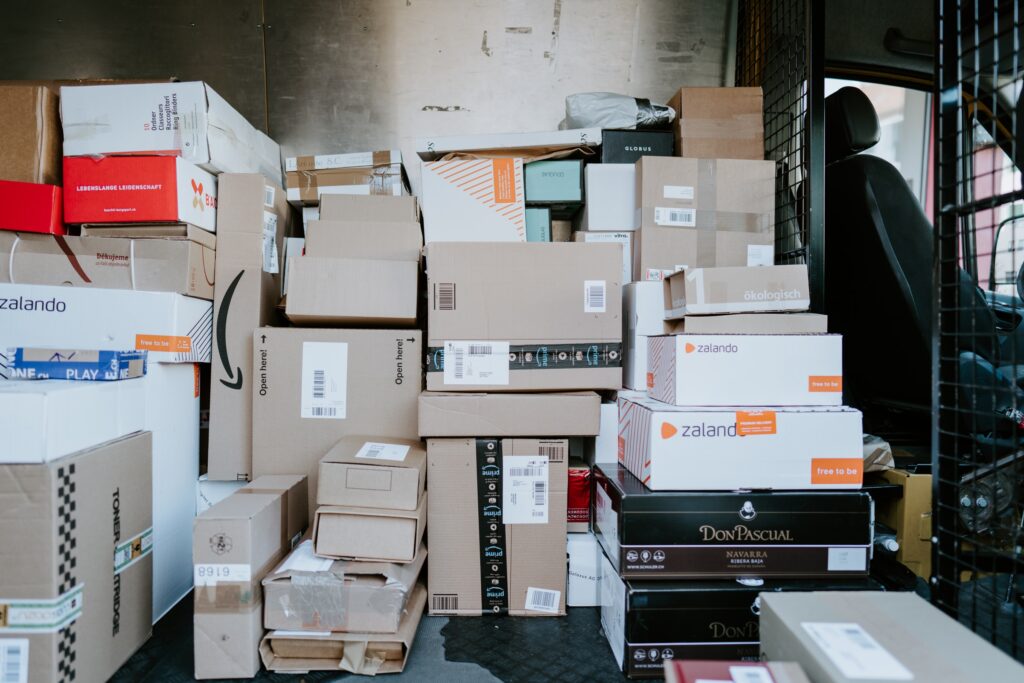 2. Identifying optimal pricing through cognitive commerce
While benchmarking pricing across competitors is necessary in today's ecommerce landscape, retailers can fall into the trap of constantly trying to undercut the competition's pricing, obliterating what little profit margins were available in the first place. 
Large retailers may be able to adopt tactics such as loss leader pricing and make up the difference in new customers acquired, but smaller retailers may find this difficult. 
Instead of this, they could consider implementing dynamic pricing, determined by cognitive price matching algorithms. These use artificial intelligence to determine optimal pricing for products based on factors such as competitors' pricing, stock levels, page views of product pages (to determine demand), seasonality, and customers' demographic data and spending habits. Dynamic pricing allows retailers to be responsive to demand fluctuations and encourages more customers to purchase, raising the business' top line. 
[Read more about Creating Memorable E-commerce Experiences with Cognitive Commerce]
3. Minimizing supply chain inefficiencies
Another aspect that affects eCommerce profitability is inefficiencies in the fulfillment process. Customer expectations about same-day or next-day delivery are continually leading to rising fulfillment costs for retailers. But shipping speed and cost matter to customers—49 percent of customers abandon their cart due to extra costs like shipping. 
Retailers must find ways to optimize shipping processes. These are some of the ways they can do this:
Minimizing returns, losses, delays, and stockouts as well as identifying the most cost-efficient fulfillment options can all help to improve the company's bottom line.
Building vertical-specific marketplaces can also assist with paring down some of the complexity of omnichannel fulfillment. Multi-vendor marketplace platforms like ASOS can help retailers to go to market faster with lower marketing costs. Cost savings accrued in this way can be channeled back into other aspects of the business, improving customer experience overall.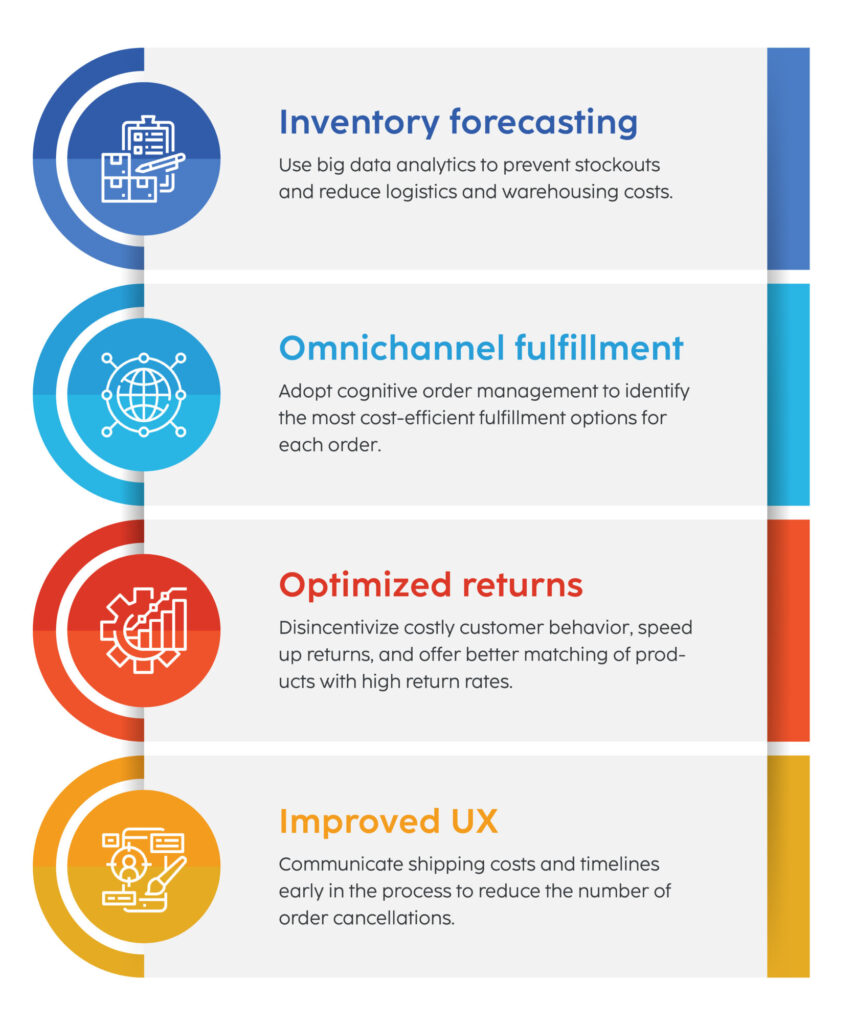 4. Identifying best-fit customer acquisition channels
With a mix of digital and physical retail channels in play, it's important to identify the appropriate channel for each product type and cultivate the agility to switch spending from one channel to another as needed. 
Retailers can learn which marketing approaches are most successful for them by comparing their sales numbers with their global marketing efforts. This can allow them to narrow down on the channels and campaigns that have worked best and replicate those in future marketing efforts. This can help them lower the cost per acquisition and increase eCommerce profitability. 
5. Achieving sustained growth through customer retention strategies
Customer retention is the ultimate growth strategy and must be a key focus for any eCommerce business. If poor user experience or customer service causes retailers to lose repeat customers, they'll have to spend much more—about five times more—to acquire new customers, further diminishing their profit margins. 
Using the large amounts of proprietary data that they already have to inform their future strategy can easily have the biggest impact on an eCommerce businesses' gross margins. Personalization efforts coupled with machine learning capabilities can help to increase conversions. Examining the choices and preferences of their existing customers to gather meaningful insights can help retailers to increase their customer retention rate as well as reorder value. Search history and previous purchases can provide valuable information about potential up-selling and cross-selling opportunities. And by consistently focusing on the right data points, retailers can spot trends, anticipate future needs, and optimize their supply chain.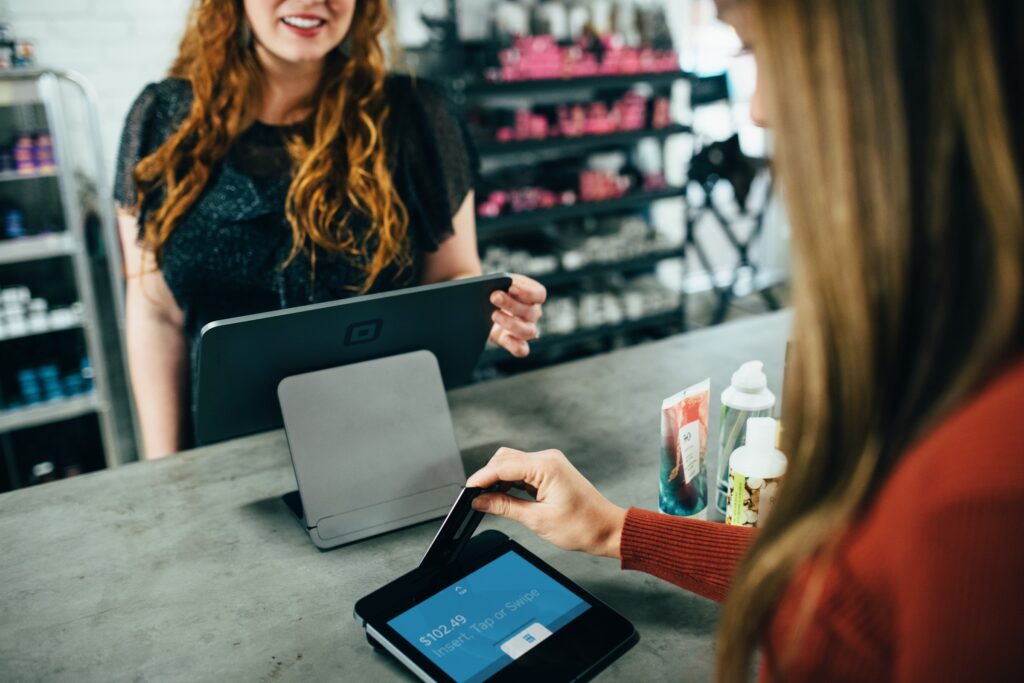 In conclusion, big data analytics, artificial intelligence (AI), machine learning (ML), and cognitive process automation can do a lot to increase eCommerce profitability. But determining the right mix of applications and implementing them demands careful strategizing, agile implementation, and effective change management on the part of retailers. This will require increased cross-functional collaboration along with the modernization of legacy IT systems in order to create long-term value. These are meaningful investments that can help eCommerce businesses scale up in an increasingly challenging and complex market.
When it comes to increasing sales, 'impulse buys' might play a far larger role than you'd imagine! Read more about influencing purchases of that kind: 7 Ways to Encourage Impulse Buys on Your E-Commerce Platform
Ready to get started? Fill the form now!
Ready to get started? Fill the form now!