BigCommerce vs Shopify: Which Is Better for Your Business?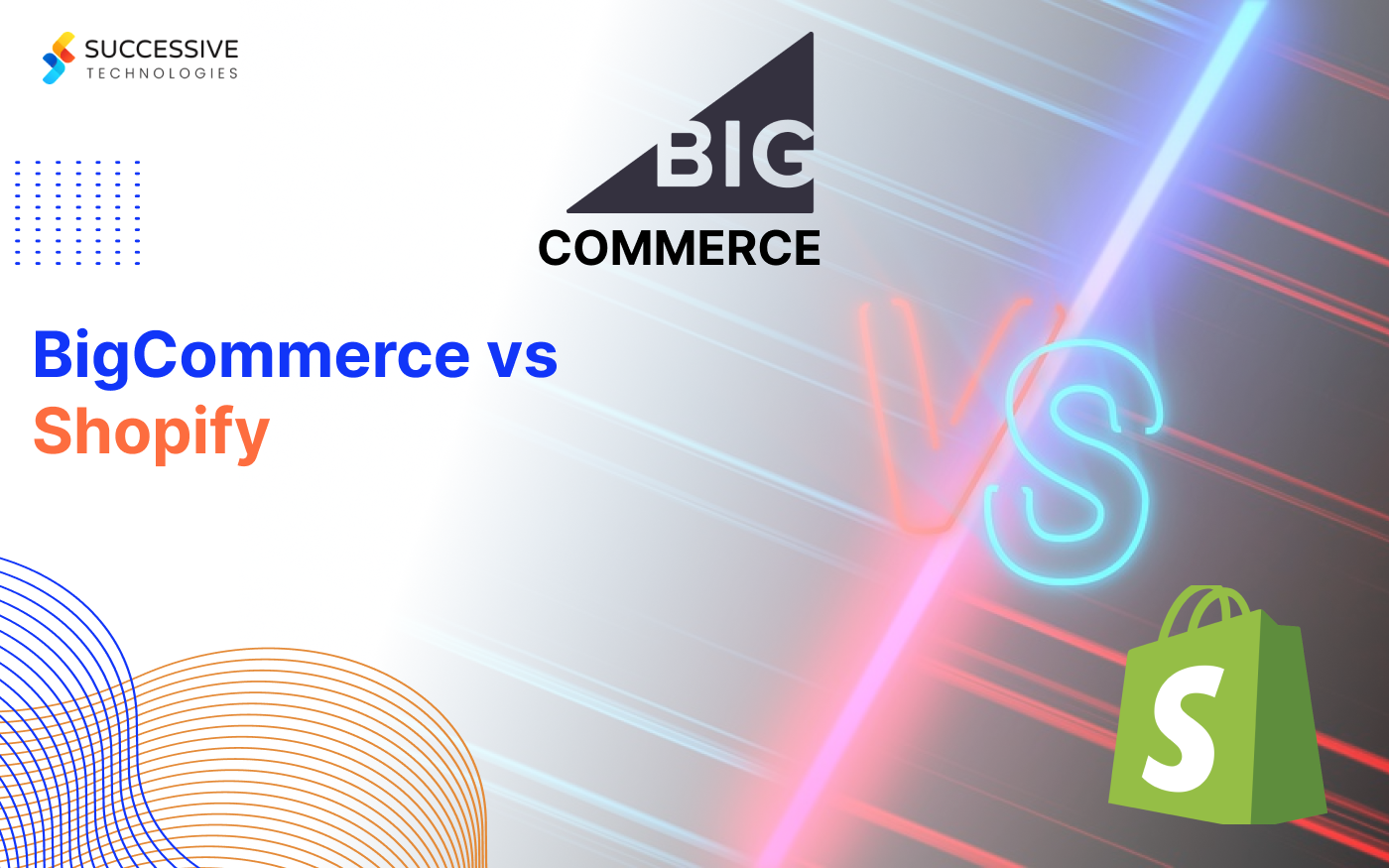 As you probably know, many eCommerce platform options are available on the market. Which one should you choose for your business? This blog provides a detailed difference between Shopify and Bigcommerce, emphasizing their respective advantages and disadvantages. So whether you're looking to switch from an existing eCommerce platform, or are just curious about the two options, read on!
What is BigCommerce?
BigCommerce is a leading eCommerce platform that enables businesses of all sizes to create an online store. It provides a robust, scalable, easy-to-use platform that helps businesses grow and succeed online.
Moreover, it has everything you need to build and manage a successful online store, including a customizable website, shopping cart, product catalog, order management, and shipping.
What is Shopify?
Shopify is a cloud-based, multi-channel eCommerce platform designed for small and medium-sized businesses. Shopify offers businesses a complete commerce solution, including a website builder, shopping cart, payment gateway, and POS system. Shopify is the platform for businesses of all sizes, from startups to Fortune 500 companies.
Must Read: Everything You Need to Know About BigCommerce Development
BigCommerce vs. Shopify – Detailed Comparison
If you're in the market for an e-Commerce platform, it's important to consider both BigCommerce and Shopify.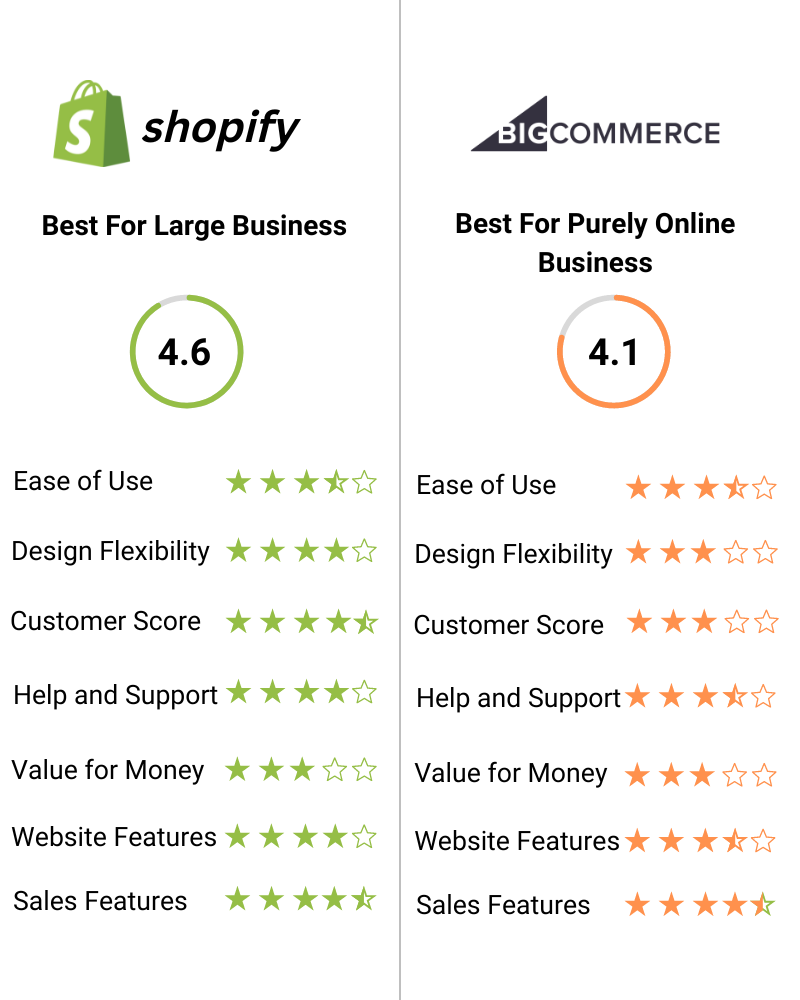 Both platforms offer a wide range of features and options, making them perfect for different businesses and needs. Here are the key differences between the two:-
Bigcommerce vs Shopify Pricing
To price and costs- Shopify is much cheaper than BigCommerce if you start from scratch. However, BigCommerce has a wider range of features and is more versatile. It also offers better customer support and billing options. Overall, it is a good choice if you need a platform that can handle multiple stores simultaneously.

The plans of BigCommerce pricing or Shopify pricing may appear similar at first glance. However, it becomes clear why store owners choose BigCommerce when you look at the price of third-party apps.
BigCommerce vs Shopify- Ease-of-Use
If ease of use is your top priority, then Shopify should be your go-to platform. It has an easy-to-use drag-and-drop interface that makes creating a store relatively painless.
Additionally, its design is more intuitive than BigCommerce's, making it easier to find what you are looking for. While both platforms offer some basic features, Shopify stands out with its extensive eCommerce functionality and user-friendly interface. In the end, if ease of use is one of your primary concerns when choosing an eCommerce platform, then Shopify would be the obvious choice.
BigCommerce vs Shopify- Themes & Design
Regarding themes and design, Shopify and BigCommerce offer two very different options. On the one hand, Shopify offers simple, straightforward designs. These themes are perfect for businesses with limited resources or who want a primary online store without too many bells and whistles. 
Bigcommerce, on the other hand, has more elaborate designs that can customize in various ways. Plus, its e-commerce platform is much more advanced than Shopify's offering. This makes it better suited for businesses of all sizes who want to take their online store to the next level. Both platforms offer a wide range of design options, making them perfect for business needs. Furthermore, merchant accounts for both platforms are quite affordable – making this a great choice overall!
Also Related: The Best Free BigCommerce Themes
BigCommerce vs Shopify- Payment Gateway
When it comes to payment gateways, Shopify has the upper hand. Not only does this platform offer a wider range of options than BigCommerce, but it also allows for more integrated functionality between your website and payment processors. This is an important factor to consider if you are planning on switching from BigCommerce to Shopify – make sure you have a clear idea of which payment gateway will work best for your business! Additionally, bear in mind that not all payment gateways are compatible with both platforms – so be sure to research which ones are compatible before making the switch.
BigCommerce vs Shopify- Sales Feature
When it comes to sales features, Shopify and BigCommerce are neck and neck. This is because both platforms offer a range of options that can benefit businesses of all sizes. Shopify is known for its ease of use and customization capabilities regarding website design. At the same time, Bigcommerce has a greater range of payment gateways, making online payments easier. Overall, shop owners looking for an eCommerce platform with great sales features should choose Bigcommerce as the winner.
BigCommerce vs Shopify- Marketing Features
Choosing the right eCommerce platform can be daunting. However, considering the following features, it should become much easier for you to make an informed decision:- 
Shopify has many features that BigCommerce does not have. Bigcommerce is more suited for small businesses or start-ups, while Shopify is better for larger businesses. This might be because of its advanced checkout options and support for multiple currencies. 
There are also a few features exclusive to Shopify – like custom checkout and multiple languages support (including Spanish). So, it is important to do your research to decide which platform suits your business best!
BigCommerce vs Shopify- Apps & Scalability
When it comes to app store shopping, small business owners have plenty of options. Shopify makes for a great platform for smaller businesses as its range of apps is extensive and user-friendly. Bigcommerce, on the other hand, is better suited for larger businesses that need more features and functionality than Shopify can offer. Both platforms are scalable – you can add stores as needed without any hitches or problems. In addition to app store shopping, both platforms come with various other features such as e-commerce shipping & tracking, inventory management tools, etcetera.
BigCommerce vs Shopify- SEO
SEO (search engine optimization) is crucial for better search results. BigCommerce comes pre-loaded with several SEO tools, including optimized URLs, one-of-a-kind URLs, embedded microdata on product pages, and URL rewrites that automatically change the URL if a product is given a new name. Users of Shopify can add keywords, adjust meta descriptions and titles, and change blog post URLs.
In contrast to Shopify, which only offers regular reporting with its mid-tier plan and advanced reporting features with its most expensive plan, BigCommerce includes professional reporting tools in each of its plans. Users of BigCommerce and Shopify can integrate Google Analytics to get more detailed statistics on how visitors utilize their websites. BigCommerce performs better in out-of-the-box SEO functionality, but Shopify has a broader range of third-party apps that can use for SEO.
BigCommerce vs Shopify- Customer support
When it comes to customer support, Shopify leads the pack. This e-commerce platform offers more options than BigCommerce, and its live chat and phone support are exceptional. In addition, both platforms have customer service forums where users can share experiences and queries. However, if you need assistance beyond the reach of these online channels, then you will need to use Bigcommerce's email support option. Though there may be some delay in getting a reply (depending on the time of day), it is still an adequate customer service solution for big brands looking for global reach.
When to Use BigCommerce?
BigCommerce is close to Shopify in our rankings of the top eCommerce platforms. BigCommerce is better than Shopify if you run an online business with a complicated and large product selection. More than most other eCommerce systems, including Shopify, BigCommerce allows you to establish up to 250 product variations and up to 600 variants.
BigCommerce is especially advised for high-revenue companies who seek to reduce transaction costs. In contrast to Shopify, which charges a fee if you use a third-party processor, it enables you to choose your payment provider without additional transaction fees. BigCommerce connects to over 65 gateways, supports numerous currencies, and provides exclusive PayPal discounts.

Pros and Cons of BigCommerce
 Pros-

 Multiple payment processing integrations without transaction fees.

 The capability of selling on enterprise and e-   commerce applications

 A wide range of product options and variants

Comprehensive SEO features to help you rank online

 Cons-

Customization tools are unsuitable for beginners.

 Recovering abandoned carts is only possible with higher planning.

 Lacks a native POS tool and requires interaction   with third parties.
When to Use Shopify?
Shopify is a superior option if your small business relies heavily on internet sales for revenue. The user-friendly interface of Shopify is filled with administrative and sales features and several third-party integrations that let you scale your business successfully.
Additionally, the platform features a POS system that can easily link with your online store for omnichannel sales like buying online, picking up in-store (BOPIS), and browsing in-store, as well as the ability to sell on social media platforms like Facebook and Instagram.

Pros and Cons of Shopify
 Pros-

 Excellent for enhancing your eCommerce site's sales  features

 Several plans, including Shopify Plus and Advanced  Shopify, are available

 Excellent backend with a tonne of plugin tools and   extension options for functionality addition

 Large community with many people willing to assist you,   including Shopify Experts

 Excellent Inventory Management System to Control Your   Transactions

 support for multi-channel selling on social media sites   and  in other settings

 There are numerous themes and designs available.

 Cons-

 Advanced features like reports, gift cards,   fraud analysis, and real-time 

 shipping rates are only available on higher-tier   plans

 Transaction fees if not using Shopify Payments

 The shipping calculator requires an annual plan
Which is better Shopify or Bigcommerce?
There is no easy answer when determining which is better, Shopify or BigCommerce. Both platforms offer a variety of features and tools that can be beneficial for businesses of all sizes. However, it ultimately comes down to your specific needs and preferences. If you're looking for an all-in-one solution that is easy to use and offers a wide range of features, then Shopify would be the better option. However, if you're looking for a platform that offers more customization and scalability, then BigCommerce would be the better choice. Ultimately, evaluating your needs and seeing which platform best fits you is important.
Must Read: SaaS vs. Custom eCommerce Platforms
Conclusion
Failing to choose the right eCommerce platform is a major mistake, so it's important to ensure that you take the right approach to your eCommerce website's development. In order to choose the right strategy and features of BigCommerce or Shopify, you must go for the BigCommerce development company or Shopify development company, respectively.
This blog has summarized the key differences between BigCommerce and Shopify, two of the most popular eCommerce platforms. Understanding these differences allows you to decide which platform is best for your business. 
Ready to get started? Fill the form now!
Ready to get started? Fill the form now!