How Can You Scale Your eCommerce Business With Shopify?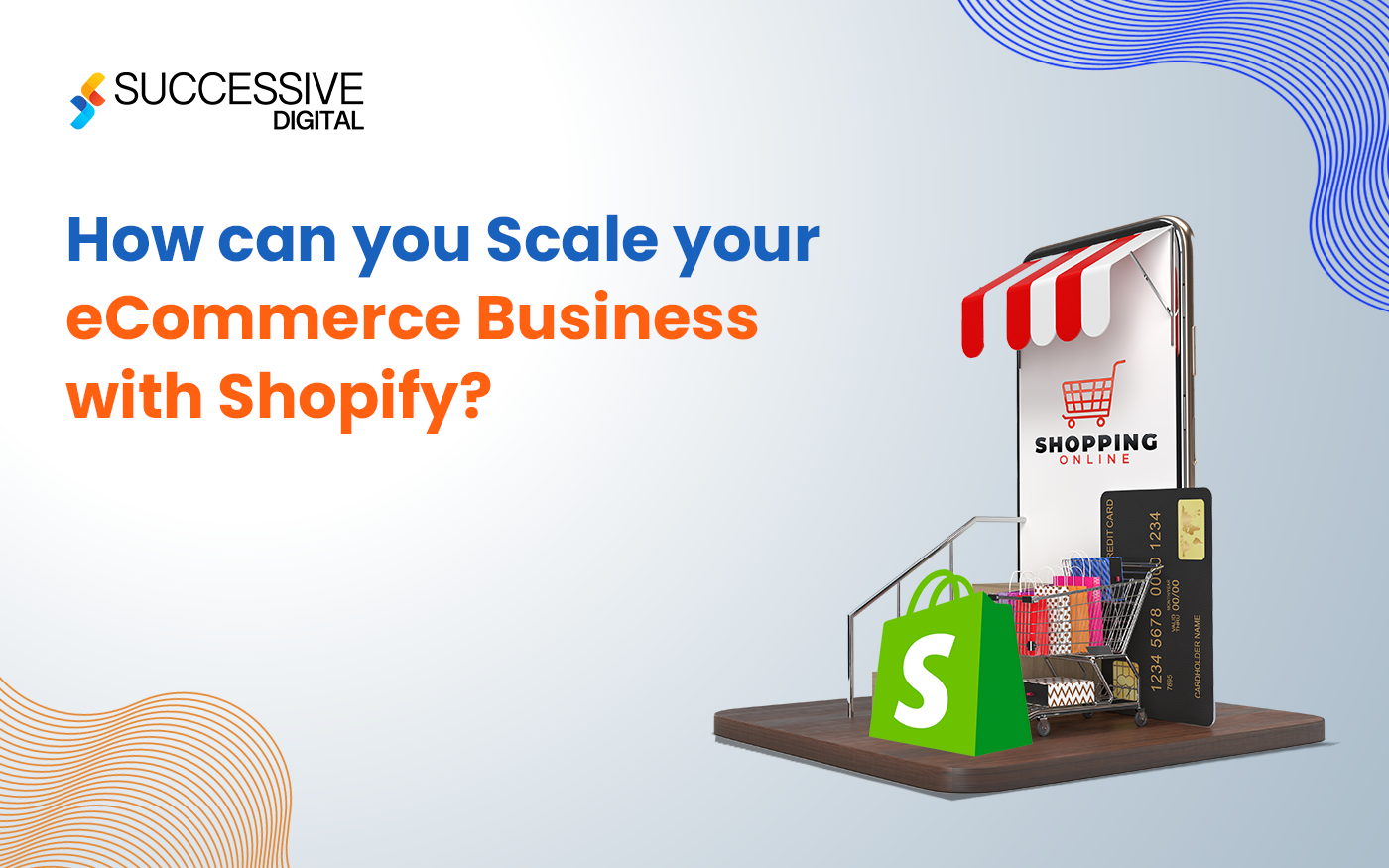 In the rapidly evolving eCommerce space and increasing demand for online shopping, businesses are constantly looking for platforms to create a competitive solution that enhances their online presence. Fortunately, numerous eCommerce platforms are dominating the eCommerce industry. Such platforms include Shopify, BigCommerce, WooCommerce, etc. With robust in-built capabilities, each platform enables businesses to create a customized eCommerce website, easily manage its operations, provide scalability and accelerate their ROI. 
According to a recent report by Statista, Shopify is ranked 4th among other eCommerce platforms, with a market share of 11% as of 2023. Shopify allows companies to set up their eCommerce store while offering various customization options, themes, and responsive design capabilities. Being a cloud-based platform, it also offers businesses a high level of accessibility to access their data from anywhere in the world.
Another best part about Shopify is that it easily integrates with social media platforms, including Facebook and Instagram while bridging a gateway for businesses to initiate social commerce. This allows businesses to unlock the power of eCommerce to increase business revenue and improve their performance.
An Overview Of Shopify And How It Works
Shopify is a software-as-a-service (SaaS) based platform that allows businesses to build and design an online store and sell in multiple places, including web, mobile, in person, brick-and-mortar locations, pop-up shops and across multiple channels such as social media to online marketplaces.
It is a cloud-based and hosted platform, which gives businesses the flexibility to access and run their business operations from anywhere in the world.
Shopify works by centralizing your product data, customers and operational tasks in one system that connects to all of your sales channels seamlessly. Once the essentials are in place, Shopify makes it easy to explore and expand into new product lines and sales channels.
Whether a startup or an established eCommerce brand, they can easily leverage this platform to build, manage, operate, and promote their eCommerce website.
Top Benefits Of Using Shopify For Your eCommerce Store
Being one of the most used eCommerce platforms, Shopify provides businesses with a wide list of benefits and assists them in improving the overall performance of their eCommerce store. Some of these benefits include: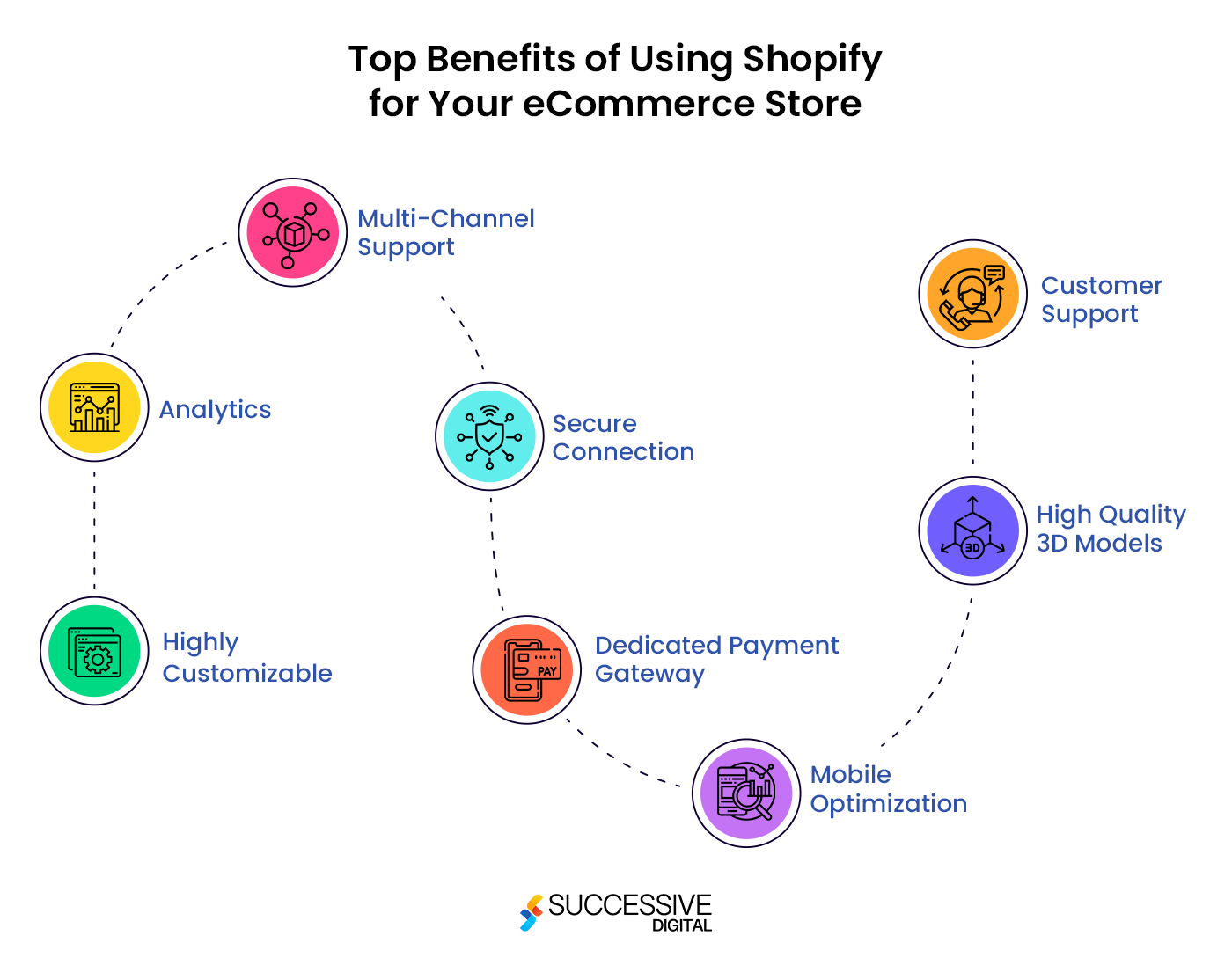 1. Highly Customizable
Shopify offers various customization options to help businesses set up their eCommerce website. The platform offers a wide selection of responsive themes that can be optimized for every screen. This allows businesses with flexibility to customize their website's look and feel according to their brand's voice. A customized theme also improves user experience, offers scalability, and enhances brand's identity.
2. Analytics
Shopify offers analytics tools that help businesses to track their eCommerce store's performance and monitor various metrics such as average time spent by users checking out specific products. Business owners can also study custom reports and view real-time data, which is beneficial for making informed, data-driven decisions and increasing sales.
Enhance Your Understanding With Shopify App Development Guide
3. Multi-Channel Support
Shopify is an excellent choice for multichannel merchants who sell in-person as well as online. Shopify makes it easy to sell offline in brick-and-mortar and pop-up shops with its in-house POS system. When a business owner signs up for Shopify's eCommerce store, they'll also automatically gain access to Shopify POS. It enables seamless in-person retail transactions and hassle-free processing of credit card payments. Additionally, the online store and POS system are synced so that every inventory change made on one platform appears automatically on the other.
4. Secure Connection
Having a secured connection for an eCommerce store is important to avoid chances of transaction failures and data leakage. Shopify supports all types of SSL and PCI DSS certificates to encrypt data and transfer it over a secure connection. It also implements strict access control measures and protects personal data from unauthorized access. Hence, all customer information including credit / debit card details are kept confidential with Shopify.
5. Dedicated Payment Gateway
Having a secured payment gateway is one of the vital features of every eCommerce store. Shopify offers a dedicated payment gateway that is highly secured and ensures seamless payment processing for each purchase. Shopify also has high-duty servers that minimize payment failures while offering streamlined shopping experiences to users.
6. Mobile Optimization
Mobile apps drive the highest number of sales and hence mobile optimization is an important component of a successful eCommerce store. Shopify offers mobile responsive themes that help with enhancing user experience, improving brand image, minimizing load time, and improved search engine rankings.
7. High Quality 3D Models
A recent study by Shopify suggested that user interactions with products using 3D / AR images escalated 94% of conversion rate than those without it. Shopify implements all possible features to increase customer engagement and revenue. It serves as a beneficial feature for users to visualize how that specific item will look in reality and compels them to make a purchase. Using 3D product images and video visualization on Shopify can help businesses accelerate their conversion rate. This will help familiarize customers with the exact product characteristics and help create a feeling of buyer urgency.
8. Customer Support
With Shopify, developers don't have to worry about the timing as it has a dedicated team that offers comprehensive support to solve any challenges. The platform also has a help center, where one can search for their issues or reach out directly to the team via call, email, and chat to discuss their specific issues.
Accelerate Your eCommerce Business With Shopify Development Services
Sometimes, considering an in-house development strategy can be a challenging task for businesses, especially if they are a startup. This is where the need to hire a Shopify development partner comes into play. eCommerce merchants that outsource the development tasks to a client-focused development agency like Successive Digital, they can focus their efforts on major business activities while the development partner handles the development process.
Several popular eCommerce brands, such as Sephora, PepsiCo, Kylie, John Jacobs, and mCaffeine, are powered by Shopify. But the journey to becoming successful like these brands requires building a sound strategy, assistance from a leading  Shopify development company, and implementing Shopify development services. Some primary ones include- Shopify online store development, Custom UI/UX design, Custom web and app development, ongoing maintenance and support, and more. By utilizing these amenities, businesses can customize their eCommerce store, improve functionality, and boost their sales.
Conclusion
In order to create a dynamic eCommerce store, businesses need to choose the right platform. While there are plenty of options available, Shopify is the most preferred choice. Offering a wide range of benefits, it helps eCommerce businesses to create a strong online or offline presence, reach a wider audience, and boost their sales. Moreover, with effective implementation of Shopify development services, one can transform their eCommerce business and drive their online selling journey.
Ready to get started? Fill the form now!
Ready to get started? Fill the form now!