How Blockchain is revamping the Freight and Logistics Industry?
Technology is ever-evolving phenomena and it is reshaping almost every industry vertical with its innovative advancements and modernized methodologies. Likewise, the logistics industry is no left behind. Global shipping is a core part of today's economy, but it is also an area that has seen few technological advances. A typical cross-border transaction involves multiple parties like exporters, importers, freight, logistics companies, etc. But now an immensely trending technology named Blockchain—a secure, replicated, immutable shared digital ledger that relies on the consent of a global peer network to operate. The digital ledger is a series of encrypted "blocks" that are linked together in public "chain" and are offering a way forward. Blockchain, since its inception, has been the buzzword for its excellent transparency and security. It is rapidly modifying the way we store and manage data. Besides, Blockchain can help track worldwide shipments more effectively, lessen administrative tasks by automating the documentation process, and guard transactions across the complete logistics chain.
Current Challenges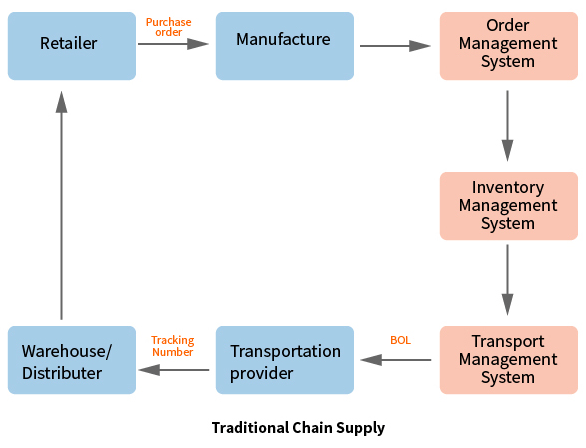 Currently, the global shipping sector goes through multiple bottlenecks:
The exchange of paper documents makes the entire process sluggish, cumbersome, and expensive.
Multiple parties are involved in diverse countries.
Extensive information about the shipment gets passed and re-packaged from one party to another often ends in errors and theft.
Inaccurate and false documentation leading to held up cargos in customs and imposed penalties
In conclusion, the transport and logistics companies require higher authentication, secure data to consistently improve their operations and transparent way to handle the information exchanges between parties.
Upcoming State with Blockchain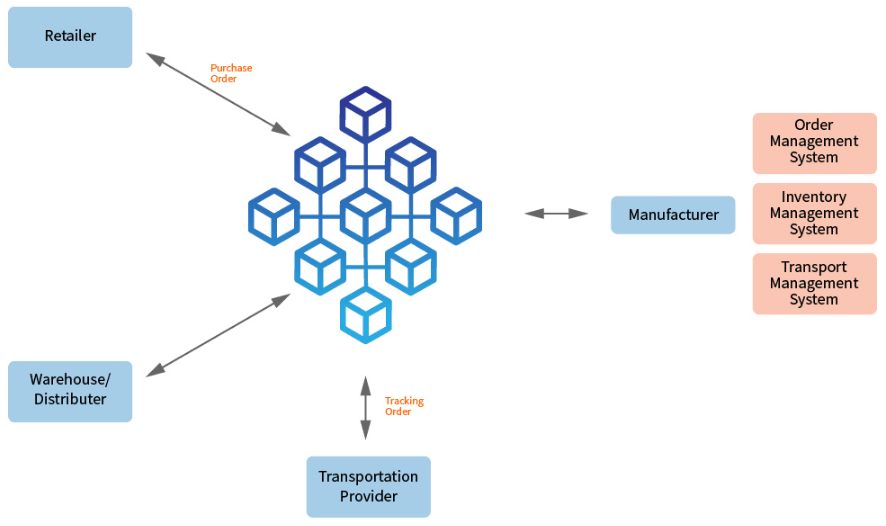 Blockchain technology will change the way shipping and global trade operates by assuring that the stored data records are tamper-free and from a genuine source, enabling all associates to feel trust and belief in a single source of truth. Any additional information is adjoined to the original entry of the blockchain. Besides, no individual can alter the algorithm that is built into the system without the approval of others. This, however, builds confidence in the system and ensures a level playing field for even the tiniest players.
Some Current Examples of Blockchain Application in the Supply Chain
Food Security: Blockchain is seamlessly enhancing the traceability of food products along with the entire production and logistics chain. It is empowering the authorities to respond immediately and efficiently in cases of large-scale food contamination.
Cross-border Payments: Blockchain has made it facile to transfer money across borders and between institutions while diminishing intermediary costs, especially when it comes to compliance inquiries.
Cross-border Finance: Financial authorities utilizing Blockchain to transfer digital documents to encourage trading and financial activities between the two nations, also to transfer data seamlessly across borders.
Conclusion
Blockchain Technology handles the documentation process from the initial booking, shipping instructions to the drafting, and creation of the Bill of Lading and Customs Manifest. This pioneering solution has the potential to eradicate the increasing demand of shipping documents, empowering various stakeholders to positively and securely access shipment transaction data. It could lead to immense savings for those involved in international shipping. Shortly, enterprises are working on designing a unique shipping platform by leveraging blockchain technology for a broad set of information capture and distribution. This collaborative platform will provide an industrialized, secure, and scalable approach for the shipment process and it will bring a significant transformation to the freight and logistics industry.
Ready to get started? Fill the form now!
Ready to get started? Fill the form now!