Everything You Need to Know About BigCommerce Development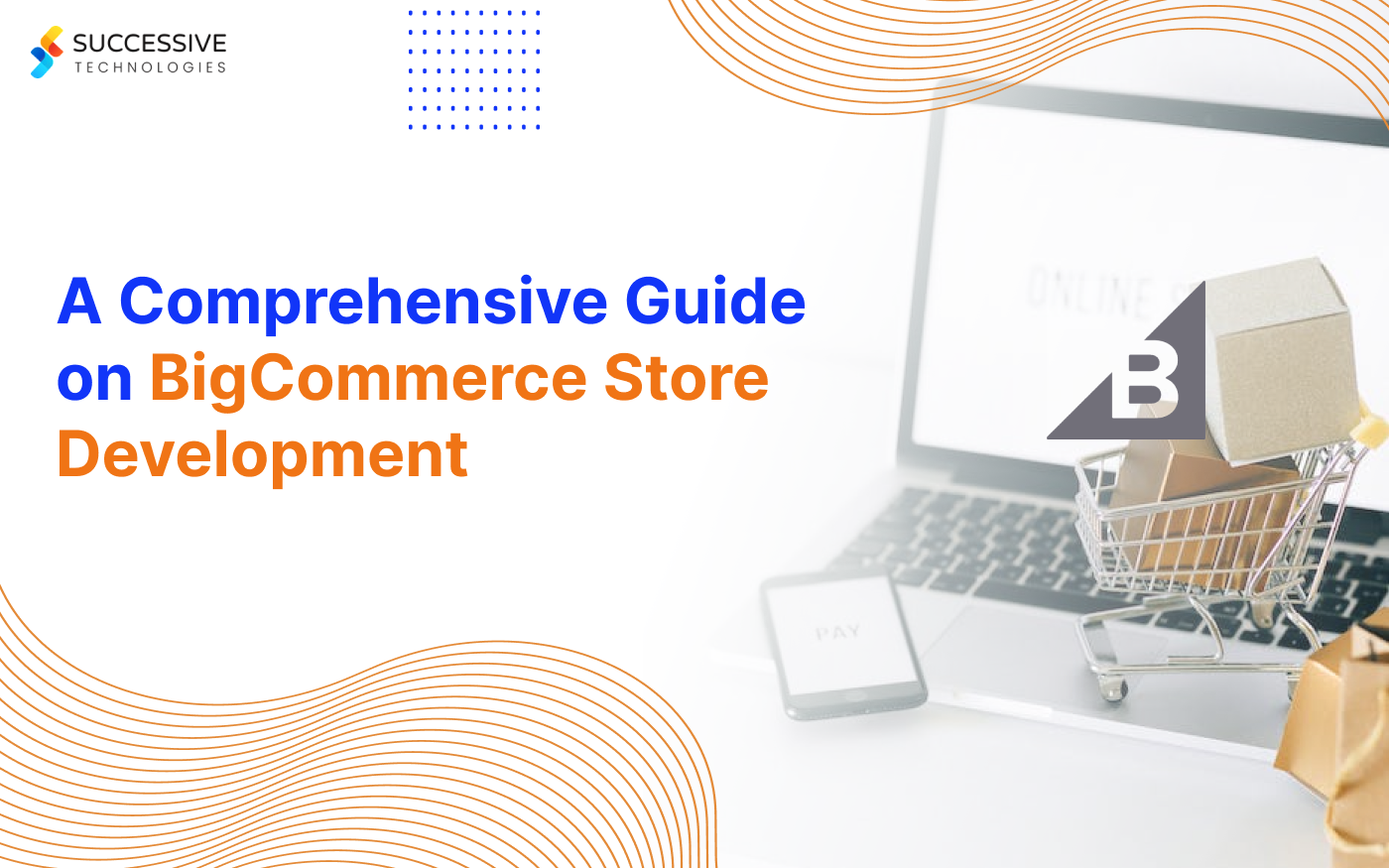 Over the past few years, the market for eCommerce stores has experienced tremendous expansion. According to statista, The predicted value of retail e-commerce in the United States in 2021 was 768 billion dollars. By 2025, online shopping sales in the United States are expected to reach more than 1.3 trillion dollars, according to Statista's Digital Market Outlook.
A lot of e-commerce companies choose to go on the BigCommerce platform. BigCommerce is one of the most popular and highest-performing platforms for generating revenue through e-commerce websites. Do you want to know more about it? If yes, then read this article carefully.
What is BigCommerce?
BigCommerce is a software as a service (SaaS) platform for businesses of all sizes. BigCommerce offers online retailers a scalable, secure platform for building their business with features including an easy-to-use checkout process, built-in shipping, and tax calculator, and support for multiple languages and currencies. BigCommerce also provides businesses the tools they need to grow their online presence with features like unlimited products and categories, a customizable website builder, and integrations with popular marketing and advertising platforms.
BigCommerce development is the process of creating and customizing a BigCommerce store. BigCommerce app development involves the creation of a store, the customization of its design and layout, and the installation of extensions and plugins. It is a complex process that requires skills in both coding and design.
Why Should You Choose the BigCommerce for Your Store Development
Any store must overcome several challenges to establish an online presence and constantly attract new clients. Anyone new to the eCommerce community may find this a daunting task in store development. You require an exceptional eCommerce platform like BigCommerce to help you navigate these challenges and build a professional business. According to a survey, 1.4 million users are using BigCommerce development.
Apart from that, there are many more reasons why you must choose the BigCommerce development services for your store development. Have a look!
Simple Onboarding
BigCommerce's onboarding procedure is one of the quickest in the business, making it the best platform for new users. The setup procedure is easy, simple, and fast, making it easier to launch an e-commerce website.
Easy to Use and Top Features
The most user-friendly dashboard in the market for managing products, orders, and refunds is provided by BigCommerce. Customers utilizing your platform access advanced filtering options, categories, reviews, and more.
You can rapidly access and manage your things with the help of the "Quick Search Bar," a BigCommerce platform feature. Dealing with a lot of clients is made easier by the BigCommerce platform.
Mobile-Friendly Themes And Templates
There is a wide selection of BigCommerce themes and templates available, both free and paid. BigCommerce promises that any upcoming updates to these themes will be free.
According to studies, unresponsive mobile sites cause 71% of online shopping carts to be abandoned. On BigCommerce, though, you should not be concerned.
SEO-Ready Platform
It's more complicated to keep your eCommerce business afloat in today's fiercely competitive market. Optimizing your website for search engine algorithm adjustments is important because they happen frequently.
BigCommerce complies with the most recent SEO standards, one of its best qualities. The platform has a few basic SEO-friendly features, like automatically optimized titles and URLs, in addition to the ability to manually add keywords with high SEO value to the SEO sections.
Must-Have Features of BigCommere Store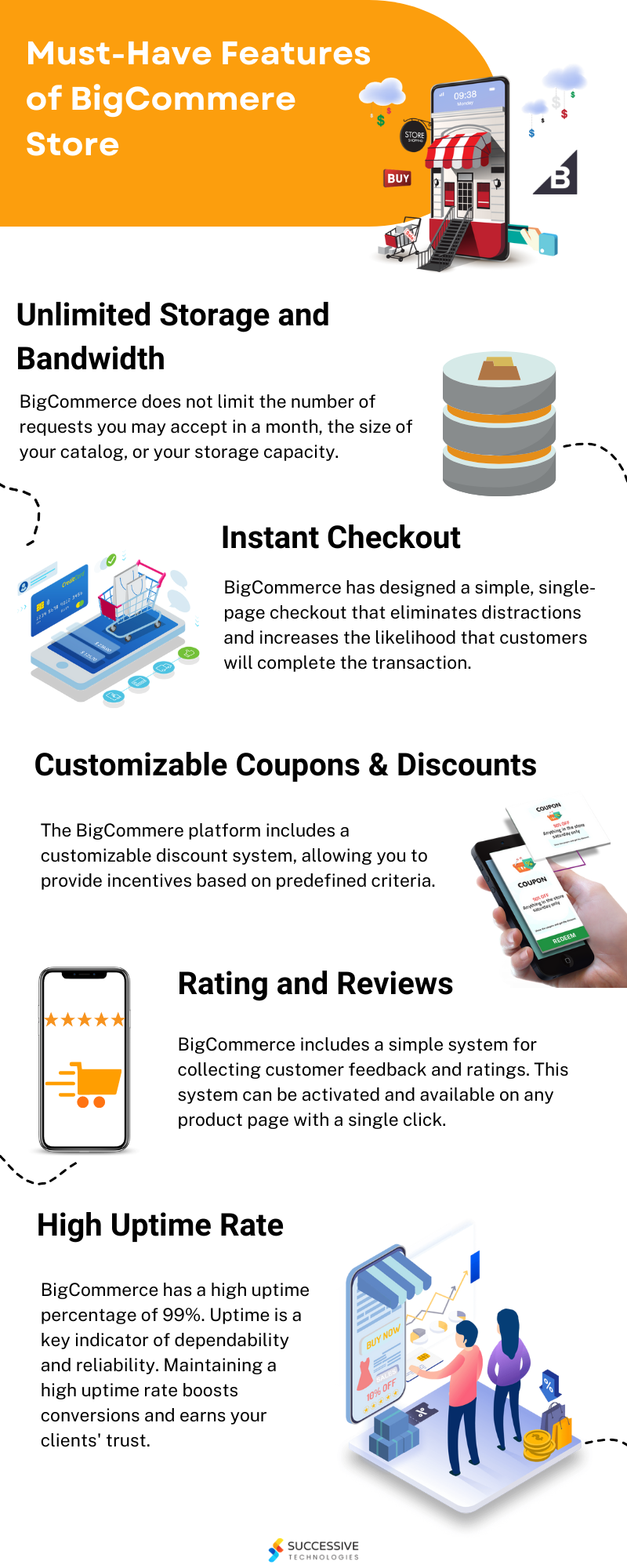 There are several benefits of using BigCommerce for store development. BigCommerce is a fully-fledged eCommerce platform that allows you to create and manage your online store. It is easy to use and provides all the tools you need to succeed online.
However, many more features insist users opt BigCommerce for their store project development. Have a look!
Numerous Products, File Storage, and Bandwidth
On your BigCommerce eCommerce store, there are no restrictions on the number of requests you may accept, the size of your catalog, or your storage capacity. Furthermore, you don't need to purchase a better plan to accommodate more products or faster loading times because it is a "Standard" platform for an entry-level store.
Single Page or Instant Checkout
For an eCommerce store, boosting sales is an essential thing to consider, and here comes the role of instant checkout. Preferring BigCommerece development methodology for your eCommerce platform gives you access to a single-page checkout feature. The conversion rate will increase if a store has the single-page checkout option instead of adding pages to be filled.
Rating and Reviews
Simple customer reviews and rating options are available in BigCommerce. It is accessible on any e-commerce product page and is started with a single click. It is possible to set up management to stop spamming and to manually or automatically approve reviews.
Customizable Coupons & Discounts
BigCommerce provides various tools you may use to boost sales and strengthen client loyalty. BigCommere platform offers a customizable discount system; you can provide incentives based on predetermined criteria.
Multiple Payment Options
BigCommerce offers multiple payment methods that help customers to make an easy and secure checkout. A purchase without hassle and security worries improves the customer experience and encourages them to become regular customers.
BigCommerce B2B Edition
The BigCommerce B2B Edition enables your team to create detailed pricing segmentation that is precise down to the SKU level, develop tailored terms for clients who place bulk orders or use carriers, and provide tailored SKU-logic for companies that operate in specific regions or have multiple wholesale sales reps with their accounts.
High Uptime Rate
BigCommerce offers a high uptime percentage of 99%, just like other cloud-based systems. A key indicator of dependability and reliability is uptime. Keeping a high uptime rate increases conversions and win your client's trust. Customers can be certain that your website will be operational even during the holiday rush or flash sales if it has a good uptime rate.
Also Related: Essential Ecommerce Website Features
Popular BigCommerce Websites
BigCommerce is the most advanced eCommerce platform to accelerate your business and fuel growth by leveraging the capabilities of enterprise eCommerce without the complexity or cost. Below mentioned are a few companies that trust BigCommerce for eCommerce store development. Bigcommerce website examples are-
The BigCommerce platform is a part of the tech stack used by the well-known brand Sony. They've utilized it, among other things, to give staff first dibs on company specials and merchandise discounts. 
One of the well-known companies that utilize BigCommerce eCommerce platforms is Ubisoft. They most recently collaborated with Zakeke to produce consumer goods that shoppers may purchase through the Ubisoft Store. This new service is primarily made possible by Ubisoft's collaboration with BigCommerce.
One of the largest distributors and producers of standing desks, ergonomic chairs, and other office supplies is UPLIFT Desk. They want to make everything go more smoothly and ultimately give their target population the tools to lead healthier lives.
Additionally, they have ensured that their firm remains strong with the aid of BigCommerce. They all focus on thoughtfully crafted solutions; thus, they must provide the same customization for their buying process.
When someone needs to outsource work or locate a local service, they can use Airtasker, a trustworthy community platform that connects them with people looking for employment. There are many different kinds of activities that Airtasker may assist with, from simple ones like administrative work to more complex ones like website design and development. More than 2 million individuals depend on Airtasker, and they have produced jobs worth more than $380 million, according to its website.
BigCommerce is more than just a tool they use; it is a part of their business relationship. The co-founder of BigCommerce, Mitchell Harper, was hired by them as an advisor soon after they went live to aid their growth strategies.
Ted Baker

One Kings Lane

Cutter & Buck

King Arthur Baking Company

Solo Stove 

American Leather

Toyota

Get Appliances
Step By Step Guide to BigCommerce Development
In order to develop on BigCommerce, you will need to have a few materials handy. First, you will need a computer with an internet connection and a text editor. You will also need a BigCommerce account, which you can get by signing up for a free trial here.
Once you have all of these things, you can begin developing on BigCommerce.
Setting Up Your Development Environment
In order to develop for BigCommerce, you will need to set up a development environment.
This involves installing the necessary software and tools and configuring them correctly. The exact steps you need to take will vary depending on your operating system and development environment.
Once you have set up your environment, you will be ready to start developing for BigCommerce.
Working With the BigCommerce API
To work with the BigCommerce API, you must create an API key.
The API key is a unique identifier that allows you to access the API. It is used to authenticate requests and ensure that only authorized users can access your data.
To create an API key, log in to your BigCommerce account and navigate to the Developer Portal. Click on the Create Key button and provide a name for your key. Make sure to select the API v2 checkbox and then click on the Create button.
Your API key will be generated and will be displayed on the screen. Copy the key and save it in a safe place.
Testing and Launching Your Store
After you have completed your development, it's time to test and launch your store. Here are the steps you need to take:
Test your store on different browsers and devices to ensure everything looks and works the way it should.

Upload your store to a hosting provider and set up your domain.

Configure your store settings and add your products.

Test your store again to make sure everything is working correctly.

Launch your store and start selling!
Once familiar with the basics, you can develop your themes and features for BigCommerce. The possibilities are endless – with BigCommerce, the sky's the limit!
Must Read: 5 Ways to Increase the Profitability of Your E-commerce Business
How Much Does it Cost to Develop a BigCommerce Store?
The development cost of a store varies depending on your business objective, growth plans, budget, and more. A BigCommerce store development from scratch will cost you upwards of (Amount).
However, your development costs are considerably lower if you have a site and are planning to migrate it to BigCommerce and require just fundamental site changes. You can avail of BigCommerce migration services to smoothly migration of your website.
BigCommerce Plans and Pricing
If you have decided to proceed with your eCommerce project with BigCommerce development services, then you must also be aware of the plans and pricing structure of BigCommerce. Have a look!
BigCommerce Standard: $29.95 per month
BigCommerce Plus: $79.95 per month
BigCommerce Pro: $299.95 per month
BigCommerce Enterprise: price for BigCommerce enterprise can vary depending upon the needs and requirements.
Why Should Hire a Certified BigCommerce Development Partner
There are many benefits of working with a BigCommerce development partner who is certified by the platform. Certified partners have been vetted by BigCommerce and have proven their expertise in building successful online stores on the platform. They are also up-to-date on the latest features and capabilities of BigCommerce and can help you take full advantage of the platform to grow your business. 
BigCommerce is one of the most popular eCommerce platforms, and it's constantly evolving. If you want to keep up with the competition, you need a partner to help you make the most of the platform's features and functionality.
A certified BigCommerce development partner can help you:
Choose the right BigCommerce plan for your business

Get the most out of BigCommerce features and functionality

Integrate with third-party applications and services

Troubleshoot issues and solve problems- Provide ongoing support and maintenance
Working with a certified BigCommerce development company gives you peace of mind that you are working with a knowledgeable and experienced team who can help you build a successful online store.
In addition, a certified development partner will have access to exclusive resources from BigCommerce, including product training, technical support, and more. This will ensure that your development team has everything they need to build a successful online store.
Conclusion
So, you're thinking about hiring a BigCommerce development team.
That's a great decision! BigCommerce is a great platform for online stores, and with the help of a good development team, you can improve your store.
But where do you start? How do you know which team is right for you?
Successive Technologies is a BigCommerce development company for any BigCommerece platform services from start to finish. We'll cover everything from research and analysis to setting expectations and ensuring that your project stays on track.
Ready to get started? Fill the form now!
Ready to get started? Fill the form now!