The Best Free BigCommerce Themes: A List of the Top 8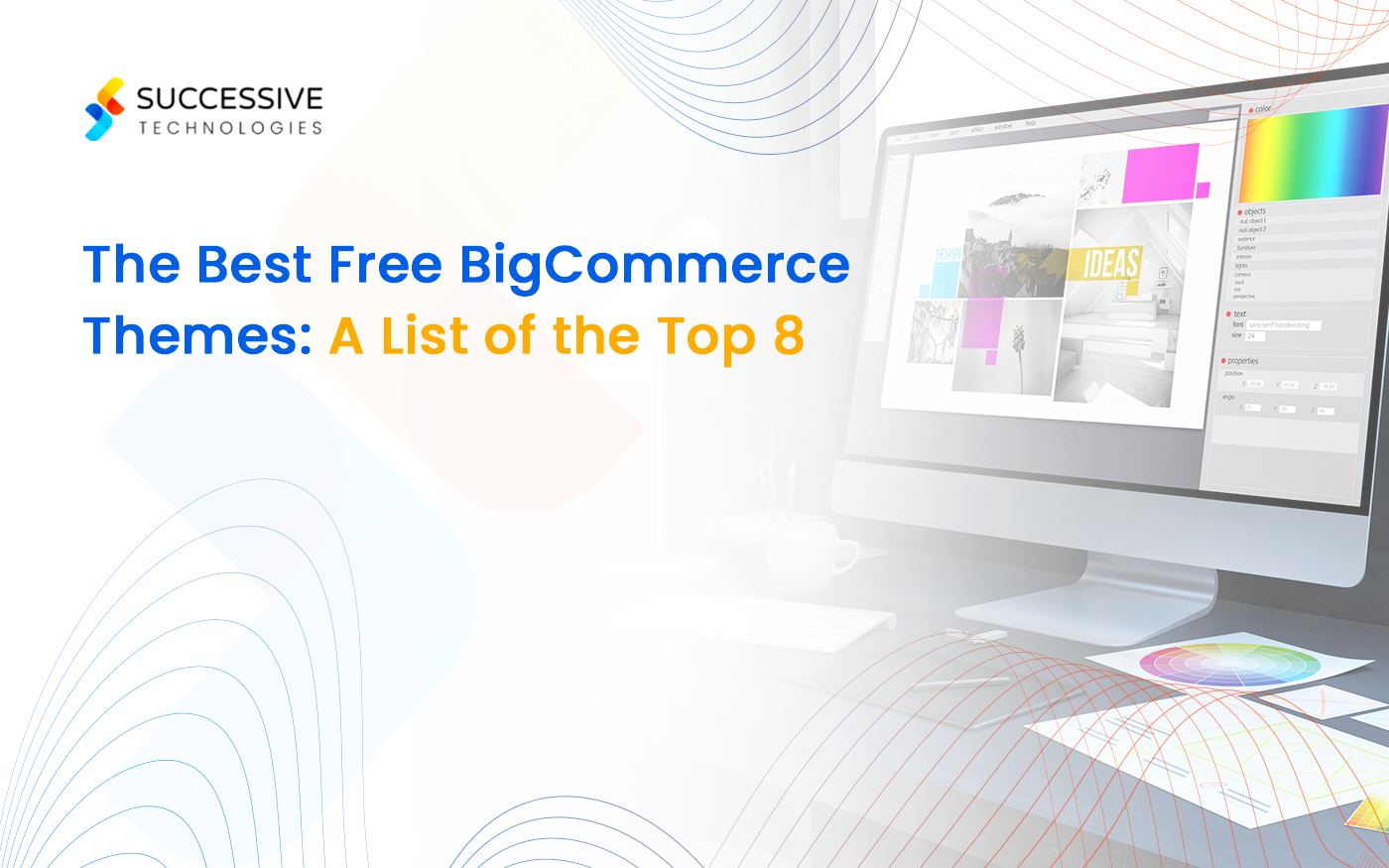 Consumers today are deeply distracted. To get and keep their attention, good experiences are the bare minimum that businesses must offer: beautiful layouts, appealing imagery, engaging content, etc. Failing to do this means that you've lost 38 percent of your audience right away. 
But there are so many factors to consider when designing an ecommerce store: budget, the need for customization, the need to deliver great user experiences, and more. A free theme can be a way to meet all of these requirements in a cost-efficient way. With a free theme, there's no need for you to write any code or hire an agency, nor do you need a big budget. 
To help simplify your decision, we've put together a list of the top free BigCommerce themes available today. BigCommerce is one of the leading ecommerce solutions in use today. Choosing the best BigCommerce theme for your store increases your chance of converting site visitors into loyal customers. 
Top 8
free BigCommerce themes
Here are 8 examples of BigCommerce themes that you can use to deliver great experiences to your customers. . 
1. Vault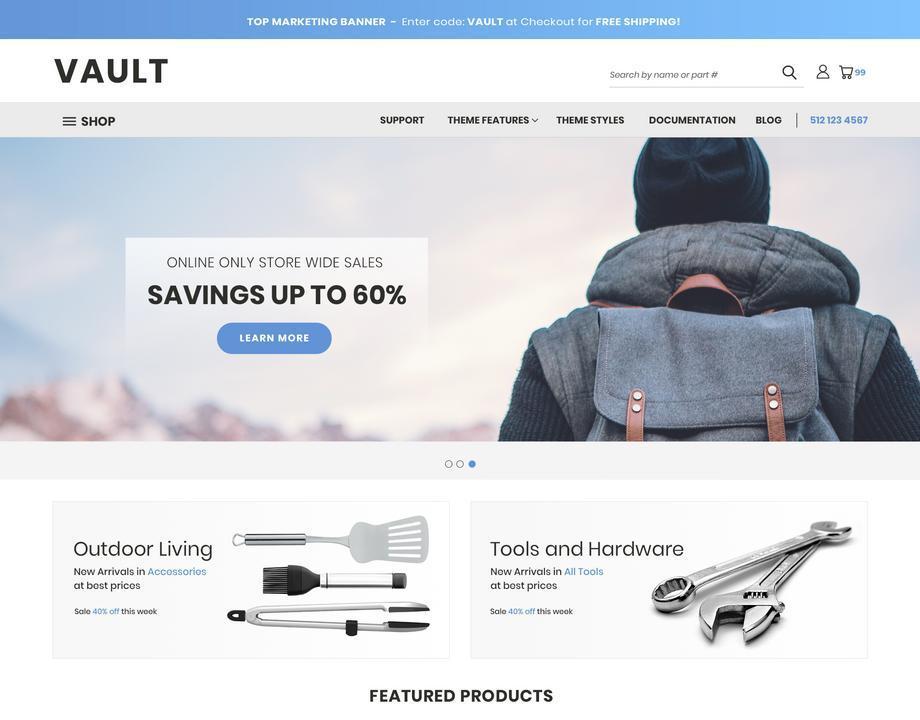 Source: BigCommerce theme store
Vault's biggest USP is the built-in mega menu that makes it easy to manage both large and small product catalogs. This makes it a great choice for businesses of all sizes, particularly fashion stores that want to prominently display their products. 
Vault offers great readability, a clean font, and a modern layout. Color pickers let you modify the look of most of the elements. With its advanced Store Design features, you can add image and text banners in just a few clicks, without having to write any code. You can use these banners to share information about sales, shipping policies, and more. 
Styles
Key Features
Fully responsive design 

Product comparison table

Complex product search and filtering

Persistent cart

Cart suggested products

One page checkout

Saved payment methods
Check out: Bigcommerce Development
2. Cornerstone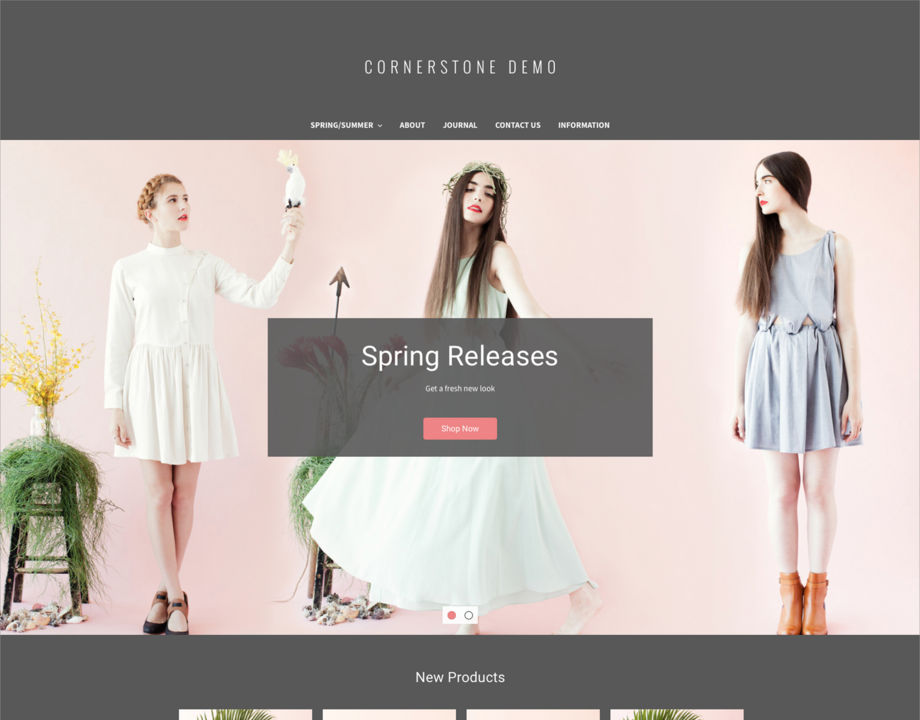 Source: BigCommerce theme store
Cornerstone is the default theme that's applied when you create your store, and it is one of the best Bigcommerce themes available. It is highly scalable and customizable, making it a great choice for businesses with a large catalog as well as growing stores. 
It has a clean and uncluttered design, with a homepage carousel that you can use to display large images as well as information about sales, loyalty programs and more. 
It has a rich built-in and mega-site menu — this makes it easy for visitors to navigate the content while also being drawn to relevant calls-to-action (CTAs). The theme includes lots of white space to make your products and CTAs stand out. 
Styles
Key Features
Fully responsive

Featured and popular products

Faceted search 

Persistent cart

One page checkout

Google AMP (Accelerated Mobile Pages)

Social media integration
Read How to Leverage Ecommerce Product Recommendations to Create Outstanding Shopping Experiences
3. Fortune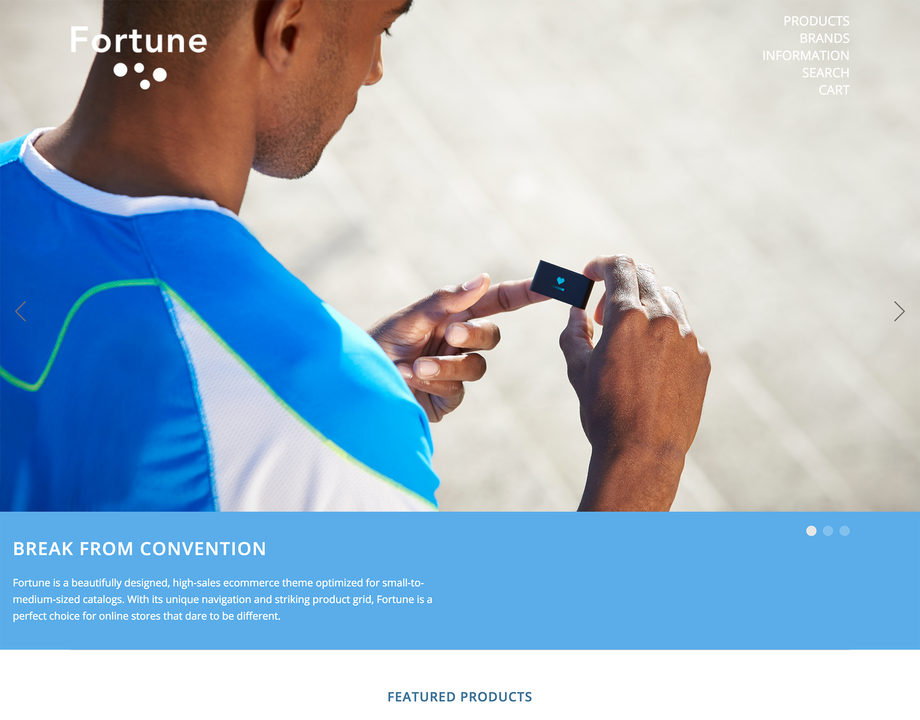 Source: BigCommerce theme store
Fortune is a simple and versatile free BigCommerce theme featuring a large hero banner and sleek product grids. Some interesting elements include a full page search feature and an expandable side menu. 
Fortune is available in a number of different styles which share common features, but also have some unique elements that make them better suited to particular industries. Fortune Contrast is a great choice for single product stores, while Fortune Minimal has a narrower hero area that makes it better suited to home furnishings stores. 
Styles
Bright | Minimal | Contrast | Highlight
Key Features
Fully responsive

Customizable product selector

Free customer support

Clear "Out of Stock" labels

Full page search feature

Expandable menu

Google AMP

Google Analytics Enhanced Ecommerce
4. Lifestyle Default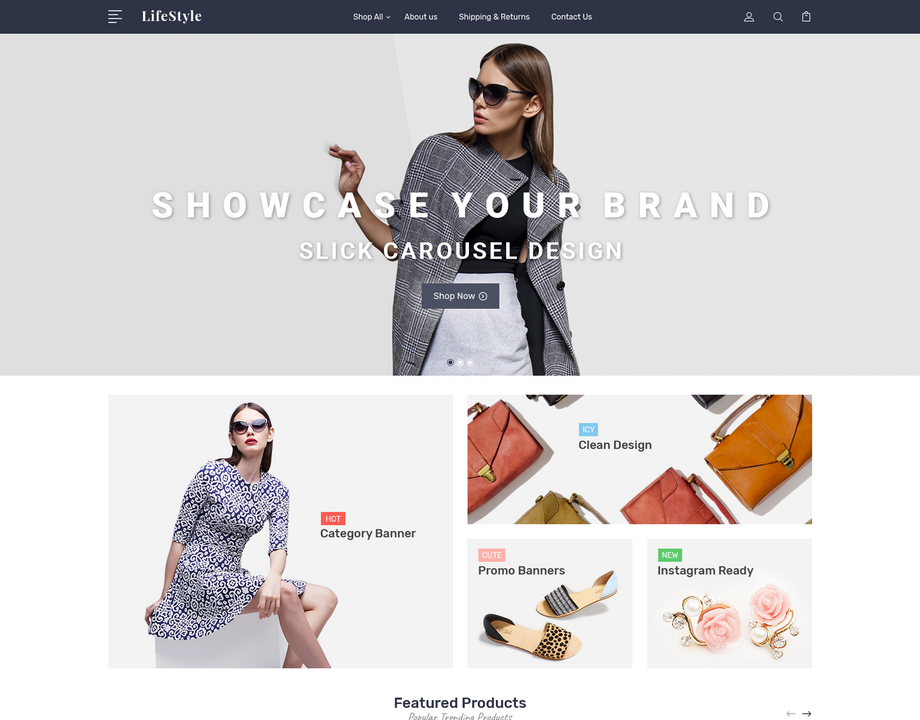 Source: BigCommerce theme store
Developed by 1Center, Lifestyle Default features a slick design that can adapt to the needs of stores in a number of industries. 
It has a full-width carousel on the homepage. Fly out and top menus make it simple to navigate through your store. Most of the theme's elements are easily customizable through Store Design settings. 
Key Features
Fully responsive

Product comparison table

Complex search filtering

Customizable product selector

Cart suggested products

Mega navigation

Google AMP
Read 8 Ecommerce Website Navigation Best Practices for Exceptional User Experiences
5. Roots Original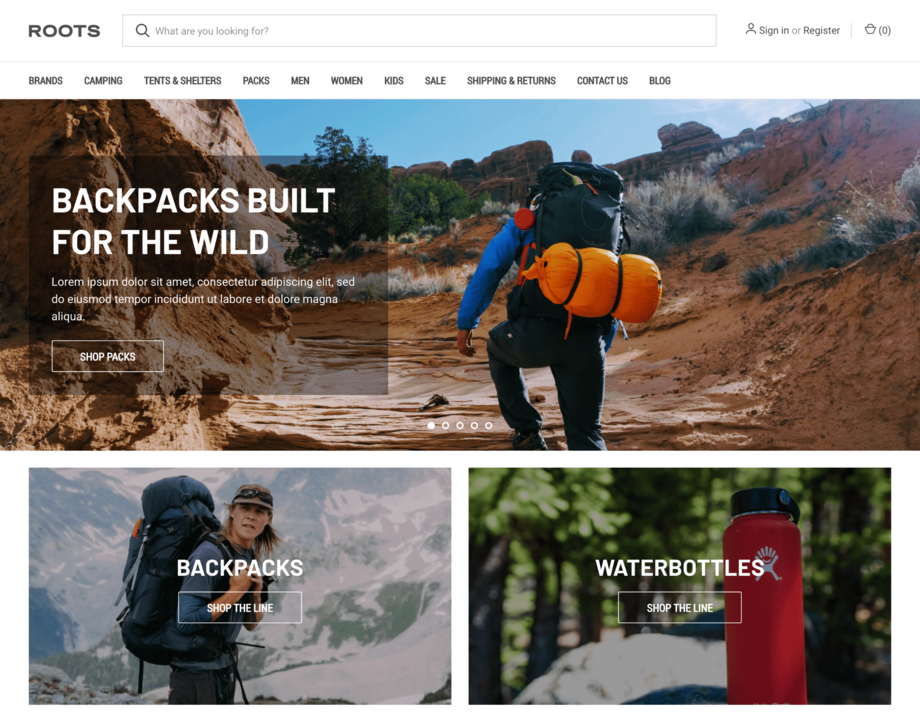 Source: BigCommerce theme store
Roots Original is developed by Weizen Young. It's a great example of a BigCommerce theme that's heavily image-based, with images taking up most of the space above the fold. However, this doesn't take away from the user experience the theme offers, as the images are divided into three major sections which can be used to direct visitors to purchase different categories of products. 
The theme pays a lot of attention to search and navigation, making it well suited for businesses with medium to large product catalogs. The design is clean and professional; some notable features include the sticky header and a flexible product grid. 
Key Features
Fully responsive

Complex search filtering

Customizable product selector

Free customer support

Persistent cart

Google AMP
6. Ebajes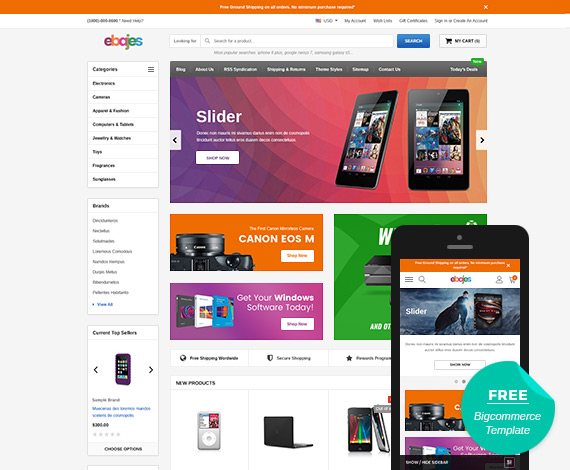 Source: Themevale
Ebajes is a free theme from ThemeVale that attempts to mimic the design principles that Amazon follows in its store design. While Amazon's design is not the cleanest, it does allow visitors to explore a wide range of products. Ebajes does the same with its design. Stores with a large catalog of products may find it beneficial to take this approach. 
Key Features
Fully responsive

Supported style editor

Sale product label

Product widgets slider

Social sharing buttons

Google's Rich Product Snippets for better SEO
7. CityCenter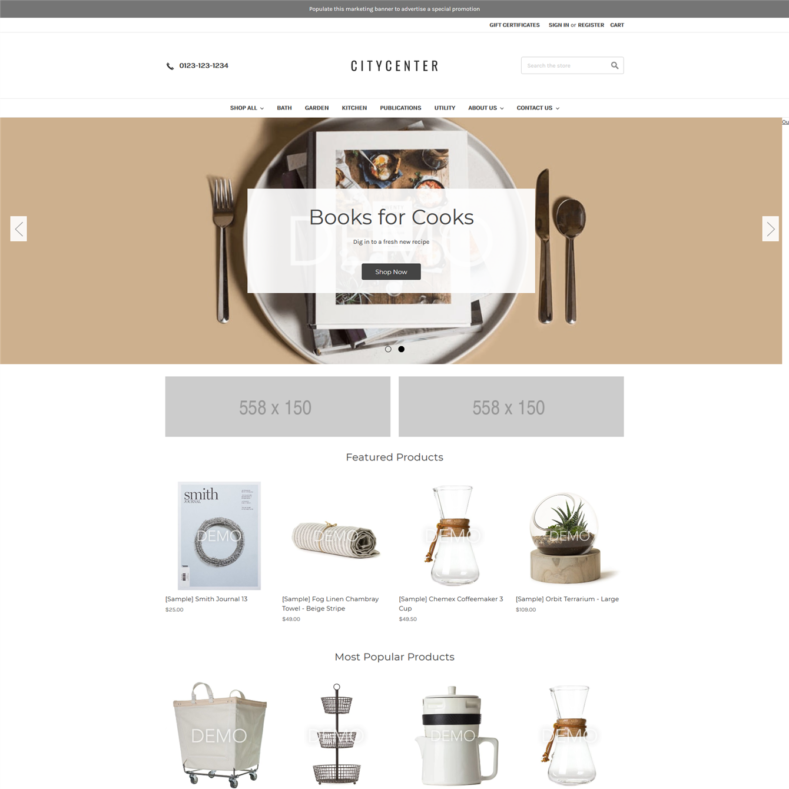 Source: PSDCenter
CityCenter is a minimal theme developed by PSDCenter. It's aimed at offering an enhanced experience as compared to the default Cornerstone theme. 
Enhancements include the addition of phone numbers and a visible search bar in the header area, a sitewide pencil banner, and navigation with subpages. Other enhancements include description tabs in product pages and a sidebar that displays all categories in the category page. Check out a demo of the theme here. 
8. MODA
Source: Themevale
MODA by ThemeVale is one of the best BigCommerce themes for clothing stores. Its design is clean and sophisticated. Key elements include a mega menu, a newsletter subscription popup, and Google Maps integration on the contact page. The free version of this theme doesn't come with customer support, but the paid version does. 
Key Features
Fully responsive

Supported style editor

Popup newsletter

Basic mega menu

Dropdown shopping cart

Product labels and wish lists icon
The right bigcommerce theme can be a step towards growing customer loyalty
Your key focus as a business owner has to be on providing a great experience to your store visitors. A free BigCommerce theme can be an effective, affordable way for you to do just that. 
The best BigCommerce themes come with all the sales and marketing tools needed for ecommerce stores. They have drag-and-drop capabilities, making them intuitive and easy to use. They allow easy customization of store features without coding. Most are fully responsive and mobile compatible. And of course, if you don't like a particular theme, you can easily replace it with another. 
With the right theme, you can showcase your products in the best possible way, encouraging your customers to purchase your products and services, and keep coming back. 
Read 10 Essential Ecommerce Website Features To Take Your Digital Store To The Next Level
Ready to get started? Fill the form now!
Ready to get started? Fill the form now!