Unlock Your Business Potential With BigCommerce Digital Marketplaces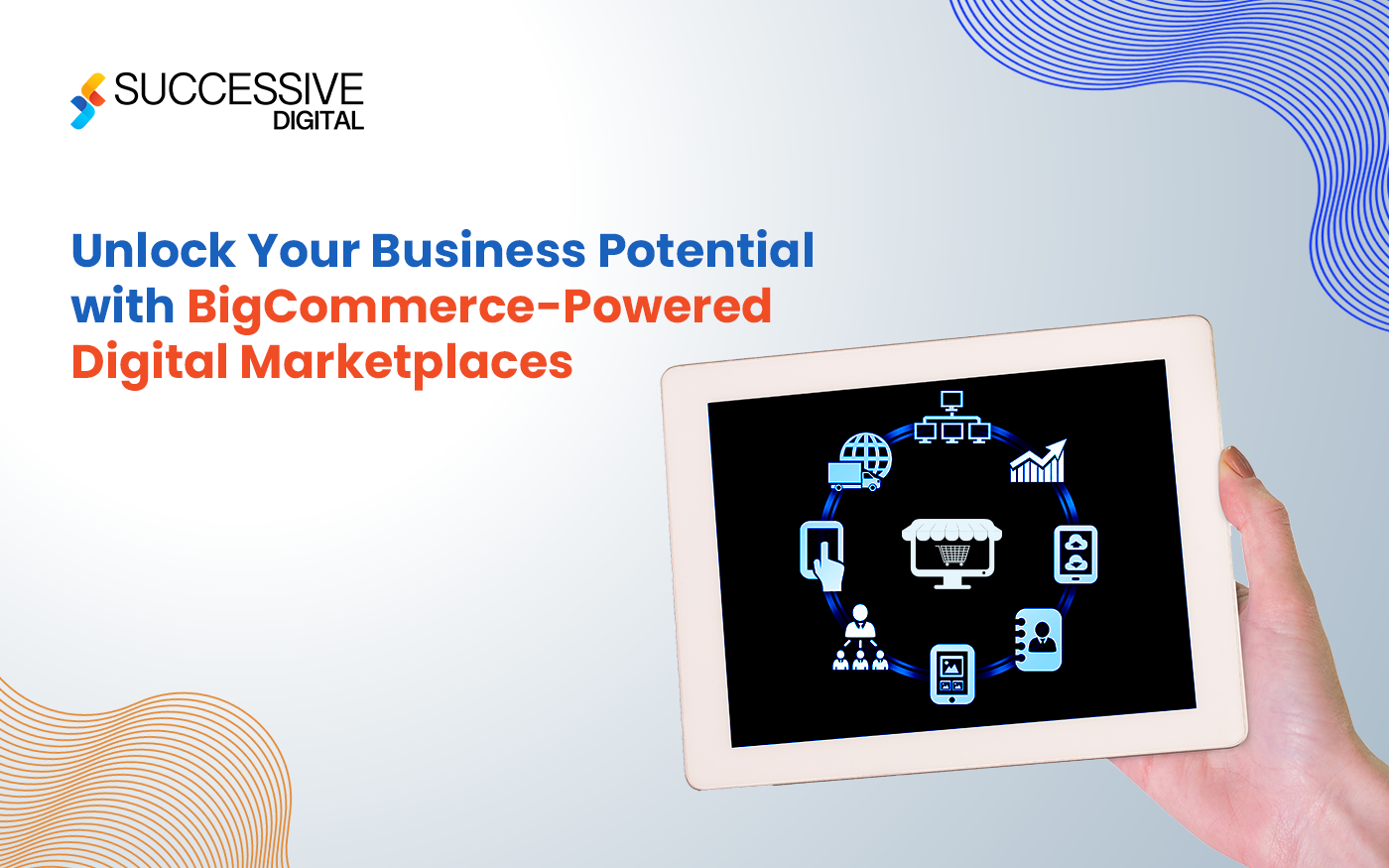 Today, the world has turned digital, and the growth of digital marketplaces is skyrocketing. Companies have climbed to meet developing consumer needs and expectations. Having a presence over digital marketplaces provides a powerful solution to companies to respond to dynamic shifts in online retail, enabling them to capture new value segments, and expand their reach quickly. Digital marketplaces are creating a new frontier for retail innovation by providing a seamless path to purchasing anything, anytime from anywhere.
As per McKinsey research, digital marketplaces are projected to drive 50-60% of retail revenue growth over the next three years, highlighting the significant potential of this channel. By 2026, global retail and e-commerce sales are predicted to reach a staggering $8.1 trillion, making it imperative for businesses to invest in digital marketplaces to stay competitive.
Since e-commerce technologies are evolving quickly, headless based e-commerce platform development has become a new de facto method to build online commerce solutions. Headless – a revolutionary technology decouples the front-end and back-end of an application. Developing a headless based online commerce solution enables businesses to provide a seamless customer experience across all digital and social channels.
Cloud-based or SaaS based headless platforms help businesses remove manual processes and create new opportunities within partner ecosystems faster. By embracing digital marketplaces and headless commerce technologies, businesses can stay ahead of the competition, boost revenue growth, and improve customer experiences.
Demystifying Online Marketplaces: What They Are and How They Work
An online marketplace is a digital platform where individuals or businesses can buy and sell goods or services. It allows sellers to create an online storefront and list their products or services for sale, while buyers can browse and purchase products that they like from the comfort of their home. Online marketplaces can range from large, multi-category platforms that specialize in a specific type of product or service.
In the world of e-commerce, there are a plethora of digital marketplace platforms and integration options to choose from. The mushrooming options make it difficult for businesses to select the right one that meets their unique needs. However, BigCommerce is a highly recommended e-commerce platform. With the help of an experienced Bigcommerce Migration Partner specializing in all sorts of e-commerce application development, you can navigate through your needs for BigCommerce integration.
In recent years, BigCommerce has become the buzz of the retail industry due to its ability to accelerate the growth of online marketplaces. With a digitized and fast-paced future ahead, BigCommerce's headless architecture model enables different teams within a retail organization to open new digital storefronts quickly and efficiently.
Maximizing Your eCommerce Potential With Bigcommerce Platform: An Overview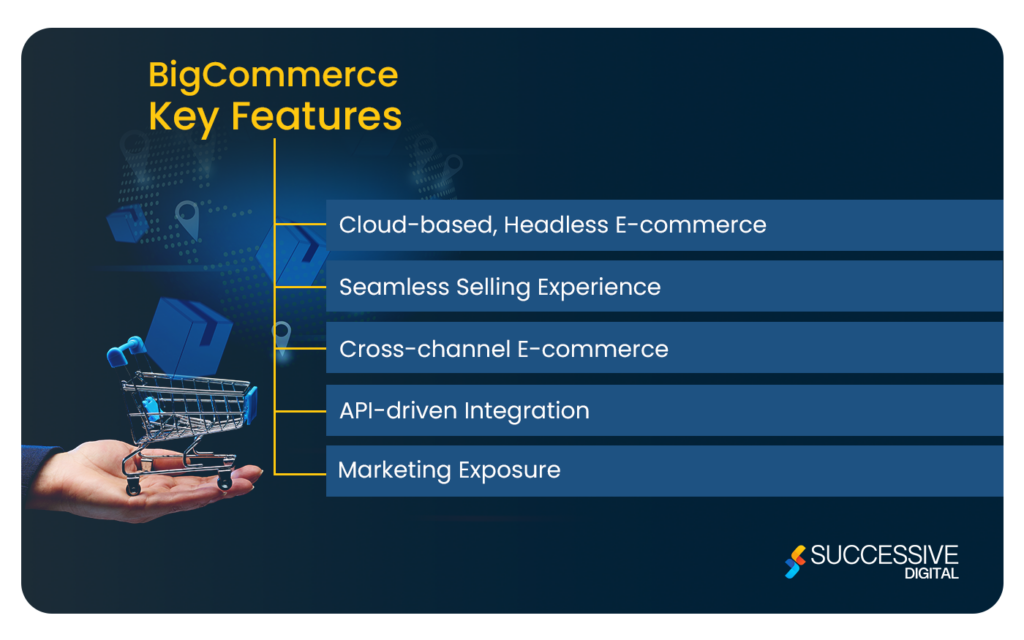 BigCommerce is an innovative e-commerce platform that enables businesses of all sizes to establish and expand their online presence. With its advanced enterprise-level features, customizable options, and outstanding performance, BigCommerce equips merchants with the tools they need to thrive in the digital landscape. Whether you're just starting out or seeking to enhance your existing online store, BigCommerce offers simplicity and user-friendliness alongside enterprise-grade functionality. You can get the following features with BigCommerce solution:
Cloud-based, Headless E-commerce
It helps businesses accelerate cloud-based e-commerce solutions and maintain complete control of e-commerce platforms to enhance shopping experience.
Seamless Selling Experience
Integrating with top marketplaces like eBay, Amazon, and Google shipping enables businesses to sell products direct-to-consumer in the highly competitive B2C industry.
Cross-channel E-commerce
It helps businesses enhance the experience of customers by using cross-channels such as brick-and-mortar stores, catalogs, websites, mobile applications, TV commercials, and more.
API-driven Integration
Leveraging different APIs, modern e-commerce tools & technologies help businesses to enhance user experience and increase performance of the platform.
Marketing Exposure
Businesses can also include built-in SEO & analytics optimization to increase their organic exposure. It also helps with saving time & money with a designed BigCommerce platform.
According to a Google study, consumers are 40% more likely to spend more than planned when the buying experience is highly personalized. BigCommerce recognizes the importance of personalization in e-commerce and strives to deliver a top-notch experience to its customers. With its comprehensive suite of tools, including AI-powered search and personalization features, BigCommerce helps businesses create tailored and seamless shopping experiences for their customers.
Also read – BigCommerce Store Development Guide
Leverage BigCommerce's Marketplace for E-commerce Growth: Reasons to Consider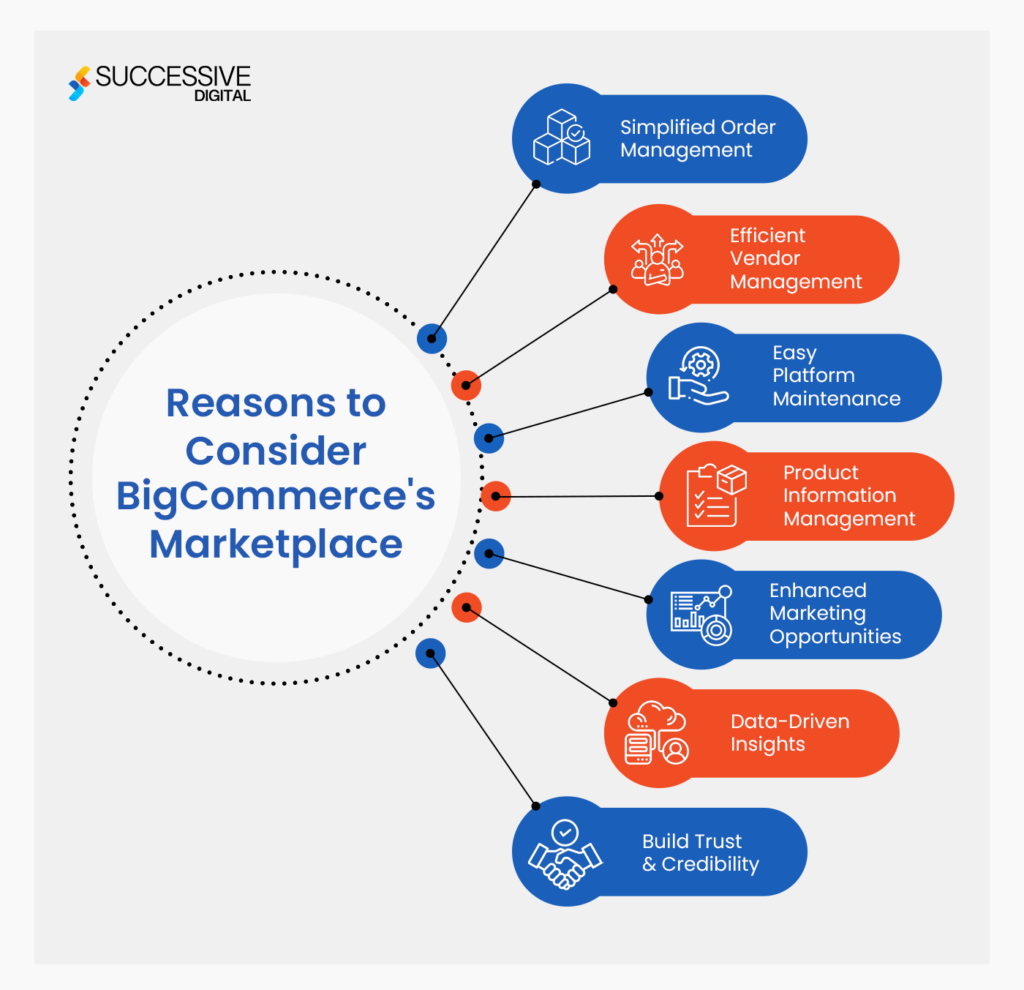 Simplified Order Management
Making vendor order management more efficient requires the right implementation tools and strategy. BigCommerce provides a management dashboard to streamline all the orders from different marketplaces and allows multiple vendors to receive and fulfill the orders in a timely manner. It also helps with data analytics to allow you and track the status of your vendors and their performance, leading to improved customer experience.
Efficient Vendor Management
When starting a marketplace business, it is important to select the right vendors for your company. BigCommerce smoothen vendor onboarding and provides a seamless vendor onboarding process. Its features like Automation help you to spend less time on your vendors during the days when you build your marketplace. Through third-party e-commerce integration, you can also bridge the gap between your site and the vendor's site.
Easy Platform Maintenance
Managing inventory and vendors from different platforms requires a centralized location and BigCommerce makes sure that your digital marketplace will be easy to operate and maintain and it connects your online store with popular marketplaces like Amazon, eBay, Google Shopping, Facebook Marketplace, and more. With this feature, you can increase your business revenue while saving your time.
Product Information Management
BigCommerce's advanced product information management tool enables you to give the tags and organize your inventory, review product information, and fetch the most relevant information to your buyers. The product information page includes the price, shipping, and availability of the products and helps your vendors to track these details while creating and maintaining the product catalog.
Enhanced Marketing Opportunities
BigCommerce provides robust marketing tools and advanced features to help businesses promote their products. By integrating your store with marketplace, you can leverage these marketing opportunities and get the advantages of promotional tools like sponsored products, targeted ads, and social media campaigns to boost your product visibility and increase sales.
Data-Driven Insights
BigCommerce leverages the data, analytics, and business intelligence tools that allow you to track and analyze your sales data from different marketplaces. This helps you gain valuable insights into customer behavior, preferences, and trends, which can inform your business strategies and help you optimize your product offerings and marketing campaigns for better results. BigCommerce helps businesses make more data-driven decision making. Forrester's report "Data Literacy Matters" reveals that 90% of global data and analytics decision-makers prioritize data insights in their business decision-making.
Build Trust and Credibility
By selling on established marketplaces through BigCommerce, you can leverage their well-established reputation to build trust with potential customers. Customers are more likely to trust and make purchases from reputable marketplaces, which leads to increased sales and customer loyalty. Being associated with an established marketplace can enhance your credibility and help you build a positive reputation in the eyes of potential customers. Ultimately, this can lead to increased sales and repeat business.
Conclusion
Digital Marketplaces provide a valuable opportunity for businesses to expand their online sales and reach a wider customer base. BigCommerce's seamless integration with popular marketplaces unlocks benefits such as increased exposure, trust, and credibility, enhanced marketing opportunities, simplified order management, and data-driven insights. As a leading Bigcommerce Development Agency, Successive enhances the speed, quality, and flexibility needed to achieve profitable and sustainable business growth. Our certified BigCommerce team brings expertise across go-to-market models – including B2B, B2C, B2B2C, and D2C – powering omnichannel, social, live, and metaverse commerce. We also expand existing and build new businesses, driving stronger customer engagement today and innovating for what's next.
To boost your e-commerce business, leverage our BigCommerce: Enterprise eCommerce Services for a successful online selling journey!
Ready to get started? Fill the form now!
Ready to get started? Fill the form now!