How Much Does An eCommerce App Development Cost?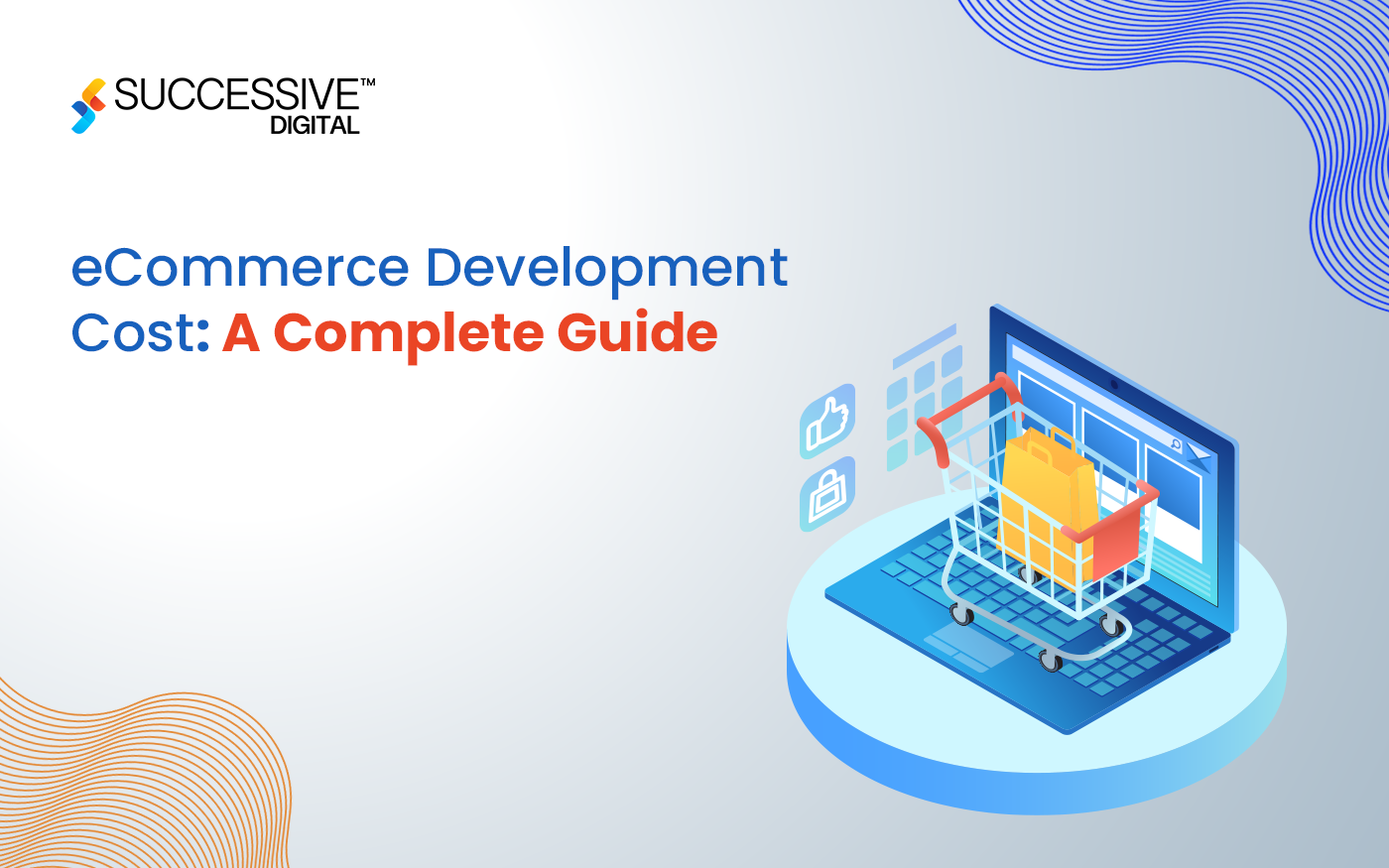 The demand for using mobile applications to shop for every other product, from apparel to home furniture and others, has compelled many online and offline businesses to invest in eCommerce mobile app development. According to a study by Forbes, 91% of users make online purchases using their smartphone. This explains how eCommerce giants like Amazon and Noon managed to earn a massive market share globally and continue to propel customers to use their app for online shopping. Since eCommerce app development has become a need of hour for every business to sustain digitally, they often get stuck with a concern– "ecommerce app development cost."
Often ignored in the earlier phases of app project planning, the eCommerce app cost is one of the significant elements in determining the success of your eShop application. Hence, you must examine the cost-influencing factors before proceeding with the app development process to have an accurate project delivery experience.
This blog intends to discover how much it costs to develop an eCommerce app and the key factors impacting the final estimation.
Benefits of Creating an eCommerce App
Launching and running an eCommerce business can be challenging in today's competitive digital era. This is why investing in developing an eCommerce app is essential to stay ahead of the curve, reach more customers, and boost sales. Here are some benefits of building an eCommerce application.
Brand Visibility and Awareness
If you're new to this industry, your goal would be accelerating your brand's awareness and visibility. Since most users use mobile apps to buy a product online, investing in eCommerce mobile app development will help you tap a broader customer base, create awareness, and leave a lasting impression on your target users.
The market has witnessed that a maximum number of users tend to choose an eCommerce app for shopping that offers a personalized experience. With a mobile app, you will be able to get more specified consumer behavior data, enabling you to send push notifications and emails that persuade them to make the purchase in one go.
The best part about mobile apps, whether for eCommerce or otherwise, is that they can help you get a detailed report around your customer's journey and purchase behavior. The eCommerce app development company can integrate an analytics feature into the app to track and record each customer's scrolling, add-to-cart, cart abandonment, and purchase patterns. You can then send personalized messages and remind them of your brand based on received analytics.
Enhanced Customer Experience
With assistance from an expert eCommerce app development partner, you can create a customized mobile app that includes unique features tailored to address your customers' pain points. Moreover, the development company will design an intuitive UI/UX for the app to enhance customers' overall experience.
When we compare eCommerce websites and mobile apps in terms of revenue generation, the latter will always win the game. The reason is that most users find mobile apps more convenient and user-friendly than a website. Hence, businesses investing in eCommerce mobile apps tend to generate more sales than those only running a website.
In the era of digitalization and UPI payments, customers prefer paying via a digital wallet rather than tangible cash. You can integrate your eCommerce app with various payment gateways and digital wallets via APIs to streamline payment and encourage contactless transactions.
Factors Affecting the Cost of eCommerce App Development
Mobile apps have become significant in reaching more customers and offering personalized shopping experiences. However, behind every successful app, various supporting factors influence the development cost. Let's have a look at several factors impacting the ecommerce app development cost: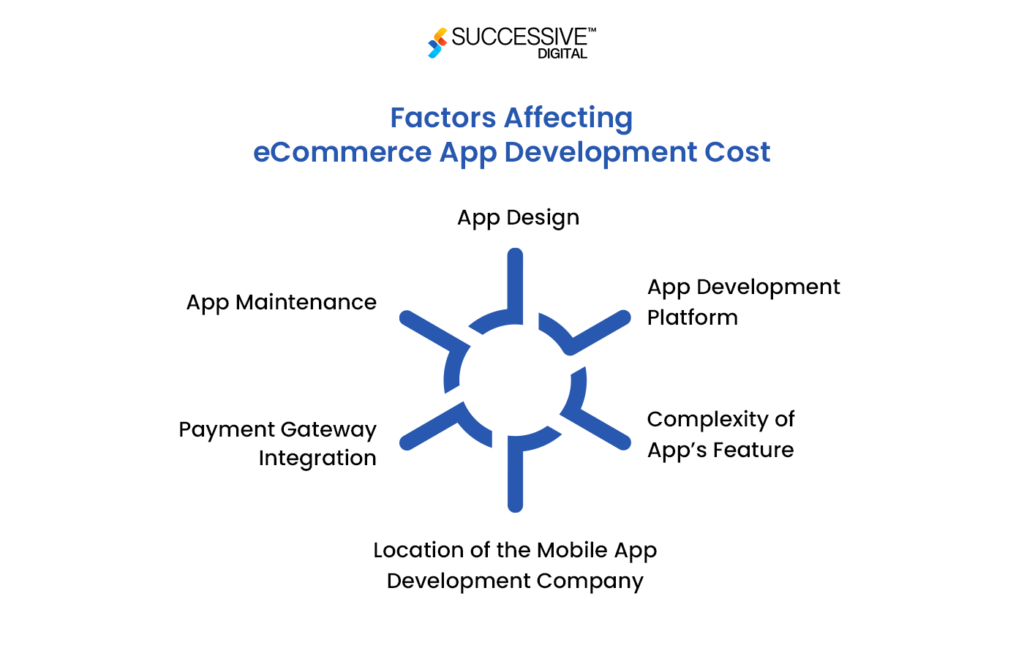 1.Cost of eCommerce App Design
An intuitive UI/UX design is critical to the success of your mobile app. A study by Forrester states that a good UI can boost conversion rates up to 200%. A well-designed app with a user-friendly interface is required to attract more customers and boost sales. However, the complexity of mobile app design, design elements, and the number of screens will increase the eCommerce app development cost.
2. eCommerce App Development Platform Cost
The app platform you choose for development will undoubtedly be determined by your target audience. The most common platforms, with 98% of the market share, are iOS and Android. However, developing a native eCommerce app for each can lead to higher costs. On the contrary, you can invest in cross-platform development frameworks like React Native and Flutter to minimize your expenses and offer a multi-platform experience over every screen.
3. Complexity of App's Features and Functionality
The essential features and complex features added to the app will impact the development cost. The higher the complexity of the features, the more time it will take to complete the process. And, when the timeframe is higher, it will directly impact the cost.
The features that can increase the eCommerce mobile app development cost include a product catalog, shopping cart, payment gateway integration, push notifications, user profile management, AI-based product recommendation, and social media integration.
4. Location of the eCommerce App Development Company
The development team you choose for your app project will directly impact the success of your product in the market and is a key determining factor of the development cost. If the company is located in top developed countries, such as the USA and the UK, the cost will be higher, whereas if they are based in India or Dubai, the expenses will tend to be lower.
5. Integration of Payment Gateways and Third-Party APIs
One of the must-have features of an eCommerce mobile app is payment gateway integration and flexible API integration. Linking numerous payment gateways and digital wallets into the app is important to streamline the payment process but will also increase costs. Additionally, the third-party integrations and custom-built APIs integrated into your app will certainly impact the final estimation.
6. eCommerce App Maintenance Cost
Once the app is launched in the respective application store, it's essential to maintain and monitor it continuously. The cost of app maintenance will be determined based on its complexity, number of updates required, and the level of support needed to ensure optimal performance and consistent functioning of your app.
Ready to Uncover the Secrets of eCommerce App Development Costs?
Don't hesitate! Reach out to us today for all your cost-related inquiries. Let's make your eCommerce dreams a reality!
Detailed Breakdown of eCommerce App Development Cost
To understand how each influencing factor contributes to the final estimation, here is a detailed breakdown of eCommerce mobile app development cost.
1. eCommerce App Design Cost
The app design cost includes the charges levied by the mobile app design company for creating wireframes and overall UI/UX design for your eCommerce mobile app. The final cost will vary depending on the design's complexity and the development team's expertise.
2. eCommerce App Development Cost
The ecommerce app development cost will depend on the tech stack (frontend and backend), app development platform (iOS or Android), eCommerce development platform, such as BigCommerce, Shopify, and Strapi, and the latest technologies, such as AI, ML, blockchain, and AR, chosen for creating the product. Moreover, if you leverage cloud platforms to run and deploy your eCommerce store, it will additionally add up to your overall app development cost. However, the use of the tech stacks and technologies will depend on the features and functionalities you want to add to the app.
3. Payment Gateway and API Integration Cost
The cost of integrating payment gateways into your eCommerce app will depend on the fees charged by the payment gateway service provider to integrate their gateway with the application. As for third-party APIs, the cost will depend on the expenses levied by the respective API owners, or whether the eCommerce app development company develops custom APIs for the app.
4. eCommerce App Maintenance Cost
These are the expenses charged by the development partner to continuously upgrade your app, fix bug issues, and maintain your eCommerce mobile app for smooth functioning. The maintenance cost will depend on the app's complexity and the frequency of upgrades required to enhance its performance.
The table below will explain the impacting factors and their cost in a nutshell.
| | |
| --- | --- |
| Impacting Factors | Estimated Development Cost |
| App Design Cost | $1000 – $15,000 |
| App Development Cost | $15,000- $100,000 |
| Payment Gateway and API Integration Cost | $1000- $10,000 |
| App Maintenance Cost | $2500-$15,000+annual charges |
Here's a breakdown of eCommerce app costs depending upon the location of the development company.
| | | | | |
| --- | --- | --- | --- | --- |
| Impacting Factors | USA | UK | India | UAE |
| App Design Cost | $1,500 – $10,000+ | £1,000 – £7,000+ | $500 – $5,000+ | AED 5,500 – AED 20,000+ |
| App Development Cost | $10,000 – $50,000+ | £10,000 – £50,000+ | $5,000 – $25,000+ | AED 55,000 – AED 250,000+ |
| Payment Gateway and API Integration Cost | $500 – $5,000+ | £250 – £2,000+ | $100 – $1,000+ | AED 2,000 – AED 10,000+ |
| App Maintenance Cost | $2,500 – $10,000+ annual charges | £2,000 – £7,000+ annual charges | $1,000 – $5,000+ annual charges | AED 10,000 – AED 50,000+ annual charges |
The Formula for Calculating eCommerce App Development Cost
Final Cost of eCommerce app = No. of Development Hours x Hourly Rates
Note– The above-mentioned cost may vary based on the specific features and functionalities required in the eCommerce mobile app, the level of expertise of the development team, and the frequency of updates required according to the development platform.
Analysis of eCommerce App Development Cost
Let's have a look at the development cost analysis based on the app's complexity and the range of features added to it as per requirements.
1. Basic eCommerce App Development Cost
A basic eCommerce mobile application will have only essential features, such as product listing, shopping cart, checkout, and payment gateway integration features.
The eCommerce app cost for such an app can range from $5,000 to $50,000.
2. Moderate/Custom eCommerce App Development Cost
The moderate app has added features on top of essential ones. They include features such as user account management, product recommendations, push notifications, and social media integration. Developing a moderate features app can cost somewhere between $50,000 to $100,000.
3. Highly Complex eCommerce App Development Cost
As the name suggests, a highly complex app will have custom features like inventory management, supply chain management, multi-language support, multi-vendor support, AI-enabled chatbot, and integration with other systems such as ERP and CRM. The cost for these applications ranges from $100,000 to $500,000.
4. Cost Analysis Based on Features
As discussed before, the development cost is heavily impacted by the features added to the app. The more complex and customized they are, the higher the complexity and final estimation will be.
| | | | |
| --- | --- | --- | --- |
| App Features | Basic App Costs | Moderate App Costs | Highly Complex App Costs |
| Product Listing | $5,000 – $10,000+ | $5,000 – $10,000+ | $5,000 – $10,000+ |
| Shopping Cart | $5,000 – $10,000+ | $5,000 – $10,000+ | $5,000 – $10,000+ |
| Checkout | $5,000 – $10,000+ | $5,000 – $10,000+ | $5,000 – $10,000+ |
| Payment Gateway Integration | $5,000 – $10,000+ | $5,000 – $10,000+ | $5,000 – $10,000+ |
| User Account Management | N/A | $10,000 – $20,000+ | $20,000 – $30,000+ |
| Product Recommendation | N/A | $10,000 – $20,000+ | $20,000 – $30,000+ |
| Push Notifications | N/A | $10,000 – $20,000+ | $20,000 – $30,000+ |
| Social Media Integration | N/A | $10,000 – $20,000+ | $20,000 – $30,000+ |
| Inventory Management | N/A | N/A | $30,000 – $50,000+ |
| Multi-Language Support | N/A | N/A | $30,000 – $50,000+ |
| Multi-Vendor Support | N/A | N/A | $30,000 – $50,000+ |
| AI-Enabled Chatbot | N/A | N/A | $10,000 – $500,000 |
| CRM/ERP Integration | N/A | N/A | $50,000 – $100,000+ |
How Can Successive Digital Assist in Optimizing Your eCommerce Development Costs?
With a proven track record and a team of experienced professionals, Successive Digital endeavors to infuse innovation and digital transformation in every solution we deliver. We have successfully developed various eCommerce solutions for top-tier clients in the Retail and Commerce industry and helped them power their online selling journey. Let's check how our eCommerce app development services helped eCommerce businesses accelerate their digital shopping journey.
We Developed Cross-Platform eCommerce Application, Reducing Costs by 20%
Quick Summary
Being one of the largest retailers and online suppliers of education materials, the client wanted to build a full-fledged user-focused mobile application, including multiple integration support to optimize their marketing efforts. They also wanted to leverage automated testing and deployment methods and align their existing web app integrations with the mobile app to provide their customers a streamlined omnichannel commerce experience.
Final Result
Successive expert professionals identified the challenges and offered eCommerce app development services to build a highly scalable, accessible, and secure iOS application using ReactNative. Our developed iOS-based eCommerce application touch;ed a 64K user base within six months of its launch, increasing 15% online sales and reducing 20% marketing costs.
Let's Check Our Success Story on eCommerce App Development
Our eCommerce app achieved rapid success, with 64K users in six months, boosting sales by 15% and cutting marketing costs by 20%.
Conclusion
The eCommerce landscape is flourishing more than ever and has opened a gateway for startups and established retailers to invest in mobile app development and move their business off the ground. To ensure the success of your app development project, you need to partner with a professional mobile app development company that has a proven record of delivering successful eCommerce solutions and can incorporate the latest technologies to enhance its performance and user experiences.
Are you looking to empower your eCommerce business and build a custom mobile app that appeals to your targeted customers? Get in touch with us today!
Ready to get started? Fill the form now!
Ready to get started? Fill the form now!