A Complete Guide on eCommerce Store Development Cost
E-Commerce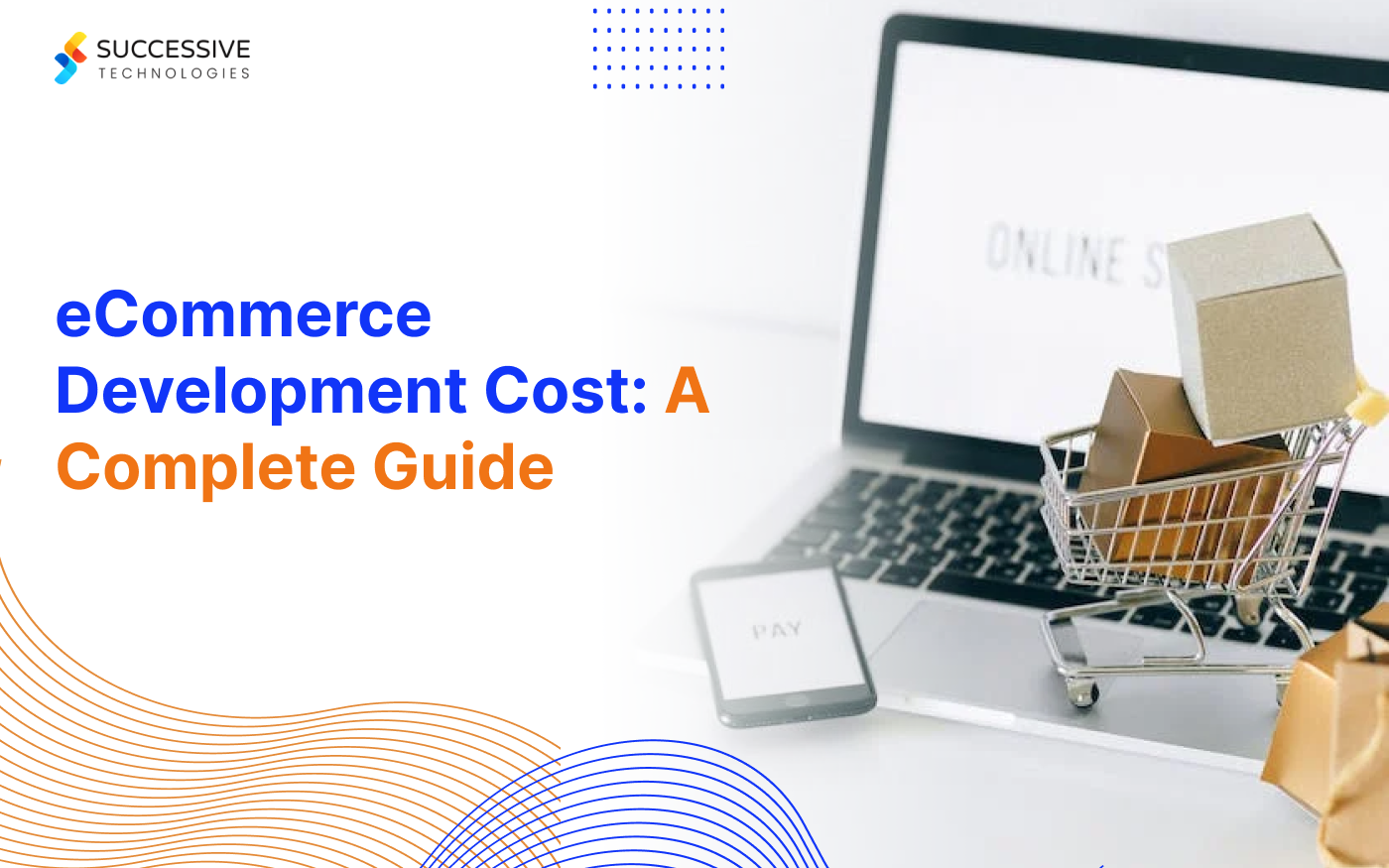 By 2023, eMarketer and Statista's study predicts that online retail sales will amount to $6.51 trillion, with eCommerce websites accounting for 22.3% of all retail sales.
The average cost of an eCommerce website with 100 to 1000 products is $5000 to $55,000, including design, development, and other upfront costs. The average cost of maintaining an eCommerce website with 100 to 1000 products is only $15,000 to $30,000 per year – a fraction of the initial investment!
Cost to Develop an eCommerce Store-
E-Commerce store development is a complex, time-consuming process that can cost business owners a lot of money in the long run. Whether you're looking to create an app-based eCommerce system or design and build your eCommerce site from scratch, it's essential to understand each option's various costs and benefits. This blog post will discuss the factors that will decide the eCommerce development cost and significant factors influencing the E-Commerce store development cost. So be sure to read through to learn all you need about eCommerce store development (App or Website)!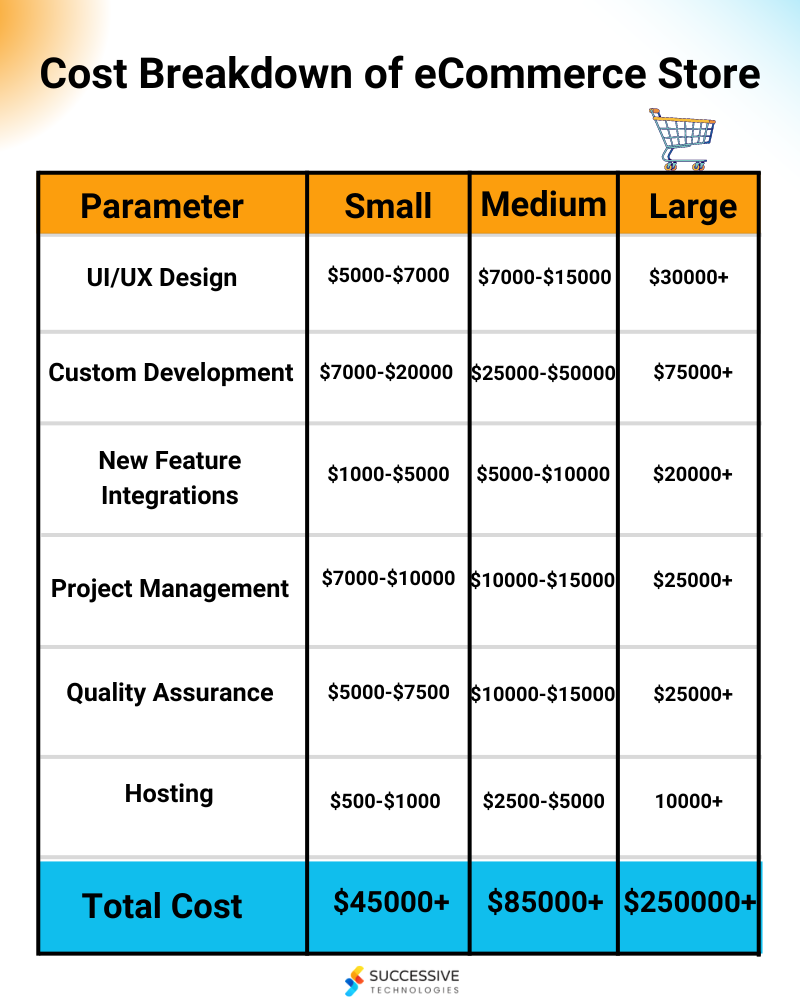 Benefits of Creating an eCommerce Store
Launching and running an eCommerce business is challenging. That's why it's essential to put in the hard work and invest in a well-developed eCommerce app or website. Not only will this help you increase sales and online exposure, but it can also improve customer loyalty and retention rates. Choosing the right eCommerce development type is also essential, as many options are available. It's important to choose the one that best suits your business and goals and that will make managing and maintaining the app a breeze. Make sure to also consider the different benefits of each type of eCommerce development before making a decision.
Visibility
There is no doubt that eCommerce apps are becoming increasingly popular. With so many businesses now using them, it's essential to ensure your business has the proper visibility and can be found by customers easily. To increase visibility, you must design well-looking and user-friendly pages, develop functionalities efficiently without draining too much of your budget or sacrificing quality, and vigorously promote your app through various channels (social media, email marketing, etc.). Costs for developing an eCommerce app will depend on several factors, such as the features/functionality required and the project size. However, overall, creating one should be relatively inexpensive.
Customer Engagement
Customer engagement is vital for businesses of all sizes. Companies can boost customer satisfaction and conversions by engaging with their customers through eCommerce apps or websites. Additionally, eCommerce web and mobile app development allow businesses to improve their branding and visibility. Several eCommerce app development platforms are available on the market; it's up to you to decide which is right for your business. The most cost-effective option would be to use a platform that offers customization features, quality assurance services, and help to launch the app online (i.e., Appify).
Accessibility
Small businesses have several benefits when it comes to eCommerce. For one, they can sell their products online without breaking the bank- most eCommerce apps are affordable and accessible on any device. Moreover, small businesses tend to be tech-savvy and embrace new technology, so finding an app that meets their needs is easy. In addition, several different eCommerce apps are available- from those specifically designed for small businesses to more general-purpose options. Furthermore, these apps come with a wide range of features and prices- meaning you can find the perfect fit for your business budget.
Using an eCommerce app or website has many benefits – from increased sales volumes through better customer engagement levels to cost savings on shipping costs, etcetera. So why wait? Get started today!
Sales Channel
When it comes to sales, you need all the help you can get. That's why having an online store that reaches a broader audience is so important. eCommerce apps offer businesses of all sizes the opportunity to sell their products and services across various platforms like desktop, mobile, social media sites, etc. The app development costs will depend on many factors, such as the complexity of your project and the platform used. Once complete, you'll be able to use this tool to manage orders, track shipping information, etc., which can help increase sales and grow your business.
Product Display
It's vital to showcase your products in an attractive and user-friendly way. This means having a product display that is visually appealing as well as functional. You should also ensure all the relevant product information is readily available for customers, including specifications, features, price comparisons, etc. Creating a user-friendly checkout process can help increase overall customer satisfaction and conversion rates. eCommerce platforms like Shopify or Codewise offer powerful design tools that enable you to create an online store that looks great and functions perfectly on desktop and mobile devices.
Direct Marketing Channel
Direct marketing is a great way to reach your target market and convert leads into customers. Email marketing, social media campaigns, etcetera, are the most common channels for this purpose. However, there are many eCommerce apps available that you can use for your business- making it cost-effective depending on the features and functionalities of the app you select.
Brand Building Tools
Building a strong brand for your business is essential to survive in today's competitive market. One of the best ways to achieve this goal is through eCommerce store development. Apps offer companies some benefits, including increased traffic and sales, better customer interactions, and differentiation from competitors. So, what type of app should you develop? There are multiple options available – iOS apps, Android apps, etcetera- all with different costs and features required. Choosing the right development platform that will work well for your business goals is important.
App Rewards
App rewards are a great way to increase sales and customer loyalty. By rewarding users for engaging with your business, you can encourage them to make more purchases. This will boost revenue and improve customer satisfaction ratings, increasing client retention and overall business growth. Numerous eCommerce app development platforms are available online that offer different pricing plans based on the project's complexity – making it cost-effective for businesses of all sizes to get started on this innovative marketing strategy.
Better Personalization
ECommerce apps allow businesses to personalize their product offerings more meaningfully. This involves understanding customer needs and desires and interpreting data collected through various channels (search engine optimization [SEO], social media management, email marketing, etc.). Another significant advantage of eCommerce development is the automation it provides. All this data gets processed and analyzed to create targeted marketing campaigns that accurately reflect user interests. Furthermore, eCommerce platforms have different features- some are tailored towards small businesses while others aim at larger enterprises. Thus, choosing the right one can be challenging but worth it in terms of improved ROI (return on investment).
Also Read: E-commerce Website Security: 10 Ways to Protect Your Online Store From Threats
Factors That Will Decide the eCommerce Development Cost
Choosing the right eCommerce platform can be daunting. That's why it's important to know the available types and factors affecting the development cost. Some popular eCommerce platforms include Shopify, Magento, and WordPress. However, the development cost will differ depending on the platform, the number of features required, the design's complexity, and the time needed to complete it. So, before building your eCommerce app, research and choose the right platform for your business. With the right eCommerce store development, you can positively impact your business.
Features & Complexities
Many factors affect an eCommerce store's development cost, including the eCommerce store's features and complexities. The more features and complexity the store has, the more expensive it will be to develop. However, this is only sometimes the case, as some features can be effortless to implement, while others can be quite complex. The overall cost also depends on the size of the store and the number of products it sells. A small store with a few products will generally be less expensive to develop than a large store with many products. The cost to Develop an eCommerce store with fewer features is $5000 to $30,000, and with vast features, it can be $1,00,000+.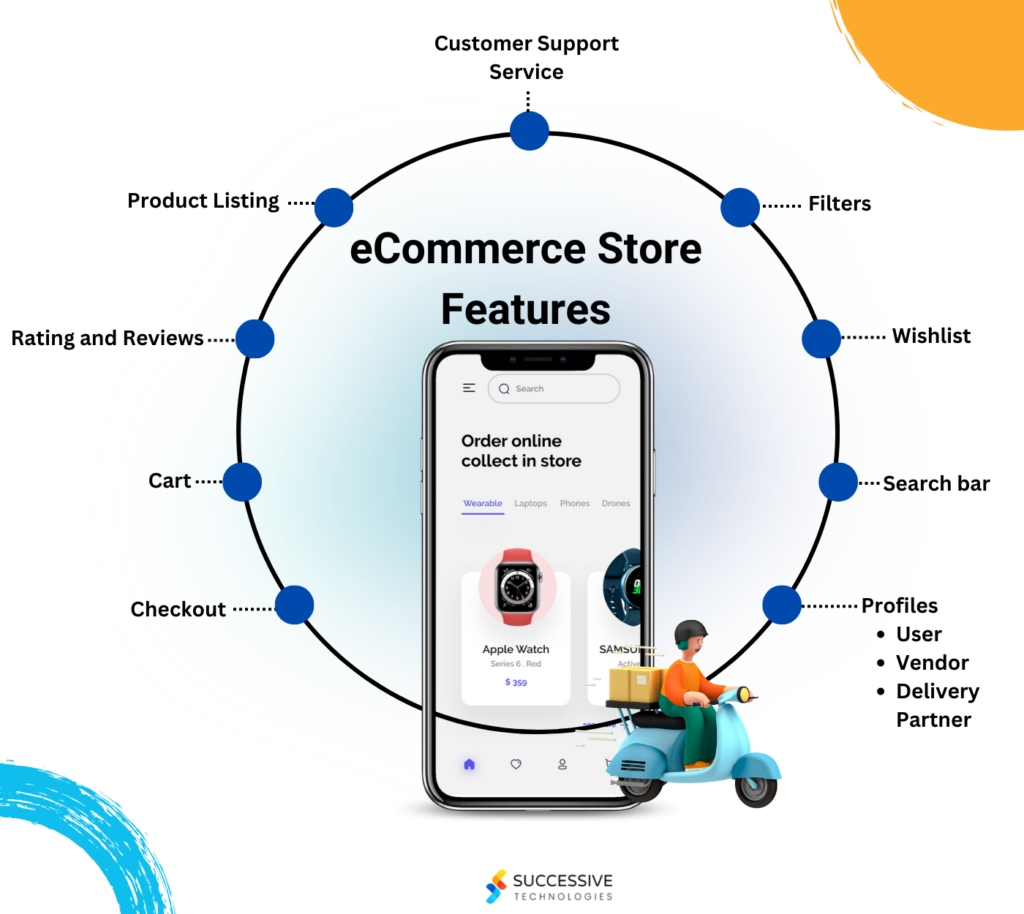 Platforms
A good eCommerce platform should be able to meet the specific needs of your business. It should also be user-friendly and functional without being too complex or expensive. Additionally, it is crucial to assess how demanding your requirements are before making a purchase, as not all eCommerce platforms are created equal when it comes to features and price tags.
Bigcommerce price range categories into four parts $29.95/mo, $79.95/mo, $299.95/mo, and Enterprise plan costs depending upon the features and needs. However, The Shopify price range would be $29/mo (Basic), $79/mo(Shopify), $299/mo (Advanced).
Also Related: 9 Tips to Choose the Right B2B eCommerce Platform
UI/ UX and Functionalities (Design)
A well-designed store with a user-friendly interface and robust functionality will cost more to develop than a poorly designed store that is difficult to use. Likewise, a store with many features and functionality will also cost more to create than a store with only basic features. Ultimately, the specific needs and requirements of the store will determine the development cost of an eCommerce store. 
Team Location and Structure
A few key factors affect the development cost of an eCommerce store, including the team's location and the structure of the eCommerce store.
Suppose the team working on the eCommerce store is located in a high-cost area, such as Silicon Valley or New York City. In that case, the development costs will be higher than if the team was located in a more affordable area. This is because labor costs in high-cost areas are generally higher than in other areas.
Depending on the outsourcing location, developer's salaries vary:
$90–120 per hour in Western and Northern Europe;
$30–75 per hour in Ukraine;
$15–45 per hour in Asian countries.
The structure of the eCommerce store can also affect the development cost. If the store is very complex, with many features and functionality, it will cost more to develop than a simpler store. This is because building the store will require more time and effort.
Maintenance & Support
There are a few different ways that maintenance and support of an eCommerce store can affect the development cost. 
First, if the store is not maintained correctly, it can become buggy and slow, requiring more development time to fix. Additionally, if there are a lot of customer support issues, it can take up development time that could spend on other tasks. Finally, if the store is constantly changing and adding new features, this can also impact the development cost, as more will need more time to ensure everything is working correctly.
Significant Factors Influencing the E-commerce Store Development Cost  
Domain Name
A domain name is the address of a website, and it can significantly impact the development cost of an e-commerce store. If you choose a popular domain name already used by another website, you may have to pay a premium price. Prices for domains range from $5 to $10 annually. However, be ready to spend $15 a year for a short domain that ends in ".com." Additionally, the length and complexity of a domain name can also impact the eCommerce store development cost, as it takes more time and effort to develop a website with a long or complex domain name. Ultimately, the best way to keep development costs down is to choose a simple, short, and unique domain name for your e-commerce store.
E-commerce Hosting
E-commerce hosting can significantly impact the development costs of an e-commerce store. If you are using a hosted solution, you will likely need to pay a monthly fee. This fee can range from a few dollars to several hundred dollars, depending on the features and services offered. In addition, you may need to pay for additional services such as SSL certificates and domain names. If you use a self-hosted solution, you must pay for hosting, a domain name, and other necessary services. The costs of these items can vary widely, so it is essential to shop around and compare prices before making a final decision.
SSL Certificate
SSL certificates are essential for your data's online security and protection. While the cost of an SSL certificate will significantly impact the overall eCommerce development cost, it's necessary to factor in other factors, such as website size and complexity, when calculating costs. The cost of an SSL certificate can range from 20$ to $80- so make sure you get quotes from different providers to find the best deal for your business.
Furthermore, keep up-to-date with industry trends and developments to stay ahead of the curve!
Payment Processing Costs
Payment processing costs are one of the most significant expenses for businesses in developing an eCommerce website or app. Depending on your business needs, you may need to choose between different payment processors- such as PayPal, Stripe, and Authorize.net. Make sure you understand each payment processor's features to decide which is best suited for your business venture!
Must Read: How to Choose the Best Payment Gateway for Your eCommerce Store
Add-Ons and Extensions
Add-ons and extensions can significantly impact the development cost of an e-commerce store.
While some add-ons and extensions are free, others can come with a significant price tag. The cost of add-ons and extensions can vary depending on the features and functionality they offer. In some cases, add-ons and extensions can require ongoing maintenance and support costs. When considering the development cost of an e-commerce store, it is essential to factor in the price of any add-ons and extensions that may be required.
FAQ
How Much Does it Cost to Build an eCommerce App?
Many factors determine the cost of application development. You may have noticed that many companies provide the same service for different rates. Each company's pricing depends on multiple factors, including the application size, the number of features, the technology used, the delivery time, and the location of the development team. The average eCommerce app development cost ranges from $50,000 to $500,000. It is based on the deliverables of the development team, which include source code and a list of the functionalities.
How to Choose the Best eCommerce Development Company?
If you are looking for eCommerce development services for your business, there are some essential tips that you need to keep in mind. These tips help you choose your business's most appropriate and reliable service provider. Here are a few tips that can help you in this matter: 
Check out the portfolio of the eCommerce development services provider. 

Check out the kind of testimonials that the company has from customers. 

Check out the kind of security features offered by the eCommerce solution that you are looking to hire. 

Check out the kind of technological expertise that the company offers. 

Check out the kind of support services that the company has. 

Check out the kind of visibility the company can offer your business.
How Much Time Does It Take to Develop an eCommerce Store?
That depends on how many features you want to add to your eCommerce store and if you wish to develop your store from scratch or choose a readymade eCommerce store. While creating an eCommerce store from scratch will take at least three months to build the store and get things ready. If you choose a readymade eCommerce store, the time it will take to develop the store will depend upon the number of features that have been added. For example, if the eCommerce store you have chosen has a blog and a forum, it will take you only a couple of weeks to get your store ready.
Conclusion
If you are planning to start your online business and turn it into an e-commerce store, you might have heard the question, "How much does it cost to develop an e-commerce store?". The answer to this question is not easy. Many factors determine the cost, and building an online store is challenging. Many aspects should be taken into consideration when developing an online store. Which e-commerce platform you choose is one of the most critical factors determining your online store's cost.