A Complete Guide on Adobe Commerce Pricing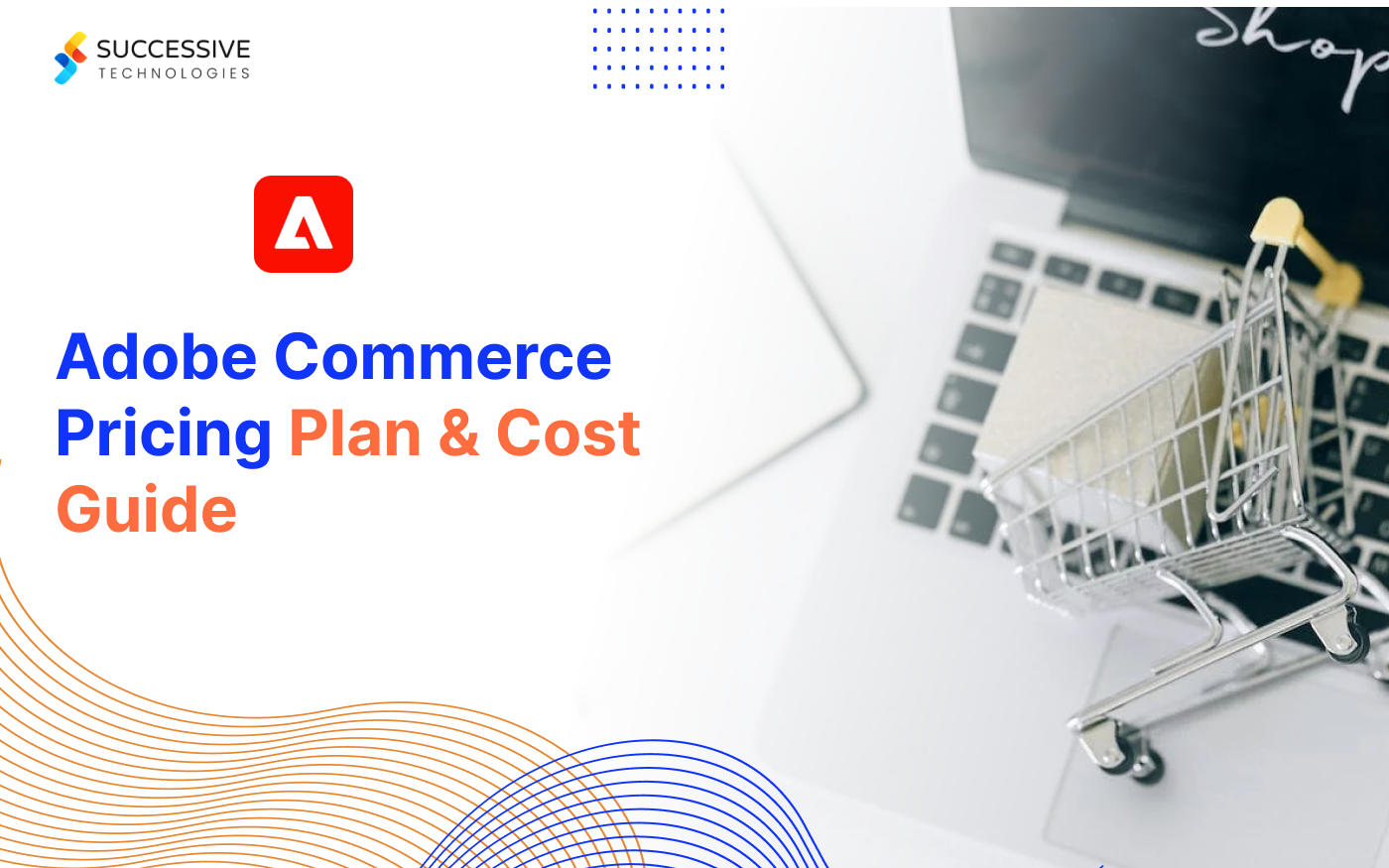 If you're in the market for a shopping cart system, you'll want to be aware of Adobe Commerce – one of the most popular options available. This guide will teach you all about Adobe Commerce pricing plans and how they work so that you can decide which is best for your business. But, before discussing the different plans, let's discuss Adobe Commerce (Magento).
What is Adobe Commerce (Magento)?
Adobe Commerce, formerly Magento Commerce, is an eCommerce platform for business-to-consumer (B2C) and business-to-business (B2B) digital commerce, omnichannel commerce, and mobile commerce. It is written in PHP and uses MySQL or MariaDB relational database management system.
Adobe Commerce platform offers a flexible and scalable eCommerce solution that helps businesses create unique and engaging online experiences. With support for multiple languages, currencies, and tax rates, Adobe Commerce allows businesses to reach a global audience. The platform offers various features, including product catalog management, shopping cart functionality, order management, and payment processing. Adobe Commerce is also highly customizable, allowing businesses to create a unique look and feel for their online store.
Magento Pricing or Adobe Commerce Pricing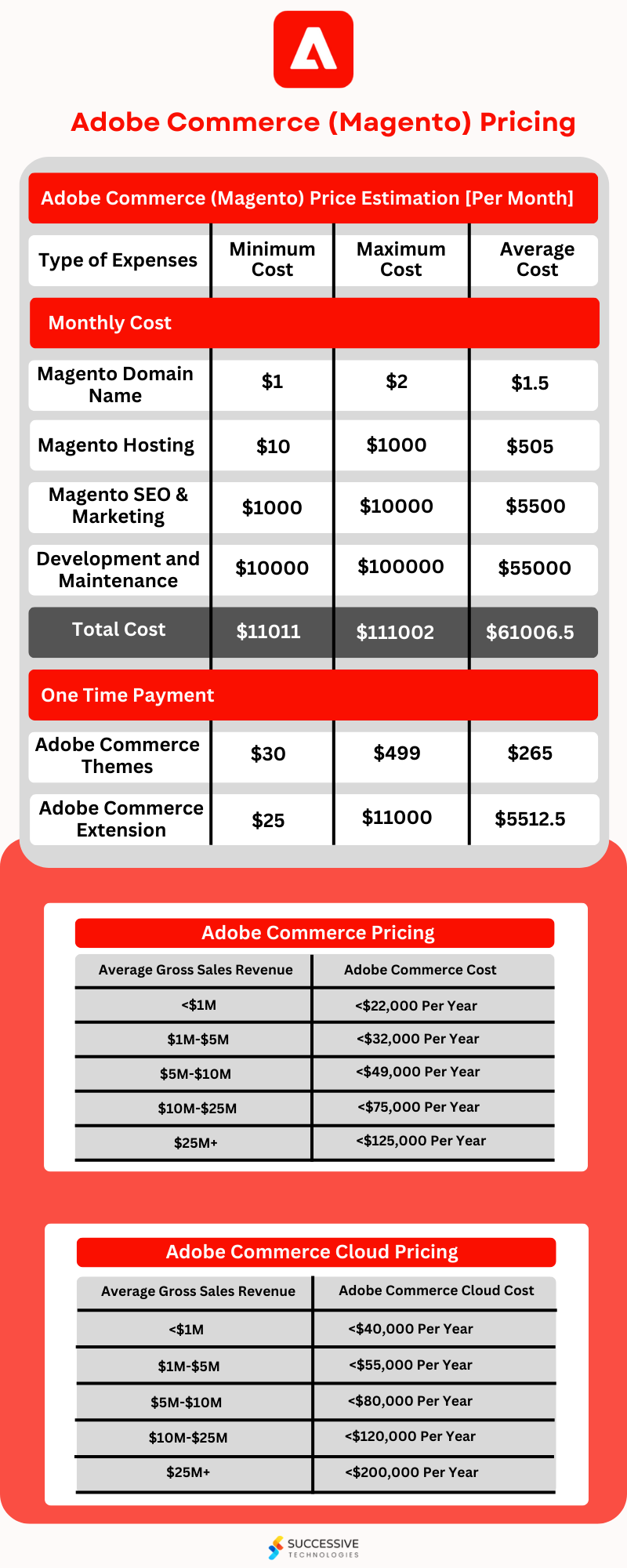 Adobe Commerce is a powerful e-commerce platform that can help businesses of all sizes increase sales and reduce costs. Choosing the right pricing plan for your business is essential, so consult an Adobe Commerce expert. There are two pricing plans –  Magento Open Source and Adobe Commerce.

Magento Open Source-
A free, open-source platform with few functionalities is called Magento Open Source. Although it is very cost-effective, getting it functioning takes some technical know-how. You may develop an e-commerce website using the Open Source plan, which is free to install. A few of the features are:-
Integrated checkout, payment, and delivery

Mobile optimized shopping

Global selling

Catalogue management

Extended functionality via App Marketplace

Instant purchase

Site search

WYSIWYG Page Builder
Magento Open Source is quite flexible, but it has certain restrictions. Your domain name, web hosting, regular website maintenance, backups, and changes will all require additional payments. You would furthermore have to pay for PCI compliance as it is not a part of the Magento Open Source solution. Depending on the services you select, the final price may change.
Adobe Commerce-
The premium platform Adobe Commerce covers many of the abovementioned expenses, including robust cloud-based hosting and security features. A substantial portion of Adobe Commerce's capabilities is designed with massive eCommerce businesses in mind.
Businesses with many websites or even multiple firms that sell to and from different parts of the world are typical Adobe Commerce users. These companies generate millions or billions of dollars in annual sales from both business-to-business (B2B) and business-to-consumer (B2C) transactions (business-to-business or B2B). This platform's cost reflects how valuable it is to these giant companies.
Unfortunately, Adobe doesn't offer any information on any potential plans that may be offered under the new identity. Once you've entered your contact information, a salesperson will contact you to provide a personalized quotation.
Adobe Commerce Pricing Based on Features:-
Adobe Commerce contains all the features of Magento Open Source, including the below-listed features-
Reusable Dynamic Blocks

B2B functionality

Business intelligence dashboards

Advanced marketing tools

Content staging and preview

Customer loyalty tools

Visual Merchandising

Product recommendations

Customer segmentation

Live Search

BOPIS

Gift cards

Optimized cloud commerce for Adobe Commerce

Cloud onboarding support

Global availability

Cloud availability SLA up to 99.99%

Fast page loading with Content Delivery Network (CDN)

Performance monitoring tools

Web application firewall

Enhanced security with Fastly WAF and DDoS services

PCI compliant

Easy deployment

Streamlined updates and testing
Based on the typical gross sales revenue of a company, the Adobe Commerce pricing structure operates on a sliding scale. If you need to add particular features or your company performs a tremendous quantity of sales, the cost may be as little as $22,000 per year, but it may easily approach $100,000 per year.
Also Related: A Complete Guide on eCommerce Store Development Cost
Additional Costs of Adobe Commerce
You need to consider several monthly and one-time fees in addition to the price of Magento or Adobe Commerce.
Web hosting: $14.99 to $39.99 per month

Domain: $10 to $20 per year

SSL certificate: $50 to $600 per year

Web developer: Hourly cost based on the expertise of developer

Transaction fees: factor in 2% to 4% per transaction for payment platforms and credit card processing fees
If you have an in-house specialist, the expense of a web developer may only sometimes be essential. Still, it would help if you accounted for that time when calculating your expenditures for setting up your e-commerce operations.
One-time expenses include the following:-
Themes: store themes range from $17 to $399; customized themes cost $5,000 or more.

Enhancements and add-ons 0 to $2,000 (in Adobe Commerce store)
Bottom Line
Adobe is excited to announce the general availability of Adobe Commerce Pricing, a solution designed to help merchants rapidly create comprehensive pricing strategies and efficiently manage their prices across the entire commerce lifecycle. Adobe Commerce Pricing enables organizations to accelerate the agility they need to create, manage, and optimize every aspect of their retail prices.
Ready to get started? Fill the form now!
Ready to get started? Fill the form now!