Why You Need to Integrate LMS with Social Media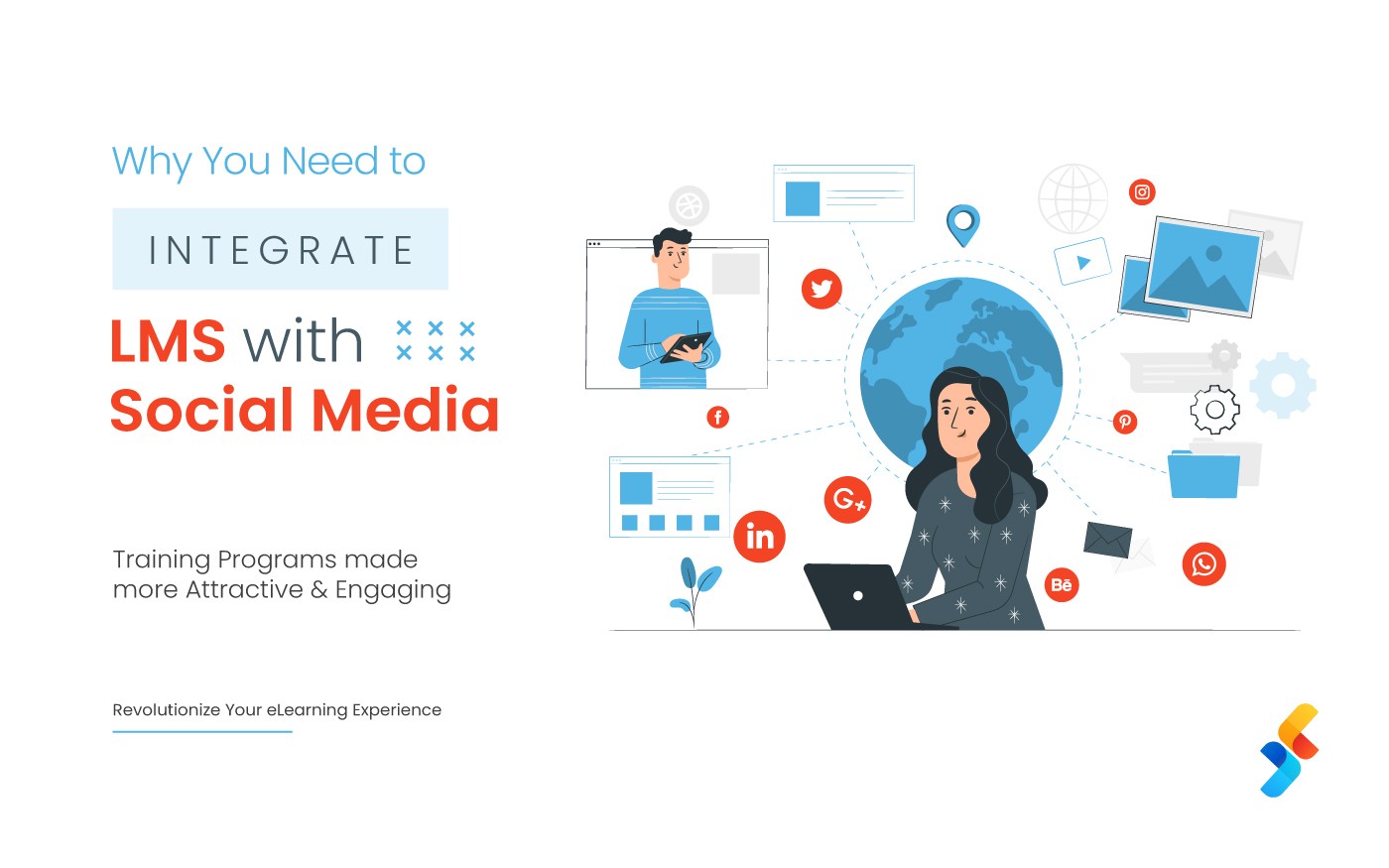 Nowadays, it is quite impossible to imagine a life without social media. Every day, millions of people across the globe utilize various social media platforms to stay connected and informed about global events and news, attend meetings, share experiences and discover new things & people. Multiple organizations are integrating social media into their marketing and communication strategies to promptly identify the global trends and analyze their statistics in almost every vertical. But, for a few years, social media has become one of the prominent tools for enhancing personal/professional growth in terms of learning. Many enterprises are leveraging the potential of the Learning Management System (LMS) which can integrate social media to make eLearning more engaging, interactive, and enjoyable at the same time for their employees. LMS with social media integration improves the participation and engagement of the users, raises the quality and experience of online training programs, and makes them highly engaging and collaborative for employees.
In this blog, we have highlighted the major pointers that explain how social media integration of LMS can provide an interactive and collaborative eLearning:
Compound Learning
With LMS integrated with social media, employees can learn unique things in multiple styles. For instance, you can create variety by using infographics, video, audio, and distribute the same using social media platforms. By implementing such practices, learning can become more engaging, interactive, and shareable, hence, everyone enjoys the entire process of learning things quickly. In this way, you can also opt for third party integration that acts as a medium to deliver your training through LMS.
Interactive Learning
The blend of LMS with social media facilitates the admin to generate interest-based polls, surveys, and discussions for collaborating and engaging both the trainers and learners. People these days are glued to their mobile phones and laptops therefore they tend to engage more by sharing their common interests. This helps in spreading the main objectives of eLearning programs and enables close communication among all the learners.
Quantifiable Analytics
Today the term Learning has excelled time, demographics, and physical appearances with the ever-increasing demand for internet and smart devices. LMS with social media integration offers 24*7 consistent accessibility to your employees and encourage them to achieve their daily targets via self-learning. Besides, learning programs using the Learning Record Store (LRS) have a higher potential to store data about your learner's experience by analyzing their social media habits and patterns. Such analytics can customize your training program accordingly and engage your employees to enhance their skill sets and productivity.
User-Generated Content
Learners who have benefited from your training sessions can share their experiences with their peers. It enables you to efficiently utilize the feedback as "original content" and reach out to possible target audiences by publishing it on multiple industry forums with Learning Management System (LMS) mobile app development or other platforms. This user-generated content will extremely promote your business, training programs, and eLearning courses organically.
Content Outreach
Since your LMS is online connected, they seamlessly share information in real-time through diverse social media channels. It enhances your content outreach and boosts online visibility. Social media integration benefits you with an opportunity to connect with your potential target audience easily and also builds reliability among them organically.
Conclusion
Incorporating social media learning into your eLearning system is tricky and requires great potential, therefore you should consider the above actions for enhancing your business value. Moreover, the customized LMS enables social media connection, user analytics, payment integration for all learning, and business solution needs.
Ready to get started? Fill the form now!
Ready to get started? Fill the form now!