Why Enterprises Need To Consider Application Modernization in 2020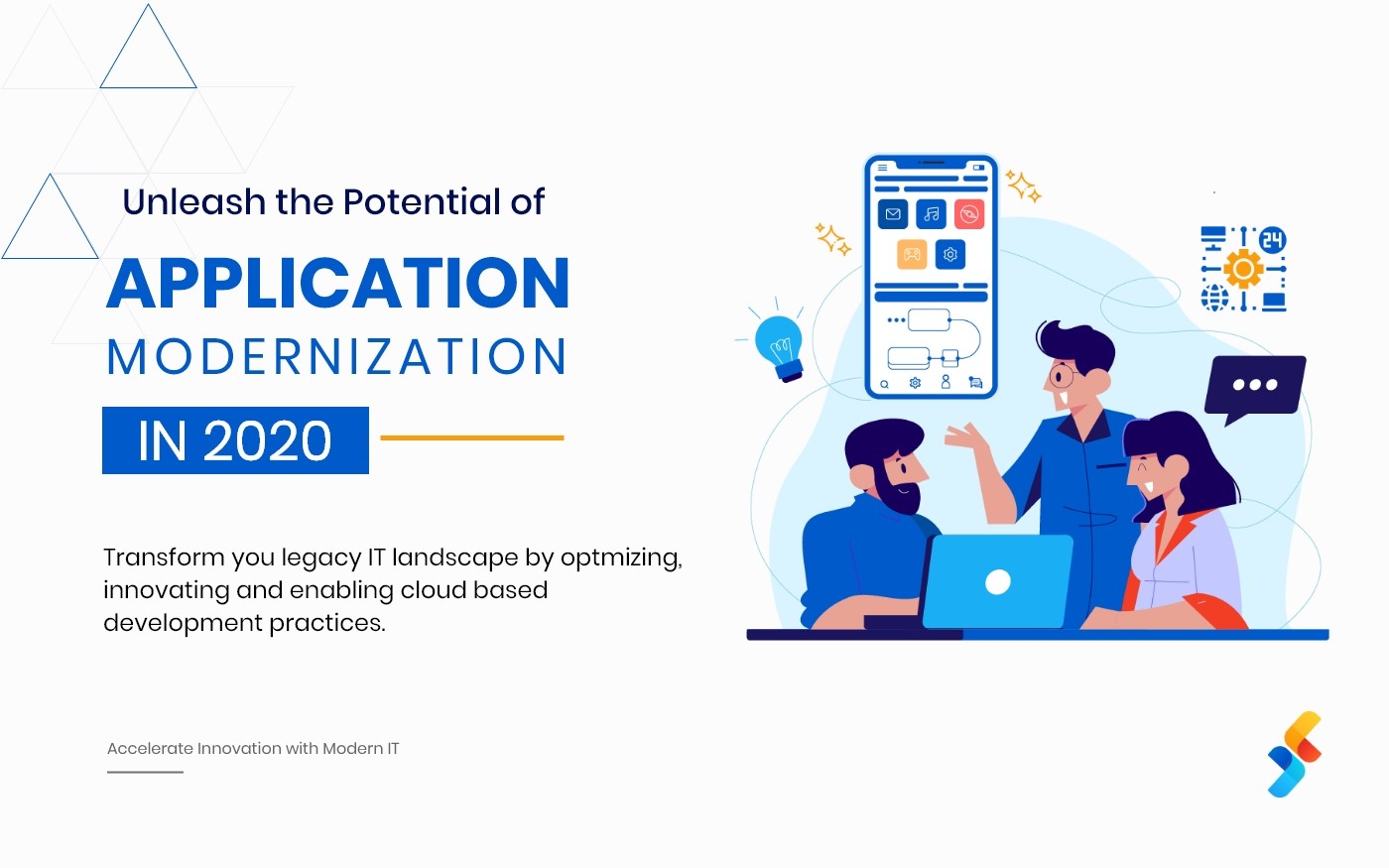 At present, day by day evolving customer expectations, rising need for agility in businesses, and reliable & optimal use of Big Data and cloud-native technologies have resulted in the rise of application modernization solutions driving Digital Transformation across enterprises. In today's world, digital transformation is not only just a buzzword; it's a must to keep your business competitive in a rapidly changing technological landscape. Owing to this, business applications have a hard time surviving with it due to various downsides. In fact, it is almost impossible to thrive in the digital economy without application modernization. So modernizing it at the right time will give your business a strong edge over your competitors. A lot of businesses have already been adopting it in different ways.
This will be the point of discussion through this article, application modernization trends, its approaches, and why enterprises should invest in application modernization? Before getting started, it's important to understand the meaning of Application Modernization. Have a look-
Application Modernization- An Intro
In a nutshell, application modernization means updating your legacy applications to scalable, cloud-native app environments by using modern technology stacks, making sure they are running fast and smoothly, on secure platforms. When businesses plan to modernize applications, it drives new processes and the necessary infrastructure which supports them. In fact, it enables you to optimize data, accelerate business innovation, and deliver exceptional customer experiences.
Some of the immediate benefits include
Enhance Developer experience- Quickly create and deliver new applications and services through the adoption of a cloud-native architecture and containerization.
Accelerate delivery- Adopt DevOps best practices to compel a culture of automation and transformation.
Deploy enterprise applications on hybrid cloud platforms- Advance efficiency by automating operations in your hybrid multicloud environments.
Regardless of benefits, there are still some challenges faced by companies, such as:
Lack of Agility
Data and App Security
Legacy Systems
Aging Infrastructure
Monolithic Designs
Considering this, it has been analyzed that in 2020 and beyond, business leaders will need to approach application modernization with a mindset of reimagining it from the ground up, with a focus on superior security, faster speed, and consolidated systems.
Top Strategies to Follow for Application Modernization
Many organizations still struggle to build a strategy around application modernization, and are often unsure of the approach to modernisation. Well the solution is here!
There might be many questions comes to your mind, for example- Does your application just need an update or a complete revamp? Is your current application not able to meet new business requirements? Is it too complex to manage for users? Is it not agile enough? Is the total cost of ownership too high relative to the business value it provides? Does it present security risks? To solve these queries, you need to consider these three strategies for your application modernization:
Re-hosting
Also known as the 'lift and shift' model, this approach involves moving your application's underlying resources from an on-premise data center to the cloud as-is. In this option, the application codebase remains the same, the infrastructure is migrated to cloud infrastructure-as-a-service (IaaS), including cloud-based storage, compute, and network resources. It is a low-cost modernization approach and at Successive, we can help you develop a total solution in the cloud using Microsoft Azure.
Rebuilding
To achieve the most substantial benefits of the cloud, and for any application that can provide a strategic or competitive advantage for your organization, we recommend rebuilding as a cloud-native application. It can also mean re-writing one or more layers of the application to add the features and functionality.
Replacing
If your application has become more of an obstacle than a business tool, you may want to consider reassessing your requirements and replacing it with a new solution. A simple example would be replacing an on-premise version of Microsoft Exchange Server with the cloud-based Office 365. The consumption of the services changes from a purchased license to a pay-as-you-go subscription.
Conclusion
2020 will be a gigantic year for application modernization. So, it's essential you as an entrepreneur take steps towards optimum application modernization if you look out for prosperity based on current technological activities. The journey through the modernization of applications allows businesses to take advantage of these technologies and the Successive team is well-equipped to guide you no matter what stage you are in the process. To get started on your application modernization journey, contact us to learn how we can improvise your business processes.
Ready to get started? Fill the form now!
Ready to get started? Fill the form now!