Five Emerging Trends in Telemedicine to Watch in 2020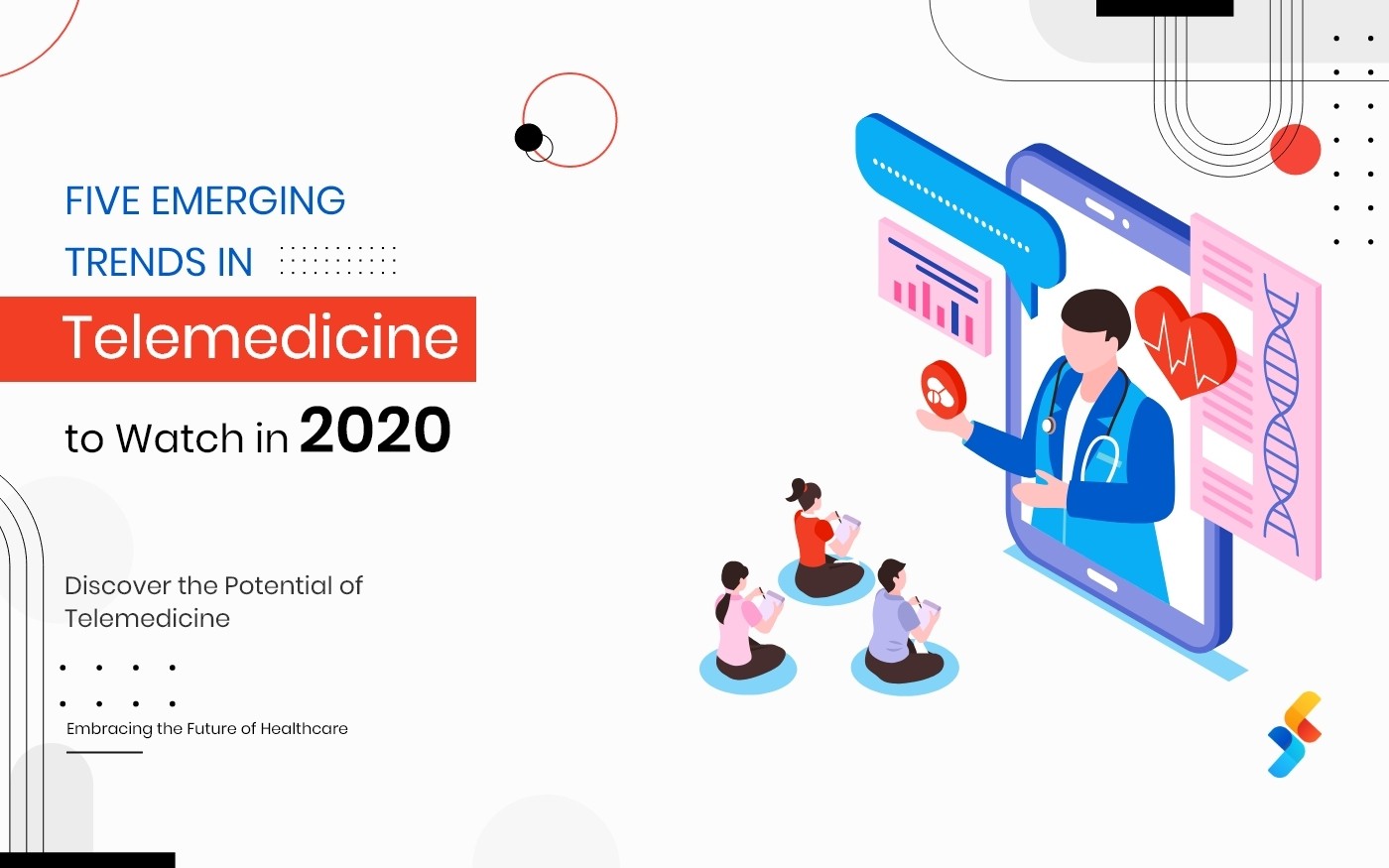 Since the beginning of the 21st century, hospitals and doctors have been trying to sort out ways to provide better access to treatment to their patients, their payment alternatives, and health records. Telemedicine is revolutionizing health care and changing rapidly. It uses an electronic route to communicate with patients with their physicians. It is also associated with forthcoming advancement in health science arising out of the effective fusion of knowledge and technologies with bioscience.
Some advantages:
• Reduced inconvenience and price of patient transfers.
• Decreased inessential period of time for health professionals.
• Improved access to quality health services.
• Facilitate patients and rural practitioner's access to specialist health services and support.
"In this technologically dominant world, individual physicians/doctors have to keep themselves updated or risk being left behind", says Jonathon Savage, DO, vice-chair of the mHealth, Technology, and Distance Learning Group for the American Telemedicine Association (ATA). "Our patients are living in an online and on-demand world. So, we as physicians need to live in that world," he says. "If we do not meet the patients where they are, we are going to become like the music stores and the video stores of the past."
Emerging Trends in Telemedicine in 2020
Telemedicine is bridging the gap between patients and doctors. Patients are gradually accepting this change and feeling more in control of their health checkups. However, doctors are getting more time to research and review individual cases.
Below are the 5 major upcoming telemedicine trends:
More Insurers will cover Telehealth
"The broad acceptance and usage of Telemedicine are enabling several insurance companies and government-administered healthcare institutions to come forward and incorporate such advancement in their operations," said Dr. Savage, CEO Care on Location. Medicare is gradually becoming the mainstream and producing innovative remote patient monitoring and telehealth services, such as remotely monitoring a patient's heart function from home. "In 2018, that was something that was not covered by Medicare, but now it is." Dr. Savage added further.
Also, 35 states including Washington DC, have strict laws mandating that private insurers cover telemedicine services in the same manner that they cover in-person services, according to the ATA (Advanced Technology Attachment). "It seems like most health plans have some kind of telemedicine benefit." Said Dr. Michael Brown the former director of telemedicine at Mosaic Life Care in Kearney, Missouri.
Patient-centered Medical Homes to Become a Reality
Telemedicine will gain huge prominence because of the increased customer satisfaction numbers. It is not only convenient and effective but also saves time and expenses for both the doctors and patients involved. Thus, in the coming future, we can observe an upsurge in the number of patients getting treatments right from the comfort of their home, or being a part of a medical home including several other patients with similar symptoms and diseases for better diagnosis and consultations.
More Stringent Cyber Security Measures
Cyber security is most crucial in the healthcare industry. We will continue to see extensive variations in the way the telemedicine industry goes about protecting confidential information. As hackers continuously exploit new vulnerabilities, developers are in a constant race to keep up with new threats. With the fear of the massive costs associated with data violations coupled with being on the protective side of cyber-attacks, the healthcare industry will continue taking necessary actions to reinforce its security.
Decentralized Care Will Become Commonplace
Today, we already notice varied examples of advanced healthcare heading towards community-based and cost-effective territories. Several organizations have already started to decentralize their niche offerings, especially Teleradiology by community extension services or by partnering with emergency healthcare centers. The decentralized clinical telemedicine will offer healthcare professionals around the world to see their patients virtually.
Better Technology and Healthcare Apps
In the coming future, we can expect personalized telemedicine apps for both the clinician and the patient that would not only be customized to their case but also offer the flexibility to specify the information that should be displayed. Moreover, we can observe better integration of EMR software with telemedicine software to render relevant patient information seamlessly to the doctor during the virtual treatment sessions.
Choose Successive Digital for High-quality Telemedicine & Healthcare Solutions
The healthcare industry is undoubtedly the most crucial and fastest-growing industry in the world. Combined with the technological advancements and the ability to predict and manage the healthcare operations, new and unique opportunities are making way for a broader healthcare industry transformation. Successive holds a deep understanding of the healthcare industry and demanding healthcare needs. Our focus revolves around optimizing the operational efficiencies, reducing risks, and enhancing the customer experience to provide reliable and cost-effective solutions.
Contact us to know more about our healthcare services and how partnering with us can help you capitalize and adapt to the changing trends of Healthcare.
Ready to get started? Fill the form now!
Ready to get started? Fill the form now!