Top Ecommerce Websites Built with Shopify to Inspire Your Store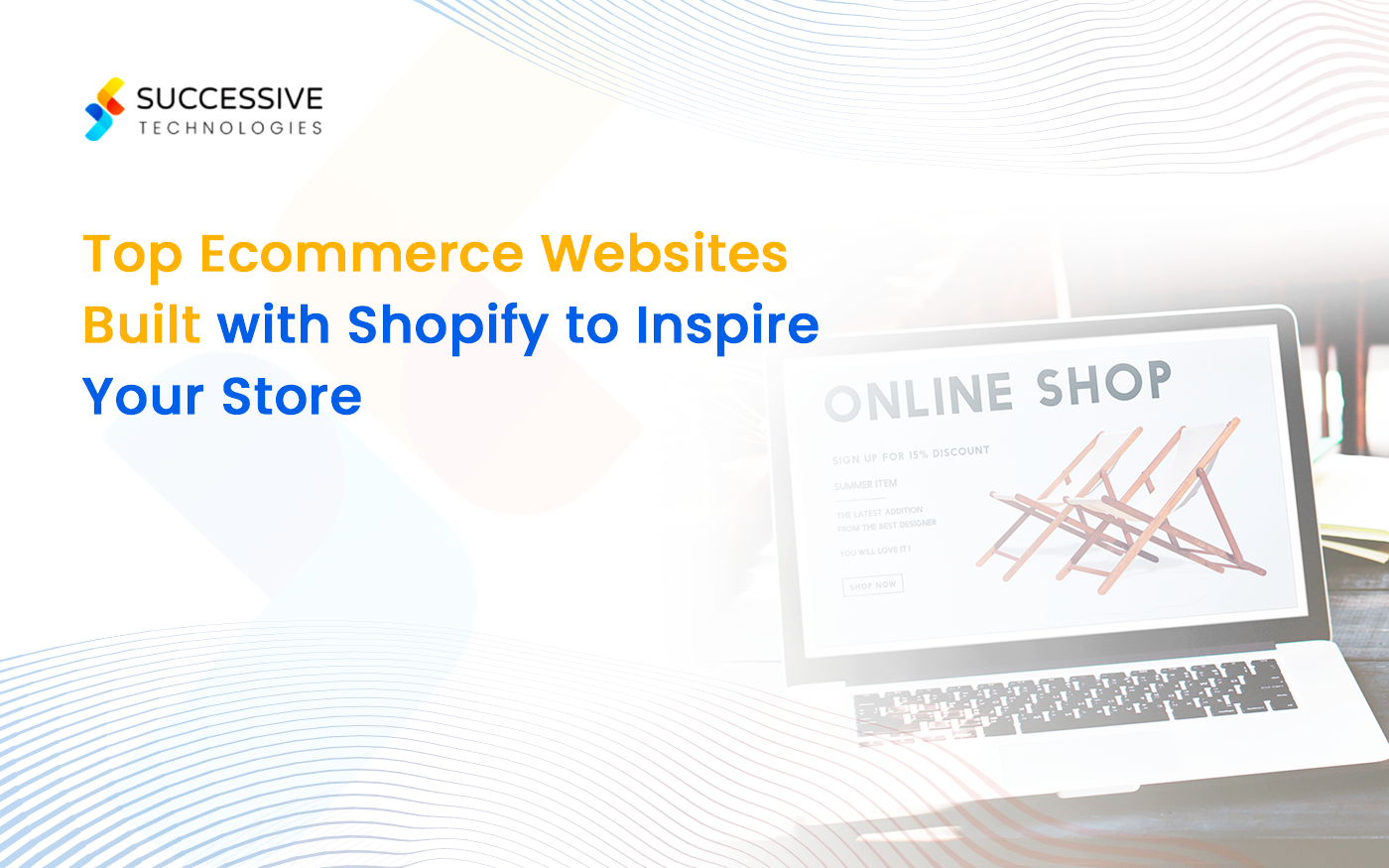 Thinking about launching your own ecommerce store on Shopify? 
Today, there's such a variety of themes and templates available that it can be challenging for entrepreneurs to know where to begin. What's more, customer expectations are so high that it's difficult to know which design elements and backend features are most important to customers and which are not. 

To make it easier for you to get started, we've put together a list of some of the most aesthetically designed and successful Shopify stores in operation today. Take a look at these top Shopify stores and check out some of the features they've implemented — simple navigation, user-friendly layouts, captivating product photos, and more — so that you can identify the direction you'd like to take with your ecommerce store. 
Read 10 Essential Ecommerce Website Features To Take Your Digital Store To The Next Level
6
top Shopify stores
to inspire your brand
Here are six of the most popular ecommerce brands that run their websites on Shopify's powerful platform. 
1. Allbirds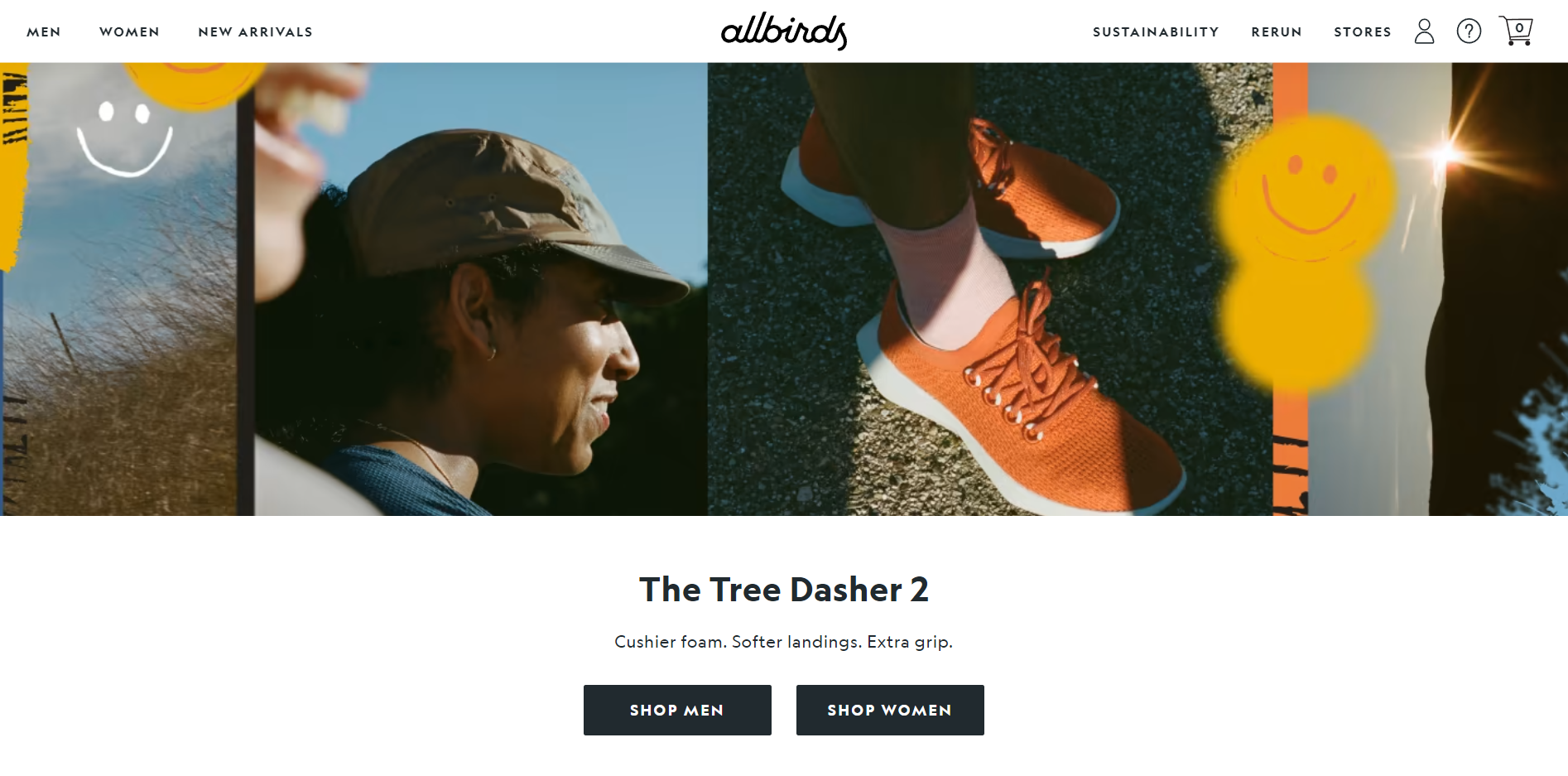 Allbirds is one of the most frequently cited examples of successful Shopify stores. It's a direct-to-consumer (D2C) brand that sells shoes and clothing made using eco-friendly materials such as merino wool and eucalyptus. Allbirds' shoes are known for being extremely comfortable, and the brand reportedly reached a billion-dollar valuation within two years of being founded. 
On its Shopify-based store, Allbirds uses large, high-quality images to capture visitors' attention. Full-width images draw attention to key products, while smaller images highlight promoted product lines and draw attention to the brand's efforts towards sustainability.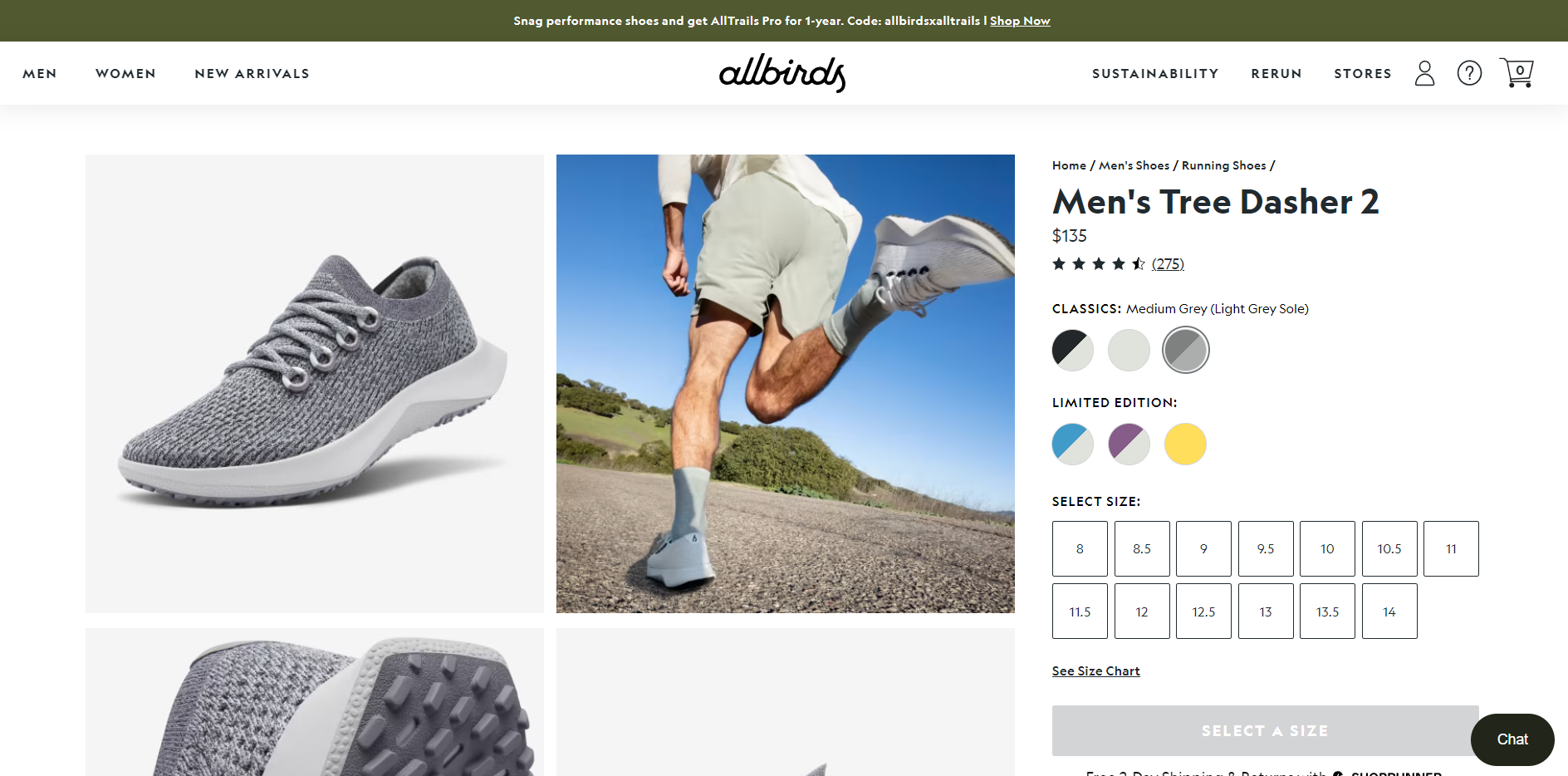 Product pages offer a lot of detail, such as product photos from a number of different angles, thorough descriptions, as well as product videos.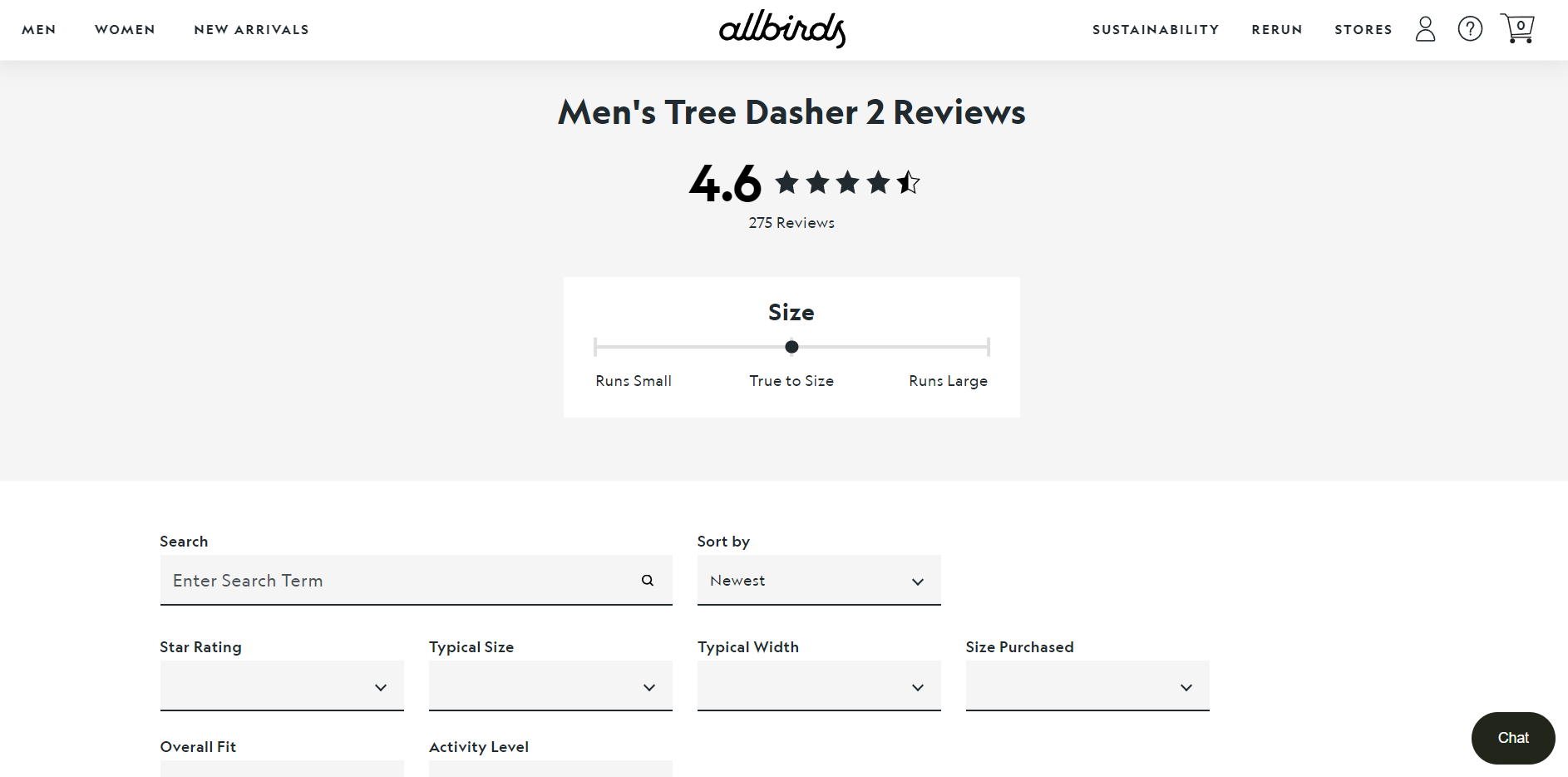 The best part though is probably the product reviews section which offers a wide range of filters to make it easier for customers to find relevant information. 
2. Haus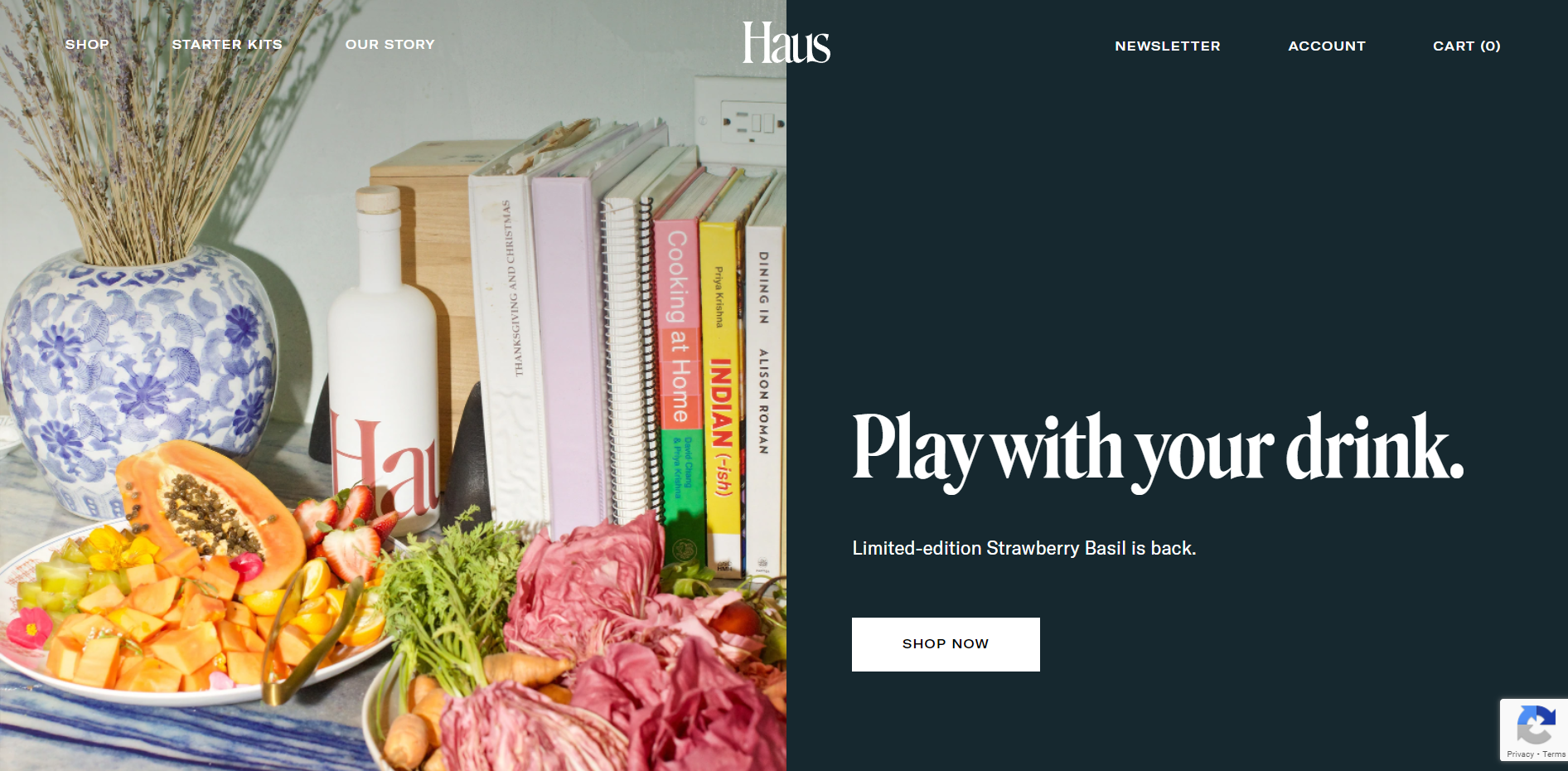 Based out of Sonoma County, Haus is a brand of alcoholic drinks that prides itself on being different from corporate liquor brands. Haus products are inspired by European apéritifs and similarly lower in ABV (alcohol by volume). 

Traditionally, liquor brands don't communicate transparently about the ingredients they use and include too much alcohol. In contrast, Haus sources only real fruits and botanicals from trusted farmers and top suppliers, and doesn't include any artificial flavors and preservatives.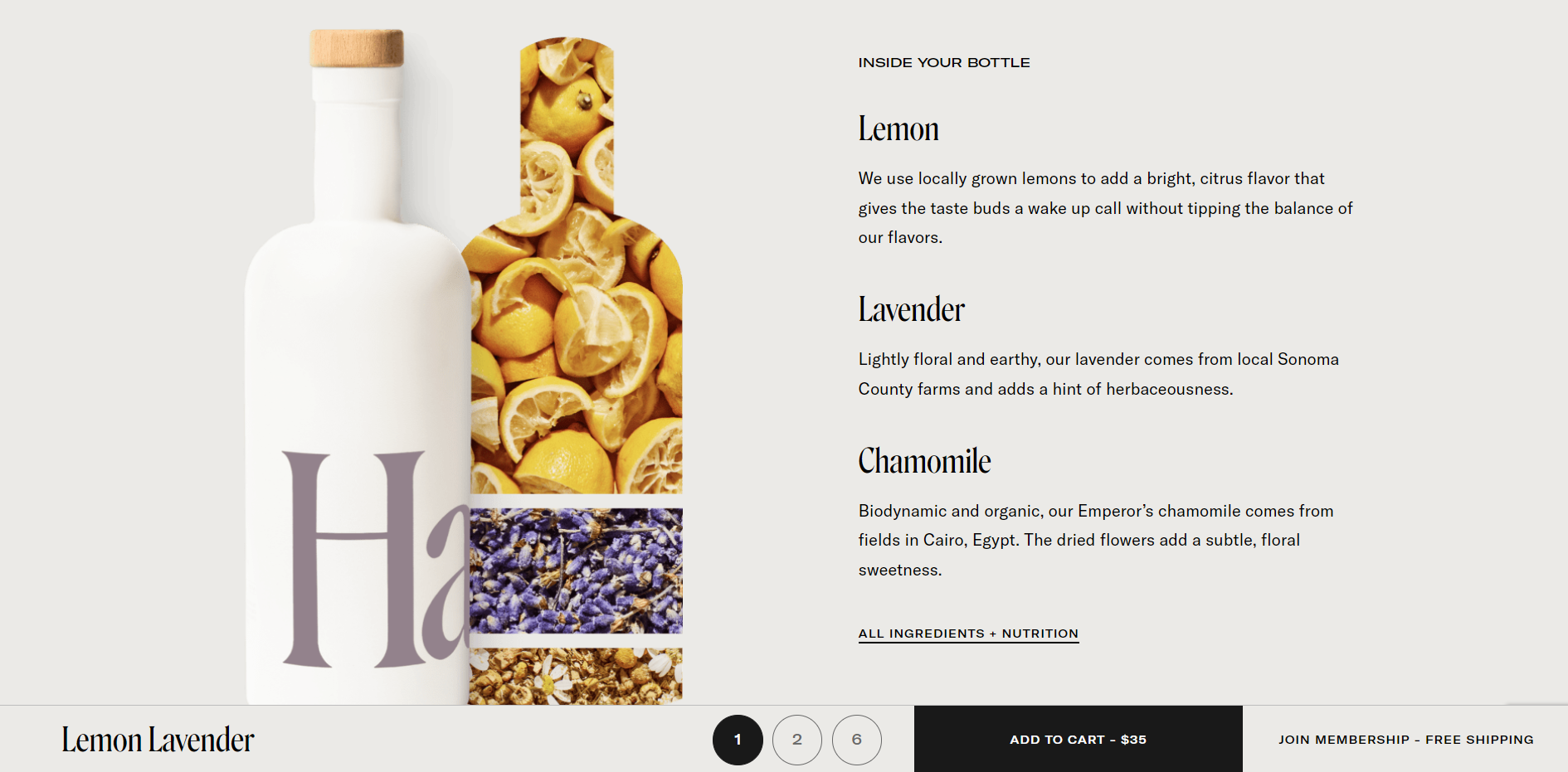 Haus features on our list of top Shopify stores primarily for its beautiful design. The brand's product listings are very simply but boldly designed. Each product page offers a breakdown of the bottle's ingredients, along with cocktail mix suggestions, a full list of ingredients, and nutritional values. 
All Haus materials are responsibly sourced and the brand's packaging is made using 90 percent recycled materials, which can be recycled or upcycled after use. The manufacturing process is also designed to minimize waste. 
3. Harris Farms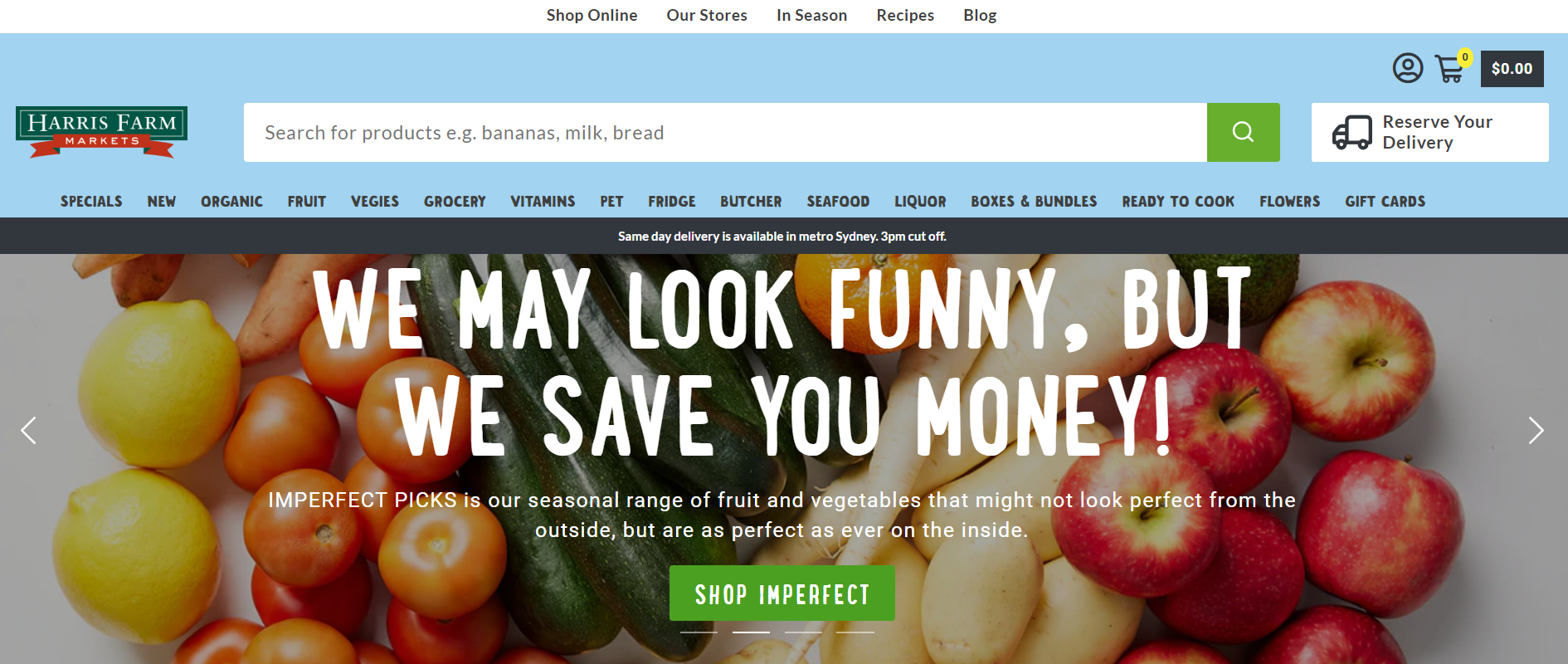 Australia's largest individual retailer of fruit and vegetables is the family-owned grocery chain Harris Farm Markets. The brand prides itself on its close relationships to farmers as well as its sustainable operations.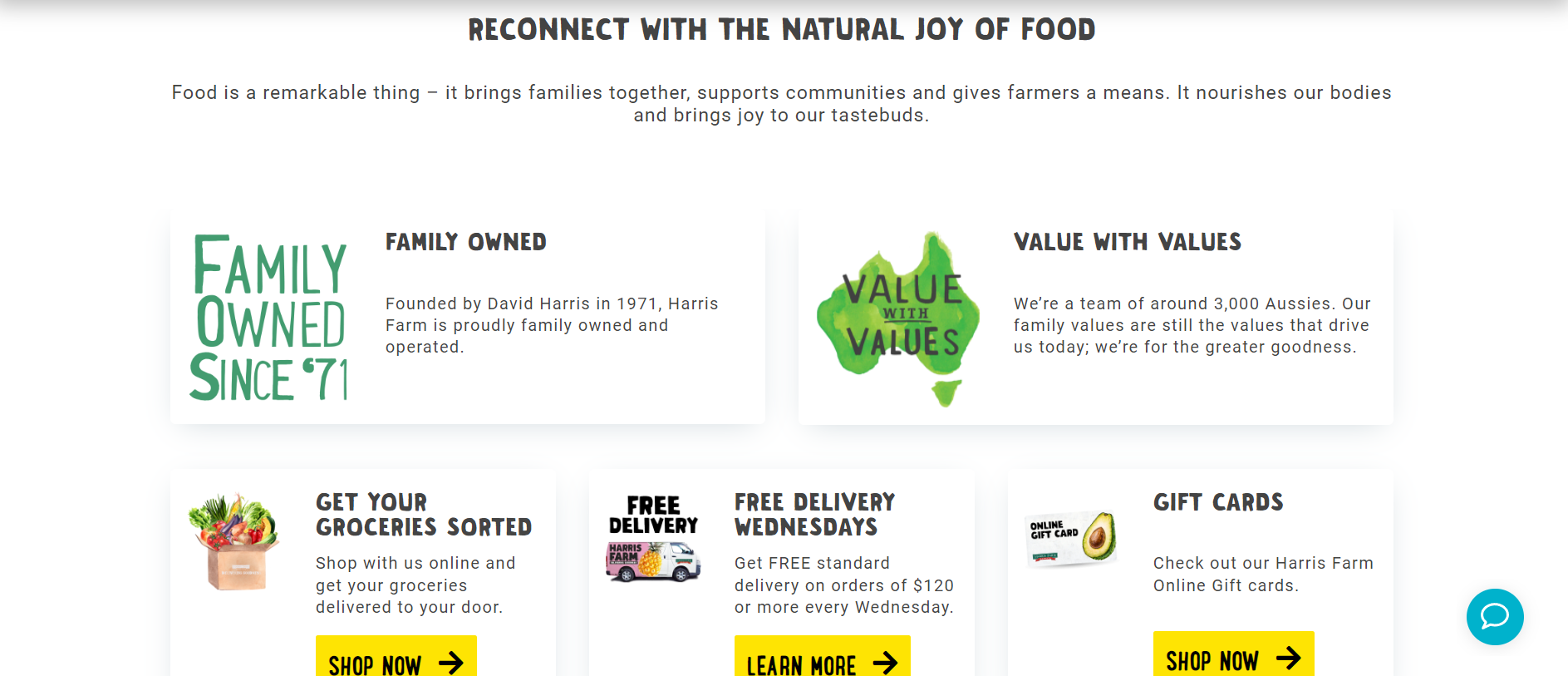 Harris Farm Markets is a great example of a top Shopify store that has effectively leveraged the platform for its growth; after moving to Shopify Plus, the brand found that its traffic increased five times! 
The brand's website has a friendly, colorful design with a rustic typeface and hand-drawn imagery. These elements tie in with the brand's lighthearted personality and appeal to their audience which values an ethical lifestyle. The playful elements also encourage visitors to engage more deeply with the brand and read different pieces of content on the website.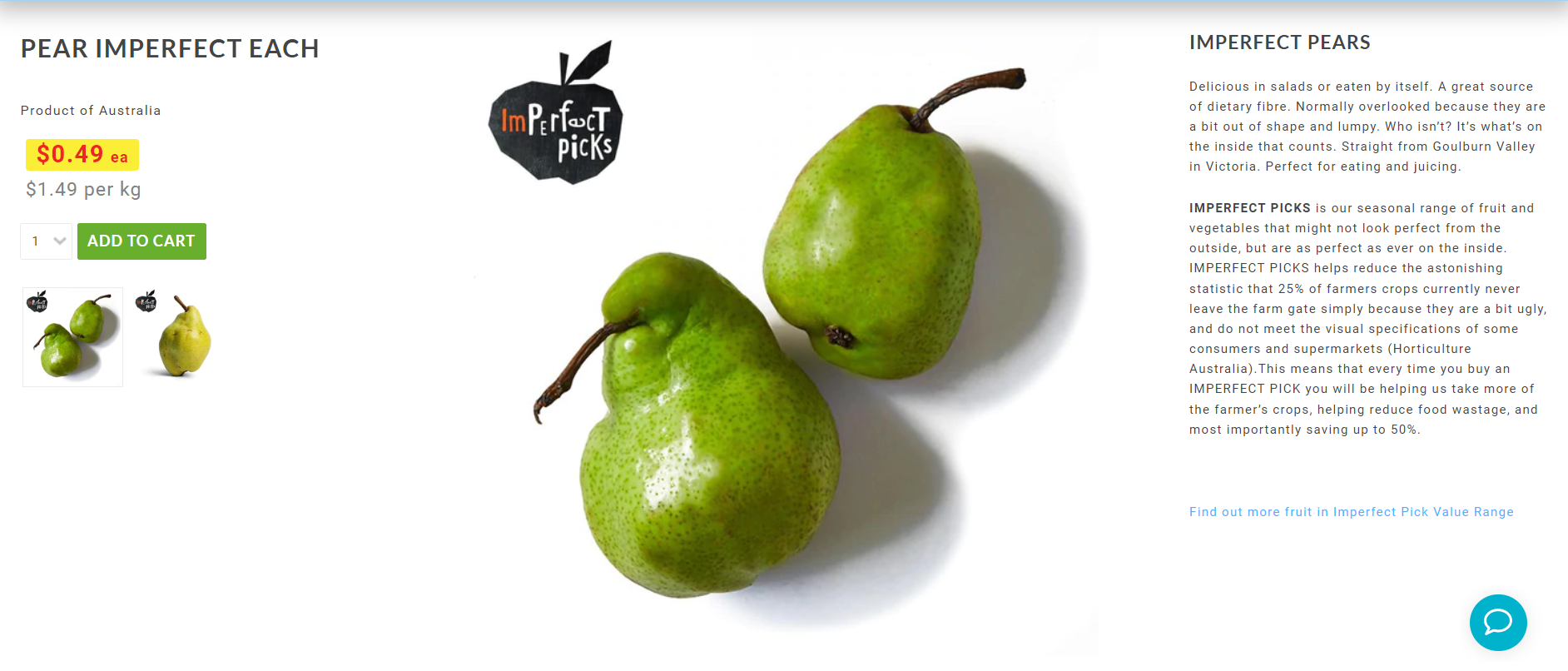 The brand sells a range of meats, groceries and meal kits via its Shopify store. Product photos feature close ups of items that make them look appealing. Product descriptions also feature details that highlight the brand's sustainable farming practices. 
Read: E-commerce Development
4. HELM Boots

With a flagship store in Austin, Texas, HELM Boots is another top Shopify store that has been selling handcrafted boots since 2009. The brand pays close attention to craftsmanship, using premium materials and a detailed construction process to create each pair of boots.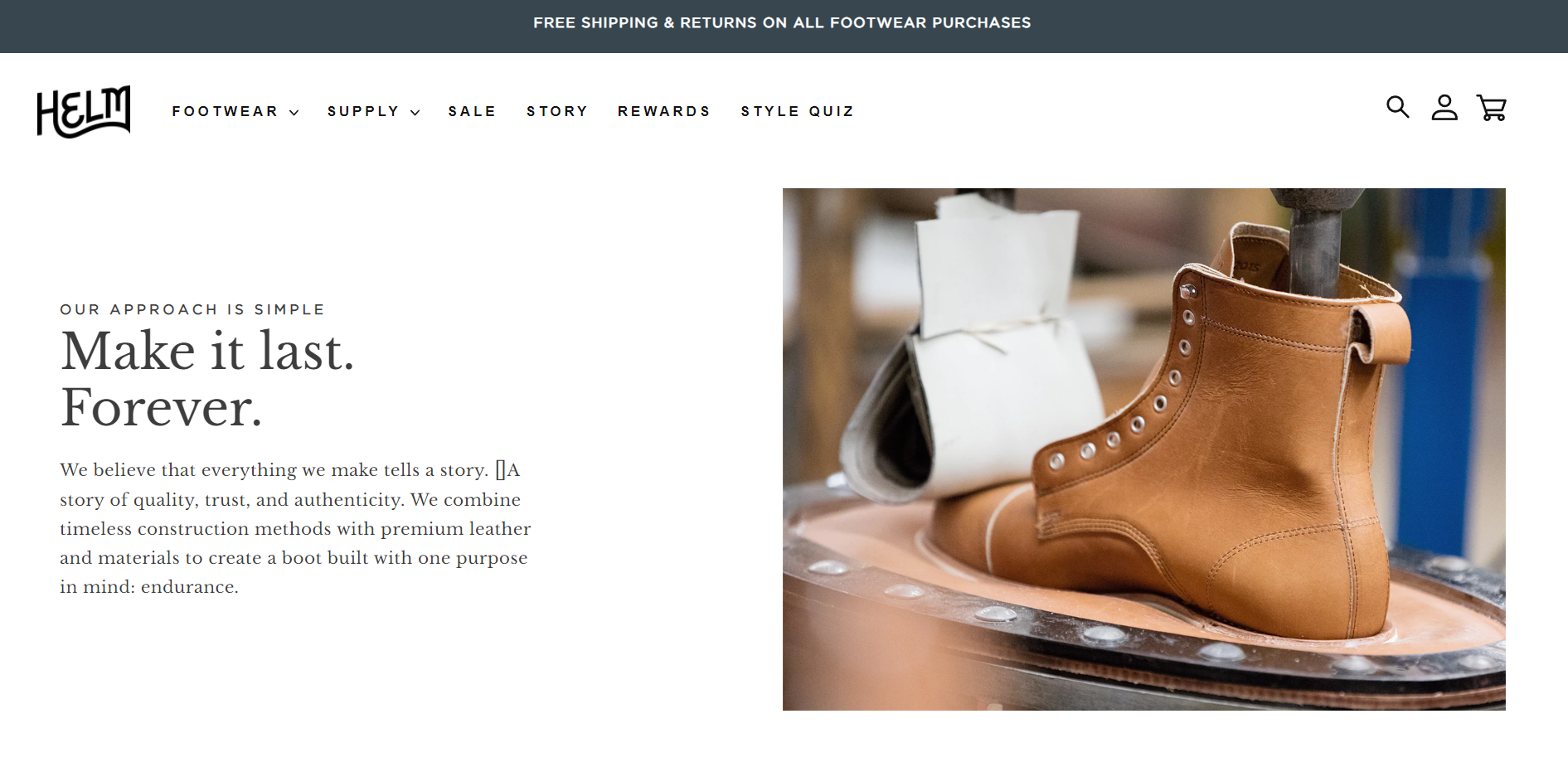 Built using Shopify's free theme Debut, their website features beautiful, uncluttered product photography that really lets their products shine. The clean layout and typography emphasize the high quality of the products and timeless nature of the brand.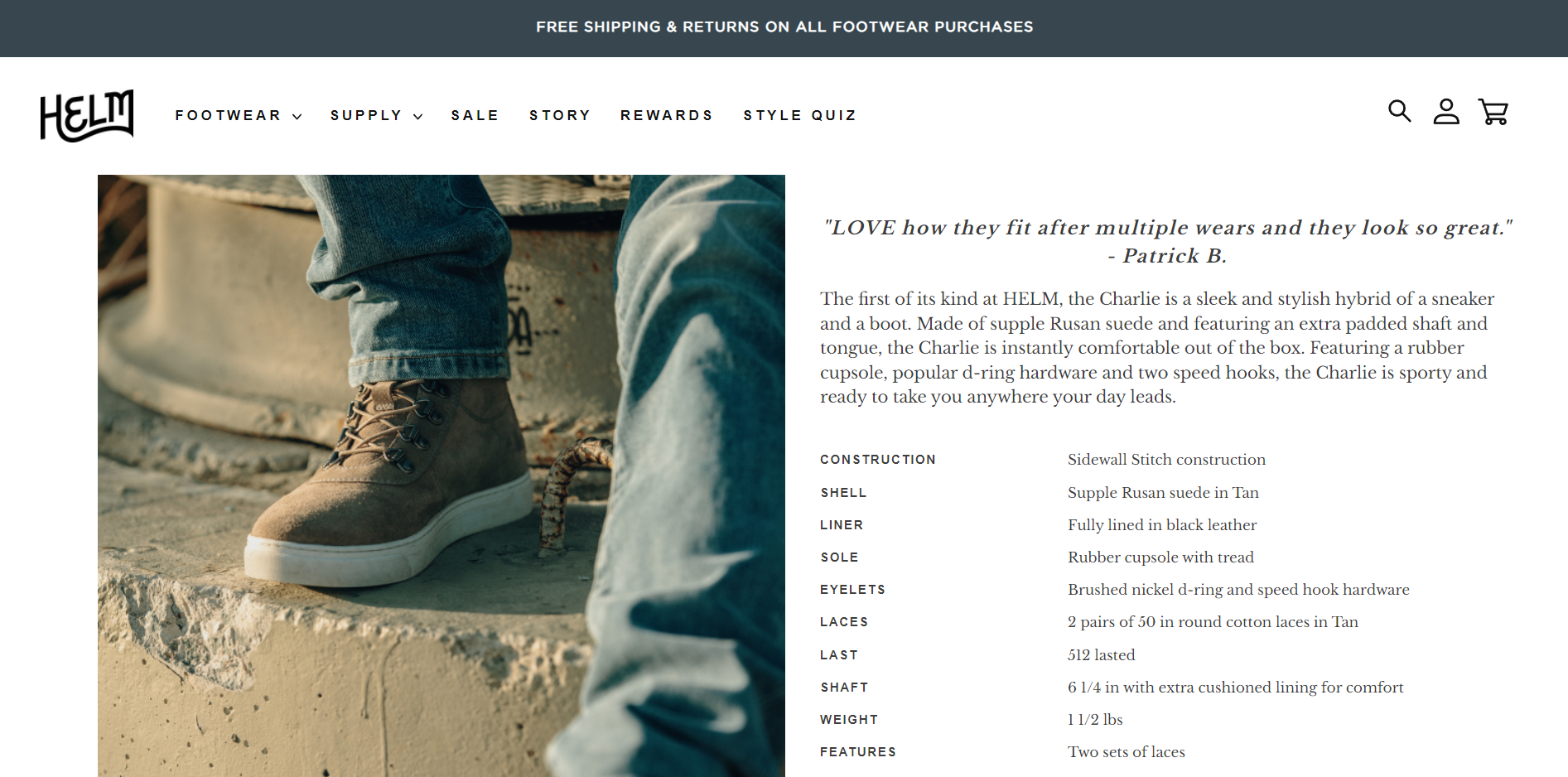 The product pages also highlight the handcrafted aspect, offering a lot of detail about each feature and giving each pair of boots a lot of personality. There's even a section explaining the meaning behind the name of each pair of boots — who or what inspired the name, what the name means to the creators, and more. 
Read Finalizing Shopify Themes for Your eCommerce store? Don't Miss These 8 Pointers
5. Taylor Stitch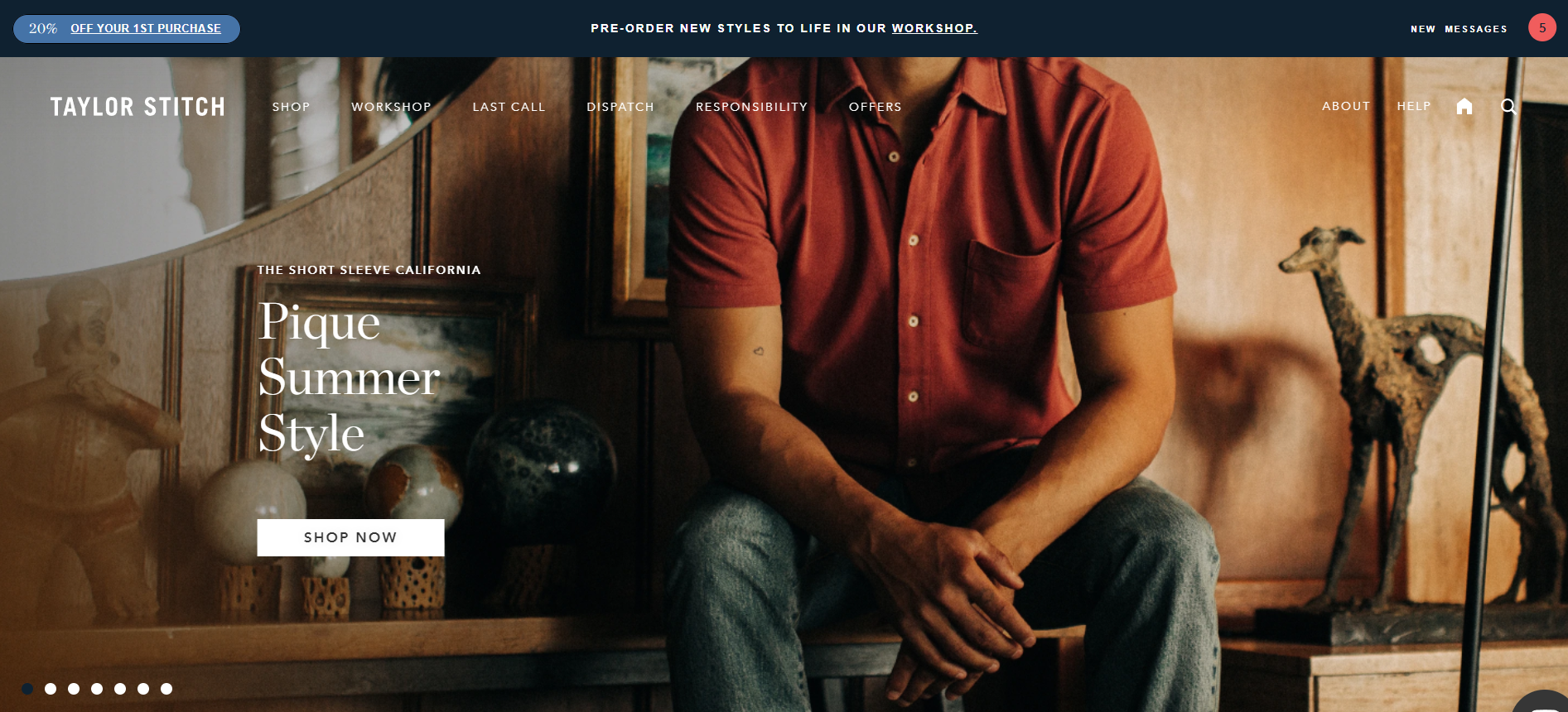 Launched on Shopify in 2008, Taylor Stitch is a direct-to-consumer menswear brand that offers high-quality, functional clothes to suit all occasions. Based out of San Francisco, the brand ensures that it reflects the same look and feel across both its physical and digital retail storefronts. This omnichannel strategy allows customers to get a strong sense of the brand and its products before making a purchase, which they can do online as well as offline.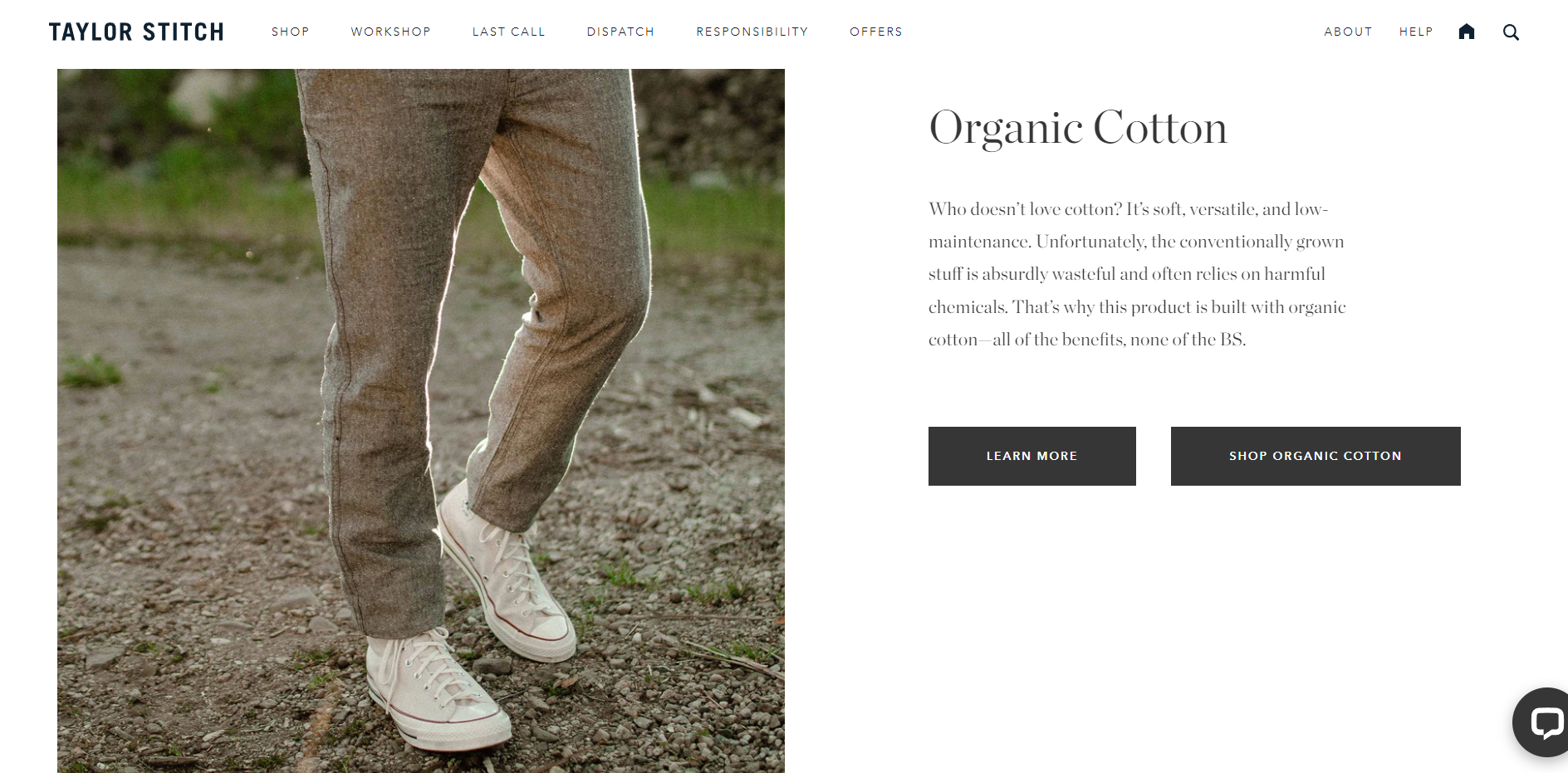 The brand's product pages feature beautiful visuals that showcase unique aspects of each of their products. Product descriptions offer rich detail on each product and how it is produced. Customer reviews are also highlighted on each product page. 
On its Shopify storefront, the brand also highlights its commitment towards social and environmental responsibility, such as responsibly sourcing materials, ensuring fair wages and labor oversight across their manufacturing locations, creating durable clothing to minimize waste, and giving back to causes and campaigns that support communities.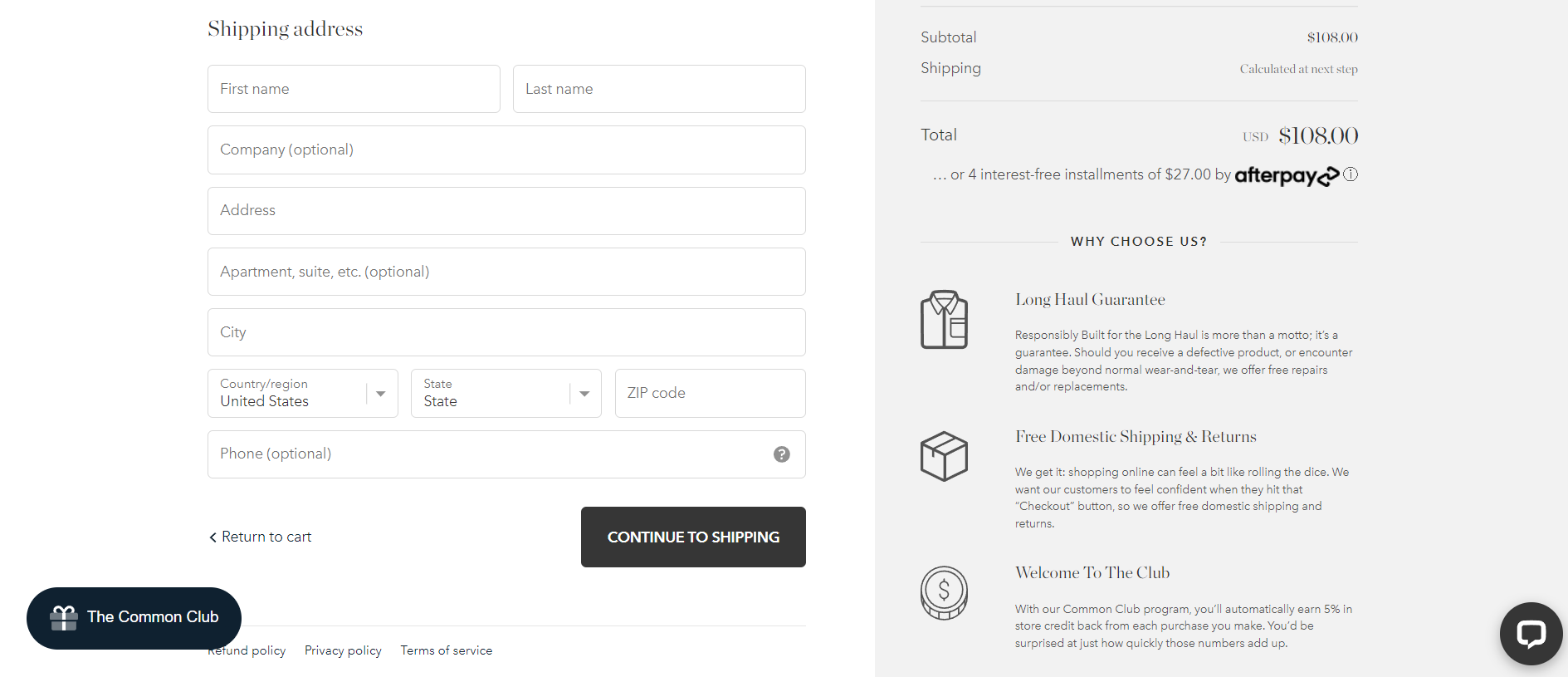 This commitment to responsibility is alluded to on the checkout page as well, in a section called 'Why Choose Us?' that mentions the brand's Long Haul Guarantee. 
6. Beardbrand
Launched on Shopify in 2013, Beardbrand is a digitally-native brand that sells beard care products to urban beardsmen. Founder Eric Bandholz started the company after realizing that men with beards were an underserved market in terms of products and content. 
Beardbrand was entirely bootstrapped, and grew organically to become a very profitable brand and a top Shopify store. It also has an impressive YouTube presence, with over 1.89M subscribers. 
The brand offers engaging content and experiences to site visitors, such as its Fragrance Quiz, Beardsman Quiz, and Beard Style Quiz.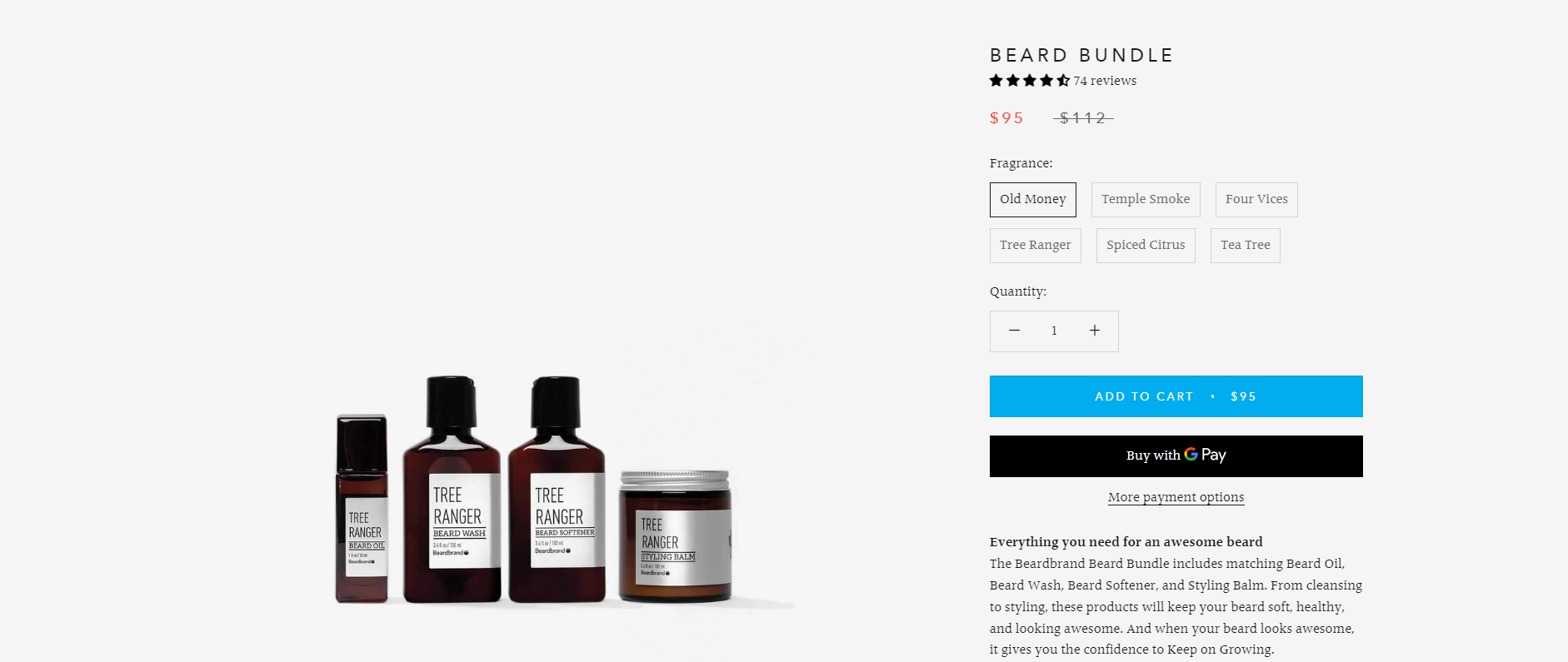 The site has a clean layout with a lot of long-form content for those who wish to learn more about the brand, as well as product suggestions and bundles based on audience segments.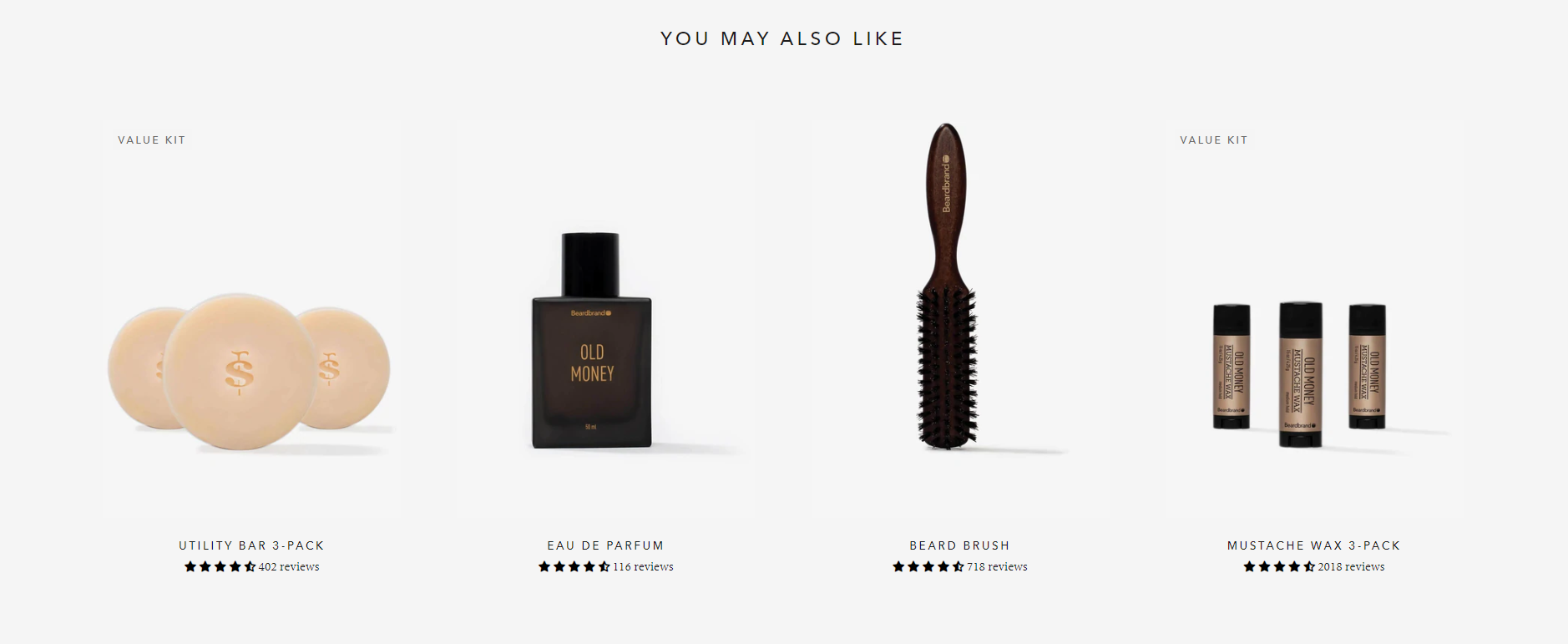 Recommendations for related products encourage shoppers to keep exploring other products. 
Read How to Leverage Ecommerce Product Recommendations to Create Outstanding Shopping Experiences
Great user experiences balance aesthetics and functionality
When it comes to ecommerce, first impressions are everything. 
Shopify offers a lot of themes and templates to allow you to make a great first impression. Do ensure that you explore all of these and select the ones that work best for you. Looking at other examples of top Shopify stores is a great way to get insights into what might or might not work for your brand. 
At the same time, it's important to make sure that you're not sacrificing important functionality for the sake of a beautiful design. Working with an experienced Shopify development partner such as Successive can help you arrive at the right balance between beauty and functionality — so that you can effectively capture your audience's attention and increase your conversions. 
Ready to get started? Fill the form now!
Ready to get started? Fill the form now!