Technology in Everyday Life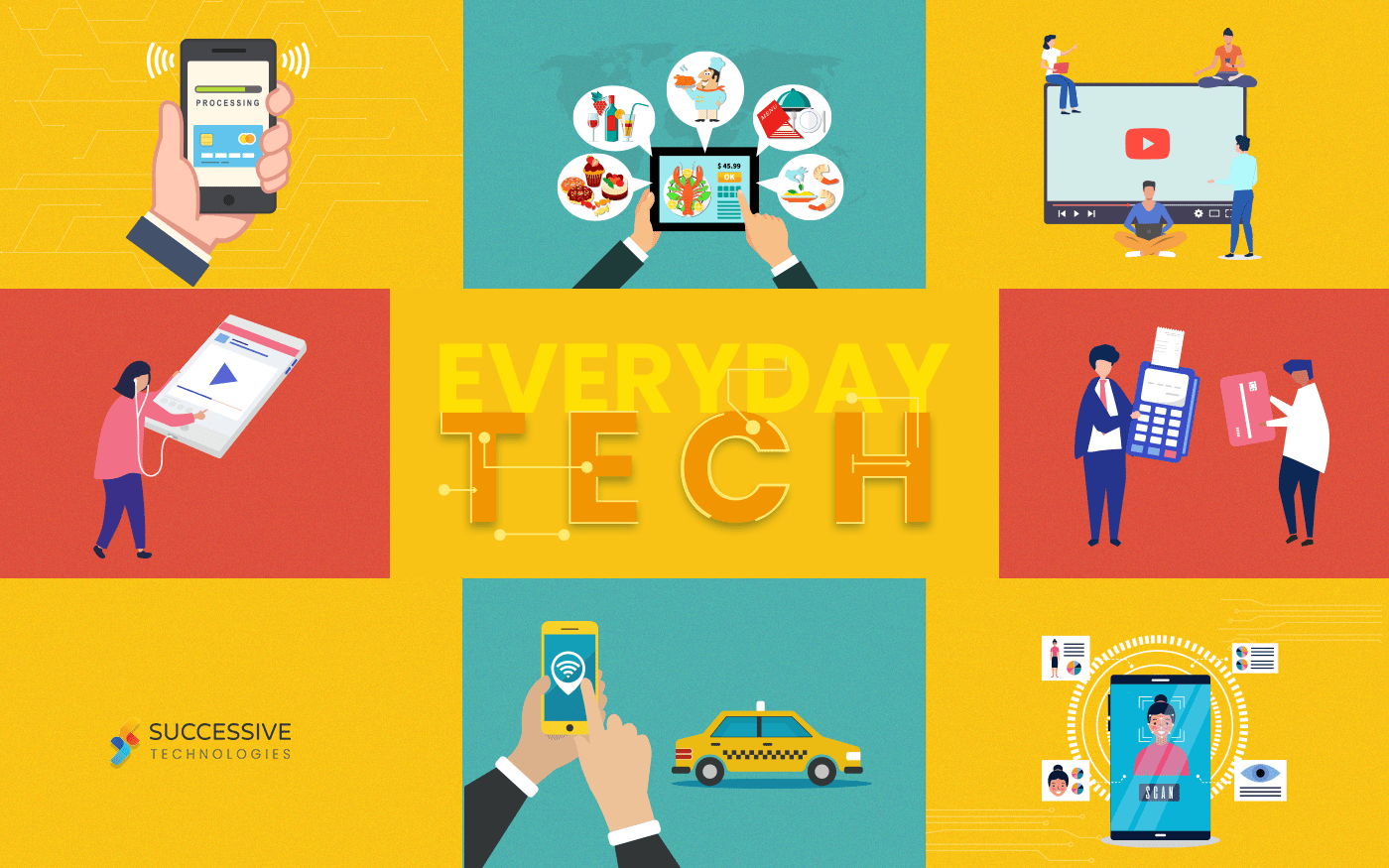 The Land of Techno-mo sapiens
There is a lot of salagonitiation these days.
Jake got a job in Tajikistan that pays him 5600 Somoni every month.
Doesn't this song on the radio sound like the one we sang at Thanksgiving last year?
Go ahead. Type 'meaning salagonitiation' in your Google search box. Convert 5600 Somoni to your currency. Check who the music director is for both songs.
It is often said that technology doesn't change people's basic needs or their natures. But if you monitor your everyday routine and notice carefully, you'll realize that it has become indispensable. It does not change what you want but it does change how fast you can get it and with how much ease.
We have talked about Docker, Cloudinary and the stories of famous tech entrepreneurs but let's scale it down this time. Let's delve into our quotidian routines — from waking up in the morning to finally catching some Z's in the night. How do we use technology in our day-to-day life? How deeply entrenched is it in our system? Are we controlling or being controlled by it?
Business and Communication
Gone are the days when your boss had to be in the same room as the rest of her team to discuss monthly sales targets or when you had to put your fax number below your phone number on your website. You needn't coax customers into filling feedback forms and you needn't sigh over the fact that you haven't spoken to that professor from college for years. You don't even have to tell your employee to keep mailing you the revised version of his work after every few days for you can keep a check at it in real-time — thanks to the Google Drive service! Money transactions have also become much easier via apps like Paytm and so has scanning of documents using GeniusScan or CamScanner.
It is all just a click (or multiple clicks) away. With technologies that allow us to connect to people via multiple social network platforms like Facebook and LinkedIn, video conferencing, electronic mail, WhatsApp and much more, communication have become unrestrained and unbounded.
"Sharing is good, and with digital technology, sharing is easy." — Richard Stallman
Education
Remember when your Aunt bought you the entire volume set of Britannica encyclopedias for your 10th birthday or when you used to carry a pocket dictionary in your bag? That doesn't happen anymore. Students do not have to make flashcards anymore to learn vocabulary and universities have apps to keep a track of students' attendance. Dropbox allows file sharing while the TED app provides motivational lectures. Examinations are shifting towards online mode from offline mode and YouTube has replaced a lot of teachers. With mobile apps and websites that allow you to access full libraries and venture into the vast realm of education, the world had transformed into a place where the only thirst for knowledge, not opportunities, determine 'how much you know.'
Transportation
More and more ride-hailing companies like Uber and Ola are sprouting up with every passing day. Within minutes, app users can get a ride to a place that is 4kms away or 40kms away. Even metro users of different cities can know the fastest route and the respective fares by using apps like Next Stop Paris or Delhi-NCR Metro. However, a major facelift to the domain of transportation has been provided by web mapping services that process data from a geographic information system database. How long will it take me to get there? Should I take the bus or drive? Is there any traffic in the next street? Answers to all these questions and much more are provided by apps such as Apple Maps and Google Maps.
Entertainment
For a common man, advancements in technology have been the most detectable in this sphere. From buying movie tickets on Fandango or BookMyShow to buying apparel, books and much more on Amazon, everything is near at hand. Zomato, another game changer for gastronomes and epicures, gives information ranging from average cost for two to the menu for that particular restaurant. Operating in over 20 countries including India, United States, Singapore and Italy, it has become extremely popular over the years, especially among youngsters. Let's say that you go watch a movie and then have lunch at a boutique café that plays jazz music. There is one particular song that you find extremely melodious and want to know what it's called. Just Shazam it! Music, movies, food and more — technology has revamped all of it.
Woven into the fabric of daily life, it has definitely carved a niche for itself. One of the hottest topics of discussion, technology is no more a facility or luxury; it's an arrant lifestyle.
My team and I are avid seekers of technology. We would be delighted to know what you've been doing to contribute to this evolving madness. Feel free to strike a conversation with us.
Ready to get started? Fill the form now!
Ready to get started? Fill the form now!