Salesforce Integration with DocuSign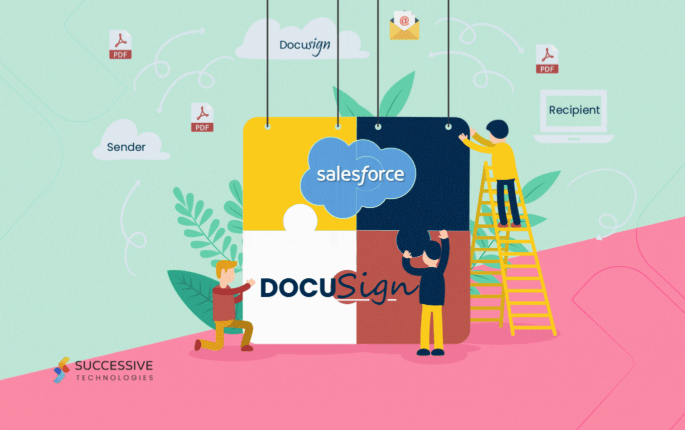 Automate contracts without ever leaving Salesforce.
Salesforce integration with DocuSign allows companies to digitize their customer agreements completely, thus increasing efficiency and security and reducing costs.
Salesforce is a popular cloud-based CRM software that is used by companies worldwide. One of the most useful features that this platform offers is that it allows companies to automate contracts, thanks to its integration with DocuSign.
As a widely-used e-signature solution, DocuSign allows companies everywhere to digitize contracts by enabling legally binding electronic signatures on digital documents. It is extremely easy to use, secure, and reliable, and since it is integrated with Salesforce, it allows organizations to completely digitize their customer relationship management.
Using Salesforce integration with DocuSign, you can easily pull data from various Salesforce objects such as Lead, Account, Opportunity, Contact, and more. You can then sign the documents online, or you can send them out directly from Salesforce to get the required signatures. Once the documents are signed, they are returned to Salesforce and are then attached to their respective records.
Automating your customer agreement processes using technology like Salesforce and DocuSign, which are developed by top UX design firms, comes with plenty of benefits. Let's take a look at these below:
Accelerate turnaround times
With Salesforce integration with DocuSign, you can easily cut down the turnaround time for customer agreements to hours or even a few minutes. This automation of the workflow allows for increased productivity since your employees can work out everything without ever having to leave Salesforce.
Cost reduction
With Salesforce and DocuSign, you can limit your financial expenses easily, since everything is digitized and on the cloud. This gives you the opportunity to invest your finances in other areas of your business with greater ROI.
Improved accuracy and efficiency
Since Salesforce integration with DocuSign automates processes of agreement development and signing, there will be little to no error. When you have employees manually working on the same tedious task, it's much more likely that errors which could have been prevented would occur. Transactions are also extremely safe and secure, so you don't have to worry about breach of important data.
Enhanced customer experience
With the security, accuracy, and efficiency that Salesforce integration with DocuSign provides, your company is capable of providing an overall enhanced customer experience. Your customers no longer have to risk security nor wait for long periods of time for their agreements.
Reduce paper waste
Another huge benefit of digitizing agreements using Salesforce integration with DocuSign is that you can reduce paper waste significantly. With the growing concern over environmental causes, cutting down on your reliance on paper and going digital enables you to do your bit in contributing towards more eco-friendly business processes.
Ready to get started? Fill the form now!
Ready to get started? Fill the form now!