Salesforce Announces Revenue Cloud to Enhance Business Revenue Growth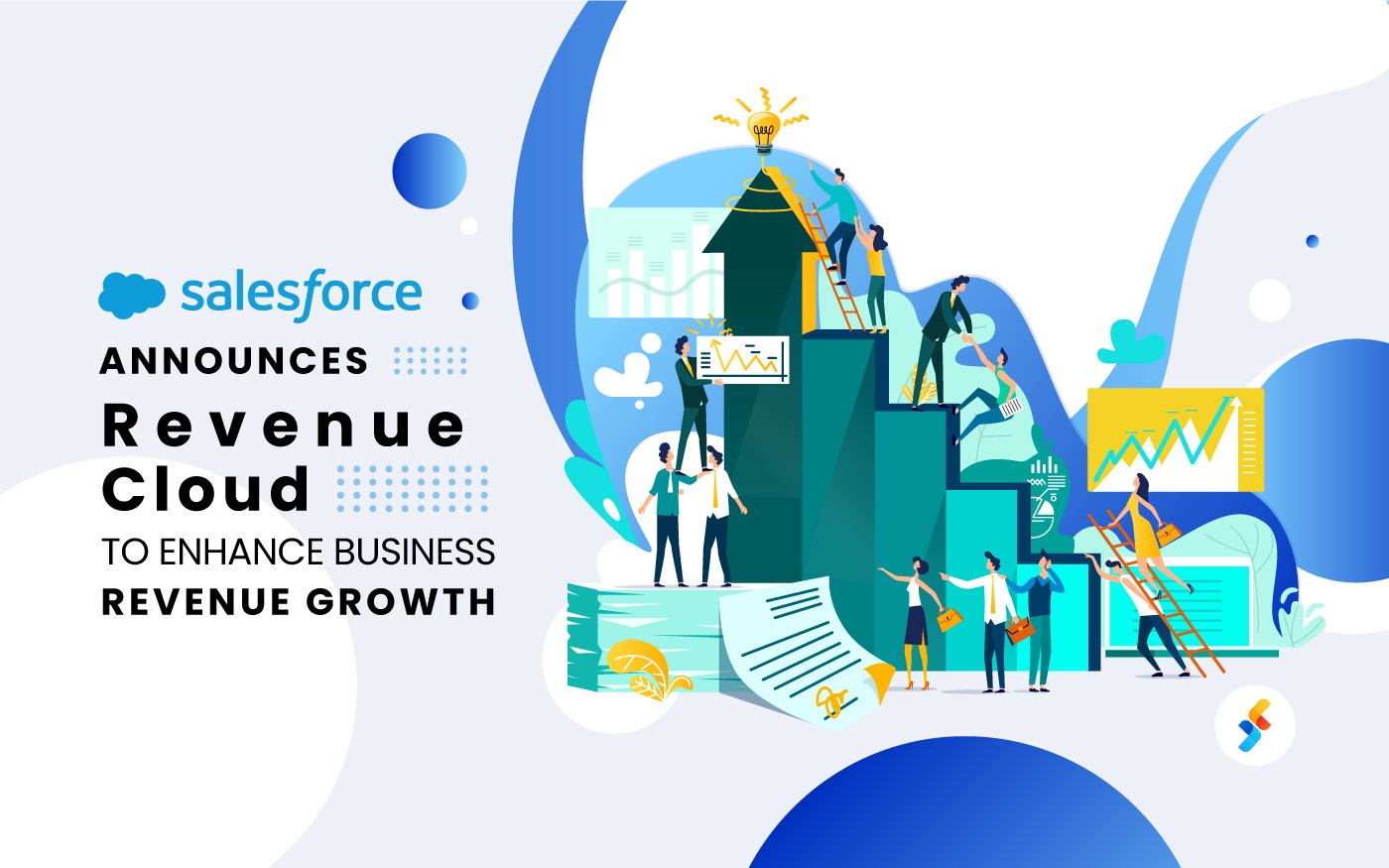 Summary: We live in the Omni digital era. Proper revenue management for companies, though, is a bit complicated but not impossible. Thanks to the newly launched revenue cloud tool by Salesforce, organizations can efficiently manage revenue generation and accuracy. To get a detailed overview of the revenue cloud, read this blog.
The American cloud-based software giant, Salesforce, has recently rolled out its new Revenue Cloud model. It lets you accelerate the growth of your revenue across every possible channel. It enables you to fill the lost revenue gaps and double down their business areas. This model's prime aim is to simplify B2B purchasing for customers without losing compliance & security.  This scalable Revenue Cloud solution has numerous business benefits for organizations. But what is Salesforce Revenue Cloud, and why should you use it. 
Have a look:
Introduction to Salesforce Revenue Cloud
COVID-19 outbreak has impacted business largely. Business revenue cycles have undergone numerous complications and uncertainties. They felt a disruption in the sales channel, and forecasting data became highly unreliable. Therefore, there is a dire need for a reliable, scalable revenue forecasting system for organizations. This system needs to be flexible and consistent across all sales channels to manage revenue efficiently. 
Hence, Salesforce came up with a solution called 'Revenue Cloud.'
What is Salesforce Revenue Cloud?
Salesforce Revenue Cloud is a combination of multiple existing products in the Salesforce ecosystem. It includes Salesforce CPQ & Billing, partner relationships, and B2B commerce capabilities to support and enable a robust sales engine, including those that depend on subscriptions, recurring revenue, or consumption-based models.
Since it is a part of the Salesforce Customer 360 Platform, it allows organizations to link their sales, operations, and finance team to create a single truth source.
Salesforce announced in a blog post-
"No matter the complexity of your deals, business model, or revenue processes, Revenue Cloud can be the single source of truth for customer transactional data."
Revenue cloud also comprises services, such as
Multi-Cloud Billing: This helps businesses build new revenue streams from other clouds by managing billing and payments within a single system.
Customer Asset Lifecycle Management: It offers a visual dashboard that can help companies track KPIs, like net revenue retention (NRR), customer lifetime value (CLTV), and monthly recurring revenue (MRR) in real-time.
CPQ-B2B Commerce Connector:  Businesses can use it to customize their digital storefront and carts for a self-service experience. 
Revenue Cloud Business Benefits
With Revenue cloud, businesses will be able to-
Create a Superior Buying Experience
As mentioned earlier, customers can customize online storefronts. Therefore, when a customer specifies their cart according to their needs, sales representatives can access their previous information. It makes it easier to answer questions related to discounts and other promotions. As a result, customers can easily switch to and from different sales channels.
Accelerate New Revenue Sources 
With this latest cloud offering, marketing and sales teams can quickly form new revenue generation strategies. Be it is a subscription product launch or consumption pricing employment. A classic example: multi-cloud billing feature. It also offers the 'Revenue Cloud Quick Starts' feature, which allows businesses to launch a subscription offering from start to finish in eight weeks instead of months.
Increase in Revenue Efficiency
Revenue Cloud improves efficiency via automation. It reduces team burden by automating manual processes for approvals, data reconciliation, and order transcriptions between numerous systems. Through an automation dashboard, keeping track of all sales orders, invoices, and contract modifications in real-time became simple. This way, teams can decide on where to cut costs and whom to target now. It even integrates with ERP systems to make immediate use of the data.
Conclusion
Looking at this new cloud product by Salesforce, we can say that no matter how complex your business model or revenue process is, Revenue Cloud is your true mate. This key solution helps you accelerate revenue growth. It is not a product or solution, but a way to organize Salesforce tools in a unified manner.
If you want more details on how to accelerate business growth with Revenue Cloud, contact Successive Digital, and we would be happy to assist you. We are a Salesforce consulting partner and have completed several Salesforce Customization, Integration, SaaS development services, and more. 
Ready to get started? Fill the form now!
Ready to get started? Fill the form now!