Healthcare and AWS: The Power of Cloud in Patient Care and Data Management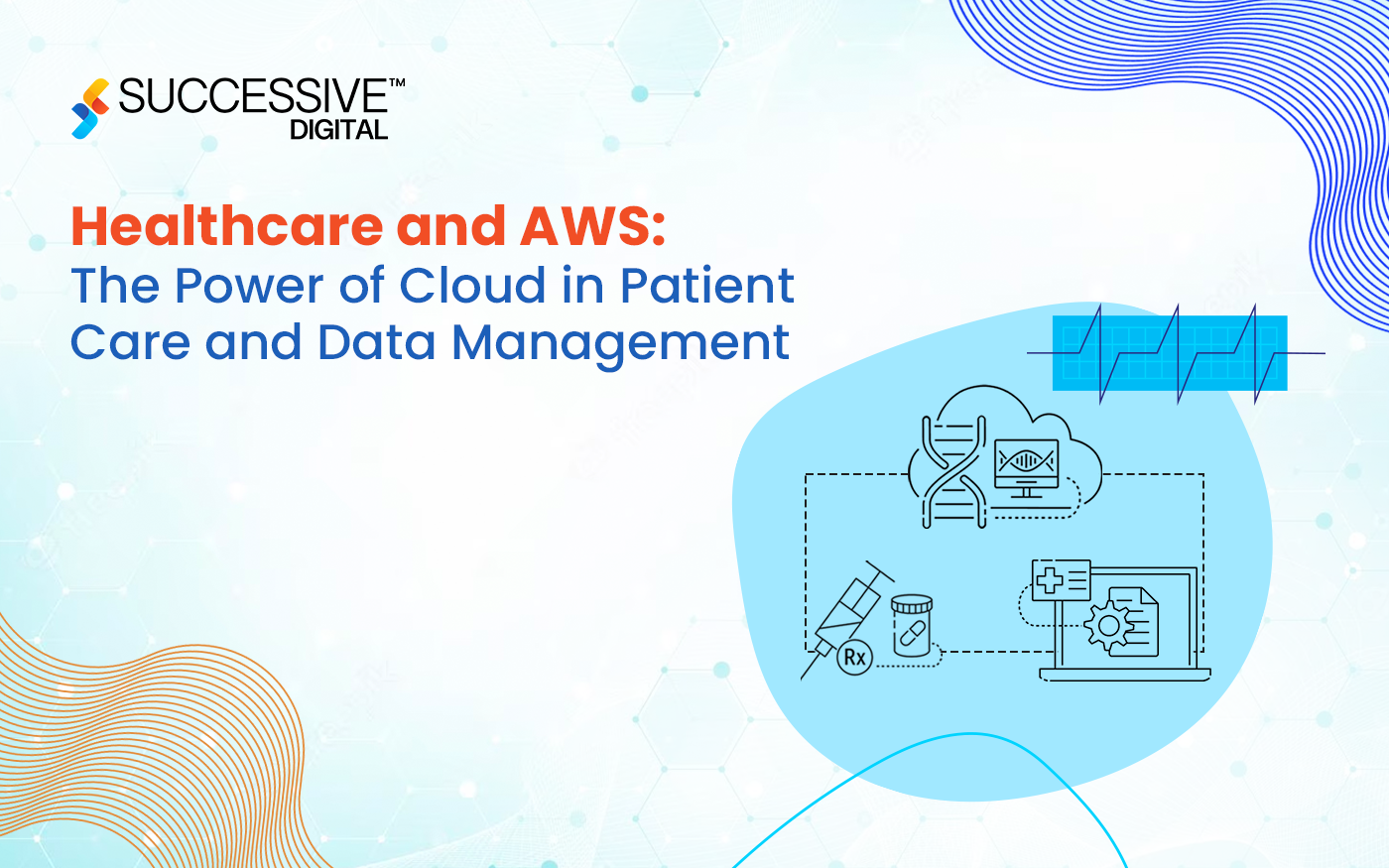 Digital transformation in healthcare has encouraged patients to seek more personalized experiences from their providers. The customer experience evolution has changed how healthcare organizations deliver care forever. But this evolution's impact goes far beyond telemedicine or virtual visit. It is driving healthcare organizations and institutions to find ways to use technology in innovative ways and identify new processes and care models, all in a cost-affordable way that puts the patient experience and outcomes first and foremost.
Why Healthcare Needs Digital Transformation?
The landscape of care delivery is rapidly evolving. With more care being managed outside the hospital, data intake continues to grow. Most healthcare institutions, hospitals, and clinics still rely on legacy IT infrastructure, so they are struggling with a growing influx of information. Managing this data becomes more challenging as their health systems have many niche systems, devices, and modalities with associated software.
Believe it or not, healthcare generates approximately 30% of the world's data volume, as RBC Capital Markets mentioned in a report. The same report also discussed that by 2025, the compound annual growth rate of data for healthcare would reach 36%. That's 6% faster than manufacturing, 10% faster than financial services, and 11% faster than media & entertainment.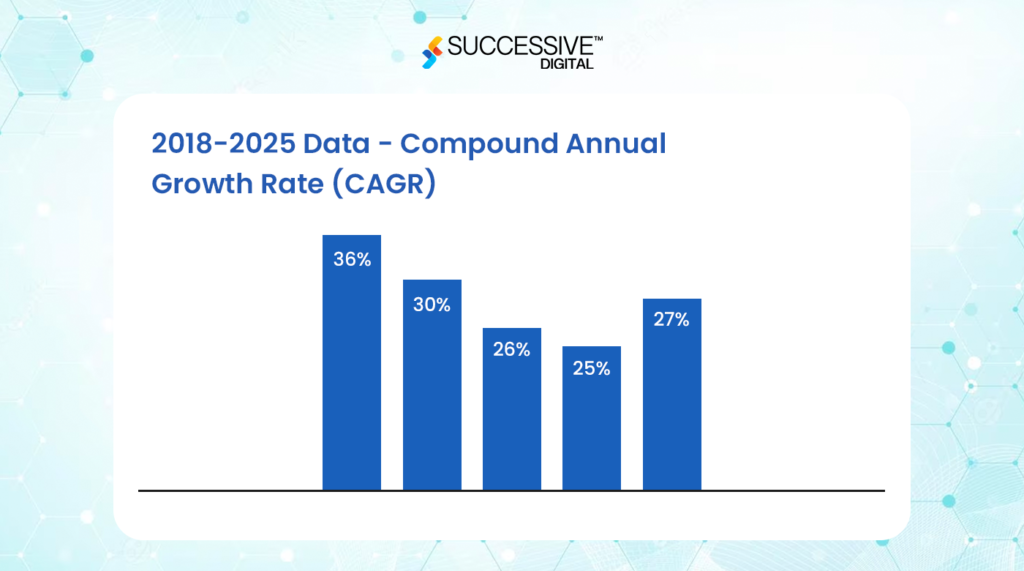 Amidst the evolving healthcare landscape, where care extends beyond hospital boundaries, the integration and standardization of patient information play a vital role in making informed and confident clinical decisions.
As patients embrace virtual care, providers will continue to offer services previously done in the hospital and the home, such as post-discharge patient monitoring. This implies that data should be accessible. Fragmented IT systems can pose specific challenges when it comes to providing care, especially for clinical personnel.
Patients expect transparency of information and protection of their privacy. On the other hand, care teams and staff need easy and secure access to patient information at different points in the care continuum.
The wake of the Covid-19 pandemic set itself as one of the biggest reasons and examples when patient care needed to be delivered beyond hospital walls. It had put a sense of urgency and needs to rapidly increase the adoption of interoperable tools to support innovations in care management, virtual health, and remote patient monitoring.
One of our leading healthcare clients dealing with remote patient monitoring, at-home diagnostic, and health screening software understood the upsurge in remote care. They modernized their application and infrastructure on AWS. They supported integrated digital health solutions when social distancing prevailed, and people wanted secure, faster, and cost-effective treatments for Covid-19 and other ailments.  
Throughout the blog, we will understand the impact of the cloud on patient care and data management with the example set by our healthcare client for the population health management outcomes approach.
Before that, let's understand the importance and impact of effective data management in healthcare.
Importance of Data Management in Healthcare
Data lies at the epicenter of healthcare digital transformation. Patient data is generated at every step of care, such as the physician's office, diagnostic imaging center, hospital, blood test labs, outpatient rehab therapist, etc. To attain optimal outcomes, this data should be easily accessible and shareable throughout their entire journey. As timely and seamless portability of information is essential, it is important that every information system, device, and application supports access, exchange, and integration of data in a coordinated manner within and across organizations, regional and national boundaries.
Looking across the healthcare landscape today, not all hospitals and healthcare organizations have the IT infrastructure to keep pace with this influx of information.
Henceforth, these institutions and settings must standardize their data into an industry-standard format and make it available securely to anyone who needs it – payers, providers, or even patients.
To facilitate the same, our healthcare client modernized its infrastructure and core applications to AWS by refactoring and reviewing the codebase and implementing global state management across all applications. They also leveraged Intersystem IRIS to close the gap between the explosion of healthcare data and make the data accessible, computable, and usable to improve healthcare outcomes.
How Cloud Platforms Help with Healthcare Data Management?
Cloud-based healthcare database management system enables hospital and clinical facilities to efficiently address data management, interoperability, and data standards needs. Healthcare institutions that are more inclined to be driven by telehealth and predictive healthcare technologies can make the most of complicated and overwhelming data streams by having a common, cloud-based IT infrastructure. Cloud platforms allow data to be easily accessible anywhere – an essential requirement for new care delivery models, where patient information is visible in care settings, including the home, outpatient clinics, and traditional hospital environments.
During the wake of Covid 19, when remote patient care became essential in a quarantine, our healthcare client provided patients with another touch-point, making their entire health journey convenient, simple, and personalized. The leveraged cloud facilitates care to remote areas and customized solutions based on an individual's risk profile, with easy-to-use screen tests that are sent directly to their door. Since these test kits are IoMT-powered, the healthcare provider captured the required federal and state-required standardized data from patients through an intuitive service.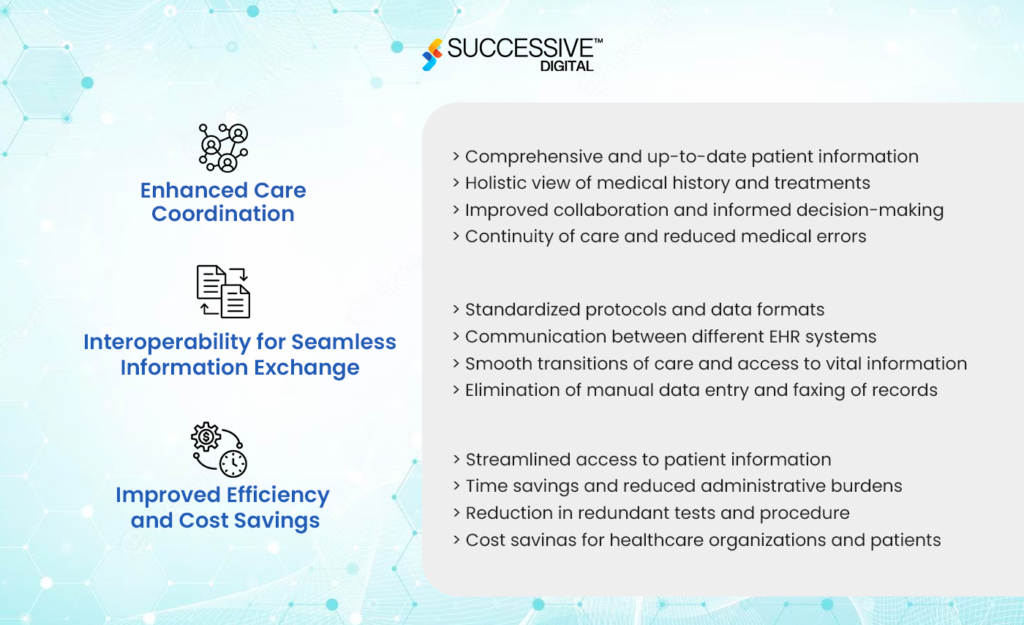 Cloud-based solutions effectively dismantle data silos and liberate valuable information that benefits patients and providers. This includes imaging, diagnostic data, patient monitoring within the hospital, and even data from remote monitoring solutions outside its premises. Implementing a centralized system empowers healthcare providers to integrate informatics applications, which can be seamlessly combined and scaled according to evolving requirements.
Moving to cloud-based solutions and approaches, health systems can liberate data from silos and connect it to enable care teams to gain insights, take action, and collaborate across a patient's care journey.
How Cloud-Based Healthcare Data Management Empowers Advanced Patient Care?
Cloud-based solutions are a game-changer in healthcare data management. By harnessing the capabilities of cloud computing, it enables a smooth and secure exchange of patient health data across various healthcare organizations, systems, and providers. It provides a centralized, standardized platform for securely storing and accessing healthcare data.  Instead of dealing with fragmented systems and data silos, healthcare organizations can connect to a unified cloud infrastructure as a digital hub for patient information. Through this centralization, healthcare providers can access comprehensive and current patient records, irrespective of the data source or the specific EHR system employed.
The software and system provided and operated by our healthcare client were built to make available real-time test results to authorized stakeholders, oversight from nationwide physicians, unique, customized employer dashboards, and aggregate data reporting for employers. Using the cloud to enable edge devices to collect screening data and store them in real time, the client facilitated simple, safe, customized, and compliant beginning-to-end testing journeys.  

Let's understand how the cloud contributes to patient experience, care management, operations, analytics, and mobility. 
Patient Engagement & Experience
Cloud-based healthcare IT infrastructure empowers patients to participate actively in their healthcare journey. For example, remote consultations provided through telehealth applications collect data from smartphones or wearables, allowing users or patients to get the status of their basic health metrics. On the other hand, cloud-based EHRs and EMRs allow patients all-time access to their medical records and health information and seamless sharing of information via health information exchange, removing the need to manually carry the history of medical records. Facilities like this ultimately lead to a more positive and personalized patient experience. 
Creating a centralized healthcare data storage facilitates healthcare organizations in several ways, including creating an effective care management program for patients. Since cloud-stored data allows real-time communication & collaboration among doctors, nurses, specialists, care coordinators, and other healthcare professionals, it keeps all of them engaged in the patient's care program with the most up-to-date information. Cloud's capabilities in data storage, accessibility, collaboration, and analytics significantly improve care management in healthcare settings, leading to more efficient, patient-centered, and coordinated care delivery. 
Agile IT solutions that offer scalability as organizations expand give them a more comprehensive perspective of their operations and the patient journey. Predictive solutions provide intelligent insights, which inform actionable outcomes inside and outside the hospital. For example, AI-enabled tools facilitate smart scheduling processes intelligently. Additionally, these solutions aid in monitoring patient flow and bed utilization, empowering clinicians and administrators to ensure appropriate care levels and facilitate safe and efficient discharges.
Healthcare organizations face unprecedented challenges, such as greater efficiency with limited resources. COVID-19 caused an estimated $323 billion loss in hospitals, leaving many with negative margins, as discussed in a report by the American Hospital Association. To cope, healthcare organizations must have effective solutions that maximize resources and minimize costs. Agile IT solutions, scalable as organizations grow, offer a holistic view of operations and the patient journey. Cloud platforms provide flexibility and enable leaders to invest in technology and prioritize improvements with a predictable cost model.
Modern data architecture centralized data storage, where data is collected through edge devices or the Internet of medical things in real-time, provides data mobility that doctors require for crucial decisions about critical care and time access to personal health-related data. This mobility has also allowed medical devices to move faster to a patient's point of care by rapidly providing access to critical data. It streamlines the clinical data exchange among practitioners, patients, and health organizations who seek accurate patient information to develop personalized care plans.
Also read – AWS Vs Azure Vs Google Cloud : Which is The Best Cloud Platform
Amazon Web Service: Your Partner of choice
AWS can be a powerful enabler for companies looking to implement cloud-based Health solutions. AWS offers more than 200+ services and capabilities that can be leveraged to build a complete interoperable healthcare ecosystem. Let's explore some ways AWS is helping companies in the healthcare industry with cloud-focused solutions: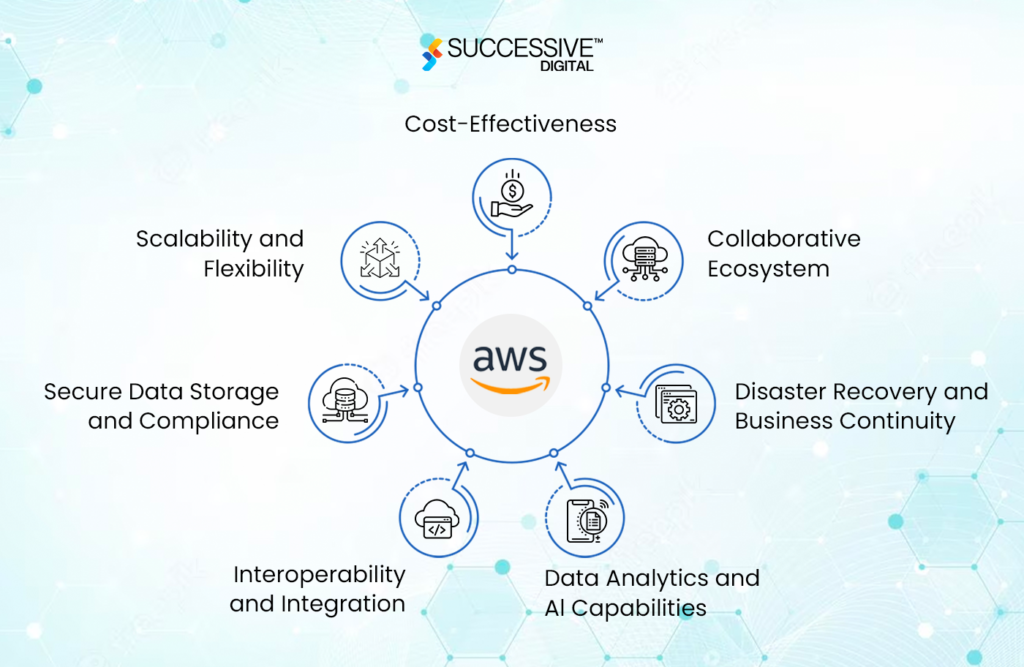 Scalability and Flexibility: Amazon Web Services offers a comprehensive set of services designed to meet the specific needs of the healthcare industry. AWS's key strengths lie in its ability to scale and adapt to varying workloads, making it ideal for healthcare organizations of all sizes, from small clinics to large hospital networks. AWS ensures efficient data exchange during peak times, ensuring healthcare entities can handle the demand effectively.
Data Storage and Compliance: Data security and compliance are paramount in healthcare, and AWS excels in this area. It provides robust security features such as encryption, access controls, and threat detection to safeguard sensitive patient information from unauthorized access or breaches. Moreover, AWS complies with industry regulations like HIPAA and HITRUST, instilling trust in healthcare organizations for data storage and exchange.
Interoperability and Integration: Interoperability is crucial for seamless data exchange between different systems, and AWS supports various data formats and standards commonly used in healthcare. This makes it easy to integrate Electronic Health Records (EHR) systems, laboratory information systems, and other healthcare applications, streamlining the sharing of patient data among healthcare providers.
Data Analytics and AI Capabilities: AWS's data analytics and AI capabilities empower healthcare organizations to gain valuable insights from patient data. Advanced analytics tools allow healthcare providers to identify trends, patterns, and potential health risks, leading to better clinical decision-making and improved patient outcomes.
Disaster Recovery and Business Continuity: Disaster recovery and business continuity are vital for healthcare organizations. AWS offers robust disaster recovery and backup solutions to protect critical patient data, ensuring uninterrupted access even in unforeseen events, thereby enhancing business continuity.
Collaborative Ecosystem: Collaboration among stakeholders in the healthcare ecosystem is essential, and AWS fosters secure data sharing between healthcare providers, payers, patients, and researchers. This promotes a holistic approach to patient care, facilitates medical research, and encourages innovation.
Cost-Effectiveness: Cost-effectiveness is another advantage of AWS's cloud-based solution. Healthcare organizations can pay for the resources they use, enabling them to scale resources based on demand and optimize costs without compromising performance.
Conclusion
Though scalability and storage are age-old expectations of healthcare, modern patient care and care providers are also looking for solutions that improve collaboration, reachability, efficiency, security, and others. Considering healthcare's growing and evolving needs, cloud platforms facilitate technologies that effectively address diverse healthcare use cases such as electronic medical records, mobile apps, patient portals, devices with IoT, data storage, network requirements, big data analytics, and others, all while keeping processes and procedures compliant within industry standards.
As the cloud ecosystem has matured significantly, healthcare companies can confidently embrace cloud-based solutions. Cloud-based healthcare solutions address the four pillars of healthcare for patient care, better engagement, satisfaction, and experience at the forefront of digital transformation and delivering exceptional care in our interconnected world.
Ready to get started? Fill the form now!
Ready to get started? Fill the form now!