Major Tech Trends Will Emerge in the world Post COVID-19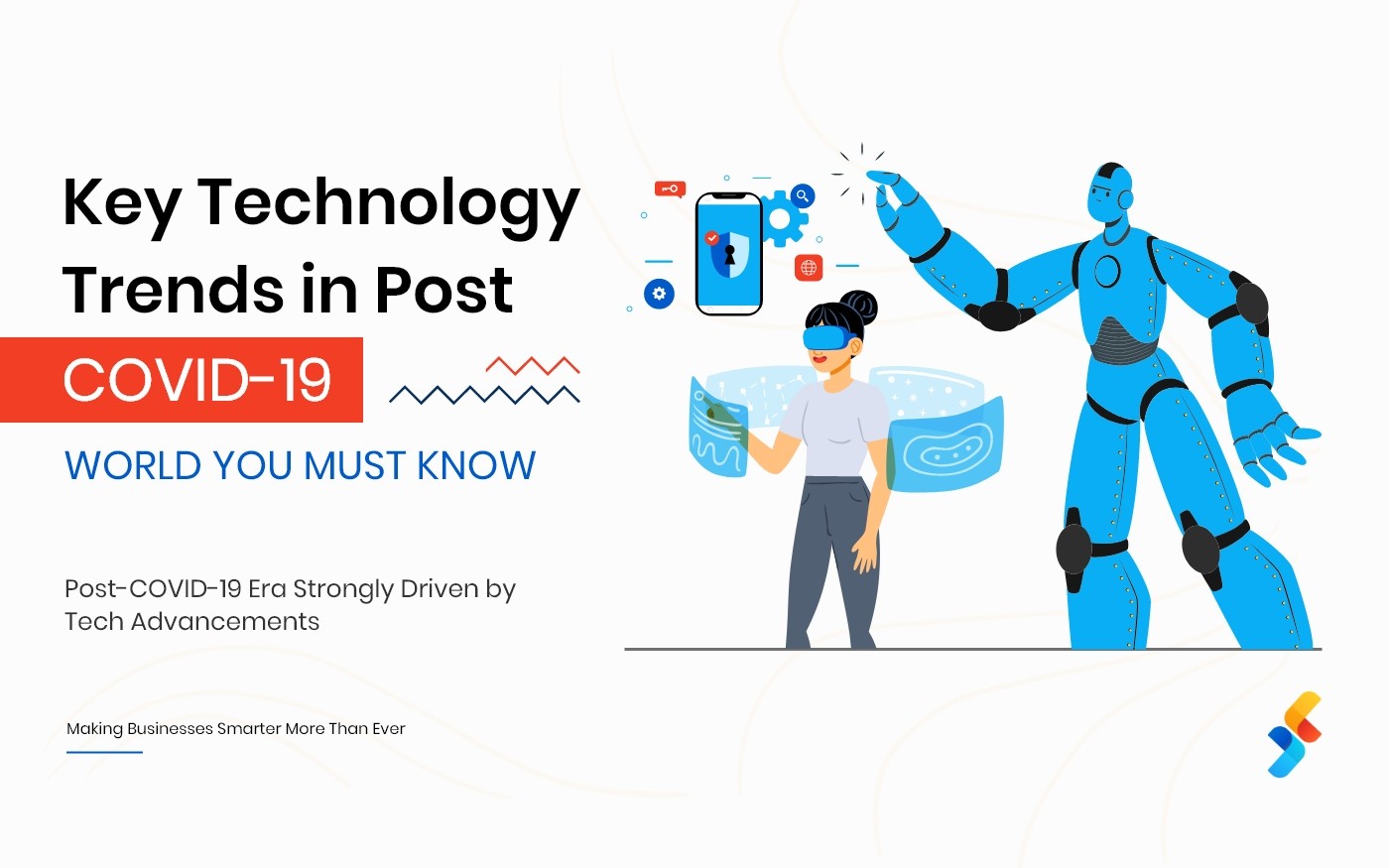 As we all know, the coronavirus pandemic has globally disrupted people's life and lifestyles. Governments have enforced lockdowns to curb the spread of the virus. Work from home is the new reality for many businesses. Even, schools and colleges are conducting online classes. In fact, social distancing is the new norm at grocery stores. People are getting used to this kind of change and they are aware that how much this virus is dreadful for them. In addition, one of the major fact is that the COVID-19 will have a lasting effect not only on our daily lives but also on our economy, and things are not likely to return to pre-pandemic norms sooner.
In such case of lockdown, there is a unique focus back on the urgent need to adopt digitization and modern technology tools to not only get through the pandemic but to also sustain a competitive market and be prepared for future crisis.
Technology is Helping Us More Than You Realize
In the past few months, there is surge in adoption of various advanced technologies. The big examples are drones for food delivery and robots for automation to COVID-19 contact tracing apps, and online education learning platforms. This is not the end! This blog discusses some of the tech trends that are likely to see a surge in adoption post COVID-19.
Artificial Intelligence (AI)
AI is playing a massive role in helping us all get through the pandemic and it will see a greater adoption after the pandemic is over. AI will be particularly useful for those within retail and supply chain industries. Through machine learning and advanced data analytics, AI will help these companies detect new purchasing patterns and deliver a greater personalized experience to online customers.
Most importantly, big tech firms like Facebook, Twitter, Instagram, and WhatsApp, are leveraging the power of AI to decrease the spread of COVID-19 related misinformation online, mobile app developers are building AI-powered apps that can help screen people for COVID-19 symptom. For companies looking to restart their office, Amazon's new AI-powered tracking system will encourage employees to maintain social distancing.
Internet of Things (IoT)
IoT has played a significant role in successfully leading the battle against the coronavirus pandemic. In the coming years, IoT will transform the user experience profoundly, providing opportunities that weren't possible before. The biggest example of IoT being used during the pandemic is that of drones that are not only helping deliver food and other necessities but are also helps keep check on containment zones and congested areas to mitigate the spread of the virus.
Moreover, some other examples include connected thermometers and remote monitoring of patients using IoT-enabled device. At present, remote monitoring of patients is helping offer relief to hospital doctors and staff by limiting their face-to-face interaction with patients who are infected.
Cybersecurity
It has been analyzed that coronavirus pandemic saw a massive surge in cyber-attacks (such as ransomware, email campaigns, phishing, etc) and data breaches. The current situation of lock-down, when thousands of people are forced to work remotely, volumes of private data may become totally vulnerable or not protected in a proper way. This is why companies are likely to boost their cybersecurity plans to make sure their sensitive corporate data is not compromised in the coming years because of certain security loopholes.
VR/AR
As we know, everyone is spending a lot of time in their home because of lockdown, which has increased the number of people using #VR headsets to play video games, explore virtual travel destinations and partake in online entertainment. For this, they're also using this technology to seek human interaction through social VR platforms.
Also, businesses have been experimenting with VR platforms to train employees, hold conferences, collaborate on projects, and connect employees virtually. Now that businesses and consumers know the extent to which this technology can be used, we are likely to see more virtual conferences and human interactions as our new normal sets in.
Voice User Interface (VUI)
Nowadays, consumers are becoming increasingly concerned that their mobile devices can spread coronavirus because it has been used and placed at so many places in a day. As the fear of spreading germs grows, so will the use of voice tech in forms of voice user interface (VUI), which can reduce the number of times one touches any surface, including our mobile devices. Almost 80% of our communications done using verbal communication, that's why voice usage will continue to increase in the coming times as well.
Summing It Up
These emerging technological trends will see a greater acceleration in adoption in the world after the COVID-19 pandemic. It would be better for industries and businesses to adapt these changes which will later help them alot. So, get ready to implement these technologies and prepare yourself for a better future!
Ready to get started? Fill the form now!
Ready to get started? Fill the form now!