How to Choose the Best Magento(Adobe Commerce) Development Company
According to BuiltWith, the Magento eCommerce platform has 198,120 online stores and is used by 743,682 websites, and many more retailers are converting to this platform daily.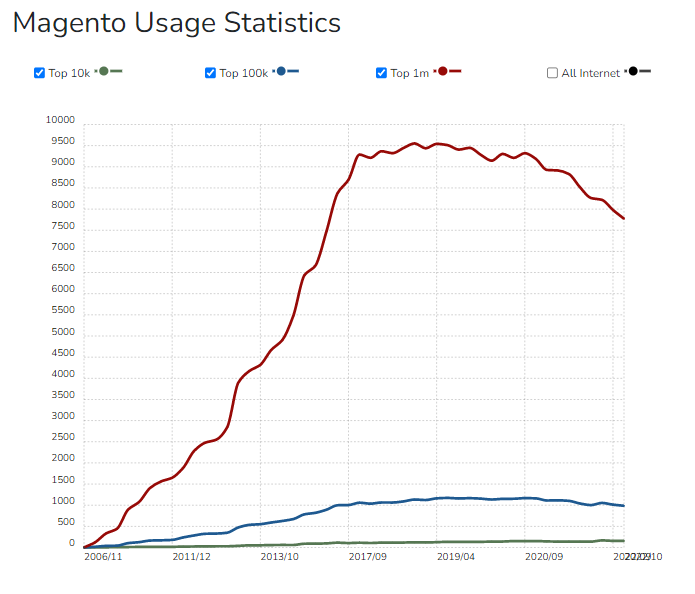 (Image Source: BuiltWith)
Adobe Commerce is a great platform for online stores. It offers a wide range of features and options, and it can be customized to fit the specific needs of your business. However, getting it up and running can be a complex process, and it is something that only some business owners are familiar with.
That's where development companies come in. A good Adobe Commerce Development Company can take care of your setup and development, so you can focus on running your business. But how do you choose the right development company?
Below are some tips to help you find the best Magento(Adobe Commerce) development company for your needs.
In this blog, we'll outline some key factors to consider when choosing a (Magento) Adobe Commerce Development Company and provide tips and strategies for finding the best fit for your business.
Tips to Choose the Best Adobe Commerce Development Company
Look for Experience
One of the most important factors to consider when choosing a Magento development company is their experience level. An Adobe Commerce Development Company that has been in business for a while and has a strong track record of completing Magento projects is more likely to deliver high-quality work and meet your business needs.
To learn more about a company's experience, you can look at its portfolio of completed projects and ask for references from its previous clients. You can also check their website and social media profiles to see how long they've been in business and what projects they've worked on.
Consider the Team
The team working on your project is just as important as the company. Look for a company with a team of skilled and experienced Magento developers, as well as project managers and other professionals who can help ensure the success of your project.
Learning more about the team's work style and communication skills. Do they have a transparent process for managing projects and meeting deadlines? Are they responsive and easy to work with? These are all important factors to consider when choosing a (Magento) Adobe Commerce Development company.
Check their References
Be bold, ask for references, and speak with some of the company's previous clients. This can give you a better understanding of the company's work style and level of customer satisfaction.
Ask the company to provide you with a list of references, and then reach out to these clients about their experience working with the company. You can ask about the quality of work, whether you completed the project on time and within budget, and if the client would work with the company again.
Look for a Strategic Approach
A good Magento Adobe Commerce Development Company should take a strategic approach to your project, working with you to understand your business needs and goals and developing a plan to achieve them.
They should be able to provide you with a clear roadmap for the project, outlining the steps that will take and the timeline for completion. They should also be able to suggest ideas and solutions that can help improve the functionality and user experience of your e-commerce site.
Also Read: A Complete Guide on Adobe Commerce Pricing
Consider their Pricing
It's essential to get quotes from multiple companies and compare their prices. However, the lowest price may only sometimes be the best option. Look for a company that offers competitive pricing and has the skills and experience to deliver high-quality work.
It's also a good idea to ask about any additional costs or fees involved in the project, such as hosting, maintenance, or support. This will help you better understand the project's total cost and avoid any surprises down the line.
Check for Ongoing Support
Choosing an Adobe Commerce Development Company that offers ongoing support and maintenance for your Magento site is important. This will help ensure that your site remains up-to-date and functioning properly and provide you with the necessary resources to update and change as your business grows and evolves.
Customization Options
Adobe Commerce platform is a highly customizable e-commerce platform, and it's important to choose a development company that can help you take advantage of this flexibility. Look for a company that can provide various customization options to suit your needs, whether custom integrations, third-party plugins, or custom code.
Flexibility
E-commerce is a constantly evolving industry, and choosing an Adobe Commerce Development Company that can adapt to your changing needs is important. Look for a company that is flexible and willing to work with you to make updates and changes as needed.
Final TakeAway
Developing an e-Commerce website is a complex and time-consuming process. We hope you found this blog post helpful in choosing the best Magento Adobe Commerce Development Company for your e-commerce project. Additionally, a development company can offer multiple adobe commerce development services to meet your needs. If there is anything else you'd like to know about Magento, please feel free to ask!! Successive Digital is a leading e-commerce platform development company that is trusted by many business review companies across the globe, such as Clutch, Designrush and many more.
Thank you for reading, and we hope this blog was helpful!
Ready to get started? Fill the form now!
Ready to get started? Fill the form now!