Emerging Virtual Care Technology Trends in the Healthcare Industry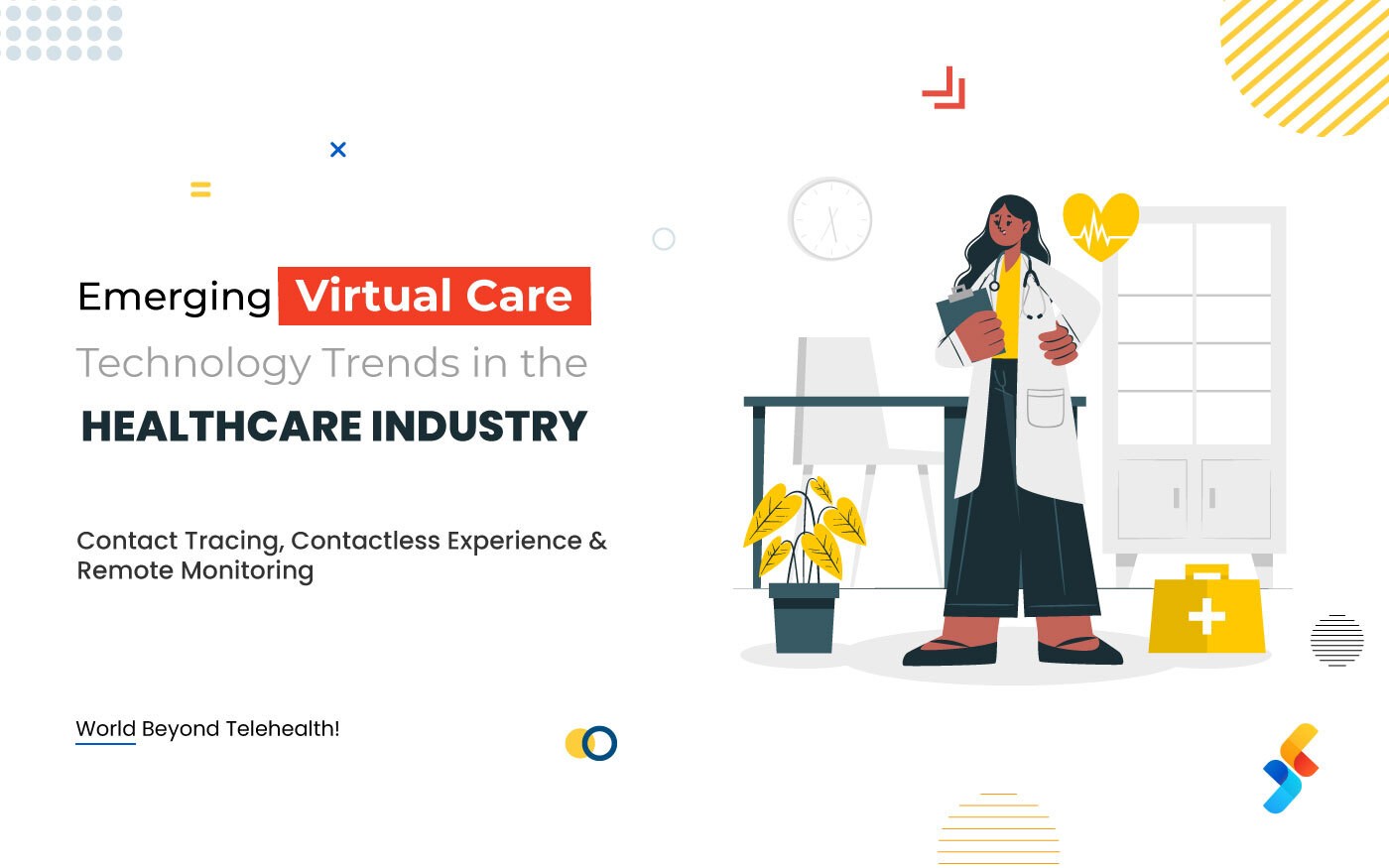 Contactless experience, contact tracing, and remote monitoring has revolutionized public health and healthcare dramatically, especially during the COVID-19 pandemic. While on the one hand, it has rapidly upscale virtual care capacity, on the other hand it has mainstream telehealth. This shift to virtual care models is expected to bring more positive transformation. But what's this Virtual Care Technology and Telehealth and how it is impacting the healthcare industry. If you are also looking for answers to such queries, then your search ends here. Have a look
Telehealth and Virtual Healthcare
People often consider Telehealth and Virtual Healthcare as the same concept. But, they both have significant differences. Have a look: 
Telehealth
Leverages communication and digital technology for delivering health care facilities remotely. 
Telehealth can help the patient to connect with the most reliable Healthcare experts for proper coordination and collaboration.
Virtual Healthcare
Virtual healthcare is a part of Telemedicine. It covers all technology-driven. remote healthcare services. 
It merges all the methods and strategies implemented by the doctors/physicians in their healthcare practices including report preparation after the in-person visits, examining further treatment possibilities and plans, etc.
Top 3 Emerging Virtual Care Technology Trends in Healthcare Industry
Contactless Checkups
Contactless checkups is the latest trend developed to provide airport check-in experience for healthcare appointments, both virtual and in-person visits. Technology-enabled workflows allow patients to complete registration formalities beforehand. 
Soon, you will see registration kiosks with facial recognition software in hospitals. This will enable a complete touch free experience. Not only this, routine examinations have also become virtual using remotely controlled devices.  Caregivers are also looking forward to delivering patients care via virtual visits. This trend is expected to grow exponentially. 
Contact Tracing
Contact tracing applications leverage Bluetooth to track and trace the infections. This innovation has been widely in use in countries like Singapore and South Korea, but its global usage is still a question. So far, contact detection applications are the most exceptional version of technological advancements. It uses advanced analytics and link analysis to identify and alert patients. 
Do you know—Contract tracing can be a single most efficient technology-enabled healthcare program to come out of the COVID-19 crisis 
Remote Monitoring and Automated Communication
The software and applications for remotely tracking and monitoring of healthcare facilities have helped doctors/physicians to create a more engaging environment with their patients while staying at home.  A vast and growing array of automated communication tools allows healthcare professionals to use rule-based messaging for post-discharge care instructions and appointment reminders through IVR, text, SMS, and mobile alerts.
Intelligent remote monitoring devices and telehealth are quite beneficial: 
Allows you to have medical assistance at the comfort of your home;
Give you real-time support with your caregivers.
In short, it delivers a more collaborative, convenient, and engaging environment. Thanks to automated communication tools, caregivers can now have a look at health coaching instructions, appointment reminders, and post-discharge care instructions via text, SMS, IVR, and mobile alerts. 
Last but not the least, these tools are a go-to option to improve healthcare outcomes. How? By increasing medical regimens adherence, providing targeting interventions in case of emergency, etc. 

Conclusion
The healthcare enterprises and partners have decided to offer a seamless platform for contactless appointments to the clinics and hospitals. The software and applications are intended to be more user-friendly, easily compatible with mobile devices, and convenient. However, it is quite clear that the scope of virtual care technology, Telehealth services, and other healthcare trends are extremely high even after the pandemic era.
COVID-19 pandemic has clearly shown that the Virtual Care Technology, Telehealth services, and other healthcare trends are the boom for the healthcare industry. The technology hasn't only redefined public health and healthcare via contactless experience, contact tracing, and remote monitoring but has also made it efficient, convenient, and more approachable. 
Successive Digital- A Next-gen technology services company, with 450+ professionals helping clients achieve their potential with speed. We help businesses achieve their goals and objectives with our best-in-class digital transformation, enterprise cloud, mobility, security, and application development solutions. Contact our experts now to know how we can help you revolutionize your healthcare business. 
Ready to get started? Fill the form now!
Ready to get started? Fill the form now!