Top 4 Cloud Adoption Trends That Will Shape Enterprise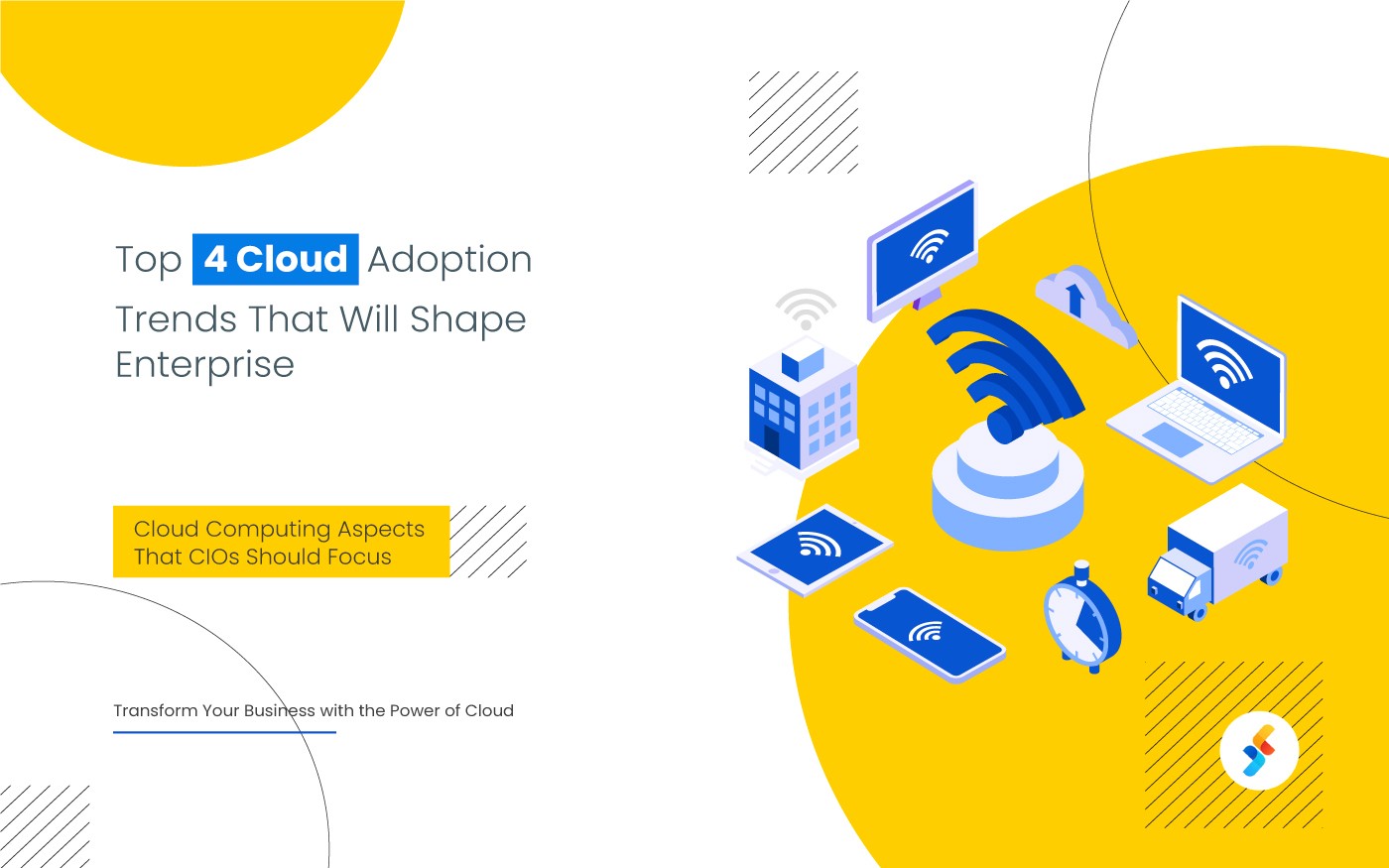 Cloud computing is the new normal for enterprise IT. And, the fastest-growing segments of IT spend across industries. Today, cloud computing is one of the key agents for business transformation. And, the finest deployment model to modernize the existing IT infrastructure. Investment in the cloud has steadily grown and is expected to dominate the market in 2020. This is because, it will continue to be a platform for emerging technologies. (such as Blockchain, Artificial Intelligence, and Internet-of-Things.) This year, you will see the following 4 cloud adoption shaping your business. Have a look:
Do You Know—?
More than $1.3 TRILLION in IT spending will be affected by the shift to the cloud by 2022. (Source: Gartner)
By 2023, the leading cloud service providers will have a distributed ATM-like presence to serve a subset of their services. (Source: Gartner)
Cloud Optimization for Maintaining Business Value
By 2024, all legacy applications migrated to public cloud IaaS (Infrastructure as a service) will demand optimization to become cost-effective. Cloud providers will keep strengthening their native optimization capabilities to help enterprises choose the most cost-effective architecture. (that can provide desired performance).
This will also expand the market for third-party cost optimization tools, especially in multicloud environments. Their value will focus on quality analytics that can boost savings—
without impacting performance;
by providing multicloud management consistency;
by enabling independence from cloud providers.
Early identification of optimization need is an integral part of cloud migration projects. To maximize savings, follow these five steps: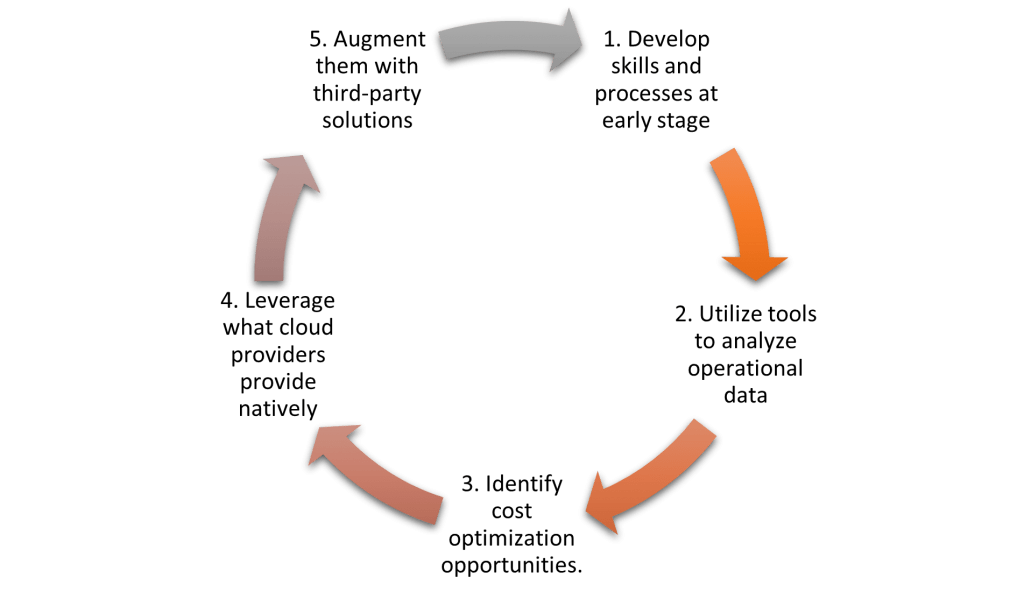 Multi-Cloud Strategy for Reducing Vendor Lock-In
By 2024, multicloud strategies will reduce the vendor lock-in for two-third of enterprises. This will happen using other ways instead of application portability. Why? The reason being, application portability is an approach to migrate an application across platforms without change. However, in business practices, you need to move a few applications back even once they have been deployed in production & adopted by the business. The prime focus of multicloud strategy is on procurement, functionality, & risk mitigation instead of portability. An easy switch is possible.
While adopting a multicloud strategy, CIOs should determine the specific issues that they want to address, such as vendor lock-in or mitigating service disruption risks. (Note: Multicloud strategy doesn't automatically solve application portability)
Insufficient Cloud IaaS Skills Causes Delay
Having IaaS skills is now important than ever before for successful cloud migration. Errors and inaccurate IaaS deployment can cause unnecessary delays in the migration process. At present, cloud migration strategies are more focused on the 'lift-and-shift' model instead of modernization. However, lift-and-shift projects do not develop native-cloud skills which are a major drawback to meet cloud adoption objectives. In this situation of workforce shortage, enterprises will be seen to collaborate with managed service providers to ensure a complete migration as they possess high-level expertise and proficiency.
Do You Know—?
The global managed services market is expected to flourish from USD 223.0 billion in 2020 to USD 329.1 billion by 2025, at a Compound Annual Growth Rate (CAGR) of 8.1%. (Source: Marketsandmarkets)
Handling Cloud Security Breaches
Cloud security is a popular term and a concern for enterprises. Security concerns have led some CIOs to limit their organizational use of public cloud services. Instead of wandering, is the cloud secure, CIOs must ask themselves "Am I using the cloud securely?" The best way to handle this challenge is to focus on utilizing vendor-specific training for their staff and apply risk management practices to support cloud decisions.
Final Thoughts
Currently, more than 60% of enterprises are using cloud computing. But many still don't have a cloud strategy or even a cloud adoption plan. These four trends will help you influence your cloud adoption & migration plans for years to come.
Are you ready to start your cloud adoption journey? If yes, then speed up your business growth with cloud computing services at Successive Digital. Our experienced professionals will provide you guidance for a smooth journey of Cloud. Contact our cloud experts today!
Ready to get started? Fill the form now!