Digital Transformation: A Game-Changer for the Self-Storage Industry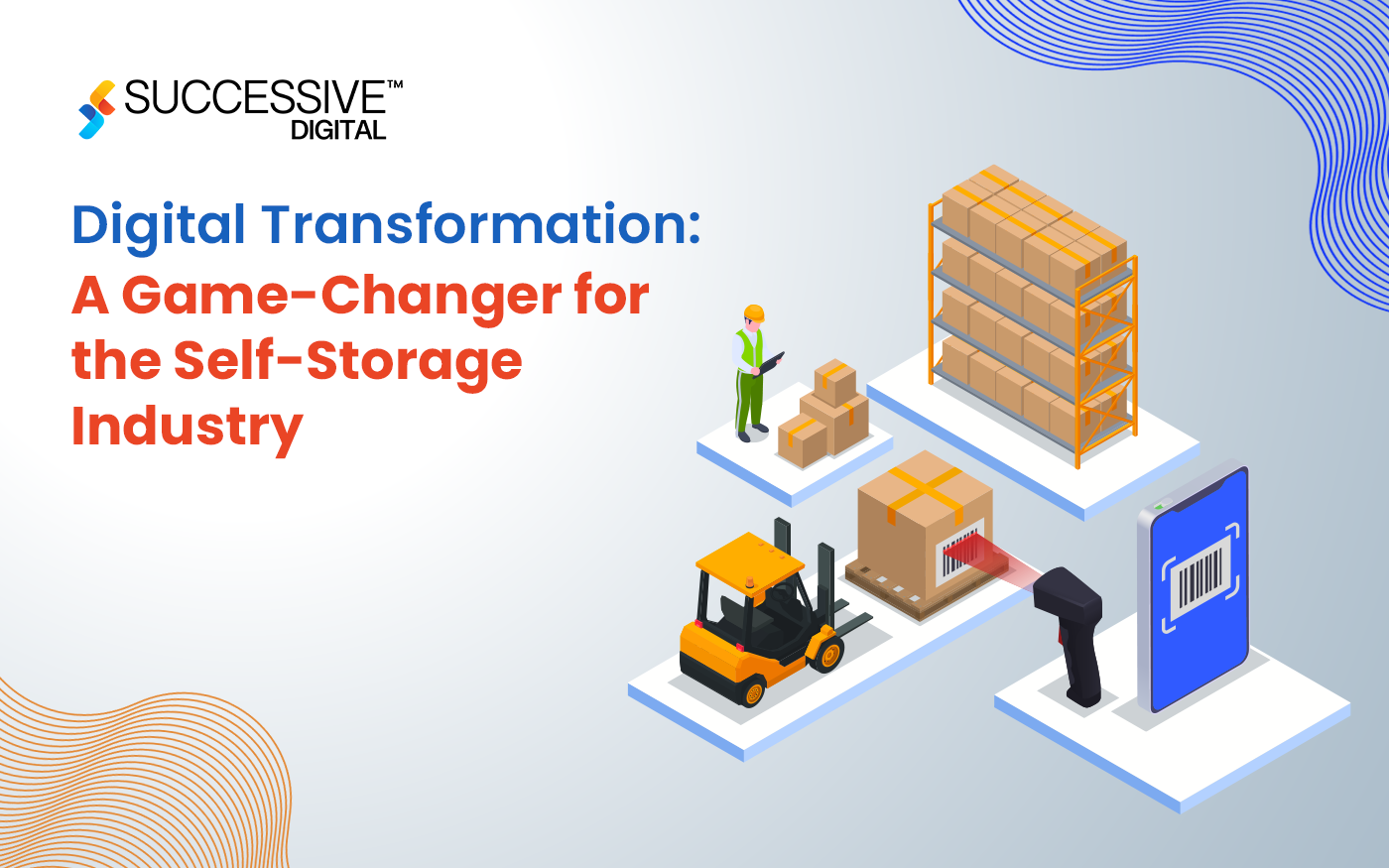 The self-storage industry has evolved significantly over the last few years. The offering, which began to provide temporary storage lockers, has emerged into a multifaceted business offering a multitude of services.
Modern self-storage facilities now feature climate-controlled units, advanced security systems, and convenient online booking and payment options. Moreover, the industry has adapted to the digital age, with many facilities offering mobile apps for managing storage units and accessing belongings remotely. This transformation reflects a broader shift towards customer-centricity, where self-storage providers strive to offer clients a seamless and convenient experience, adapting to the evolving needs of businesses and individuals in an increasingly digital world.
In this blog post, we will discuss and see how technology has transformed the storage industry, what challenges digital transformation has solved, and the values created for businesses being software-driven.
Key Challenges Faced by the Self-Storage Industry
Earlier, when self-storage businesses handled operations such as order management, inventory management, vendor and supplier management, and managing data of multiple tenants manually, it created hassles, required more staff to conduct the operations, and delayed the overall process. This imposed various challenges for them, as discussed below.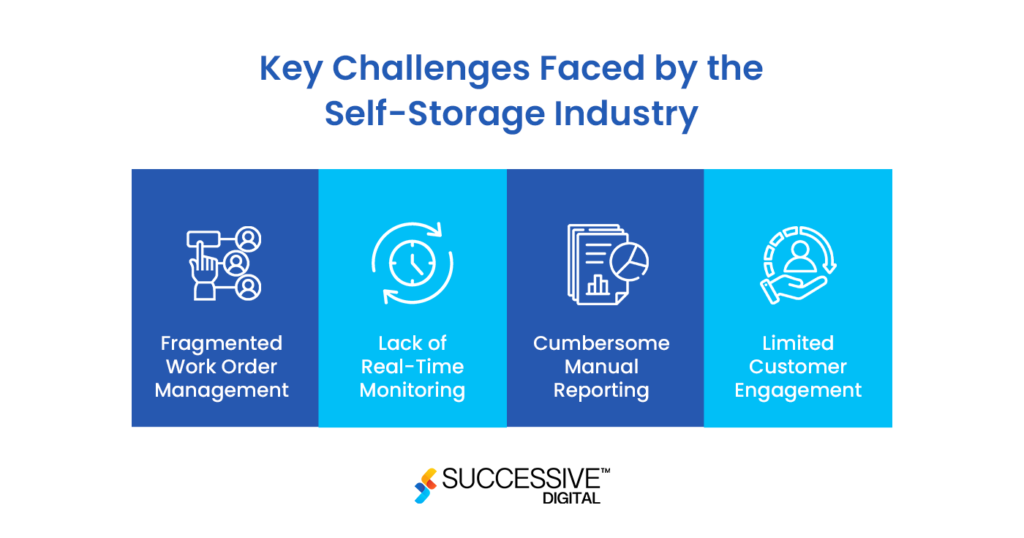 1. Fragmented Work Order Management
Manual self-storage operations cause fragmentation of work order management as managing multiple orders, facility checks, and analyzing real-time storage and space availability become difficult and time-consuming.  It also makes it difficult to keep track of completed work orders, maintain existing ones, and allocate self-storage units to new tenants.
2. Lack of Real-Time Monitoring
Real-time facility monitoring becomes challenging when a manual staff handles facility management operations. Since the 24/7 availability of staff may not be feasible, businesses cannot track and overview if any uncertainty arises spontaneously in the facility. In such scenarios, they won't be able to address the issue where a tenant reaches the facility and is faced with the challenge of sudden unavailability of storage space. Such issues can lead to lower customer satisfaction and a revenue downfall for the business.
3. Cumbersome Manual Reporting
Manual reporting can be a complex task and lead to delays in conducting overall self-storage business operations. In this working style, the hired staff will have to get manual confirmations via paperwork from the facility's admin at every level of operation before providing the storage space to the tenants and after the order management service is completed. This way, multiple paper documents have to be maintained, verified, and signed, which will slow down the renting process and task completion.
4. Limited Customer Engagement
The delayed and comprehensive process involved in self-storage facility renting leads to low customer satisfaction and engagement. Since customers today prefer the seamless availability of services via software and mobile apps, the paperwork and manual operations will quickly make them lose interest in your business. This way, you won't be able to provide satisfactory customer service or retain them for the long run.
Modernizing Self-Storage with Digital Solutions
As we discussed the challenges within the self-storage industry above, it's understandable how digital transformation will massively impact and accelerate revenue growth for businesses in this niche. A study by Mordor Intelligence stated that the industry's CAGR is estimated to grow up to USD 72.15 Billion by 2028. This concludes that those self-storage operators who leverage the latest technologies and advanced solutions will stand out and attain higher customer loyalty. Here are some key solutions that address the industry's core challenges.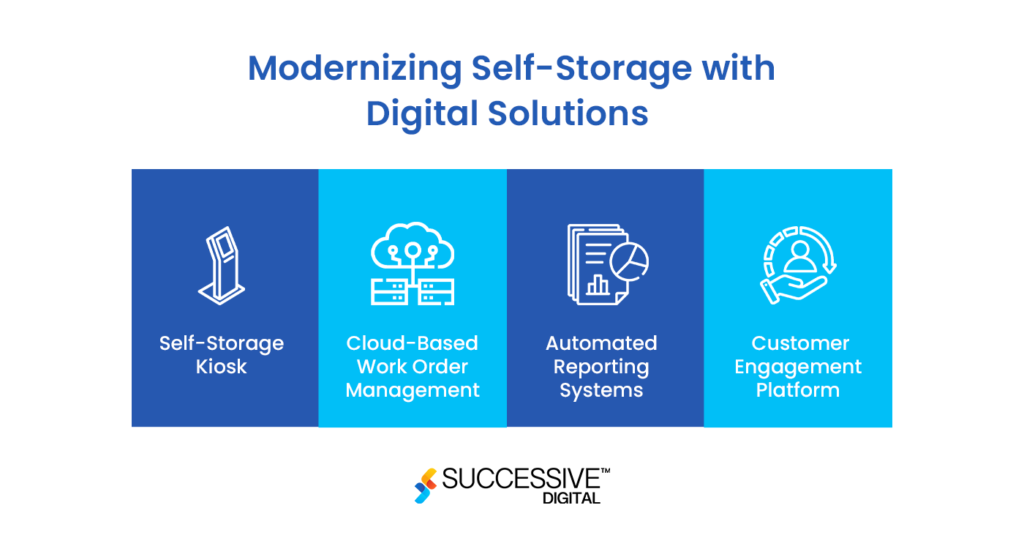 1. Self-Storage Kiosk
A self-storage kiosk enhances the tenant's experience, which makes renting a storage unit, signing a lease, purchasing insurance, accessing digital keys, and paying rent handy. The solution offers functionalities, such as digital storage booking and payments via Kiosk, quick e-sign & on-site move-ins, in-person video chat support, and remote control, which provides anytime help to customers. This eliminates the requirement of manual staff to handle the storage booking or remove paperwork for tenant management. Additionally, the self-storage kiosks are interconnected with a backend system that provides real-time analytics and metrics for improved management, decision-making, and delegation of orders and storage units.
2. Cloud-Based Work Order Management
Cloud-based work order management solutions enable centralization and automation of work orders to enhance efficiency, improve customer experience, and enable real-time tracking. The solutions include functionality, such as automated scheduling, real-time alerts, predictive facility maintenance, property management, work order allocation, notification and communication
tracking maintenance and repair, work order history, task completion, and maintenance metrics. This allows businesses to have an instant overview of storage units, optimize their existing orders, and track past and future work orders to avoid sudden unavailability issues and overbooking issues.
3. Automated Reporting Systems
The automated reporting solution will allow businesses to utilize AI-driven analytics for real-time decision-making, predictive maintenance, and trend analysis. The self-storage management software comes with an advanced automated dashboard that can generate real-time alerts for scenarios, including unit availability once a tenant liberates the space, facility maintenance, including cleaning and repair, security alerts if any unauthorized person tries to enter the facility, and predictive analytics. These comprehensive metrics and analyses enable businesses to streamline their operations, automate unit delegation, and enhance overall customer experience.
4. Customer Engagement Platform
Customer engagement is one of the key goals every business runs on, even the self-storage operators. With the help of a customer engagement platform, businesses can leverage cloud services and artificial intelligence (AI) to improve customer interactions. This solution provides functionalities like personalized self-service and interactions, AI-enabled chatbots for personalized recommendations, remote access control, and digital keys to eliminate paperwork and tangible locks. With such functionalities, customers can book and rent a storage unit independently, pay monthly rentals, and secure their belongings without needing human help at any multilocation self-storage unit.
Top Benefits of Digital Transformation in the Self-Storage Industry
There are various reasons why incorporating digital transformation in the self-storage industry is proving to be an ideal solution. With automation in every operation and minimized manual intervention, here are the key benefits of developing self-storage management software for businesses.
1. Real-time Facility Management
Self-storage management solutions allow businesses with real-time facility management as the software provides them with ongoing access to the facility via an all-in-one admin dashboard. It allows the admin to view and monitor the facility even when the on-site staff is unavailable, analyze business metrics, look for real-time vacancies, check who's awaiting allocation, and address uncertain issues that may arise when tenants access the facility. This will lead to higher customer satisfaction and ensure they engage with your services for longer intervals.
2. Enhanced Storage Space Management
Businesses can improve and automate their storage space management efforts by leveraging self-storage software solutions. They can delegate the repetitive chores, such as allocating storage units, matching availability with storefront's facility information,  instantly locking out tenants whenever they miss a payment and automatically reactivating it once payment clears, etc., to the software and focus on more complex operations that require manual attention.
3. Variable Rate Management
Self-storage owners will be able to increase revenue with an automated sales flow. They can accomplish this by utilizing solutions for variable rate management, which are created to alter facility charges based on a variety of characteristics automatically. They can leverage occupancy triggers, for example, to change the storage unit rates and display dynamic promotions to customers who are ready to make a reservation for a unit. Operators can adjust to supply and demand by implementing the proper tools and procedures.
Key Tools and Resources Powering the Self-Storage Ecosystem
Running a business digitally requires you to develop custom software with features and functionalities to operate day-to-day operations efficiently. In the age of SaaS-based solutions and other advancements in the technological world, opting for integrated tools and resources helps businesses experience a faster go-to-market.
Successive Digital – a custom software development company not only builds customized software or applications but also extends its support for the integration of tools. Let's check some integrations that you can opt for your business.
1. Software Solutions
There are a variety of software already available in the market, such as Space Manager, 6Storage, Storman, and SiteLink. However, the development partner can build a custom solution for overall work order management, company management, and facility management since off-the-shelf solutions sometimes lacks modules and features you may need.
2. Customer Support
Some of the popular customer support tools include Hubspot, Crisp, Olark, Intercom, TTNC, JustCall, and RingCentral, used for live video chat and virtual telephonic services. Businesses can also ask the software development company to develop a custom customer support and engagement solution that comes with AI-enabled chatbots offering personalized recommendations and customer query resolution.
3. Smart Entry/ Access Control
There are several smart entry and access control tools, such as Nokē, BearBox, Sensorberg, OpenTech Alliance, PTI Security, and Sentinel. That provides smart controls and accessibility to the self-storage facility. They are controlled via an app to streamline the entry and access for tenants, admins, and on-site staff. The self-storage management software development company will integrate these tools into your software or can build a tailored company management tool for your business. A custom solution will enable access control, provide digital keys for tenants and staff, and secure the storage facility.
Conclusion
The implementation of digital transformation tools and practices has undoubtedly revolutionized every industry vertical, and self-storage is no exception.  With innovations like smart storage solutions, improved security systems, and user-friendly digital interfaces, the self-storage industry is ready for continuous evolution in the digital age. Embracing these digital advances, the self-storage industry will redefine how we use and think about storage space in the years ahead.
Are you ready to accelerate your business growth and thrive in this ever-evolving digital world?
Ready to get started? Fill the form now!
Ready to get started? Fill the form now!