---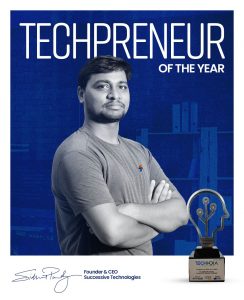 Tech is what is keeping the businesses running. Tech India Transformation Awards 2021 intends to recognize and celebrate the achievements in this segment for their contributions in ensuring business continuity.
The Tech India Transformation Awards will be looking for tech firms that have carved a niche for themselves while being relevant to the current times and those ventures which have successfully refashioned themselves to overcome gaps in the prevailing technologies
The award celebrates the best in the Indian Tech Industry, and recognizes industry practices that are geared towards customer requirements and consumer satisfaction. Also, focus on recognizing the initiatives and business formats that have contributed to the tech industry growth.
About Successive Technologies
Founded in 2012, Successive is a next-gen technology consulting services company purpose-built for the speed of modern business. Our expertise includes digital transformation, enterprise cloud, mobility, application security, and application development solutions. Through our innovative approach, thought process, and automation mindset, we help businesses build a strong foundation of business transformation and customer satisfaction.