---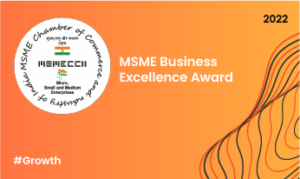 Successive Technologies has been awarded with 'Business Excellence' by MSME Chamber of Commerce and Industry of India & SEPC (Under Ministry of Commerce and Industry Govt of India).
Every year, MSME presents best-in-class awards for excellence in quality and delivering next-gen solutions to MSMEs, SMEs & large organizations. 
Commenting on the achievement, Founder & CEO Siddhartha Pandey stated- 
"Successive Technologies is very pleased to add one more milestone to our recognitions with the Business Excellence for outstanding achievements in the IT domain. Our consistent hard work and persistence have helped us gain recognitions from various trustworthy resources and I am thankful that judges have realized our worth"
About Successive Technologies
Founded in 2012, Successive is a CMMI-3 certified next-gen technology consulting services company purpose-built for modern business speed. Our expertise includes digital transformation, enterprise cloud, mobility, application security, and application development solutions. In addition we also specialize in Cloud Consulting, Cloud Migration, DevOps Automation, DevSecOps & Enterprise Content Management. Our innovative approach, thought process, and automation mindset helps businesses build a strong business transformation foundation and provide enhanced customer experiences and satisfaction. We are a global company with 300+ customers across 30+ countries. Some of our happy customers include Dentsu, Nokia, PwC, Isobar, Mahindra, MG and Bosch among others.