---
Most Innovative IT Services Provider of the Year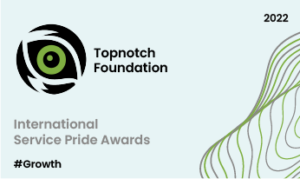 Successive Technologies became the proud winner in the category of 'Most Innovative IT Services Provider of the Year" at International Service Pride Awards 2022.
"INTERNATIONAL SERVICE PRIDE AWARDS 2022 is country's most authoritative summit & awards for the Business sectors, organized by Top-notch Foundation. In association with "India News", International Service Pride Awards was given to the organizations and individuals who have contributed remarkably in the field of healthcare, business, IT and education by innovating for increased efficiency and improved performance at large.
In today's rapidly transforming world, being digitally evolved has become a must-have factor for businesses to grow. Successive Technologies is a consistent early adopter of the latest technological trends to deliver the best end-results. This way, the team aims to empower organizations of all sizes with smart technology solutions and services to maximize the business value of IT.
Karun Singh (CEO) –Top-notch Foundation commented on the achievement- 
"Almost all the winners scored extremely well in our research study due to their dedication towards excellence, dedication, innovation and best ethical practices. By competing with the very best from their sector, Successive Technologies knows that their work has been evaluated by the sharpest minds in the sector, and that their services and contributions have truly excelled."
About Successive Technologies
Founded in 2012, Successive is a CMMI-3 certified next-gen technology consulting services company purpose-built for modern business speed. Our expertise includes digital transformation, enterprise cloud, mobility, application security, and application development solutions. In addition we also specialize in Cloud Consulting, Cloud Migration, DevOps Automation, DevSecOps & Enterprise Content Management. Our innovative approach, thought process, and automation mindset helps businesses build a strong business transformation foundation and provide enhanced customer experiences and satisfaction. We are a global company with 300+ customers across 30+ countries. Some of our happy customers include Dentsu, Nokia, PwC, Isobar, Mahindra, MG and Bosch among others.