---
Another Milestone for Successive Technologies.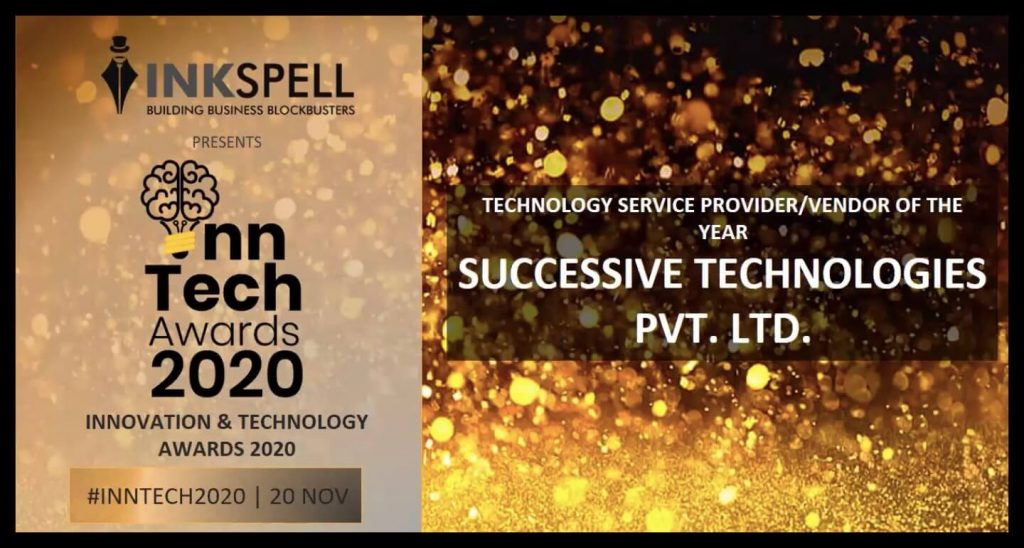 We are absolutely overwhelmed to have won the "Technology Service Provider/Vendor Of The Year" Inn-tech Award 2020 presented by Inkspell Media.
Inkspell Media recognizes the importance of innovation and technology in the overall uplift and upgradation of the ecosystem that we live, work, and coexist in. Inn-Tech – Innovation and Technology Awards is a pioneering platform designed and developed to acknowledge and applaud the exemplary and innovative work being done by professionals and enterprises across various fields and sectors.
It is a unique initiative by the producers of events with global acclaim such as Drivers of Digital, Master of Modern Marketing, vIDEA, and India Content Leadership. It is for the first time that diversity and excellence in the Technology and Innovation space in different sectors shall be celebrated at such a comprehensive scale in India.
About Successive Technologies
Founded in 2012, Successive technologies is a next-gen technology consulting services company purpose-built for the speed of modern business. Our expertise includes digital transformation, enterprise cloud, mobility, application security, and application development solutions. Through our innovative approach, thought process, and automation mindset, we help businesses build a strong foundation of business transformation and customer satisfaction. "Sometimes later becomes never. Do it now" on this mantra our team enthusiastically burnt the midnight oil and reached the ladders of success and appraise.