---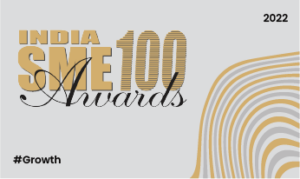 Successive Technologies has made it to the TOP 100 Scorers and declared winner amongst 'Top 100 SMEs of INDIA' at India SME 100 Awards 2022.
Being awarded as "One of the Top 100 SMEs of INDIA" adds prestige to our organization. It is a true validation of the work we are providing to our clients.
India SME 100 is India 's most prestigious annual awards initiative for small and medium enterprises where TOP 100 SMEs across industry sectors, are chosen by a very eminent Jury from around 40000+ nominations, on the basis of their overall performance in the categories of Growth, Financial Strength, Innovation, International Outlook, Corporate Governance and People capital. Moreover, The awards also inspire willing and able SMEs that have the potential to be world-class enterprises and offer them the platform to promote themselves to investors and partners to sustain growth.
Successive Technologies has undergone a stringent evaluation process & met the criteria laid down by the Jury Board of India SME Forum in 9th Edition of India SME 100 Awards 2022.
About Successive Technologies
Founded in 2012, Successive is a CMMI-3 certified next-gen technology consulting services company purpose-built for modern business speed. Our expertise includes digital transformation, enterprise cloud, mobility, application security, and application development solutions. In addition we also specialize in Cloud Consulting, Cloud Migration, DevOps Automation, DevSecOps & Enterprise Content Management. Our innovative approach, thought process, and automation mindset helps businesses build a strong business transformation foundation and provide enhanced customer experiences and satisfaction. We are a global company with 300+ customers across 30+ countries. Some of our happy customers include Dentsu, Nokia, PwC, Isobar, Mahindra, MG and Bosch among others.