---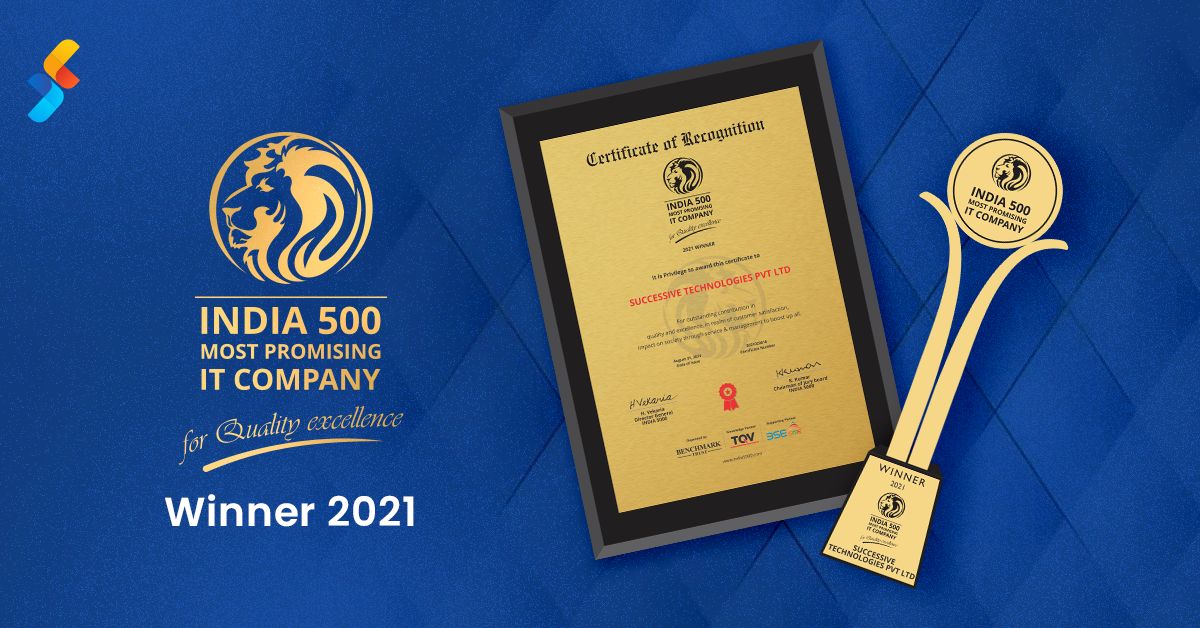 SUCCESSIVE TECHNOLOGIES PRIVATE LIMITED wins the India 500 Most Promising IT Company of 2021
INDIA 5000 is a research group, initiated and organized by Benchmark Trust, which has created a platform by doing research and recognition for 5000 best MSME (Micro Small Medium Enterprises) in quality output. The INDIA 5000 Business Awards get initiated when we get nominations from businessmen and young entrepreneurs for their achievements.
INDIA 5000 nominates the best 5000 MSME companies. These best 5000 MSME companies are selected for quality management, quality services or quality products. So, INDIA 5000 provides a platform to businessmen and entrepreneurs for Quality Excellence!
For meeting highest quality standards and providing the best services at Successive, we have been recognized under the most promising IT company's in 2021.
About Successive Technologies
Founded in 2012, Successive is a CMMI-3 certified next-gen technology consulting services company purpose-built for modern business speed. Our expertise includes digital transformation, enterprise cloud, mobility, application security, and application development solutions. In addition we also specialize in Cloud Consulting, Cloud Migration, DevOps Automation, DevSecOps & Enterprise Content Management. Our innovative approach, thought process, and automation mindset helps businesses build a strong business transformation foundation and provide enhanced customer experiences and satisfaction. We are a global company with 300+ customers across 30+ countries. Some of our happy customers include Dentsu, Nokia, PwC, Isobar, Mahindra, MG and Bosch among others.